Ricky Ledo
Recent Tweets
All Tweets
DraftExpress: Tough drop for Ricky Ledo to 43. Milwaukee trades him to Dallas according to @WojYahooNBA. Uphill battle now for a talented but troubled guy
2013-06-27 23:29:46
DraftExpress: RT @WojYahooNBA The Dallas Mavericks are making a deal with Milwaukee for the 43rd pick to draft Providence guard Ricky Ledo league sourc\u2026
2013-06-27 23:28:12
DraftExpress: The Dallas Mavericks are making a deal with Milwaukee for the 43rd pick to draft Providence guard Ricky Ledo league source tells Y!
2013-06-27 23:27:41
DraftExpress2: RT @JonRothstein Two big time talents still on the board --- Tony Mitchell and Ricky Ledo. Who bites?
2013-06-27 23:13:06
DraftExpress2: Two big time talents still on the board --- Tony Mitchell and Ricky Ledo. Who bites?
2013-06-27 23:12:48
Team: Reno
Physicals
Positions
Rankings
Salary
Misc
H: 6' 6"
W: 197 lbs
Bday: 09/10/1992
(23 Years Old)

Current: SG
NBA: SG
Possible: SG

RSCI: 11

Agent: Sean Kennedy
Current Salary:$816,482

High School: South Kent
Hometown: Providence, RI
Drafted: Pick 43 in 2013 by Mavericks

Predraft Measurements
| Year | Source | Height w/o Shoes | Height w/shoes | Weight | Wingspan | Standing Reach | Body Fat | No Step Vert | Max Vert |
| --- | --- | --- | --- | --- | --- | --- | --- | --- | --- |
| 2013 | NBA Draft Combine | 6' 4.75" | 6' 6" | 197 | 6' 7.25" | 8' 6.5" | 10.3 | 27.0 | 33.5 |
| 2011 | LeBron James Camp | NA | 6' 6" | 193 | 6' 7" | NA | NA | NA | NA |
| 2011 | Kevin Durant Camp | NA | 6' 6" | 193 | 6' 7" | NA | NA | NA | NA |
| 2010 | LeBron James Camp | NA | 6' 5" | 175 | 6' 5.5" | NA | NA | NA | NA |



Basic Per Game Statistics

- Comprehensive Stats - Statistical Top 25s
| Year | League | Name | GP | Min | Pts | FG | FGA | FG% | 2Pt | 2PtA | 2P% | 3Pt | 3PtA | 3P% | FTM | FTA | FT% | Off | Def | TOT | Asts | Stls | Blks | TOs | PFs |
| --- | --- | --- | --- | --- | --- | --- | --- | --- | --- | --- | --- | --- | --- | --- | --- | --- | --- | --- | --- | --- | --- | --- | --- | --- | --- |
| 2015/16 | DLEAGUE | Ricky Ledo | 6 | 33.3 | 23.8 | 9.3 | 18.5 | 50.5 | 7.0 | 12.0 | 58.3 | 2.3 | 6.5 | 35.9 | 2.8 | 3.8 | 73.9 | 1.5 | 4.5 | 6.0 | 1.7 | 2.7 | 0.3 | 3.5 | 3.0 |

Player Page&nbsp&nbsp| Player Stats | Mock Draft History | Related Articles&nbsp&nbsp| Add to My Draft Express&nbsp
&nbsp
NBA Combine Interviews: Leslie, Hill, Ledo
May 20, 2013
[Read Full Article]

---
NBA Combine Individual Player Assessments
May 20, 2013
Ledo was inconsistent in Chicago, looking very good on the first day and then coming down to earth a bit in the second. His shooting was hit or miss, but his talent-level with the ball in his hands was unmistakable in terms of his able to create shots smoothly for himself and others at 6-7. He's clearly a good athlete and ball-handler, mixing in crossovers nicely and finishing above the rim on a couple of occasions. Defensively, Ledo has a ways to go and is probably a long-term project considering how little experience he brings to the table, but his upside is significantly higher than most of the prospects outside of the top-20 or 25, which could convince a team to roll the dice on him, despite the character concerns.

[Read Full Article]

---
2011 National Prep Showcase: Elite 2012 Prospects
November 23, 2011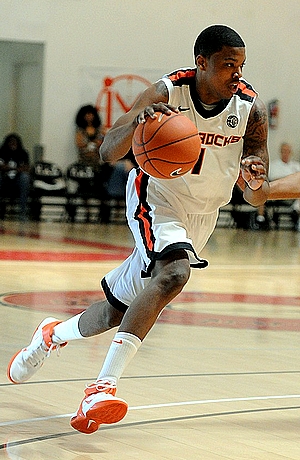 Icon SMI



Joe Treutlein

One of the most naturally talented, highly skilled players at this event, Ricky Ledo (#22 ESPN, #25 Scout, #8 Rivals) showed the good and bad of his game this weekend, but clearly seems to have matured somewhat since the last time we saw him, being focused and playing smart basketball most of the time.

On the offensive end, Ledo is nothing short of a superb talent, as he's an extremely potent scorer both attacking the basket and hitting perimeter jumpers. He seems to have taken his jump shot to the next level since we last saw him, as he hit an outstanding 9-for-17 threes in the two games here this weekend. More impressive is that most of them came pulling up off the dribble, where Ledo shows excellent balance, clear cut NBA range, and the ability and confidence to hit a shot with a hand in his face.

As a shot creator, Ledo has no problems getting separation and creating both going to the rim and pulling up from mid or long range. He possess a very low, controlled dribble with all the advanced dribbling he needs, while showing good instincts as well. He won't blow you away with his first step or vertical leap, being a more fluid and agile than highly explosive athlete, but still has more than enough quickness to get by at any level and also changes speeds and directions well.

Ledo does a good job finishing around the basket, showing great touch and creativity while being capable of finishing with both lay-ups and floaters as well as using either hand. He's also done a good job developing his playmaking skills, showing an improved feel in this area to take advantage of his excellent vision and passing abilities, something that was frequently on display here on both drive-and-dishes and drive-and-kicks. While not a pure point guard and probably best suited to play the two guard in the long run given his scoring abilities, Ledo reminds of O.J. Mayo with his unselfishness and versatility (while also being similar in size and athleticism, but not strength).

On the defensive end, things were somewhat of a mixed bag for Ledo, not unlike what we observed the last time we saw him, but the highs were much higher this time, as he showed multiple prolonged flashes of high focus, high effort, and strong vocal leadership with his teammates. He's capable of being a very good defender both on and off the ball, and certainly is at times, but there are still times when he can get frustrated and not put in the effort on this end of the court, particularly when things aren't going well for him offensively.

Looking forward, Ledo is clearly headed in the right direction with his development and appears to be making an effort to eliminate many of his old habits, but considering his rough background, it's not something that's going to happen overnight. Ledo transferred schools once again this season, marking the nth time he's done so in his high school career, and his poor body language and erratic decision-making do still pop up from time to time. He'll certainly be a player to keep a close eye on in college from day one, and if he continues maturing as a player and person he's capable of being as strong a prospect as virtually any guard in this class.

[Read Full Article]

---
2010 National Prep Showcase: Elite 2012 Prospects
November 24, 2010
Jonathan Givony

One of the most naturally talented players at this event regardless of class, Ricky/Ricardo Ledo (#10 Scout, #7 Rivals, #13 ESPN) showed off both the good and the bad of his game at the National Prep Showcase. A 6-4 combo guard with terrific quickness and overall fluidity, everything seems to come easy for Ledo out on the basketball floor.

Ledo operated as his team's primary ball-handler in New Haven, seeing time at both guard positions. He can create his own shot smoothly and with great creativity, showing terrific timing on his drives and being able to change speeds and directions effortlessly. He can finish in a variety of ways around the basket, often using a pretty floater from tough angles. Very difficult to keep out of the lane when focused and motivated, he's clearly an advanced scorer and all-around shot-creator.

Not a terribly explosive leaper once he actually gets into the paint, Ledo blew a number of good looks around the rim due to his lack of strength and tendency to finish softly in traffic. He's such a talented shot-maker that he often tries to get cute and make things more difficult on himself around the rim than he should, rather than just going up strong for the easy finish.

Listed right now as a shooting guard by most recruiting services, Ledo shows combo guard and potentially even point guard potential with his excellent court vision and the creative way in which he approaches the game. Unselfish and highly instinctive, he made some terrific drive and dish plays that hinted at great things that could be in store for him as his knowledge of the game improves with added maturity and experience.

As a shooter, Ledo is somewhat of a mixed bag at this point. He showed the ability to make shots from well beyond the 3-point line, even off the dribble, but has inconsistent mechanics and tends to overestimate himself, settling for some very difficult contested pull-up jumpers at times. Generally speaking, Ledo's decision making skills are still lagging far behind his actual talent level, which is not a surprise considering his age.

Defensively, Ledo has all the tools needed to develop into a lock-down type if he puts his mind to it, as he has quick feet, long arms and excellent instincts. This resulted in some spectacular steals and blocks on occasion. His effort level just isn't there consistently at the moment yet, and he often loses his focus, particularly off the ball.

The most concerning thing about Ledo might be his body language. When things aren't going his way he seems to hang his head, give up on plays, complain, or just disappear for long stretches. He obviously has some maturing to do still. This is something to keep an eye on for the future.

All in all, Ledo is clearly a superb talent who will be in the discussion as one of the top guards in his class if he continues to develop on and off the court. He's already bounced around a decent amount before even starting his junior year of high school, so that's something to keep an eye on for the future.

[Read Full Article]

---