Roundup: All-Around Velickovic
April 10, 2008
Romain Duport still hasnít been able to find some consistency and continuity in his performances. He only played 7 minutes this past weekend, his scoring average has decreased from the past season, and heís clinched double digits just twice in the whole campaign. We have been able to precisely watch those two outings, very interesting in terms of knowing what Duport can offer in his best version, but also illustrative of his biggest weaknesses.

Potentially speaking, heís an intriguing guy, extremely long, decently athletic for his size, and nicely skilled as well. However, his lack of aggressiveness, which goes beyond his physical underdevelopment Ėheís still a pretty skinny guy- limits his ability to take advantage of his size. He should be tearing up his rivals from the low post, where he shows an improved footwork and nice soft touch with his right hand Ėhe looks a bit predictable there, though-, but instead he hangs up on the perimeter too often, settling for spot-up three pointers, which he converts with solid accuracy -37.5%-, or even eventually puts the ball on the floor with his right hand to look for a layup, but he doesnít emerge as disruptive for opponent defenses as he can result with his low-post game. That softness is also showcased by the fact that he almost never attacks the basket dunking the ball, which should be a piece of cake for him and increase his accuracy around the rim.

The other big area of concern comes on the defensive end. Duport shows very poor lateral mobility that heís not being able to mask with adequate positioning, becoming a liability whenever he steps out of the paint, especially guarding the pick and roll, but also resulting pretty ineffective in defensive rotations. Heís also struggling to secure the defensive rebound, as heís often outmuscled, doesnít show the best positioning around and could definitely improve his effort boxing-out.

Automatically eligible this year, even if his potential might draw some interest, it seems unlikely that he gets selected in the upcoming draft.

[Read Full Article]

---
2007 RBK Eurocamp: Day Three
June 12, 2007
It's being a sort of a disappointing camp for Duport. The big Frenchman is relying way too much on his perimeter stroke, with poor results, while looking uncomfortable the few times he visits the low post. His footwork doesn't seem there, like he intended to move his feet, but they didn't properly react. Unless he goes for a simple turnaround shot, it doesn't seem to work for him. So generally speaking, he's being pretty much a non-factor on the offensive end. On the other hand, he's running the court very well and actually looks decently athletic for a guy of his size, relatively easily getting off his feet.

[Read Full Article]

---
Roundup: Rising Star Rudy
April 27, 2007
Romain Duport recorded a career-high 16 points against Orleans this week before fouling out after only 19 minutes on the court. He still had time to grab 4 rebounds and dish out 2 assists, although Le Havre eventually lost the game. Duport was fairly impressive on the offensive end, netting most of the balls that fell into his hands, while showing interesting moves. For example, he nicely finished a couple of pick-and-roll plays, one with a left-handed layup (not the most common outcome for him) and the second one after a reverse move in the paint, showing notable coordination. Itís always encouraging to see a big guy showing some aggressiveness, and Romain delivered plenty in a great offensive rebound that he easily transformed into two points. However, he particularly shined with his shooting touch, as he converted a three-point basket and a fade-away mid-range jumper. On the negative side, he looked slow on defense, being exploited by the opposing guards and getting into foul trouble trying to stop his own matchups.

We also had the chance to watch Duportís previous career high, a 15-point effort against Gravelines that happened one month ago. This time he probably had a bigger impact on the defensive end, particularly during his first minutes on court; despite being regularly outmuscled or sometimes shying away from stepping in the way of penetrating guards (he tends to settle for elevating to challenge shots instead of simply rotating), his great length pretty much stopped the bleeding his team was suffering from the paint early into the game. Offensively, he stuck to off-the-ball moves, setting picks and rolling inside or just staying alert to take advantage of any defensive rotation to receive on the paint. Only once was he fed in the low post, where he nicely found the way to the basket. Nothing really very different from what we reported in previous roundups, but another example of Duportís ability to step up as a useful contributor for his team right away.

[Read Full Article]

---
Roundup: Yi Jianlian Leads Guangdong to the CBA Finals
March 12, 2007
ÖRomain Duport, a new face in the French LNB league who is getting a first taste of real competition playing for Le Havre these days. Actually, heís a kid born in 1986 (in December, therefore heís almost an 87 guy) who has never played for the youth French National Teams, so his experience in competitive settings is very limited. Weíve had the chance to watch most of the action he has enjoyed with the first team, as well as a game with the Le Havreís Espoirs squad (the Espoirs is a parallel competition to the LNB that features only young players).

Although listed at 6-11, Duport stands over seven feet (heís reportedly 7-2) and heís a center all the way given both his size and skill set. This brings the first problem about him: physically underdeveloped, heís very skinny and his frame is not the best around for that position. Decently athletic for his size, heís a mobile enough player to fulfill his duties on the court.

Duportís offensive game basically revolves around the paint. He plays nicely off the ball, staying quite active in pick-and-roll settings and trying to take advantage of defensive rotations to score easy baskets from the lane. He likes to go for the two-handed dunk; because although his vertical leap is average, his great length makes the job easy for him. Anyway, his first option is usually the low post. Thatís where he gets the biggest chunk of his production playing for the Espoirs. With the veterans, even if he does a nice job gaining a position in the low post despite his weak body, heís rarely fed by his teammates. Anyway, his footwork is still poor and his moves mechanical. Still, Romain is unstoppable playing against youngsters, where he can just receive, turn around and shot over his rivals (usually using the glass), even exposing the ball as he takes advantage of a big size differential; he doesnít need jump-hooks or stuff like that. However, when it comes to facing veterans, he does show a decent right-handed jump-hook, and particularly a nice soft touch around the basket, which is extremely useful for a guy like him. On the contrary, he doesnít seem to have any left hand to speak of, and even when heís going left, he releases a right-handed shot.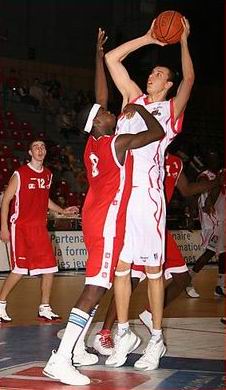 Photo: Philippe CouyŤre


Thatís pretty much it regarding his scoring punch. Duport is not a face-up guy at all. He virtually never puts the ball on the floor if itís not to operate in the low post, and itís very uncommon to see him shooting with some range. Still, he did knock down a three-pointer in the Espoirs game we saw, while he looks quite reliable from the charity stripe. His mechanics are solid, although he doesnít completely finish the release move, as he leaves his right arm bended and doesnít take fully follow through with his wrist. Also, he seems to enjoy soft hands to catch the ball, but not too strong to keep it in every situation. We havenít seen enough of him to evaluate his passing game, although he looks fairly reliable passing the ball out of the post when double-teamed.

On defense, Romain certainly annoys his rivals with his length, but he could be a lot more intimidating. Heís not a very aggressive player, and doesnít get much shot-blocking production. His defensive rotations are often a bit timid, and his lateral mobility questionable. He seems to have the athletic ability, but he doesnít bend his knees enough and isnít intense enough chasing his match-up. However, heís more solid than expected in the low post; he can get outmuscled, but he isnít afraid of contact and heís decently strong on his knees (always considering his limited strength). Things get better in the rebounding department, where Duport uses his length and shows nice timing to jump for the ball. Indeed he has played a grand total of 44 minutes in the LNB and he has managed to grab 16 rebounds.

As a late bloomer and newcomer to first-division basketball, itís a bit early to draw conclusions about Duport. He still might make great strides once he gets used to the new level of competition and improves his body strength. Right now heís not that intriguing aplayer draft-wise. First, his thin frame while displaying a pure centerís skill set; second, he doesnít look like a great defender in the making; third, heís not that skilled on the offensive end. Therefore, itís hard to envision a hypothetical role for him at the top basketball level. However, he might still draw interest in the second round next year just to gamble on his ability to develop both physically and technically.

[Read Full Article]

---