Russ Smith
Recent Tweets
All Tweets
DraftExpress: (super early) Top performers from the 2014 Vegas Summer league (PER) Josh Davis Tim Hardaway Bernard James Nemanja Nedovic Russ Smith
2014-07-12 22:42:15
DraftExpress: RT @Mike_Schmitz Russ Smith's #NBADraft Scouting Video http://t.co/sRA2ZU4Hoy
2014-06-26 23:38:24
DraftExpress: Russ Smith's #NBADraft Scouting Video http://t.co/sRA2ZU4Hoy
2014-06-26 23:37:01
DraftExpress: At #47 Philadelphia selects Russ Smith. Really like this pick. One of my favorite players in the draft. I wouldn't bet against this kid.
2014-06-26 23:37:00
DraftExpress: Best players still available Russ Smith Vasa Micic Artem Klimenko Patric Young Cristiano Felicio
2014-06-26 23:36:12
Team: Grizzlies
Physicals
Positions
Salary
Misc
H: 6' 1"
W: 160 lbs
Bday: 04/19/1991
(24 Years Old)

Current: PG
NBA: PG
Possible: PG

Agent: Mike Higgins
Current Salary:$507,336

High School: South Kent
Hometown: Brooklyn, NY
Drafted: Pick 47 in 2014 by 76ers

Predraft Measurements
| Year | Source | Height w/o Shoes | Height w/shoes | Weight | Wingspan | Standing Reach | Body Fat | No Step Vert | Max Vert |
| --- | --- | --- | --- | --- | --- | --- | --- | --- | --- |
| 2014 | Clippers Workout | NA | NA | NA | NA | NA | NA | 31.5 | 37.0 |
| 2014 | NBA Draft Combine | 5' 11.5" | 6' 0.75" | 160 | 6' 3.5" | 7' 11" | 3.5 | 29.5 | 34.0 |



Basic Per Game Statistics

- Comprehensive Stats - Statistical Top 25s
| Year | League | Name | GP | Min | Pts | FG | FGA | FG% | 2Pt | 2PtA | 2P% | 3Pt | 3PtA | 3P% | FTM | FTA | FT% | Off | Def | TOT | Asts | Stls | Blks | TOs | PFs |
| --- | --- | --- | --- | --- | --- | --- | --- | --- | --- | --- | --- | --- | --- | --- | --- | --- | --- | --- | --- | --- | --- | --- | --- | --- | --- |
| 2015/16 | NBA | Russ Smith | 9 | 4.0 | 1.7 | 0.4 | 1.7 | 26.7 | 0.3 | 1.1 | 30.0 | 0.1 | 0.6 | 20.0 | 0.7 | 1.0 | 66.7 | 0.1 | 0.3 | 0.4 | 0.2 | 0.2 | 0.0 | 0.4 | 0.3 |

Player Page&nbsp&nbsp| Player Stats | Mock Draft History | Related Articles&nbsp&nbsp| Add to My Draft Express&nbsp
&nbsp
L.A. Clippers Mini-Combine Recap and Analysis
May 22, 2014
Russ Smith, 5 points, 10 assists, 3 turnovers, 2 steals, 2-for-4 FGs
As arguably the best prospect in the entire Combine, Russ Smith could have easily come out gunning in Russdiculous fashion, or even decided not to show up altogether, like many prospects far worse than him did. Instead, Smith played with patience and poise, showcasing an ability to run the show to the tune of 10 assists in the scrimmage (he dropped at least five more assists in the 4-on-4 and 5-on-5 drills prior) while bothering Florida State guard Ian Miller tremendously with pesky ball pressure all game.

Smith didn't attempt any three-pointers and clearly made a conscious effort to prove to NBA personnel that he's capable of playing the role of lead ball-handler while still providing that scoring punch that made him so great at Louisville. Albeit against a less than stellar defender in Miller, Smith got into the lane whenever he wanted and dropped the ball off to his bigs with ease, while showing an ability to find open shooters in traffic (with a fancy left-handed hook pass on multiple occasions), or hit the roll man out of the pick and roll. Smith also lived up to his reputation as one of the best perimeter defenders in the country, locking up Miller while making plays in the passing lanes and digging down onto the post Smith proved to be the best player at the two-day workout while giving NBA teams a glimpse of what he could do as an NBA backup point guard, and continues to show why we consider him one of the most underrated prospects in the draft.

[Read Full Article]

---
2014 NBA Combine Interviews: Rodney Hood, Russ Smith, Alex Kirk
May 18, 2014
[Read Full Article]

---
Russ Smith Updated Scouting Report
April 21, 2014
Kyle Nelson

It has been over a year since Russ Smith was our NBA Draft Prospect of the Week (click to watch video scouting report) and one of college basketball's more unique prospects took another giant leap forward in his development. Known previously as a loose canon without point guard instincts, Smith averaged 24 points and 6 assists per-40 minutes as a senior, showcasing new-found versatility and playmaking skills, while leading Louisville to a top-5 AP ranking and a Sweet Sixteen run in the NCAA Tournament.

Individually, Smith was named First Team AP All-American and was a finalist for National Player of the Year, capping off an impressive college career that was nothing short of russdiculous. Yet, most scouts project him as a second round pick and, despite his significant improvement, there is little consensus on what he can offer an NBA team at this stage.


US Presswire



Some of that has to do with his size. Standing just 6-0, with a rail thin 165-pound frame, Smith ranks as the eighth most prolific scorer in our top-100 prospect rankings, posting an impressive 23.9 points per 40 minutes pace adjusted. Furthermore, Smith made a career high 52% of shots from inside of the arc and 39% from 3-point range, up from 46% 2P% and 33% 3P% as a junior.

On film, Smith plays a fearless, albeit reckless, style of basketball. Making him particularly dangerous is the fact that he can score inside and out, off the dribble and from a standstill, while possessing elite quickness, agility, and explosiveness.

Perhaps most notably, he added perimeter shooting as a consistent part of his offensive repertoire, making 39% of his many 3-point attempts and 40% of his overall catch-and-shoot attempts. Unsurprisingly, he took and made more shots while guarded and showed a knack for finding looks off the dribble. His shooting mechanics are inconsistent, however, and he still shows a tendency to fade away, kick out his feet, and shorten his follow-through with a defender in his face, running off screens, and shooting outside of his range. His shot selection will need to continue to improve, as he still is all too fond of tossing up bad shots out of rhythm. His shooting mechanics do look good with his feet set and in space, however, suggesting that he can continue to improve in this area.

Smith remains a dynamic player in transition, using his speed to push the ball up the floor and darting effortlessly through traffic on his way to the basket. Likewise, he also polished his half-court skills, showing an excellent first step and agility while continuing to hone his instincts operating out of the pick-and-roll. While he continues to struggle as a finisher around the basket, he at least made strides in this area as a senior, making 50.4% of shots around the basket, up from 44.8% as a junior. Furthermore, Smith subtly adapted to his size and strength limitations, showcasing a much-improved floater, utilizing better body control and restraint, and even occasionally finding open teammates.

That being said, he continued to show questionable decision making ability, particularly off the dribble, as he ranks as the fifth most turnover prone player in our top-100. Smith continued to show a tendency to recklessly attack the basket, throwing up contested looks with teammates open both inside and out and leaving his feet without a plan. Therefore and while Smith's fearlessness is arguably his greatest asset, continuing to refine his decision-making ability would go a long way in terms of becoming a more efficient finisher.

His decision-making did, however, improve during his senior year. One of the criticisms surrounding Smith as a junior was that he was a 6'0 shooting guard without point instincts. As a senior, he showed significant improvement as a distributor both on and off of the ball, logging a career high 6.1 assists per 40 minutes pace adjusted and a respectable 1.64 assist/turnover ratio. Additionally, he looked increasingly comfortable running the pick-and-roll, which might go a long way in convincing teams that he is capable of playing rotation minutes at the point guard position.

On the other hand, he still did not look like a natural distributor and too often was plagued by tunnel vision and bad decision-making. He is not a particularly adept passer, oftentimes overthrowing lobs inside and missing open teammates, and his instincts off the dribble more generally could use significant improvement. Still, few saw Smith taking such a giant step forward, suggesting that he has still has room to improve as a point guard, particularly in the more wide open NBA where his style of play undoubtedly fits better.

While his considerable improvement on the offensive end adds to his intrigue, his bread-and-butter as a prospect remains his defense. By the numbers, Smith graduated as Louisville's all-time leader in steals, averaging 1.9 steals per game for his career and ranked fifth among prospects in our top-100 as a senior.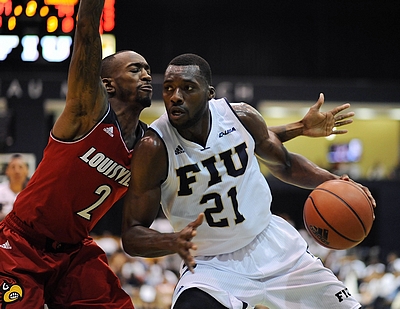 US Presswire



On film, his excellent lateral quickness, length, and aggressiveness allow him to be an elite on-ball defender, skills that should translate seamlessly to the next level. Likewise, he fights through screens, gets in passing lanes, and makes hustle plays, all of which make him an intriguing NBA prospect, despite his lack of size and slight frame.

Smith, therefore, presents scouts with an interesting decision. He displays some very obvious weaknesses. He is a dynamic scorer off of the dribble, an intimidating on-ball defender, and an improving point guard, but he also tends to play out-of-control and does not make the greatest decisions. Yet, there are few players who improve on almost every single one of their weaknesses at 23. There are even fewer undersized volume scorers that develop point guard instincts as seniors. Simply put, Russ Smith is an exception to the rule across the board and improved while playing a different role than he did the year before. For these reasons, it's hard to bet against Russ Smith at this point and, at the end of the day, he will have every opportunity to prove himself as an NBA player over the next few months and years.

[Read Full Article]

---
Russ Smith Video Interview
August 29, 2013
Russ Smith of Louisville talks with Jonathan Givony of DraftExpress about playing at the camp, the possibilities of the NBA, what he can bring to a team, what he's learned from coach Rick Pitino, the chances of another national championship, and what he needs to work on to make it to the next level. From the 2013 adidas Nations.



[Read Full Article]

---
NBA Draft Prospect of the Week: Russ Smith
January 25, 2013
Scouting report by Jonathan Givony. Video analysis by Mike Schmitz

One of the most popular players in college basketball due to his highly entertaining and unpredictable style of play, as well as his quirky nickname and background, Russ Smith has unexpectedly developed into the best player for a Louisville team that will contend for the national championship this spring.

Video Analysis:



Seeing most of his minutes off the ball alongside Peyton Siva, Smith currently rates as the sixth best per-minute scorer in the NCAA, being responsible for 34% of his team's possessions when on the floor, highest amongst all college prospects.

Showing excellent speed, strong ball-handling skills and terrific aggressiveness, Smith is at his best in the open court, as no prospect in college basketball pushes the ball up the floor more frequently than he does. Generating 9.1 transition plays per-40, Louisville scores 1.37 points every time he does so, which is one of the reasons they've improved from being outside the top-100 in offensive efficiency last season to inside the top-15 this season.

Not afraid to drive the ball right into the teeth of the defense and take a hit at the rim, Smith has become a much better finisher around the basket this season, a big reason he's been able to improve his 2-point conversion rate from a paltry 38% to a much more respectable 46%. The real key to his offensive efficiency lies in the way he gets to the free throw line though—8.1 times per-40—which ranks second amongst all NCAA point guard prospects.

While Smith is not what you'd describe as a great finisher around the basket with his average size, strength and decision making, it's not difficult to see his incredible first step, quickness and ability to get to the rim translating to a NBA setting, particularly in an offense that values spacing and is committed to playing at a fast tempo, such as those run in Denver or Houston.

Where Smith must continue to improve is as a jump-shooter, or more specifically, with his shot-selection. While clearly capable of making shots from the perimeter with both his feet set and off the dribble—he converts nearly two 3s per game—he is unable to do so with any type of consistency, only hitting 31% of his jump-shots on the year. Many of these attempts are deep, contested looks early in the offense, which he heaves up with no conscience whatsoever.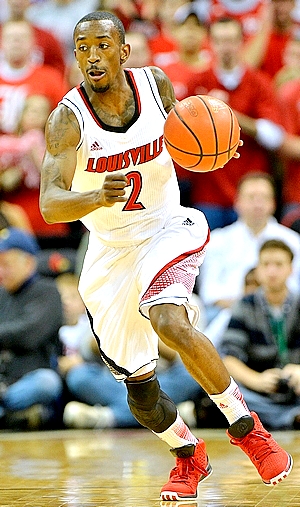 US Presswire



Because of how much time he spends off the ball—due to the makeup of Louisville's roster as well as his very questionable decision making skills—there are plenty of questions about how he'd fare playing the point guard position full time. In the ten or so minutes per game in which Peyton Siva goes to the bench, it looks pretty clear that Smith isn't a natural distributor, and that he's obviously most comfortable looking for his own shot.

Smith is capable of making some nice plays driving and dishing to teammates at times, but he tends to get tunnel vision too often, while the offense seems to lack much flow with him as the primary ball-handler. While he doesn't turn the ball over very much relative to his extremely high usage (just 17% of his possessions, around average for a NBA point guard prospect), he also doesn't generate many assists, and sports a 1/1 assist to turnover ratio.

On the other end of the floor is where Smith really shines, though. Louisville currently rates as the 2nd best defensive team in college basketball, and Smith plays a huge part in that. While not incredibly tall, his lateral quickness is off the charts, which combined with his very physical nature and tremendous anticipation skills, allows him to put incredible pressure on opposing guards, and in turn come up with plenty of steals. He has an almost uncanny knack for getting in the passing lanes, ranking third among all prospects in steals per-40 minutes, after finishing second among all college players in that category last season.

It's not difficult to see a NBA coach bringing him off the bench and sticking him on the opposing team's point guard for a couple of minutes at a time, just to change the pace of the game. He really takes pride in his work on this end of the floor, not being afraid to stick his nose in to take a charge, dive on the floor for loose balls, or rotate from the other end of the court to help make a play.

Smith is a unique prospect in the sense that he has some incredibly distinct strengths and weaknesses on both ends of the floor. It's difficult to find players who can make their presence on the floor felt offensively and defensively simultaneously, but on the other hand, he doesn't have great size for his position, he plays a very wild style of basketball, and he's not much of a distributor.

With that said, his instincts on both ends of the floor are clearly outstanding, and he's matured quite a bit in the past three years, making it safe to wonder where he might be three years from now considering the rate he's currently progressing at. The biggest question is whether he can continue to tone his game down and polish his weaknesses to become the type of player a NBA coach can trust enough to put on the court for more than a few minutes at a time.

Smith is also a little old for his class, as he turns 22 in April. That may put a little more pressure on him to consider leaving early despite having another year of eligibility. How Smith and Louisville finish the season will likely play a big part in that, but the fact that this is even a topic of conversation is amazing considering where he was two years ago.

[Read Full Article]

---
Top NBA Prospects in the Big East, Part Four
October 18, 2012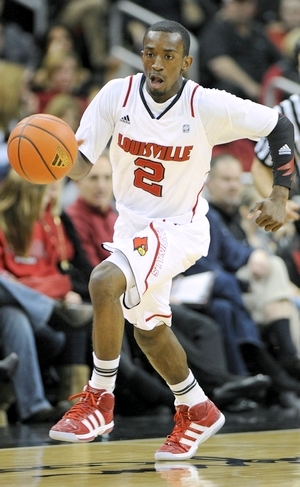 US Presswire



Matt Kamalsky

After playing a limited role for the Louisville Cardinals as a freshman, Russ Smith had a breakout sophomore season. Averaging 11.5 points per-game in just 21 minutes, the former two-star recruit emerged as a game changer for Rick Pitino. A waterbug point guard with speed to burn, Smith posted a number of huge individual performances over the course of the year, changing the pace of the game off the bench.

A 6'0 guard with skinny frame and a long wingspan for his size, Smith is, in many ways, reminiscent of former Miami Heat draft pick Patrick Beverley. An incredibly fast guard with a scorer's mentality, Smith is a constant threat to take the ball coast to coast in transition and is a pest on the defensive end.

Smith's aggressiveness and ability to make plays in the open floor made him a polarizing figure in Louisville's offense last season. Finishing the season ranked as the team's 2nd leading scorer and the best per-40 minute pace adjusted scorer in the Big East, Smith shot a dismal 36% from the field. Attempting 36% of his team's shots when he was on the floor, good for 7th in the country per Ken Pomeroy's data, when Smith was playing well, he was able to carry the load for his team for stretches on the offensive end, but he had a number of quiet nights as well, scoring 5 points or less in 7 games.

As with most players of his ilk, Smith does most of his damage in transition, regardless of whether he's handling the ball or running the wing. Sprinting with purpose and often simply winning the race to the rim, the New York native attacks the basket with reckless abandon in the open floor. Finishing 54% of his shot attempts in transition but only 30% in half court situations according to Synergy Sports Technology, Smith possesses the type of speed you can't teach and is clearly at his best when using that to his advantage.

To take his game to the next level, Smith will need to become a more capable perimeter scorer. Making just 26% of the jump shots he attempted last season, the has a quick trigger, but is a bit loose with his mechanics, severely limiting his consistency both off the catch and off the dribble.

Possessing the speed to turn the corner when attacking off the dribble, Smith does a terrific job drawing contact and getting to the line, but needs to improve his decision-making and develop his scoring ability around the rim. Ranking as the fifth most turnover prone player in the Big East, Smith dribbles himself into trouble too often. Shooting just 40% at the rim and making just 26% of his floaters in half court situations, Smith's aggressiveness plays against him on occasion.

Playing a bit too fast for his own good at times, Smith's ability to learn how to make plays when the game slows down by becoming a more effective scorer or distributor in the half court will be key to his development as a prospect. A very capable passer, Smith makes just as many dynamic plays in drive and dish situations as he over-penetrates and turns the ball over. Smith will have to do a better job picking and choosing his spots to improve on his 0.84 assist-to-turnover ratio.

Defensively, Smith is an absolute menace at the college level, making up for many of the mistakes he makes offensively with his play defensively (87 steals, 90 turnovers). He can pick up the ball handler and apply pressure full court, suffocate his match-up with his tremendous lateral speed, and led the entire NCAA in steals per-40 minutes pace adjusted.

One of the most productive per-minute players in the Big East, but also one of the least efficient, Russ Smith could be the key to Louisville's success this season. If he becomes a better shooter or decision-maker, he could make a more consistent positive impact every time he's on the floor and solidify himself as a NBA prospect heading into his senior year.

[Read Full Article]

---