Stefan Markovic
Recent Tweets
All Tweets
Top undrafted free agents (part three): Marqus Blakely, Stefan Markovic, Jon Scheyer, Tyler Smith, Thomas Heurtel, Jeremy Lin, Jerome Randle
2010-06-24 23:04:00
Top undrafted free agents (part three): Marqus Blakely, Stefan Markovic, Jon Scheyer, Tyler Smith, Thomas Heurtel, few others maybe
2010-06-24 23:02:00
Serbian Scouting Trip, Part 2 http://bit.ly/cYJd2I How do Nemanja Bjelica & Stefan Markovic stack up as NBA prospects?
2010-02-25 10:15:07
Stefan Markovic really struggling to get by guys, make shots, defend Bo McCalebb off dribble in 2nd half. Hemofarm 56 Partizan 53-6 min left
2010-02-20 13:46:07
Stefan Markovic has 9 pts, 4 ass at half. Vesely with a quiet 3 pts, 3 fouls. Partizan will need a miracle to get back in this one.
2010-02-20 13:17:04
Top 25s - Full List
Team: NON-NBA College Team: Malaga
Physicals
Positions
Salary
Misc
H: 6' 5"
W: 215 lbs
Bday: 04/25/1988
(27 Years Old)

Current: PG/SG
NBA: PG
Possible: PG/SG

Agent: Rade Filipovich

High School:
Hometown: Belgrade, Serbia

Predraft Measurements
| Year | Source | Height w/o Shoes | Height w/shoes | Weight | Wingspan | Standing Reach | Body Fat | No Step Vert | Max Vert |
| --- | --- | --- | --- | --- | --- | --- | --- | --- | --- |
| 2009 | Eurocamp | 6' 4.25" | 6' 5.5" | 199 | 6' 5.5" | 8' 3" | NA | 27.0 | 31.0 |



Basic Per Game Statistics

- Comprehensive Stats - Statistical Top 25s
| Year | League | Name | GP | Min | Pts | FG | FGA | FG% | 2Pt | 2PtA | 2P% | 3Pt | 3PtA | 3P% | FTM | FTA | FT% | Off | Def | TOT | Asts | Stls | Blks | TOs | PFs |
| --- | --- | --- | --- | --- | --- | --- | --- | --- | --- | --- | --- | --- | --- | --- | --- | --- | --- | --- | --- | --- | --- | --- | --- | --- | --- |
| 2015/16 | ACB | Stefan Markovic | 8 | 22.3 | 8.3 | 2.6 | 5.8 | 45.7 | 1.3 | 2.5 | 50.0 | 1.4 | 3.3 | 42.3 | 1.6 | 2.0 | 81.3 | 0.8 | 2.0 | 2.8 | 3.3 | 1.0 | 0.0 | 2.4 | 2.8 |
| 2015/16 | EURO | Stefan Markovic | 7 | 22.3 | 3.9 | 1.3 | 3.7 | 34.6 | 0.7 | 1.0 | 71.4 | 0.6 | 2.7 | 21.1 | 0.7 | 1.0 | 71.4 | 0.1 | 1.4 | 1.6 | 5.6 | 0.6 | 0.0 | 1.1 | 1.9 |

Player Page&nbsp&nbsp| Player Stats | Mock Draft History | Related Articles&nbsp&nbsp| Add to My Draft Express&nbsp
&nbsp
Serbian Scouting Trip, Part Two: Second Round Prospects
February 24, 2010
Not a prospect who was very high up on our scouting list going into this trip, Stefan Markovic nevertheless made a fairly strong impression with his performance in the Serbian Cup.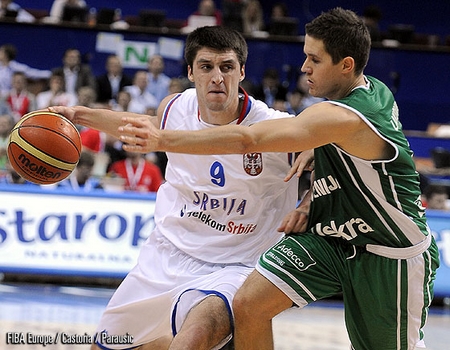 FIBA Europe



A point guard with excellent size at 6-5, Markovic has average length and strength for an NBA guard prospect, but is probably a better athlete than weíve given him credit for in the past.

Showing quick feet, strong ball-handling skills and an excellent knack for getting to different places on the floor, Markovic is a very dynamic shot-creating threat at this level, showing the type of shake and flair that you donít usually see out of European point guard.

Heís a crafty guy who rarely hesitates in anything he does, being very effective running the pick and roll and showing terrific court vision and an excellent basketball IQ. He is an advanced passer who whips the ball all over the floor with some extremely creative passes, looking very flashy at times in transition in particular, but also having no problem running his teamís half-court offense and especially getting the ball into the post.

His biggest Achilles heel throughout his career has always been his perimeter shot, and while heís shooting the ball at a very good rate this season (40% from 3-point range in the Adriatic League, on under 3 attempts per game), he had a very hard time sticking open jumpers in the Serbian Cup semifinal game we saw against Partizan Belgrade. Heís also had his fair share of difficulties in European competition and with the Serbian national team (going 0/16 at the Eurobasket this summer in Poland), indicating that his struggles as a shooter may not yet be behind him.

From a technical perspective, there isnít a great deal wrong with his shot, besides the fact that his release might not be the quickest and he doesnít get much elevation on his jumper, so there might still be hope for him to improve this part of his game down the road. His mid-range pull-up jumper does need work, though, as his percentages tend to fall off dramatically when he isnít able to simply catch and shoot. Becoming a consistent shooter is a big key for him considering that heíd likely have to spend more time playing off the ball in the NBA than he currently does as the all-controlling floor general for Hemofarm.

Markovic puts a good effort in defensively and certainly has his moments putting strong pressure on the ball and doing a decent job staying in front of his man, but there are some question marks about his ability to defend his position at the NBA level, which is a significant concern. His average wingspan, frame and lateral quickness will not do him any favors in this area, and could be the main thing NBA teams will want to study in a private workout setting before making any definitive conclusions about his NBA potential.

One thing working in Markovicís favor is the wealth of experience he brings to the table as a seasoned veteran, something that simply canít be compared with the resume of your typical college senior. Markovic has been seeing significant playing time at the senior level with Hemofarm (a good team in both the Adriatic League and often on the European stage) for years, and was a major contributor on the Serbian National team that made a deep run in last summerís Eurobasket competition in Poland. His intangibles look quite strong, as heís a vocal guy with solid leadership skills and a high level intensity levelóall big pluses considering the position he plays.

There have been guards with some similarities to Markovic who have made it in the NBA, such as Goran Dragic or Beno Udrih, but there are quite a few who havenít as well. Considering how weak of a class this appears to be in terms of point guards, Markovic may have a chance to hear his name called in late June, but he has just as much of a chance to go undrafted as well.

[Read Full Article]

---
Reebok Eurocamp Summary, Part One
June 11, 2009
Markovic had a pretty strong week here, which makes sense considering that he was a major contributor on a very good Hemofarm that made a deep run in this yearís EuroCup competition. He showed nice versatility as a big point guard, doing a good job creating shots for himself and others, particularly on the pick and roll, where he excels. He has good court vision and is not afraid to make the extra pass, looking like a pretty unselfish player with a nice feel for the game. On the negative side, heís an average athlete by NBA standards, struggling to get by his defender from time to time, and seems to be a bit streaky as a perimeter shooter, particularly when forced to pull up off the dribble. While he puts a solid effort in on the defensive end, his lack of length, strength and lateral quickness limits him to a certain extent. His decision making skills could also use some work, as he tends to get out of control at times and is a little more turnover than youíd hope. Markovic looks like a solid prospect for European basketball, and will probably move up the ladder quickly over the next few years. His NBA potential looks limited, though.

[Read Full Article]

---
U-19 World Championship Review: Guards
August 19, 2007
This was a solid, although unspectacular championship for Markovic. His improved playmaking abilities (and the fact that the Serbian coach increasingly trusted him at the point as the tournament advanced) greatly helped Serbia to win the title, but perhaps we were expecting a little extra brilliance in the performance of a player that already enjoys a nicely prominent role on one of the very top Balkan teams.

Blame it on his shooting struggles. The guy is not any type of shooter (he lacks some rhythm and smoothness in his mechanics) but to achieve 1/19 from the arc is just a woeful performance, and ultimately greatly limited his scoring production. He was much more effective doing what he knows to do best: slash. Heís a pretty fast and reactive guy, enjoying a nice first step and being very incisive going inside. A big chunk of his playmaking came off drives towards the basket, situations where he pretty easily finds his open teammates, or where he can just try to finish himself with the layup, although he eventually forced his scoring attempts a little bit. Solid on defense, he enjoys good legs and the strength to stay with his match-up.

[Read Full Article]

---
Roundup: Belinelli Looking for Redemption
December 19, 2006
ÖStefan Markovic, who has established himself as a solid starter for a strong Balkan team such as Hemofarm. Indeed, very few youngsters born in 1988 enjoy such a privileged situation. Markovic was a member of the Serbian junior squad that played this past summer in Greece. He looked there like the most interesting perimeter piece in that squad, a very steady and complete guy who netted his shots, passed the ball really well, enjoyed nice handles, took good decisions and played remarkable defense. He didnít crack into our tournament reviews basically because at 6-5, and enjoying nice but not great athleticism while not looking incredibly talented, we didnít feel he had too much NBA potential in the long run to play in the wings.

Fast forward to the 2006/07 season with Hemofarm: Markovic is playing extended minutes at the point guard position, and he does look fairly comfortable there. Itís not a full time job, since he shares the playmaking duties with other guys such as Nevojsa Joksimovic or Miljan Rakic (Hemofarm uses a combo-guard based backcourt), but he surely enjoys good action. Markovic shows the quickness and handles to deal with the position, while he usually stays very cool, looking for good options, taking good decisions, showing nice maturity, unusual for such a young kid in that position. He finds easily open team-mates, plays effectively the pick and roll, manages to involve the weak side, and particularly creates opportunities for the team whenever he slashes. He enjoys a nice ability to beat his match-ups off the dribble and heís quite unselfish (almost by default) when it comes to score points. Indeed, heís not shooting much (he averages a combined 6.7 points per game in the Adriatic League and ULEB Cup, shooting over 50% from the field), despite displaying a nice-looking jumper that, anyway, might need some extra consistency, particularly in off-the-dribble mode. On defense, he stays with his man and only eventually suffers against very quick point guards.

A well-built, tall and fairly athletic point guard with some scoring skills, solid passing ability, poise and nice basketball IQ, while already playing major minutes for a team like Hemofarm, surely has to draw some intrigue. He doesnít enjoy unlimited potential, but heís a guy to follow.

[Read Full Article]

---