Tyler Zeller
Recent Tweets
All Tweets
DraftExpress: 2012 NBA Draft Media Day Interviews Part Two http://t.co/RJberv6X - Beal, Kidd-Gilchrist, Drummond, Henson, Meyers Leonard, and Tyler Zeller
2012-06-28 09:55:46
DraftExpress: RT @WojYahooNBA: Dallas will get picks 24, 33 and 34, source says, from Cleveland for Tyler Zeller.
2012-06-28 08:14:17
DraftExpress: Dallas takes Tyler Zeller, but trading the pick to Cleveland according to reports. Good move from the Cavs.
2012-06-28 08:11:05
DraftExpress: How unpredictable is this draft? Tyler Zeller and John Henson were invited to the draft. Still sitting there. Kendall Marshall is at home.
2012-06-28 07:50:56
DraftExpress: RT @AlexKennedyNBA: Hornets would love Andre Drummond at #10. If he's gone, they'll look at Austin Rivers, Tyler Zeller and Meyers Leona ...
2012-06-28 05:08:51
Top 25s - Full List
Team: Celtics
Physicals
Positions
Rankings
Salary
Misc
H: 7' 0"
W: 247 lbs
Bday: 01/17/1990
(25 Years Old)

Current: C
NBA: C
Possible: C

RSCI: 19

Agent: Sam Goldfeder
Current Salary:$1,703,760

High School: Washington HS
Hometown: Washington, IN
Drafted: Pick 17 in 2012 by Cavaliers
Best Case: Greg Monroe
Worst Case: Paul Davis

Predraft Measurements
| Year | Source | Height w/o Shoes | Height w/shoes | Weight | Wingspan | Standing Reach | Body Fat | No Step Vert | Max Vert |
| --- | --- | --- | --- | --- | --- | --- | --- | --- | --- |
| 2012 | NBA Draft Combine | 6' 11.25" | 7' 0.5" | 247 | 7' 0" | 8' 8.5" | 6.4 | 30.0 | 34.0 |



Basic Per Game Statistics

- Comprehensive Stats - Statistical Top 25s
| Year | League | Name | GP | Min | Pts | FG | FGA | FG% | 2Pt | 2PtA | 2P% | 3Pt | 3PtA | 3P% | FTM | FTA | FT% | Off | Def | TOT | Asts | Stls | Blks | TOs | PFs |
| --- | --- | --- | --- | --- | --- | --- | --- | --- | --- | --- | --- | --- | --- | --- | --- | --- | --- | --- | --- | --- | --- | --- | --- | --- | --- |
| 2015/16 | NBA | Tyler Zeller | 12 | 7.9 | 4.4 | 1.6 | 3.2 | 50.0 | 1.6 | 3.2 | 50.0 | 0.0 | 0.0 | &nbsp | 1.3 | 1.5 | 83.3 | 0.4 | 1.2 | 1.6 | 0.5 | 0.2 | 0.2 | 0.5 | 1.2 |

Player Page&nbsp&nbsp| Player Stats | Mock Draft History | Related Articles&nbsp&nbsp| Add to My Draft Express&nbsp
&nbsp
2012 NBA Draft Media Day Interviews Part Two
June 28, 2012
[Read Full Article]

---
Situational Statistics: the 2012 Big Men Crop
June 23, 2012
Speaking of Tyler Zeller, he was clearly one of the most impressive big men prospects in this study, as he not only shouldered a fairly heavy offensive load (14.4 possessions per game, 7th among the 26 evaluated), but did so very efficiently (1.086, 4th best). He ranks as the second most efficient scorer (1.673) in transition situations after Meyers Leonard, despite seeing twice as much usage in that category.

Zeller saw the third most possessions in this study with his back to the basket, and drew fouls at the 4th best rate once there. While not taking all that many jump-shots (just under one per game), he ranked as the 4th best shooter among the 26 big men, at a solid 1.031 points per shot.

His versatility will clearly be an asset for him in the NBA.

[Read Full Article]

---
NBA Combine Interviews: Zeller, Plumlee, O'Quinn
June 23, 2012
[Read Full Article]

---
Tyler Zeller Video Scouting Report
June 16, 2012
Mike Schmitz takes a look at the strengths and weaknesses of Tyler Zeller with the help of North Carolina game film, UNC Head Coach Roy Williams, Jay Bilas, and Zeller himself.






---




More DraftExpress Video Breakdowns:


-Perry Jones Video Scouting Report
-Thomas Robinson Video Scouting Report
-Andre Drummond Video Scouting Report
-Quincy Miller Video Scouting Report
-Tony Wroten Video Scouting Report
-Terrence Ross Video Scouting Report
-Tyshawn Taylor Video Scouting Report
-Damian Lillard Video Scouting Report
-Jeremy Lamb Video Scouting Report
-Bradley Beal Video Scouting Report
-Dion Waiters Video Scouting Report
-Kendall Marshall Video Scouting Report
-Moe Harkless Video Scouting Report
-Meyers Leonard Video Scouting Reports
-Michael Kidd-Gilchrist Video Scouting Reports
-Harrison Barnes Video Scouting Report
-Austin Rivers Video Scouting Report


---


Mike Schmitz is a writer for ValleyoftheSuns, a member of the TrueHoop Network. Follow him on twitter and subscribe to his YouTube page.

[Read Full Article]

---
Trending Prospects (3/29/2012)
March 29, 2012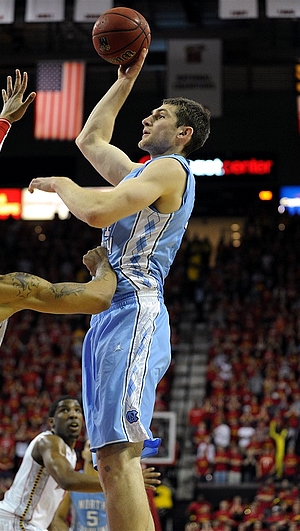 Icon SMI



Walker Beeken

Coming into his senior season, Tyler Zeller was a part of a North Carolina team that had high preseason expectations of winning a national title, thanks an extremely talented roster full of top-shelf NBA prospects. The Tar heels ended up earning a number one seed in the NCAA tournament but lost last weekend in the Elite Eight to Kansas, ending Zeller's collegiate career.

After a successful junior year, Zeller continued to make strides as a senior, establishing himself as perhaps the Tar Heels most consistent player and earning ACC Player of the Year honors. While he was considered a likely mid to late first round pick in the 2012 NBA Draft coming into this season, Zeller's impressive senior campaign helped elevate his draft stock to the point that he now has a strong chance of being picked in the lottery or perhaps even the top ten.

His intrigue from NBA standpoint starts with his physical profile, as he's a solid run and jump athlete for a 7-footer, showing great speed running the court, as well as the ability to finish above the rim. Somewhat upright in his stance and not overly fluid, his frame could still use some extra bulk, but he's made progress in that area since coming to North Carolina, and he should continue to add strength as he puts in the work in the weight room.

Zeller combines his outstanding running ability with a nice set of hands and a good motor for a player his size, both of which help him as a finisher sprinting the floor. He's able to beat most any big men down the court and catch the ball running full speed, where he's then shown the ability to quickly gather himself and elevate for a dunk, resulting in him converting on an excellent 79% of his field goal attempts in transition this season.

In the half-court, Zeller does much of his damage in the post, where he looked to be more assertive and confident as a senior, fighting to establish position and calling for the ball. His bread and butter is still his right-handed jump hook turning to his left shoulder, which he executes effectively from either block and can even shoot from a bit further out, depending on how deep he catches the ball.

He'll need to continue to refine his post game, working on his footwork and mixing up his repertoire a bit, but he did show flashes of some counter moves and looks to have good touch finishing with either hand around the rim. He'll also need to focus more on feeling defenders collapsing on him and finding open shooters, as his passing out of the post is still lacking at this stage, only generating an assist on just 7% of his used possessions.

Due to the way he was utilized offensively at North Carolina, Zeller didn't get to show much in terms of his shooting ability, attempting less than one jumper per game in his senior season. He connected on half of those attempts, albeit in a very limited sample size, and looks like he should become a reliable shooter out to about eighteen feet or so in time. He shot an excellent 81% from the free throw line this season, has solid mechanics, and a quick release, which all bode well for his potential to space the floor and pick-and-pop as he gets more comfortable with his jumper.

Defensively, Zeller may lack some girth to defend bigger NBA centers and isn't the most imposing rim-protector (his 2 blocks per-40 minutes ranks 11th of the 15 centers in our top 100 rankings), but he's a very cerebral defender who understands positioning, both defending the ball and in help situations, as he does an excellent job drawing charges. He'll likely never be considered a game-changing defender at the center position, but his smarts and instincts should enable him to fit into a defensive scheme, where he has the potential to excel defending ball screens and making the proper rotations.

Perhaps the area we've noticed the most improvement in Zeller over the past year has been with his toughness and willingness to embrace contact in the paint. We noted before that he seemed to be a bit soft at times and was muscled around on occasion, but he showed more of a mean streak this year on both ends of the floor. After being a below average rebounder for three seasons, Zeller improved dramatically as a senior, showing great activity on the glass on both ends of the floor and grabbing 13.6 rebounds per-40, which was the highest of all centers in our top 100.

Overall, Zeller had a very impressive senior season at North Carolina, solidifying his strengths and shoring up some of his weaknesses. He improved each year since arriving as a freshman and also earned Academic All-American of the Year honors this season, further exemplifying his strong off-court intangibles.

The fact that he's already 22 years and doesn't have elite length or athleticism likely limits his upside in the eyes of NBA decision makers, but 7-footers who can rebound, run the floor, and score in the post are always highly coveted by NBA teams, and Zeller looks to have the potential to make a contribution early in his career if he's drafted by the right team and given the opportunity.

[Read Full Article]

---
Trending Prospects (2/10/2011)
February 10, 2011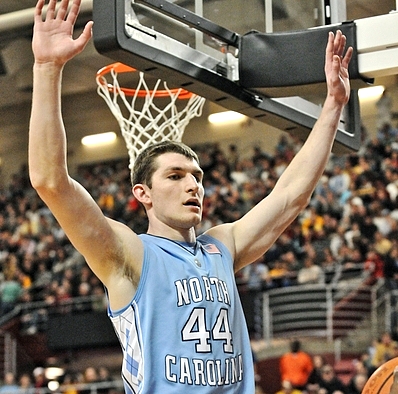 Icon SMI



Walker Beeken

Following two injury-plagued seasons, Tyler Zeller has emerged as the leading scorer on a talented North Carolina team as a junior. Although he may not possess the upside of teammates John Henson and Harrison Barnes, his solid play has caught the attention of the many NBA scouts watching the Tar Heels this season.

Starting at the center position, Zeller is extremely mobile for a player his size, which fits perfectly into North Carolina's up tempo system. And while his team has had some struggles this season, Zeller has probably been their most consistent performer, highlighted by his 27 point, 11 rebound effort in a win against Kentucky, and a 24 point, 13 rebound effort against Duke this week.

As we've mentioned before, Zeller has the physical tools to stand out at the college level, as there aren't many players with his combination of size, mobility, and skill level. While not a top-shelf athlete, he runs the floor well and is able to elevate to finish and compete on the glass. His lack of physical strength is still his biggest weakness from a physical standpoint and area where he should really focus. It's hard to imagine him playing center in the NBA with his frame right now, but if he's able to add some strength, that may be where his game is best suited.

Just over 42% of Zeller's offensive possessions this season have come of the post up variety, and while he's shown that he's capable of scoring in the block, he still lacks some polish. His go-to move is his jump hook turning to his left shoulder from either block, which he executes effectively for the most part, but he sometimes forces the issue and shoots it from too far away or without reading the defense. He has managed to cut back on his turnover rate this season and get to the free throw line more often, which are both encouraging signs, but with his skill level and touch around the basket, he should be more efficient on the block than the .92 points per possession he's scoring this season on post up opportunities.

Zeller hasn't shown a whole lot in terms of his ability to shoot the basketball, as he's attempted less than one jump shot per game so far this season. Much of this can likely be attributed to him knowing his role and focusing on his strengths in the basket area though, as he seems to be a better shooter than what he's shown so far at North Carolina. He has a quick release and high release point and seems comfortable shooting the ball out to about 18 feet or so, and the fact that he shoots a solid 76% from the free throw line further demonstrates his potential in this area. When projecting him to the NBA, Zeller will likely need to spend more time facing the basket, whether it's off the pick-and-pop or just spacing the floor for dribble penetration.

The biggest issue with Zeller's NBA prospects is figuring out who he'll be able to defend. He does appear to be a guy who will put a solid effort in, but he gets muscled around at the college level, and his underdeveloped body would show up even more in the NBA. His lack of lateral quickness also hurts him covering the perimeter, making him vulnerable to quicker big men facing him up. Furthermore, he doesn't appear to be the toughest guy around, something that shows up in particular on the defensive glass, where he ranks just 38th of the 43 collegiate centers in our database when adjusting for minutes and pace.

Overall, there are quite a few positives for Zeller and draft stock. With teams always searching for quality big men, he is a very intriguing prospect with his combination of size, mobility, and emerging skill set that shows room for growth. He's shown this season that he's an effective scorer who seems to know his limitations and can fit into a team concept, and if scouts believe he's capable of improving his body, adding polish to his post game, and continuing to develop a reliable mid-range jump shot, he'll be a player who NBA teams will likely consider in the first round of the draft, whether it be in 2011 or 2012.

[Read Full Article]

---
Top NBA Draft Prospects in the ACC, Part Two (#6-10)
October 19, 2010
Matthew Kamalsky

Spending parts of his first two seasons of eligibility struggling with injuries, Tyler Zeller returns to school poised for a breakout season after spending part of his summer with the USA Select Team. With Ed Davis, Deon Thompson, and the Wear twins out of the picture, Zeller is going to see big minutes as North Carolina's starting center next to their stable of highly touted freshman. While Harrison Barnes will make the headlines for Roy Williams' Tar Heels, Zeller will be a key to UNC's success and is in perfect position to boost his draft stock.

Zeller has a number of interesting physical tools that once made him a highly touted recruit and play a key role in his NBA potential. First, he possesses tremendous size for a power forward, and standing almost 7-feet tall, has the height to play the center position. Showing excellent mobility, and great foot-speed in transition, Zeller is more rangy than explosive, but proves to be a fine leaper when he can gather himself. His biggest weakness at the moment is his lack of great physical strength, which tempers enthusiasm about his ability to be an effective one-on-one defender in the post at the next level. He's added some weight in the last few years, and shows good potential in other areas defensively, but still needs to continue improving his frame.

Zeller's offensive repertoire revolves around his ability to score with his back to the basket and finish the opportunities his teammates created for him at the rim. After scoring most of his points off of simple catch and finish chances as a freshman, Zeller saw nearly 40% of his offensive possessions in the post according to Synergy Sports Technology. His overall usage should grow considerably next season, and if he can maintain his efficiency, he could have a tremendously productive year as the Tar Heel's top interior threat.

Though Zeller has missed significant amounts of his first two seasons and didn't see extensive playing time in either, he is already an efficient interior scorer on the college level. He's able to play above the rim, displays extremely soft touch, and is quick enough off his feet to capitalize on the dump passes and quick post entries delivered from UNC's guards. His sheer length makes him an effective finisher when he can get position, and he does a nice job sitting in gaps and being in the right place at the right time when his teammates attack the rim.

When operating with his back to the basket, Zeller has made some progress, showing the same soft touch he does as a finisher, and flashing some nice counter-moves from time-to-time, but he still struggles to deal with contact and doesn't elevate or finish well in a crowd. He also lacks a reliable and polished turnaround jump shot, and while he flashes some jump shooting ability from the perimeter, he has a long shooting motion that hasn't helped him make an impact from the midrange consistently. His footwork seemed to improve late last season, he's able to score with both hands, and he shows a nice feel for taking what defenders give him down low, but Zeller still needs to refine his repertoire of hooks and drop steps to become more efficient. His ability to add weight will play a key role in his development as a post scorer, as defenders are still able to move him away from the paint as he attempts to establish position.

Defensively, Zeller uses his length well to contest shots and shows good foot speed stepping out to hedge the pick and roll and recovering to the paint. However, his lack of physical strength remains a concern and the more progress he makes improving his frame should also carry over to his rebounding ability. He proves capable of rebounding his area and does a fine job boxing out, but could make better use of his size if he had more weight to throw around.

Looking back at Zeller's first two years at UNC, his game matured considerably despite the fact that he wasn't playing all that much. If his skill-level takes a comparable leap this season, he could have a great year. Considering that the Tar Heels lack depth in the pivot and pretty young across the board, the pressure will be on Zeller to step up and show that he can be a high level contributor and a leader. A hard worker with great intangibles, Zeller should figure prominently into UNC's attempt to bounce back from last season. As this will be Zeller's first opportunity to showcase his talents in significant minutes, we'll undoubtedly be revisiting his progress in the near future.

[Read Full Article]

---