Yogi Ferrell
Recent Tweets
All Tweets
DraftExpress: And gave up about 100 points each. RT @NicoleAuerbach Yogi Ferrell and Jordan Hulls combine for 0 points and 6 turnovers.
2013-03-29 01:12:33
DraftExpress: DX McDonald's All-American Evaluations - Yogi Ferrell, DaJuan Coleman, Devonta Pollard, Perry Ellis http://t.co/0jZQNHWO
2012-04-02 12:23:16
DraftExpress: Doesn't take long to figure out that Yogi Ferrell is going to make an immediate impact at Indiana w/his ball-handling skills & athleticism.
2012-03-26 11:29:37
Team: Indiana, Senior
Physicals
Positions
Rankings
Misc
H: 6' 0"
W: 178 lbs
Bday: 05/09/1993
(22 Years Old)

Current: PG
NBA: PG
Possible: PG

Rank 79 in Top 100 Prospects
Rank 19 in NCAA Seniors
RSCI: 24

High School: Park Tudor
Hometown: Indianapolis, IN




Basic Per Game Statistics

- Comprehensive Stats - Statistical Top 25s
| Year | League | Name | GP | Min | Pts | FG | FGA | FG% | 2Pt | 2PtA | 2P% | 3Pt | 3PtA | 3P% | FTM | FTA | FT% | Off | Def | TOT | Asts | Stls | Blks | TOs | PFs |
| --- | --- | --- | --- | --- | --- | --- | --- | --- | --- | --- | --- | --- | --- | --- | --- | --- | --- | --- | --- | --- | --- | --- | --- | --- | --- |
| 2015/16 | NCAA | Yogi Ferrell | 7 | 31.6 | 15.0 | 5.3 | 10.7 | 49.3 | 3.7 | 6.7 | 55.3 | 1.6 | 4.0 | 39.3 | 2.9 | 3.9 | 74.1 | 2.0 | 3.9 | 5.9 | 6.7 | 1.3 | 0.0 | 2.3 | 1.3 |

Player Page&nbsp&nbsp| Player Stats | Mock Draft History | Related Articles&nbsp&nbsp| Add to My Draft Express&nbsp
&nbsp
Top NBA Prospects in the Big 10, Part Eight: #8-10
October 26, 2015
Kyle Nelson

Kevin "Yogi" Ferrell's career began with significant expectations, as the former McDonald's All-American played a big role on a team that won 29 games and made a run to the Sweet 16. Since then, Ferrell and Indiana have been inconsistent, barely making the NCAA Tournament last year, and losing their opening game, after a one-year hiatus. For better or for worse, Ferrell was, is, and will be Indiana's leader and he must exceed expectations for Indiana to return to form and make a late run in March. With a deep and talented roster, everything is in place for Ferrell to have a strong final season of college basketball.

Ferrell's physical profile is a mixed bag. On the one hand, his 6'0, 178-pound frame and average length leave much to be desired from an NBA perspective. On the other, Ferrell is a very good athlete, showing elite quickness and agility at the collegiate level and with the athletic tools to excel at the next.



On the offensive end of the floor, Ferrell made modest improvements between his sophomore and junior seasons. While his numbers look similar, he was a bit more efficient as a junior, scoring 18.1 on 46.0% 2FG, 41.6% 3FG, and 860% FT while developing as a distributor in the process.

As has been the case throughout his career, Ferrell is a versatile and effective scorer at the point guard position. He is at his best operating out of the pick and roll, where his quickness, ball handling ability, and scoring instincts make it very hard for defenders to stay with him. Likewise, Ferrell remains an outstanding perimeter shooter making 41.6% 3FG and accounting for over 25% of Indiana's overall attempts, Also impressive is the fact that he made 47.4% of his open spot-up jump shots. On film, Ferrell's mechanics are excellent, his release is quick, and he elevates nicely on his shot.

His biggest issue, however, remains his shot selection. Ferrell still takes too many questionable shots, especially from inside of the three-point line. He is not the most efficient shooter in these situations, either, making only 31.8% of jumpers inside of the arc, and 34.1% of his overall shots off of the dribble. Shot selection has been a weakness of his since his freshman year, so scouts will be watching to see if he can improve his decision-making as a senior.

Another issue is the fact that Ferrell is still not a great finisher around the basket, where he made just 51.6% of his looks and attempted just 18 floaters. This is primarily due to his lack of size and length, even if he tried more than his share of high difficulty shots around the basket. Ferrell does not draw many fouls, either, as he takes just 4.2 free throws per 40 minutes pace adjusted.

While Ferrell remains highly explosive as a scorer, he improved considerably as a distributor. By the numbers, Ferrell logged a 2.55 assist/turnover ratio (up from 1.49) and a 3.76 PPR (up from -0.14) while turning the ball over a career low 2.1 times per 40 minutes pace adjusted. Ferrell still struggles with inconsistency in terms of dictating the tempo of Indiana's offense and he clearly looks for his own shot first, but he made strides at becoming a more fluid passer. His instincts as a distributor, particularly in the pick-and-roll, looked improved, which suggests that there is plenty of room for him to continue to improve here as he gains experience under highly respected head coach Tom Crean.

While Ferrell is an intriguing player on the offensive end of the floor, he struggled at times on defense on an undersized team that often struggled to get stops last season. Ferrell does not have the greatest fundamentals, even before factoring in his lack of size and length. While he has the lateral quickness to be a pesky perimeter defender, he does not have the strength to fight through screens and lacks the aggressiveness to consistently assert himself against bigger or stronger guards. While Indiana needs maximum effort from Ferrell on offense, he must also work harder on the defensive end as a senior.

This season, Indiana welcomes back its top five scorers and looks capable of making a deep NCAA Tournament run. The key, as has been the case for the past three years, is Yogi Ferrell, one of nation's most dynamic point guards. Beyond Indiana's postseason prospects, however, Ferrell has one more season to prove to scouts that he has what it takes to play in the NBA.

[Read Full Article]

---
Yogi Ferrell 2015 adidas Nations Interview
August 31, 2015
An interview with Indiana point guard Yogi Ferrell at the 2015 adidas Nations in Los Angeles.
---
More adidas Nations Content:
-Center Prospect Scouting Reports
-Power Forward Prospect Scouting Reports
-Wing Prospect Scouting Reports
-Point Guard Prospect Scouting Reports
-Wayne Selden Interview
-Brice Johnson Interview
-Jake Layman Interview
-Devin Robinson Interview
-Joel Bolomboy Interview
-Troy Williams Interview
-Amida Brimah Interview
-Simi Shittu Interview
-James Webb III Interview
-Udkoa Azubuike Interview
-Zach Auguste Interview
-Nickeil Alexander-Walker Interview
-Wenyen Gabrien Interview
-Markelle Fultz Interview
-Dennis Smith Interview
-Kobe Paras Interview
-Tim Quarterman Interview
---
[Read Full Article]

---
Top NBA Prospects in the Big Ten, Part 4: Prospects #4-7
October 8, 2014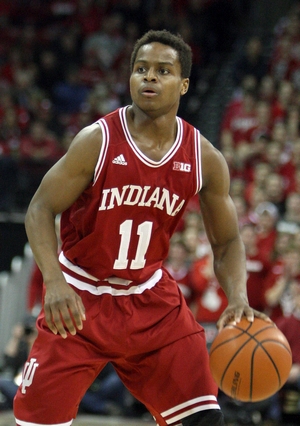 US Presswire



Matt Kamalsky

After averaging 7.6 points and 4.1 assists per-game for the Cody Zeller-led 2013 Indiana Hoosiers, Yogi Ferrell assumed the role of first option as a sophomore as Tom Crean's program endured a difficult rebuilding year. Finishing the year 17-15, Ferrell was a bright spot in an at times dismal season, averaging 17.3 points while shooting 40% from beyond the arc and solidifying himself as one of the most prolific scorers in the Big Ten.

Standing 5'11 with average length, Ferrell's size is likely to remain the biggest knock against him as his career progresses, though he has packed on some muscle and possesses the type of quickness common among players his size who have made it work at the NBA level in the past.

Much more-so than in his high school days, Ferrell now compensates for his lack of size with a knack for scoring efficiently over the top of the defense. The Park Tudor (IN) product had always been a capable shot maker, but the 32% he shot on jumpers as a freshman was a reflection of where he was as a shooter coming out of the prep ranks. Knocking down 39% of his jump shots this past year, Ferrell's confidence and the consistency of his release are both much improved, even if his shot selection often still leaves something to be desired.

That improvement was a significant plus for Indiana's offense a year ago as the Hoosiers relied heavily on Ferrell all season. Among the 1,560 players in the NCAA who played more than 300 minutes last year, Ferrell's 87.1% increase in points per-40 minutes pace adjusted from the previous season ranked 29th, an truly impressive feat given Ferrell played 1012 minutes. Combining the shiftiness with the ball he displayed as a freshman with his improved shooting, Ferrell's ability to push the tempo and score effectively on the pick and roll kept Indiana in a number of games this season, though Tom Crean seemed dismayed at some of the shots Ferrell attempted at times.

Despite the impressive campaign Ferrell put together as a scorer, he still has some rough edges to round out offensively. His size limits his finishing ability, as he shot just 52.1% around the rim in the half court, but he doesn't have an overwhelmingly consistent floater at this point either. His playmaking numbers also suffered as a result of Indiana's need for him to score, as his pure point rating fell from 2.24 to -.05, which ranks among the worst marks for a point guard in our top-100. With the ball likely in his hands non-stop once again this year, it will be interesting to see how Ferrell balances his responsibilities as a facilitator and scorer as a junior.

Defensively, Ferrell's lack of size is an obvious concern looking towards the NBA level. He plays with solid energy and can hang with many of the guards he encounters in the college game, but looks outmatched against stronger backcourt players, especially those with similar quickness. His lack of length makes it difficult for him to contest shots effectively, and he doesn't create many turnovers ranking 3rd last among point guards in our top-100 in steals per-40 minutes pace-adjusted.

Likely to find himself discussed among the most dynamic guards in the country, Yogi Ferrell enters his junior season solid momentum. If he's able to become a more efficient scorer, and shows that his style of play can contribute to winning, he could put himself in terrific position to get drafted this or next year. His combination of quickness, ball-handling ability, and shooting are impressive, and if he can mix in improved point guard play and better numbers around the basket, he could help his perception among NBA scouts.

[Read Full Article]

---
McDonald's All-American Interviews: DaJuan Coleman and Yogi Ferrell
April 5, 2012
[Read Full Article]

---
Mcdonald's All-American Week Player Evaluations (Part One)
April 2, 2012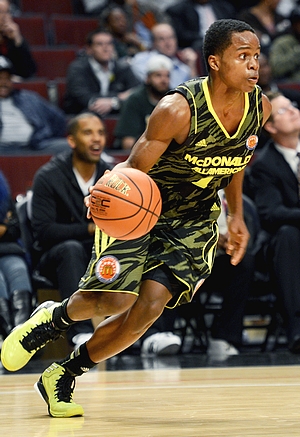 Golin Harris



Matt Kamalsky

The second shortest player in attendance, Kevin "Yogi" Ferrell (ESPN #33, Rivals #17, Scout #34) was arguably the most impressive distributor amongst a point guard crop that struggled badly at times this week. Showing terrific quickness and overall athleticism, Ferrell did a very good job using his dribble penetration to put pressure on the opposing defense and getting his teammates involved.

Listed at 5'11 and sporting an average wingspan, Ferrell's size will likely always give scouts pause as his career progresses, but his tremendous ability to create offense surely gives him a fighting chance. Possessing a quick first step, great agility in the lane, and a solid frame he'll need to continue adding weight to in order to deal with the physicality of the college game, Ferrell's already pushes the ball in the open court exceptionally well.

A very good ball-handler, it will be Ferrell's ability to play at different speeds in the half-court and control the game under pressure that will dictate his early success for the Hoosiers. He showed throughout the week that he can use his explosiveness to create shots for his teammates at a very good rate, even on the pick and roll, a significant plus for an Indiana program that could return a number of legitimate NBA prospects to go along with a stellar incoming recruiting class. If the Indiana native can learn to dictate tempo over the course of his freshman season and make sound decisions when driving to the rim, he'll have a huge impact on Indiana's fortunes next March.

Apart from his ability to create for others, Ferrell can score in a variety of ways himself, but has a lot of room for improvement, as evidenced by his inconsistent scoring this week. Showing the ability to create sharp separation from defenders with his pull-up jumper, he can make shots both from a standstill and off the dribble, but needs to improve his shot-selection and consistency to compensate for the more athletic defenders he'll be facing at the college level. Ferrell's size limits him to some degree around the rim, as some of his drives get smothered in traffic, but his explosiveness and aggressive nature should help him adjust eventually. He'll need to become more discerning with the way he looks to score in the NCAA and become more reliable as a scorer on the pick and roll and a better overall jump shooter to offset the challenges he'll face against more athletic help side defenders.

Defensively, Ferrell has the potential to be an impact player at the NCAA level. His size will limit his ability to get in the passing lanes and contest shots, but his quickness could make him a nuisance as an on-ball defender. It will be interesting to see how Ferrell manages to defend the pick and roll early in his career as teams may challenge the 160-pound point guard in the two-man game by being very physical with him on screens.

Somewhat up and down at times this week, as he'll likely be as a freshman on occasion, Ferrell did his best work during the McDonald's All-American game itself, dishing out a game high 9-assists, a few of which came in half court situations against solid defense. The Indiana native's speed and ball-handling ability will bring another dimension to Tom Crean's offense this coming season, and while Ferrell will have to overcome the perceptions amongst NBA scouts about players his size, he's a player to keep tabs on in the coming seasons.

[Read Full Article]

---