A.J. Hammons
Recent Tweets
All Tweets
DraftExpress: HoopHall Classic Scouting Reports, part 3: Tyler Lewis, Winston Shepard, Katin Reinhardt, A.J. Hammons, Nik Stauskas http://t.co/XBMxQpVD
2012-01-23 05:32:30
Team: Purdue, Sophomore
Physicals
Positions
Rankings
Misc
H: 7' 0"
W: 278 lbs
Bday: 08/27/1992
(21 Years Old)

Current: C
NBA: C
Possible: C

Pick: 28 in 2015 Mock Draft
Rank 61 in Top 100 Prospects
Rank 19 in NCAA Sophomores
RSCI: 74

High School: Oak Hill Academy
Hometown: Carmel, IN

Predraft Measurements
| Height w/o Shoes | Height w/shoes | Weight | Wingspan | Standing Reach | Body Fat | No Step Vert | Max Vert | Bench Press | Lane Agility | 3/4 Court Sprint | Class Rank |
| --- | --- | --- | --- | --- | --- | --- | --- | --- | --- | --- | --- |
| NA | 7' 0" | 278 | 7' 3" | NA | NA | NA | NA | NA | NA | NA | NA |



Basic Per Game Statistics

- Comprehensive Stats - Statistical Top 25s
| Year | League | Name | GP | Min | Pts | FG | FGA | FG% | 2Pt | 2PtA | 2P% | 3Pt | 3PtA | 3P% | FTM | FTA | FT% | Off | Def | TOT | Asts | Stls | Blks | TOs | PFs |
| --- | --- | --- | --- | --- | --- | --- | --- | --- | --- | --- | --- | --- | --- | --- | --- | --- | --- | --- | --- | --- | --- | --- | --- | --- | --- |
| 2013/14 | NCAA | A.J. Hammons | 11 | 19.6 | 8.2 | 2.8 | 4.5 | 63.3 | 2.8 | 4.3 | 66.0 | 0.0 | 0.2 | 0.0 | 2.5 | 4.0 | 63.6 | 2.0 | 4.4 | 6.4 | 0.5 | 0.5 | 3.7 | 2.2 | 2.7 |

Player Page&nbsp&nbsp| Player Stats | Mock Draft History | Related Articles&nbsp&nbsp| Add to My Draft Express&nbsp
&nbsp
Top NBA Draft Prospects in the Big Ten, Part 7 (#11-15)
September 23, 2013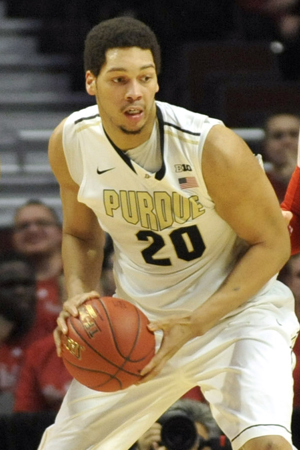 US Presswire



Jonathan Givony

Somewhat of an afterthought in the 2012 high school recruiting class, A.J. Hammons had a solid freshman season for Purdue, pumping in 18.2 points per-40 minutes to go along with 10.3 rebounds and 3.4 blocks, more than holding his own in the tough Big Ten conference despite his lack of experience. He was named to the Big Ten's all-freshman team alongside a host of highly touted prospects, and in the process established himself as a player to keep an eye on moving into his sophomore year.

Hammons' biggest assets as a NBA prospect revolve around his rare physical attributes. He possesses terrific size at 7-0 to go along with a very strong 278 pound frame, which he's reportedly cut down to 251 pounds after a productive summer, and has an excellent 7-3 wingspan to go along with that. He's also very mobile for his size, running the floor relatively well considering his girth and showing the ability to get off the floor nicely inside the paint. All told, Hammons is a gifted prospect from a physical standpoint, particularly if he's in optimal shape, which he reportedly is now.

As you'd expect, the overwhelming majority of Hammons' offensive touches came with his back to the basket, where he was just average in terms of scoring efficiency as a freshman, making 41% of his field goal attempts. He can establish deep post position when he wants to and is capable of making quick spin-moves to either shoulder to score with decent touch. He got to the free throw line a good amount, and made a solid 68% of his attempts once there. He shows nice potential as a back to the basket scorer, even if his skill-level, while certainly above average relative to his experience level, is still very much a work in progress.

Hammons doesn't always work as hard as you might hope to establish deep post-position and settles for a fair amount of low-percentage shots inside the paint. He still has plenty of room to improve upon his footwork and the range on his jump-hook and turnaround jumper, even if there's a lot to work with here.

Where Hammons was quite a bit more effective last season was as a finisher around the basket in non-post up attempts (cuts, pick and roll finishes, offensive rebounds, etc), making 68% of his looks in these situations. He has excellent hands, nimble feet, good body control and can finish with power and authority off two feet.

Unfortunately, he didn't see very many attempts of this nature as Purdue suffered from poor spacing, a lack of outside shooting and an inability to create high percentage shots out of pick and roll and one on one situations, which made their half-court offense very stagnant in the incredibly competitive Big Ten. Returning almost the entire roster from last season should help somewhat in that regard this upcoming year.

From the perimeter, Hammons shows some potential as a mid-range shooter, knocking down a handful of jumpers to go along with the above average percentage he shot from the free throw line. With that said, he wasn't consistent in this area by any means, partially due to poor shot-selection, as he was baited into some very long 2-point attempts that opposing defenses certainly didn't mind conceding. All in all, he made just 5 of the 23 mid-range jumpers he attempted last season, showing that he still has a long ways to go in this area.

Defensively is where many of the biggest concerns surrounding Hammons' NBA potential exist. He lacks intensity here in a major way, showing poor focus and awareness and often being very late to react to things going on the floor. He seems to be stuck playing at half speed on most possessions, willingly giving up deep post position and putting forth a very lackadaisical effort fighting back against opposing big men leaning on him. Like many big men his size, he struggles stepping outside the paint, but his problems are only exacerbated by how lazily he often approaches his work here.

His defensive rebounding leaves something to be desired as well for many of the same reasons, as he doesn't put great effort into boxing out his man and pursuing loose balls, despite having the physical tools to be incredibly effective in this area if he wanted to be.

With that said, Hammons has the length and timing to make up for some of his mistakes defensively, showing that he can be at least an above-average presence on this end of the floor if he ever committed himself to it. He rotates from the weak-side and challenges shots on the ball in impressive fashion at times, blocking 3.4 shots per-40 minutes last season, tied for third best amongst returning prospects in our top-100 rankings. He's difficult to shoot over with his towering height and long wingspan, coming up with a handful of very noteworthy possessions last season contesting shots on the interior and exterior that hint at good things to come if he's ever truly dialed in.

Hammons has been saying all of the right things this offseason about maturing and playing with better passion and consistency. Still, it's sensible to approach these types of remarks with a reasonable degree of skepticism. Questions about his work ethic and intensity have plagued him since his early days in high school, and these type of motivational issues don't tend to disappear in the NBA. If anything, they usually become more noticeable without the hand-holding and constant prodding players enjoy in college as the focal point of mid-level programs.

It will be interesting to see how much improvement Hammons makes between his freshman and sophomore year, as besides the question marks about his love of the game, he's also a year older than most of the players in his class as a 21 year-old sophomore. Hammons' ability to take the next step in his development should give us a clearer picture about the extent of his upside. After missing the NCAA Tournament for the first time in seven years last season, Matt Painter and Purdue will be eager to get back on the right track, and Hammons will certainly play a big role in that.

[Read Full Article]

---
HoopHall Classic Scouting Reports: 2012 Prospects (Part Three)
January 23, 2012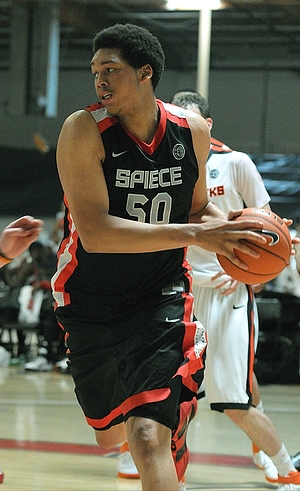 Icon SMI



Joe Treutlein

A.J. Hammons (#83 Scout, #123 Rivals, #78 ESPN) had a solid showing in Oak Hill's blowout win over Prestonwood, scoring 6 points to go along with 8 rebounds and 3 blocks.

A legit 7'0 center with a solid 7'3 wingspan, Hammons has good mobility for his size, along with a developing feel for the game. He has a strong frame already holding a lot of weight, and probably isn't at his athletic peak, as he lacks much in muscle definition and could benefit from a college strength program.

In terms of his skills, Hammons is fairly raw at this stage, operating mostly with simple post moves and finishes around the basket. He shows good hands and touch around the basket along with a willingness to finish with power when necessary, though he tends to go through stretches of disappearing from the game at times, not willing to assert himself consistently. Hammons' conditioning also doesn't appear to be as good as it could be, and it affects his ability to get up and down the floor consistently and stay involved for long stretches.

On the defensive end, Hammons had a nice showing in his game here, showing a good activity level with three blocked shots, including some he did a good job rotating over from the weak side. He showed decent timing on his blocks and did a similarly good job staying in front of his man on post defense, looking solid with his defensive abilities for his age. Just as on the offensive end, however, getting into peak shape and staying consistently focused every play will be critical for Hammons going forward.

[Read Full Article]

---