Abdul Gaddy
Recent Tweets
All Tweets
DraftExpress: Tony Snell working out in downtown Los Angeles with Scott Wood Abdul Gaddy Chase Tapley and Trevis Simpson http://t.co/ofcQKGDiZJ
2013-06-01 17:33:15
DraftExpress: Top NBA Prospects in the Pac-12, (#6-10): http://t.co/solQaZ15 - Trent Lockett, Jared Cunningham, Reeves Nelson, Abdul Gaddy & Kevin Parrom
2011-10-08 09:38:21
DraftExpress: RT @goodmanonfox: Washington point guard Abdul Gaddy tore his ACL and will miss the rest of the season.
2011-01-05 03:51:57
DraftExpress: Top NBA Draft Prospects in the Pac-10, Part 2: http://bit.ly/c2hqd1 Abdul Gaddy, Reggie Moore, Jeremy Green, Reeves Nelson, Deangelo Casto
2010-09-23 04:50:42
DraftExpress: Really wish I didn't have to write this Abdul Gaddy report. I'm struggling to come up with anything positive to say, besides his age. Eek...
2010-09-20 05:49:56
Top 25s - Full List
Team: Virtus Bologna
Physicals
Positions
Rankings
Salary
Misc
H: 6' 3"
W: 195 lbs
Bday: 01/26/1992
(23 Years Old)

Current: PG
NBA: PG
Possible: PG

RSCI: 10

Agent: Mitchell Butler

High School: Bellarmine Prep
Hometown: Tacoma, WA

Predraft Measurements
| Year | Source | Height w/o Shoes | Height w/shoes | Weight | Wingspan | Standing Reach | Body Fat | No Step Vert | Max Vert |
| --- | --- | --- | --- | --- | --- | --- | --- | --- | --- |
| 2013 | Portsmouth | 6' 2.5" | NA | 195 | 6' 7.5" | 8' 3.5" | NA | NA | NA |



Basic Per Game Statistics

- Comprehensive Stats - Statistical Top 25s
| Year | League | Name | GP | Min | Pts | FG | FGA | FG% | 2Pt | 2PtA | 2P% | 3Pt | 3PtA | 3P% | FTM | FTA | FT% | Off | Def | TOT | Asts | Stls | Blks | TOs | PFs |
| --- | --- | --- | --- | --- | --- | --- | --- | --- | --- | --- | --- | --- | --- | --- | --- | --- | --- | --- | --- | --- | --- | --- | --- | --- | --- |
| 2015/16 | Italian | Abdul Gaddy | 9 | 31.8 | 10.7 | 3.6 | 9.9 | 36.0 | 2.9 | 6.6 | 44.1 | 0.7 | 3.3 | 20.0 | 2.9 | 4.2 | 68.4 | 1.6 | 3.0 | 4.6 | 3.0 | 0.8 | 0.1 | 2.6 | 3.0 |

Player Page&nbsp&nbsp| Player Stats | Mock Draft History | Related Articles&nbsp&nbsp| Add to My Draft Express&nbsp
&nbsp
Top NBA Draft Prospects in the Pac-12, Part Four
October 11, 2012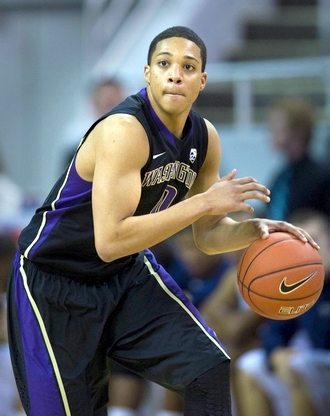 US Presswire



Matt Kamalsky

Last time we checked in on Abdul Gaddy, he was coming off a difficult freshman season that saw him struggle for long stretches. Tearing his ACL just 13 games into his sophomore year, Gaddy bounced back to some degree as a junior playing alongside NBA first round picks Tony Wroten and Terrence Ross. The former McDonald's All-American emerged as a reliable floor general as the year progressed, though he remains limited as a scorer. The 20 year-old senior will have ample opportunities to show improvement this season, as he'll be asked to take his game to the next level.

Standing 6'3, Gaddy has good size for the point guard position at any level, but is a limited athlete by NBA standards. He was never extremely explosive, known more for his ability to change speeds and dictate tempo to get to where he wanted to go on the court early in his career, and the knee injury he suffered as a sophomore certainly did not help him in that regard.

Lacking blow-by quickness, Gaddy still finds ways to distort defenses and make plays as a passer, using simple changes of speed and hesitation moves to catch his defender off guard one-on-one and get into the lane before looking for the open man. A crafty, pass-first floor general with solid ball-handling ability, the Washington native has tremendous court vision, improving his decision making significantly since his freshman year, and runs the pick and roll very effectively. Ranking among the top-30 or so players in the country in pure point rating, Gaddy is a fine facilitator, which is certainly a coveted trait at the professional level.

As a scorer, Gaddy is not nearly as effective or efficient. Shooting 44% from 2-point range and 33% from beyond the arc, Gaddy can be described as a reluctant scorer, attempting the sixth highest percentage of shots on his team, despite playing by far the most minutes. He shot a very respectable 55% at the rim last season according to Synergy Sports Technology, but doesn't have the quickness to create easy opportunities for himself at the basket, and is often held back by passivity, looking reluctant to take charge on offense.

Some 62% of Gaddy's field goal attempts are jump shots, of which he makes a meager 28% off the catch and 33% of the dribble. As we noted in our last report, if Gaddy is going to reach his potential, he'll need to make significant improvements as a shooter to compensate for his lack of slashing ability. He looked comfortable from the three-point line at times last season, but finishing the season averaging just 9.0 points per-40 minutes pace adjusted is as much a reflection of Gaddy's pass-first tendencies as his limited shot-making ability.

Defensively, Gaddy plays with very good intensity. He doesn't have elite lateral quickness, but makes the most of the tools he does have, getting in a stance and working hard to deny dribble penetration. He knows his limitations and leaves himself a cushion against quicker players, but always gets a hand up when his man pulls up.

The youngest senior in the country, the Huskies will be Gaddy's team this season. If he can show progress as a scorer and continue to distribute the ball at a high level, he could rank among the best passers in the senior class at year's end. He's not a glamorous NBA prospect, and certainly has his limitations, but his high basketball IQ and willingness to compete on every possession certainly help his cause.

[Read Full Article]

---
Top NBA Draft Prospects in the Pac-10, Part Two (#6-10)
September 23, 2010
Jonathan Givony

The youngest player in college basketball last season, Abdul Gaddy was considered by most high school recruiting services as the second best freshman point guard prospect in the 2009 class.

Besides his pedigree and obvious youth, it's very difficult to find too many positive things to say about Gaddy's first year in college, as he struggled in every facet of the game and ended up ranking as the least productive prospect in all of college basketball, by a fairly large margin.

From a physical standpoint, Gaddy's best attributes revolve around his good size at 6-3 and well-developed frame. He's not particularly quick or explosive, though, even if he does have a certain type of smoothness to his game, showing good body control, changing speeds nicely, and generally operating at a very unique pace.

Offensively, Gaddy is the type of player who needs the ball in his hands quite a bit to be successful, being an old-school ball-dominant type point guard, who is also somewhat of a reluctant scorer. He has very good court vision and a solid feel for the game for a player his age, looking very unselfish finding teammates in drive and dish situations, and always being willing to make the extra pass in the half-court offense, sometimes overly so. Gaddy looked far too passive at times last season, which made his team fairly easy to guard in the half-court, but his ability to find the open man with pinpoint accuracy is a skill that could come in very handy down the road if he develops the rest of his game.

As a shot-creator, Gaddy struggled badly last season. His average first step hampers his slashing ability considerably going up against good defenders, resulting in him coughing the ball up on 33% of his possessions, second worst amongst all NCAA prospects last season. Gaddy has some nice runners and floaters he can utilize in the 8-10 foot area, but he must do a better job of getting all the way to the rim and finishing stronger at the basket, as he rarely got to the free throw line last year. He must also learn how to operate more efficiently and assertively with fewer dribbles than he was accustomed to in high school, something that was painfully obvious at times last season.

When forced to operate off the ball, Gaddy is just a marginal shooter at this stage, converting on 21 of his 67 jumpers last season (31%), including 3/20 from beyond the arc. He also shot 56% from the free throw line. That makes it difficult to play him alongside the extremely undersized Isaiah Thomas in the same backcourt, as he's also a very ball-dominant point guard who does not shoot the ball very well. Considering Gaddy's other limitations, this is something he must work extremely hard on if he's to reach his full potential.

Defensively, Gaddy has some potential with his solid size, good frame and nice timing, but he looked overmatched at times last season going up against players 2-5 years older than him. His average lateral quickness, coupled with his lack of experience made him a target for opposing teams to go at at times, making him fairly foul prone on a per-minute basis, one of the reasons he only played 18 minutes per game. He appeared to lack some toughness on this end of the floor as well, not really fighting through screens and allowing older and more physically mature players to push him around at times, which is something he must work on.

As an NBA prospect, players in Gaddy's mold are not quite as en vogue these days as they were in the past—as the likes of Chris Duhon, Marcus Williams (UConn) and others have found out recently. Most teams prefer to have a jet of a point guard running the show for them, especially if they are below-average shooters, so Gaddy has his work cut out for him in terms of improving his jump-shot and showing that he can defend his position effectively, as his margin for error is not all that large. Luckily for him, time is on his side, as he's still only 18 years old.

[Read Full Article]

---
FIBA Americas U-18 Championships: Top American Prospects
July 5, 2010
Abdul Gaddy was somewhat of a disappointment considering he's the lone player on the team with actual college basketball experience. He blended into the background and took a back seat to his far more talented guard counterparts from the high school ranks, seeing only four minutes in the final game.

Gaddy has nice size and a good frame, but he just isn't athletic enough to make his presence felt at this level. He struggles to turn the corner, rarely gets to the basket and usually uses the pick-and-roll to set up mid-range jumpers. Gaddy doesn't push the ball in transition. He looks hesitant and lacks creativity in the half-court, instead looking content to make solid plays.

Gaddy does run a team pretty effectively. He moves the ball around on the perimeter in fundamental fashion and finds the open man unselfishly. He can make shots from the perimeter and looks competitive on the defensive end.

[Read Full Article]

---
Player Evaluations, McDonald's All-American Game (West Team)
April 3, 2009
It really wasn't until the private scrimmage we took in the day before the actual game that we were actually fully able to distinguish what makes Abdul Gaddy (#9 Scout, #13 Rivals, #16 ESPN) such an interesting long-term prospect. Once we got a chance to see him run a team for an extended period of time, though, it became extremely obvious what the recruiting services see in him.

Gaddy is an incredibly rare prospect, as he's a pure point guard with very nice physical attributes and an excellent framework of skills to build off of. Those three things combined put him in a very unique class, which really gives him a chance to develop into a special player down the road. Once you learn that he's just 17 years old and also brings outstanding intangibles to the table, it's very easy to figure out why he's deemed to have such great potential. The difference a single year makes between the age of 17 and 18 is absolutely huge from a physical and maturity standpoint, which is why Washington fans have to be incredibly excited.

Although he doesn't appear to be a freakish athlete on first glance, Gaddy is an exceptionally smooth player who already seems to show solid ability to utilize changes of speed and hesitation moves. His body is very underdeveloped at the moment, which affects him first and foremost as a scorer (finishing around the basket primarily) but considering the fact that his ball-handling skills are sound with either hand and he shows potential both as a set-shooter from beyond the arc and with his mid-range pull-up jumper off the dribble, he should be able to develop this part of his game in time.

His main virtue, though, lies in his ability to see the floor with his excellent size, and get everyone around him involved creatively, looking highly unselfish and showing a very nice feel for the game for a player his age. He plays at his own unique pace, which you typically don't see from 17-year old guards.

Gaddy's biggest drawbacks at the moment revolve around his defense and his very laid back demeanor. Like a lot of west coast players, Gaddy looks a bit too relaxed at times, not showing much of a killer instinct and being somewhat deferential. This could be a product of his youth, but there may be some that question whether he's just a little too nice. Very much related is the lack of intensity he displays on the defensive end, getting outmuscled with ease due to his lack of strength, and not really trying to do much about it. Washington was a much improved team defensively this year, and hopefully Gaddy will be able to get better on this end of the floor as well over the next few years as well.

As you will hear in the interview below, Gaddy is at least a two-year prospect at the University of Washington due to the fact that he won't turn 19 until his sophomore season. As you will also notice, Gaddy seems to have a great head on his shoulders, as everyone that knows him likes to emphasize. It will be exciting to see how he fits in next season alongside the very undersized and very ball-dominant Isaiah Thomas, who Gaddy indicates below he knows very well from the Seattle basketball scene.

[Read Full Article]

---
Initial Scouting Reports, High School Class of 2009 (#11-150 Recruits)
July 30, 2008
Widely considered the second best point guard prospect in the 2009 class, we didn't get as much of a chance to evaluate Abdul Gaddy (#9 Scout, #14 Rivals, #14 ESPN) as we may have hoped. Gaddy looks to be a very smooth, but somewhat raw point guard who plays the game at a very nice pace. He has great size for the position, a low center of gravity, and a lot of shake to his game. He throws in all kinds of nifty hesitation moves to keep his defender off-balance, and shows the ability to knock down shots from the perimeter with a high arch and feathery touch, pull-up off the dribble, finish with a floater, or create for others on the drive and dish. He utilizes the pick and roll well and looks very unselfish, although he still needs to learn the nuances of the game from what we could see of him going up against the top guards in this class. He alternated between looking a little too much for his shot and then being extremely passive, deferring late in the game and not showing the willingness to step up when his team needed a basket. We'll see a lot more of him down the road we imagine.

[Read Full Article]

---