Alan Williams
Recent Tweets
All Tweets
DraftExpress: Players who went undrafted (#2) Michael Qualls Shawn Dawson Alan Williams Quinn Cook T.J. McConnell Chris Walker Corey Hawkins
2015-06-26 00:22:22
DraftExpress: New on DX Workout Video & Interview w\/ @UCSBbasketball big man Alan Williams (@alantwilliams) http://t.co/VRHjVyvdZW http://t.co/WC5Zx6eQ8M
2015-06-21 14:02:08
DraftExpress2: RT @kenpomeroy A shame that Mamadou N'Diaye was hurt all season but fun watching him battle Alan Williams to close out the night.
2015-03-01 02:47:34
DraftExpress2: A shame that Mamadou N'Diaye was hurt all season but fun watching him battle Alan Williams to close out the night.
2015-03-01 02:39:35
DraftExpress: Two of the 20 (Alan Williams and Jack Cooley) are still in college. One (Joey Dorsey) played in the NBA briefly. Some barely played pro ball
2013-02-13 14:27:43
Team: Qingdao
Physicals
Positions
Salary
Misc
H: 6' 8"
W: 261 lbs
Bday: 01/28/1993
(22 Years Old)

Current: C
NBA: C
Possible: C

Agent: Chris Emens

High School: Phoenix North
Hometown: Phoenix, AZ

Predraft Measurements
| Year | Source | Height w/o Shoes | Height w/shoes | Weight | Wingspan | Standing Reach | Body Fat | No Step Vert | Max Vert |
| --- | --- | --- | --- | --- | --- | --- | --- | --- | --- |
| 2015 | NBA Draft Combine | 6' 7.25" | 6' 8.25" | 261 | 7' 1.75" | 8' 10.5" | 12.0 | 25.5 | 28.5 |
| 2014 | Nike Skills Academy | NA | 6' 8" | 264 | 7' 1.5" | NA | NA | NA | NA |



Basic Per Game Statistics

- Comprehensive Stats - Statistical Top 25s

Player Page&nbsp&nbsp| Player Stats | Mock Draft History | Related Articles&nbsp&nbsp| Add to My Draft Express&nbsp
&nbsp
Alan Williams Workout Video and Interview
June 21, 2015
An interview with UC Santa Barbara's Alan Williams, featuring footage from his pre-draft workouts in Los Angeles.

(Video may not load with Internet Explorer. Use Chrome or Firefox)
---
More Pre-Draft Interviews/Workout Videos
-T.J. McConnell Workout Video and Interview
-Kevon Looney Workout Video and Interview
-Christian Wood Workout Video and Interview
-Larry Nance Workout Video and Interview
-Kristaps Porzingis Workout Video
-ASM Workout Outtakes: Kristaps Porzingis Dunks/Jumpers/Post-Moves
-Kristaps Porzingis Interview
-Emmanuel Mudiay Workout Video and Interview
-Josh Richardson Workout Video and Interview
-Dakari Johnson Workout Video and Interview
-Devin Booker Workout and Interview
-Jonathan Holmes Workout Video and Interview
-Alpha Kaba Workout and Interview
-Willie Cauley-Stein Workout
-Karl Towns Workout
-D'Angelo Russell Workout
-D'Angelo Russell Interview
-CAA Workout Outtakes: Towns/Cauley-Stein Dunks from LA
-CAA Workout Outtakes: Russell/Towns/Cauley-Stein Jumpers
-Justin Anderson Workout Video and Interview
-Cliff Alexander Workout Video and Interview
-R.J. Hunter Workout Video and Interview
-Bobby Portis Workout Video and Interview
-Sam Dekker Workout Video and Interview
-Kelly Oubre Workout Video and Interview
-Stanley Johnson Workout Video and Interview
-Terry Rozier Workout Video and Interview
-Michael Qualls Workout Video and Interview
-Rondae Hollis-Jefferson Workout Video and Interview
-Rashad Vaughn Workout Video and Interview
-Andrew Harrison Workout Video
-J.P. Tokoto Workout Video
-Jarell Martin Workout Video
-D'Angelo Russell Interview
-Quinn Cook Interview
-Frank Kaminsky Workout Video
-Robert Upshaw Workout Video
-Rakeem Christmasn Workout Video
-Myles Turner Workout Video
-Stanley Johnson Interview
-Kelly Oubre Interview
-Frank Kaminsky Interview
-Satnam Singh Interview
-Satnam Singh Workout Video
-Alan Williams Interview
-Aaron White Interview
-T.J. McConnell Interview
-Chasson Randle Workout Video
-Chris Walker Interview
-Chris Walker Workout Video
-Cameron Payne Workout Video
-Cameron Payne Interview
[Read Full Article]

---
NBA Combine Competitive Action Recap: Day Two
May 16, 2015
11 points, 7 rebounds, 1 block, 5-10 2P, 1-4 FT, 21 minutes FT

The UC Santa Barbara big man strung together back-to-back impressive performances, going for 12 points and 15 rebounds on Thursday and 11 points and 7 rebounds on Friday. As was the case in the college ranks, Williams dominated the glass on both ends of the floor, keeping plays alive and beating opponents to the ball, despite his lack of vertical explosiveness and average 8' 10.5" standing reach.

Williams has outstanding instincts on the glass and isn't afraid to throw his 261-pound body around. Williams snatched 9 offensive rebounds in 62 total minutes over the course of both games, including two put backs during Friday's session. Williams did more than just man the boards, however. The 6' 8.25" center proved to be extremely nimble on his feet for a player his size, regularly hedging and recovering in the pick and roll and sprinting into screens on the offensive end.

Although not the fastest-twitch player against elite athleticism, Williams showed that he had the footwork to at least keep power forwards in front as a space defender. As was the case on Thursday, Williams was a mixed bag offensively as he scored on the block and in the paint but struggled to get it going from 15 feet and out, which is one of the main aspects of his game limiting his ability to play the four at the NBA level.

Williams missed a handful of mid-range jumpers over the course of both sessions (and went 3-of-8 from the line) but was able to assert his dominance in the paint on a couple of occasions thanks to his strength, footwork, and touch. Williams pivoted spun back to his left shoulder and dropped in right handed jump hook from well outside of the right block on one occasion, and buried Rakeem Christmas with a deep seal and finished an And 1 jump hook on another possession. Williams' average size, limited leaping ability, and struggles playing outside of 15 feet hurt his NBA chances, but his strength, outstanding rebounding instincts, touch in the paint and agility for his size may him an attractive option to a team in the second round.

[Read Full Article]

---
Alan Williams Interview
May 12, 2015
Discussing a variety of topics with Alan Williams in Las Vegas, including what he's working on on and off the court, his time at U.C. Santa Barbara, and how he's looking forward toward the pre-draft process.

(Video may not load with Internet Explorer. Use Chrome or Firefox)
---
More Pre-Draft Interviews/Workout Videos
-Satnam Singh Workout Video
-Stanley Johnson Interview
-Kelly Oubre Interview
-Frank Kaminsky Interview
-Chris Walker Interview
-Chris Walker Workout Video
-Cameron Payne Workout Video
-Cameron Payne Interview
[Read Full Article]

---
Top NBA Prospects in the Non-BCS Conferences, Part 7: Prospects #10-13
November 5, 2014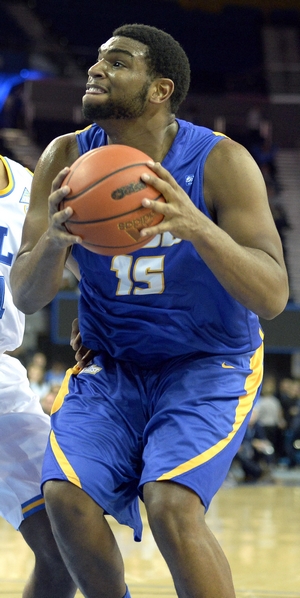 US Presswire



Kyle Nelson

After a strong sophomore season, Alan Williams turned the corner in a big way as a junior. Williams averaged 21.3 points and 11.5 rebounds per game on his way to being named Big West Player of the Year. He also looked good in early season contests against UCLA, California, and UNLV, performances that undoubtedly caught scouts' eyes. Already one of the country's most productive big men and an NBA prospect in his own right, the question is now whether Williams can lead UC Santa Barbara back to their first NCAA Tournament appearance since 2011, while showing scouts he is more than merely an ultra-productive big man against weak competition.

At 6'8 with a 7'1.5 wingspan and a massive 264-pound frame, Williams is undersized for the center position. Additionally, he is not a great athlete, either, lacking ideal quickness and explosiveness, even though he is fairly nimble offensively for his size. Perhaps the biggest issue is his conditioning, as he still visibly struggles to get up and down the court at times. Additionally and while he has already lost weight since his freshman season, he must continue to slim down in order to maximize his physical tools.

Beyond his conditioning issues, Williams has a good reason to look tired at times, as he is one of the highest usage players in our database, responsible for 28.7% of UC Santa Barbara's overall possessions. Many of the Gauchos' possessions begin and end with Williams, and he has made significant strides between his sophomore and junior seasons. Most notably, his 27.6 points per 40 minutes pace adjusted ranked fourth among prospects in our database last season, with two of the players ahead of him eventually being drafted in the lottery.

On film, Williams is a crafty scorer who does an outstanding job of fighting for and carving out space on the low block. He shows the perfect combination of soft hands, footwork, and timing, as he rarely hesitates before going to work once he has the ball in his hands. Williams' post game is not particularly advanced, but he is able to leverage his strength and spin moves into space, and shows a solid baby hook shot with his right hand. He does not have the most advanced counter moves, but he can occasionally get his man in the air with a head fake or simply clear his way to the basket thanks to his superior strength if a play breaks down. He can also take his man off of the dribble from the perimeter, mostly with straight-line drives to the basket.

There is a positive and negative to Williams's aggressive productivity. On the one hand, he was one of college basketball's most productive players and his 10.1 free throw attempts per 40 minutes pace adjusted, which ranks third among centers in our database. On the other hand, his 52% 2P% is not extraordinary considering the level of competition he faces on a nightly basis. He tends to develop tunnel vision, fighting through traffic to the basket or settling for a high-difficulty, low percentage looks. There are major concerns about how Williams' lack of size and athleticism will translate to the NBA, where he won't be able to simply bully his way through opponents the way he does at the college level.

One area of intrigue remains Williams's potential as a jump shooter, particularly from mid-range where he made 44.4% of his 18 attempts. He does not have the greatest mechanics, as he tends to push the ball with a slow windup and quick release. Improving here is essential to his NBA prospects as a senior. He showed an occasional flash of a mid-range game, taking a dribble into a pull up jumper, but he will have to make significant strides in this area before it becomes a regular feature of his game.

On the defensive end of the floor, Williams struggles in the areas that one would expect, looking a step slow when his man takes him outside or drives the basket and failing to close out quickly on perimeter shooters. That being said, his 3.2 blocks and 1.4 steals per 40 minutes pace adjusted show just how effective his combination of length, strength and terrific instincts are at this level, particularly as a post defender. His conditioning woes are apparent on this end of the floor, however, as sometimes his effort simply isn't there. Perhaps most concerning is the fact that he is largely post bound, clearly a undersized center on this end of the floor, and showed little ability to guard the pick-and-roll, which will be essential to his prospects at the next level.

That being said, he is an outstanding rebounder and his 14.8 rebounds per 50 minutes pace adjusted ranked fifth among all prospects in our database. Williams has amazing instincts on this end of the floor, showing the perfect combination of positioning, soft hands, and aggressiveness in corralling missed shots on the defensive end.

Scouts know that Alan Williams is one of the most productive players in college basketball. What Williams must prove is that some of that productivity will translate to a role at the next level by developing as a scorer out of the pick-and-roll and as a jump shooter. Likewise, given the fact that he will most likely need to transition to the power forward position at the next level, he must show scouts that he can compensate for his lack of size with hustle, particularly on the defensive end. That makes early season contests at Kansas, Oregon, SMU and Oregon State all the more important, as besides his highly entertaining matchups with Mamadou Ndiaye, Big West competition offers scouts little insight into how Williams' skill set will translate to the next level. Williams is on already on the 2015 NBA Draft radar, so a strong senior season will go a long way in boosting his stock and keeping his name in the conversation come June.

[Read Full Article]

---
Top NBA Prospects in the Non-BCS Conferences, Part Two: (#6-10)
October 31, 2013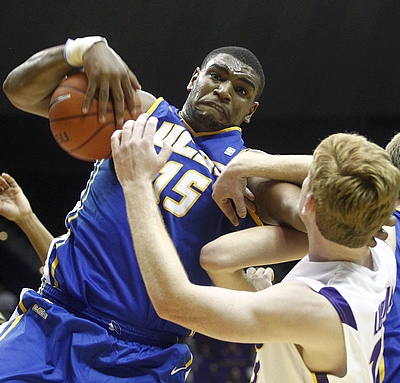 US Presswire



Josh Riddell

Alan Williams stepped into the void left by Orlando Johnson to become the go-to offensive player at UC-Santa Barbara, as he saw his usage increase an already significant 23% to 34%, one of the highest rates in college basketball. Williams was one of the most productive players in the country last year, which helped him to be named to the Big West's All-First team. With the core of his teammates returning, Williams will hope to replicate his individual success while helping the Gauchos improve on their dismal 11-20 record (7-11 in-conference).

Williams is an undersized center, listed at only 6'7" and 240 pounds, albeit with long arms and gigantic hands. His athletic tools are merely average, although he is very strong and surprisingly agile for his size, showing very nimble feet. Williams plays with a high level of energy on the offensive end, although he doesn't work as hard on the defensive side. He doesn't have a high level of explosiveness, which makes his dominant rebounding ability that much more impressive.

What will jump out at scouts is indeed that ability to rebound, especially on the offensive end. Williams shot only 46% from the field but this low percentage was somewhat mitigated by his 5.6 offensive rebounds per 40 minutes pace adjusted which ranked seventh in the nation last season, down from first in the nation the season before. Many come off his own attempts close at the rim but Williams also showed a tenacity to crash the glass and grab loose balls, reading the ball well off the rim and positioning himself well to get the rebound. This is the skill that will keep scouts most interested in him, so he needs to continue dominating this area in the upcoming season.

Most of Williams' offense comes from the post, as 47.6% of his offensive possessions were categorized as post-ups by Synergy Sports Technology. He has the strength needed to gain position on the block, and once he makes the catch, he has nice footwork for a player his size and is able to maneuver around his defender to get to the rim. Despite being a largely below the rim player, he has a solid drop step, a deft up and under move, and a reliable hook shot in his arsenal. Williams draws fouls at an extremely high rate, getting to the free throw line nearly nine times per-40 minutes, one the best rates among college basketball prospects. Williams is often double and tripled teamed in conference play and while he sometimes struggles scoring against multiple defenders, he has shown the ability to pass out of these situations to the open players on the perimeter.

He has shown some nice skills in the post, but scouts may wonder whether he will be able to recreate this success in the NBA, as he will be much smaller than the defenders he is matched up against. He was not as productive against higher level competition last season as he was in the Big West, so there are legit question marks about his ability to be effective against taller, stronger and more athletic big men at the next level.

Almost all of Williams' shot attempts come in the paint, as he rarely stepped outside the paint for jump shots. His shooting mechanics need a lot of work, starting from his base and up to his release point. In his few mid-range attempts, it's easy to see that Williams is not close to being a threat from the mid-range at this stage, even though he did shoot a solid 71% from the free throw line, indicating he might have some potential here down the road.

Defensively, UCSB played a zone most of last season, so Williams did not get a chance to show much individual defensive ability. He is undersized to guard a post player and not agile enough to guard a perimeter player, so he would likely be at an immediate disadvantage in this area in the NBA, although better conditioning could help in this area. Williams' intensity level left a lot to be desired last season, as he gave little resistance to opponents catching the ball on the block and finishing over him. While he shows terrific dexterity for a player his size, he didn't always move his feet well as he could, often being at a standstill in the paint, allowing opponents to move freely around him.

He did hustle at times to close out and showed some impressive acceleration for a player of his speed, but he had trouble controlling himself on these closeouts, which led him to foul the shooter or take himself out of the play. His 4.5 fouls per 40 minutes hurt his ability to stay on the floor, as he only averaged 28 minutes per game last season, mainly due to foul trouble.

Williams' long arms, surprisingly agility, excellent timing and superb hands have made him a very productive shot-blocker the past two seasons, to the tune of over 3 blocks per-40 minutes the past two seasons. His conditioning-level looks nowhere near full potential, as he sports a significant amount of baby fat, so it's possible that with a better nutrition and strength program he could still improve his physical tools, not unlike what DeJuan Blair did after college.

What he does well on the defensive end is control the glass, much like he does offensively. His 9.5 defensive rebounds per 40 minutes pace adjusted ranked 5th in the nation last season, which means he was the top overall rebounder in the country. Playing in a zone defense without a three second violation, he was able to stay in the paint and grab nearly every loose ball, as he has the timing and instincts to know where the ball is going to come off the rim, the strength to hold off opponents, and suction cups for hands, which allows him to gobble up pretty much every loose ball even remotely in his area.

While it would be nice to see an expanded offensive game from Williams this season, he has garnered attention from NBA scouts based on his rebounding ability and will need to continue to focus on dominating both ends of the court in this area again this year. Williams will have a chance to showcase his skills against tough competition early on, as UCSB travels to Colorado and UCLA and hosts California in their non-conference slate. Scouts will likely want to see what additional value Williams can provide, particularly defensively, but he has at least gotten their attention with his dominant rebounding ability, and should be monitored closely, as players in his mold have proven to be very valuable commodities at times.

[Read Full Article]

---