Alec Brown
Recent Tweets
All Tweets
DraftExpress: Alec Brown has started the season very slowly so far shooting 32% for 2 http://t.co/XN8qVivv - Billed by some as a top-10 pick this summer
2012-11-29 12:43:07
DraftExpress: Top NBA Prospects in the Non-BCS Conferences #7-#10 Ray McCallum Alec Brown Nate Wolters Isaiah Canaan - http://t.co/mIGMntBb
2012-11-15 13:07:05
DraftExpress: Top NBA Prospects in the Non-BCS Conferences #7-#10 Ray McCallum Alec Brown Nate Wolters Isaiah Canaan http://t.co/mIGMntBb
2012-11-14 21:43:13
Team: Wisc. Green Bay, Junior
Physicals
Positions
Rankings
Misc
H: 7' 1"
W: 212 lbs
Bday: 07/23/1992
(20 Years Old)

Current: C
NBA: C
Possible: C

Rank 47 in NCAA Juniors

High School: Winona
Hometown: Winona, MN

Predraft Measurements
| Height w/o Shoes | Height w/shoes | Weight | Wingspan | Standing Reach | Body Fat | No Step Vert | Max Vert | Bench Press | Lane Agility | 3/4 Court Sprint | Class Rank |
| --- | --- | --- | --- | --- | --- | --- | --- | --- | --- | --- | --- |
| NA | 7' 1" | 212 | 7' 0" | NA | NA | NA | NA | NA | NA | NA | NA |



Basic Per Game Statistics

- Comprehensive Stats - Statistical Top 25s
| Year | League | Name | GP | Min | Pts | FG | FGA | FG% | 2Pt | 2PtA | 2P% | 3Pt | 3PtA | 3P% | FTM | FTA | FT% | Off | Def | TOT | Asts | Stls | Blks | TOs | PFs |
| --- | --- | --- | --- | --- | --- | --- | --- | --- | --- | --- | --- | --- | --- | --- | --- | --- | --- | --- | --- | --- | --- | --- | --- | --- | --- |
| 2012/13 | NCAA | Alec Brown | 33 | 30.9 | 14.0 | 4.9 | 11.2 | 44.2 | 4.0 | 9.1 | 44.3 | 0.9 | 2.1 | 43.5 | 3.2 | 4.4 | 74.3 | 2.0 | 3.9 | 5.9 | 1.2 | 0.6 | 1.8 | 2.7 | 3.0 |

Player Page&nbsp&nbsp| Player Stats | Related Articles&nbsp&nbsp| Add to My Draft Express&nbsp
&nbsp
Top NBA Prospects in the Non-BCS Conferences, Part Four
November 14, 2012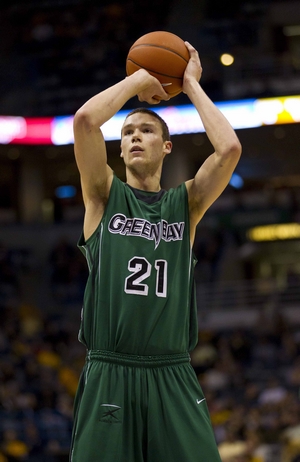 US Presswire



Jonathan Givony

Alec Brown shot up ten inches from 6-3 to 7-1 over the course of his high school career, but struggled to attract the attention of the bigger schools in the Midwest due to his extremely frail 190 pound frame. Brown decided to stay close to home for college and improved steadily during his first two seasons at Wisconsin-Green Bay, and could now be on the verge of solidifying himself as a legit NBA prospect as a junior.

Measured at 7-1 at the Amare Stoudamire big man camp in the summer of 2011, but just 211 pounds, Brown has excellent height but a very narrow frame that will likely take another few years to reach its maximum potential, which has hindered his development to a certain extent. He moves extremely well for his size, though, running the floor fluidly, even if he's not an explosive leaper who plays above the rim consistently.

Brown's biggest virtue as a prospect, besides his tremendous height, revolves around his intriguing skill-level, which is far more advanced than you normally find in a player his size in the Horizon league. Able to score with either hand around the basket, Brown has excellent footwork and body control, being capable of stringing together multiple post-moves in succession with the use of fakes and counter moves. If contact is not a factor, he can finish very well around the basket with a variety of jump-hooks and very soft touch, making 77% of his free throw attempts last season. He's adept at scoring both facing and with his back to the basket, albeit not consistently, as he displayed in his 22-point outburst against Marquette in December of 2011. His perimeter skill-level is impressive considering his size, as he can shoot with range out to the 3-point line, and can attack his man off the dribble with a strong first step and solid ball-handling skills.

Unfortunately things haven't all come together for Brown quite yet. While showing strong flashes of potential from time to time, Brown has struggled to make his presence felt on a consistent basis and was far from a dominant threat at the Horizon League level last season. According to Synergy Sports Technology, he shot just 40% from the field in post-up situations, playing against a fairly weak level of competition amongst big men for the most part.

Brown's frail frame makes it difficult for him to establish solid post position inside, and he doesn't compensate for that with the type of toughness and grit you'd like to see, often fading away from contact as soon as an opponent puts a body on him. He settles for weak turnarounds on a regular basis, and attempts far too many mid-range jumpers, which is the main reason he shot just 47% from 2-point range last season, which ranked last amongst returning top-100 prospects centers last season. If Brown is to help Green Bay improve on their 15-15 record (10-8 in league play) and first round exit from the Horizon league conference tournament, he will have to become much more assertive finishing through contact around the basket, as well as more consistent away from the rim, where he converted just 32% of his jump-shots last season.

Defensively is another area NBA scouts will want to see Brown improve as he matures physically. He shows impressive timing as a shot-blocker, swatting 3.8 shots per-40 minutes last season, mostly coming from the weak-side, where he does a good job keeping his blocks in-bounds. He struggles badly in man to man settings, though, being unable to hold his ground inside the paint against stronger Horizon League opponents who push him around mercilessly and are often able to score on him with relative ease. His very narrow frame and relatively short wingspan (7-0) do him no favors here. Opponents shot over 50% from the field against him in back to the basket situations last season, which ranks him amongst the worst post defenders in college basketball, certainly amongst NBA prospects. Because of his inability to defend post players, his coaching staff tends to slot him alongside another big man at times so Brown can guard power forwards and concentrate on being a weak-side shot-blocker. Unfortunately Brown tends to struggle on the perimeter as well, where he looks very upright and does not possess the lateral quickness needed to stay in front of most opponents.

Another area of concern defensively lies in Brown's rebounding ability. While he does a decent job crashing the offensive glass (4 per-40), the same can't be said on the defensive end, where he pulled down just 6.6 rebounds per-40 last season, a fairly average rate. Part of this has to do with the way his team utilizes his shot-blocking prowess, asking him to act as somewhat of a free safety defensively, but some of this has to do with his average strength, toughness and intensity level as well.

Billed as a potential top-10 pick by other NBA draft outlets, Brown will receive plenty of attention from scouts this season, despite playing for a relatively obscure shool. A late bloomer who made incremental progress from his freshman to sophomore season, Brown may not be ready to make the gigantic leap some are projecting from him, but surely has some tools that make him worth keeping track of moving forward, particularly if his frame proves capable of carrying more weight in the next few years.

[Read Full Article]

---