Aleksandar Cvetkovic
Recent Tweets
All Tweets
DraftExpress: Nike Hoop Summit Scouting Reports: Guards - http://t.co/S7X4RQUz - Leo Westermann, Aleksandar Cvetkovic, James Robinson & Vytenis Cizauskas.
2012-04-11 10:12:57
DraftExpress: All-Tournament Team: Aleksandar Cvetkovic, Hugh Greenwood, Dmitry Kulagin, Jeremy Lamb and Jonas Valanciunas (MVP) #fibau19
2011-07-10 04:21:03
DraftExpress: #NIJT Belgrade Scouting Reports: MVP Aleksandar Cvetkovic. http://bit.ly/dTIRzR
2011-02-22 12:27:32
DraftExpress: Red Star advances to the #NIJT in Barcelona by upsetting FMP on their home-court, 102-93. Aleksandar Cvetkovic 35 pts, 9 rebs, 8 ass, 0 TOs.
2011-02-20 10:59:35
DraftExpress: Aleksandar Cvetkovic grabbing every offensive rebound, making every play for Red Star. Incredible performance. Up 13 now w/2:41 to go #NIJT
2011-02-20 10:51:15
Team: Partizan
Physicals
Positions
Misc
H: 6' 2"
W: 165 lbs
Bday: 09/12/1993
(22 Years Old)

Current: PG
NBA: PG
Possible: PG

High School:
Hometown: Belgrade, Serbia

Predraft Measurements
| Year | Source | Height w/o Shoes | Height w/shoes | Weight | Wingspan | Standing Reach | Body Fat | No Step Vert | Max Vert |
| --- | --- | --- | --- | --- | --- | --- | --- | --- | --- |
| 2012 | Hoop Summit | NA | 6' 2" | 165 | 6' 2" | NA | NA | NA | NA |



Basic Per Game Statistics

- Comprehensive Stats - Statistical Top 25s
| Year | League | Name | GP | Min | Pts | FG | FGA | FG% | 2Pt | 2PtA | 2P% | 3Pt | 3PtA | 3P% | FTM | FTA | FT% | Off | Def | TOT | Asts | Stls | Blks | TOs | PFs |
| --- | --- | --- | --- | --- | --- | --- | --- | --- | --- | --- | --- | --- | --- | --- | --- | --- | --- | --- | --- | --- | --- | --- | --- | --- | --- |
| 2015/16 | Adriatic | Aleksandar Cvetkovic | 11 | 25.5 | 11.6 | 3.7 | 8.5 | 43.6 | 2.2 | 4.5 | 48.0 | 1.5 | 4.0 | 38.6 | 2.6 | 3.5 | 76.3 | 0.6 | 2.5 | 3.2 | 2.8 | 1.0 | 0.0 | 1.7 | 3.5 |

Player Page&nbsp&nbsp| Player Stats | Related Articles&nbsp&nbsp| Add to My Draft Express&nbsp
&nbsp
Nike Hoop Summit Scouting Reports: Guards
April 11, 2012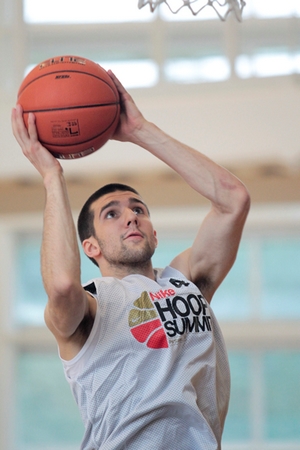 Natalie Behring/Nike



Matt Kamalsky

Already seeing some playing time off the bench in a strong level of competition in the Adriatic League, Aleksandar Cvetkovic showed his maturity on both ends of the floor over the course of his week in Portland. The 18-year old point guard was far from dominant in the game itself, but did a fine job distributing the ball, and playing team basketball, especially in the first half.

Standing 6'2 with a skinny frame, Cvetkovic lacks great size, strength, and athleticism, but he does a very nice job compensating for that with quick footwork, timely changes of speed, and solid ball-handling ability. Though he struggled with the length and quickness of the USA Junior Select Team's guards on a few occasions, he was still able to turn the corner and get into the paint consistently, although he does not have the bulk or the explosiveness to finish much of what he creates around the rim.

Cvetkovic's offensive game revolves around pace and positioning. Despite his lack of great leaping ability and explosiveness, he makes things happen with his dribble. Keeping his man off balance with hesitation moves and using his defenders momentum to his advantage, Cvetkovic controls the game with his ability to get to spots on the floor. An exceptionally savvy passer and crafty finisher, the young guard has terrific court vision, is able to take what the defense gives him, and makes consistently sound decisions with the ball, even under pressure.

Away from the basket, Cvetkovic has deft touch on his pull-up and spot-up jump shots. His mechanics are extremely smooth and his footwork is incredibly advanced for a player his age, as he never seems to attempt a shot off balance. He makes good use of his floater, but is more apt to find the open man when he gets into the paint. Able to read the game and find the open man like a veteran, Cvetkovic seamlessly runs the gambit between role-player in an All-Star setting like this one, star for his team at the junior level, and spot player for Red Star possessing an uncanny knack for striking a balance between scoring and passing and blending into his surrounding to make sure he's helping his team win.

Defensively, Cvetkovic made a consistent effort to pressure the ball, did his best to fight through screens, and showed the same high basketball IQ he does on the offensive end throughout the week. Lacking the physical tools to make a major impact, the Serbia native was knocked around quite a bit on the defensive end, but showed great intensity nonetheless. It will be interesting to see how Cvetkovic responds to playing against more athletic guards at the professional level as his career progresses, as we got a very limited glimpse of how he'll fare against high level athletes at the point guard position this week.

Clearly one of the most mature players in attendance, Aleksandar Cvetkovic is a tremendous competitor who ranks as one of the most promising young guards in Europe. His lack of great physical tools limits his upside at the NBA level, but the degree to which he already compensates for that on the offensive end is extremely impressive. His progress on the senior level is very much worth tracking as it should provide some insight on how he'll be able to adjust his game against better athletes.

[Read Full Article]

---
2012 Nike Hoop Summit: International Measurements
April 2, 2012
Aleksandar Cvetkovic
Weight: 165 lbs.
Height (w/ shoes): 6'2"
Wingspan: 6'2"

[Read Full Article]

---
NIJT Belgrade Scouting Reports: MVP Aleksandar Cvetkovic
February 22, 2011
The MVP of the Nike International Junior Tournament in Belgrade, this weekend was likely a major turning point in Aleksandar Cvetkovic's career.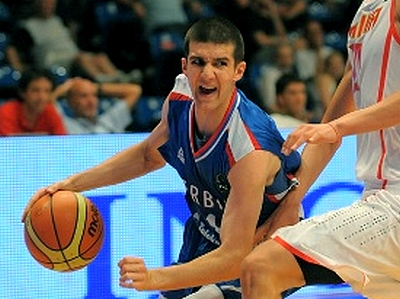 FIBA.com



Left for dead after a knee injury sidelined him for a period last year, and facing intense pressure from all directions causing him to stumble as he tried to recover over the summer, Cvetkovic bounced back in a huge way to dominate some of the best point guards in his European age group.

He managed to bring home a surprising championship by defeating the heavily-favored tournament hosts, FMP, in one of the most intense and well-played junior finals we've ever seen. His team will now participate in the NIJT finals at the Euroleague Final Four in Barcelona, something they didn't anticipate or budget for going into the week.

Already seeing solid minutes at the senior level for Red Star this season, Cvetkovic performed with a maturity and confidence that you rarely see from a prospect this age. He looked as sharp and decisive as a 17-year old can, playing a flawless final game that went far beyond the incredible stat-line of 35 points (12/17 FG, 9/9 FT), 9 rebounds, 8 assists and 0 turnovers.

Not particularly impressive from a physical standpoint on first glance, Cvetkovic is undersized at around 6-1, and doesn't have a great frame or wingspan to compensate. What he lacks in initial impressions he more than makes up for once you start watching him play, though, as he simply controls the game in a way that only a great point guard can. He has quick feet, outstanding footwork, the ability to operate at different speeds and phenomenal ball-handling skills, allowing him to get to virtually anywhere he wants on the floor, at least at this level.

Cvetkovic is a pretty complete player from an offensive standpoint, as he's able to make his impact felt as a 3-point shooter, a slasher, a passer or by pulling up off the dribble from mid-range. He takes what the defense gives him and is absolutely decisive with his decision making, playing with utmost creativity and confidence.

Able to drive equally well in both directions and stop and go with choppy, tricky and highly polished footwork and hesitation moves, Cvetkovic is more likely to finish plays with a pretty floater than he is to drive all the way to the basket and elevate amongst the trees. That's probably a good thing considering his small, skinny stature, but might be something to keep an eye on as we continue to track his progress over his career. He has soft touch on his finishes and the ability to stop on a dime for a pull-up from 15 feet, as well as consistent range out to the 3-point line.

As effective as he was as a scorer (at 29 ppg) at this tournament, where Cvetkovic was at his best was as a playmaker. He shows the ability to make every type of pass a point guard needs, and does so unselfishly and with perfect timing. Be it a lob into the post, a bounce pass, an underhanded scoop into the paint to a streaking big man off the pick and roll, or a simple kick-out to an open shooter spotting up on the opposite wing, Cvetkovic is a pure point guard who enjoys making others better. He's highly respected by teammates, shows terrific leadership skills, is extremely competitive, and appears to have a perfect demeanor for his position, never looking rattled and always being quick to encourage or congratulate. It's clear that being elevated to Red Star's senior squad this summer and seeing solid minutes at the very competitive Adriatic League level has done wonders for his confidence.

Defensively is where Cvetkovic will likely struggle the most at the pro level. Undersized, lacking great length or lateral quickness, and sporting a narrow frame, he lacks the physical tools to be a great presence on this end of the floor. The extremely creative Nenad Miljenovic was able to get by him time after time in the finals, and Cvetkovic wasn't able to offer much resistance. This will likely be the biggest hurdle he must overcome if he's able to reach his full potential as a player down the road.

All in all, it was tough not to come away extremely impressed with the way Cvetkovic performed in Belgrade. While his upside may not be off the charts, there is clearly a huge market for incredibly smart and skilled point guards with great intangibles. How far he'll be able to take his talents—be it the NBA or high-level Europe—is a question that will likely be answered as we see how he's able to perform at the pro level with Red Star over the next year or two.

[Read Full Article]

---