Alessandro Gentile Updated Scouting Report
May 23, 2014
Matt Kamalsky

Arguably the most seasoned international prospect eligible for the 2014 NBA Draft, 21 year old wing Alessandro Gentile has been a productive scorer on the European seen since he was a teenager. With his season nearing a close as his team is in the Italian league playoffs, we evaluate where his stock is at currently.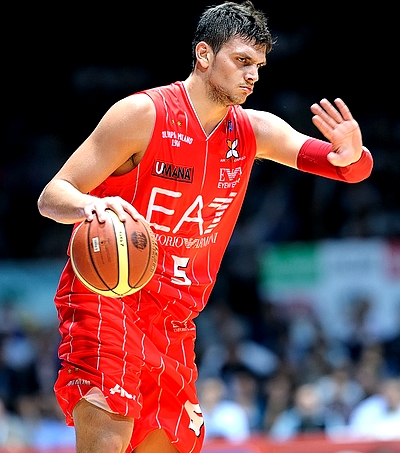 Vincenzo Artiano, BasketInside.com
Making his Italian League debut for Benetton Treviso in 2010,
Alessandro Gentile
cemented himself as a rotation player at the age of 17. Leading the 2010 FIBA U18 European in scoring ahead of players like
Jonas Valanciunas
and
Alex Len
, the Madaloni native had built a significant reputation as a scorer across the pond before he turned 18. The 2012 season was a significant one in Gentile's development, as he finished as Benetton's top scorer in the EuroCup, functioning as the team's first option before moving to Euroleague team Armani Milano midseason. Playing a smaller role in his first half season in Milan, Gentile had a strong showing in the Italian League in his first full season with the team averaging 11.9 points and 3.5 rebounds per-game.
The upward trajectory of Gentile's career continued in 2013, as he made his debut for the Italian National Team at Eurobasket 2013, finishing as his team's leading scorer and the eighth best per-minute scorer in the entire competition. A regular starter for Milano in both the Euroleague and Italian League this season, Gentile was one of the top scorers on one of the top teams in Europe, playing a major role on a roster littered with talented veterans like
Daniel Hackett
,
Keith Langford
,
Samardo Samuels
and
Gani Lawal
.
In many ways, it has been the strength of Gentile's resume that has kept him on the NBA radar. Standing 6'6, Gentile has good size for a wing and good strength, but he lacks lateral quickness and prototypical NBA athleticism. Despite those limitations, Gentile has proven himself as a scorer at the highest level of competition outside of the NBA with a combination of skill, scoring instincts, and seemingly unwavering confidence.
Playing both on and off the ball for stretches, Gentile plays a much more diverse, involved role offensively than the average prospect in our international rankings. Functioning as Milano's second option this season, Gentile is first and foremost a jump shooter. Asked to create his shot on the pick and roll and one-on-one more significantly more often than he did early in his career, nearly a third of Gentile's shot attempts are pull-up jumpers in the half court. A capable set shooter with deep range, Gentile has fluid mechanics and can score from all over the court, flashing the ability to make extremely difficult off-balance shots with a hand in his face.
The issue for Gentile offensively has long been the frequency with which he takes those high degree of difficulty shots, and the toll they take on his efficiency. Making 35% of his overall 3-point attempts on the season, a career high, Gentile is difficult to stop when he gets hot from the perimeter, but he's extremely streaky, and his shot selection doesn't compensate for that.
More than just a shooter, Gentile is an extremely creative, instinctive offensive player on the whole. He may lack quickness, but has developed into a crafty ball-handler over the last few seasons, is capable of setting the table for his teammates thanks to his terrific feel for the game, and is an opportunistic finisher inside. Able to use his strength effectively when attacking the basket, the Italian swingman is constantly in attack mode, but is a more unselfish distributor now than he was in his youth. His lack of elite explosiveness limits him to some degree as a slasher and finisher, but he can play above the rim when he gets a head of steam and uses his terrific touch to score with an array of scoops and floaters in the paint. Shooting 56% in finishing situations, Gentile is a good, but not overly efficient finisher and would no doubt face a daunting challenge scoring in the lane at the NBA level.
Gentile's ability to defend NBA caliber athletes has always been a major question mark, and while he's solidified himself as one of the top young scorers outside of the NBA, he's yet to show he can be effective on both ends of the floor. Able to create some turnovers thanks to his quick hands and instincts, Gentile's lack of quickness limits his ability to stay in front of quicker wings at the Euroleague level. His fundamentals and intensity on this end have improved over time, but he does not show great foot speed getting over screens and gives fouls at a fairly high rate for a wing reaching to recover when he's beat.
To make matters more complicated, questions remain about Gentile's attitude and intangibles. He developed a questionable reputation early in his career, thanks in part to his often poor body language around teammates, and while reports were that his attitude had improved over time, teams considering investing a draft pick in his offensive abilities will no doubt do their due diligence as to whether he is worth taking a flier on in the second round. He appears to be the type of player who will not be satisfied playing a complimentary role, and may struggle to adjust culturally once he leaves his home country, particularly if he isn't seeing significant playing time.
Regardless of whether or not Gentile hears his name called on draft night, he's sure to be on the radar of NBA teams for the foreseeable future given his status as a featured offensive player in the Euroleague at such a young age. There are a few precedents for high scoring European players growing into viable NBA players in their mid-20's before making the jump across the pond. Though neither is all that similar to Gentile at this point,
Mirza Teletovic
, who played in the Euroleague for 6 seasons before making the trip across the pond to join the Nets at age 27, and
Luigi Datome
, who blossomed at age 24 for Roma, are recent examples. If Gentile is to go undrafted and follow in their footsteps or ultimately pay dividends for a team that does decide to pick him later in the second round at the end of June, he'll need to become efficient enough offensively to offset his lack of great defensive upside and answer any remaining concerns about his intangibles.
[
Read Full Article
]
European Roundup: Dominant Donatas
December 3, 2010
Another talented young player seeing consistent minutes in Serie A, Alessandro Gentile faces some of the same challenges that other European wing prospects have to overcome. Lacking great lateral quickness and NBA caliber athleticism, Gentile hasn't been terribly consistent for Benetton Treviso, but at just 18 years old, he has an incredibly promising future in the European game.

Standing 6'6 with a solid frame, Gentile has nice size for a wing on any level, but his suspect foot-speed is a big concern, especially on the defensive end. His strength and ability to score from the perimeter has allowed him to put up excellent numbers for Italy's junior selections. Leading the U18 European Championships in scoring and ranking third at the U20 European Championships, Gentile is able to impose his will on weaker guards, but he'll have to continue to gain experience and maturity to translate his superb scoring instincts against more experienced and stronger defenders this season in Serie A.

Gentile's offensive game is predicated on his streaky jump shooting ability. Sporting a compact, but somewhat awkward release on his perimeter shot, Gentile has very quick shooting mechanics that can at times lead to inconsistent results. He has good range, excellent touch and is capable of hitting shots off of one or two dribbles, but has been inconsistent this season and will force some questionable looks from the perimeter from time to time. Not terribly active without the ball in his hands, Gentile could stand to continue improving his all-around floor game, since he doesn't create opportunities for his teammates and right now is somewhat limited in other areas offensively.

Gentile's biggest weakness offensively, both in Italy and from a NBA perspective is his lack of finishing ability around the rim. Able to bully his way to the basket in junior play, the talented youngster has struggled mightily when putting the ball on the floor and shooting around the basket in Serie A this season. Able to use straight line drives to get to the rim and running the floor well in transition, Gentile regularly turns the ball over, gets his shot blocked at the rim, and doesn't defer when well-defended. As he continues to get playing time and learns how to get his shot off more effectively, Gentile's efficiency should improve.

On the defensive end, Gentile has an extremely difficult time keeping his man out of the lane due to his lack of lateral quickness, but does generate some turnovers by taking some risks. Whether he's defending the pick and roll or closing out shooters, he struggles to deny penetration, raising some red-flags regarding his NBA potential. His ability to improve on this end will likely play a large role in how he's ultimately judged by NBA decision makers, but he has plenty of time to continue to work on this part of his game until that time comes.

Considering that Gentile turned 18 just a few weeks ago, the fact that he's seeing regular rotation minutes at this level is a sign in itself that he's quite a talented prospect. If he becomes a more consistent shooter and adds some versatility to his offensive game, he could become a leading offensive player in the European game. As it stands, though, his physical tools put some restrictions on his NBA ceiling, something he'll have to work hard on to overcome. Questions about his attitude and less than stellar reports from the junior level on his intangibles don't help in that regard, though he appears to have made progress in that area according to reports.
[
Read Full Article
]