Andre Drummond
Recent Tweets
All Tweets
DraftExpress2: RT @Joshua_Riddell There are 53 players older than 3 year NBA vets Bradley Beal+Andre Drummond in @DraftExpress top 100 including 21 in t\u2026
2015-06-23 19:47:47
DraftExpress2: There are 53 players older than 3 year NBA vets Bradley Beal+Andre Drummond in @DraftExpress top 100 including 21 in the current mock draft
2015-06-23 19:23:18
DraftExpress: Shocked to hear B.Simmons\/C.Ford saying "no one could have predicted Kyrie Irving or Andre Drummond being studs" Reading the wrong website..
2013-04-10 10:27:14
DraftExpress: RT @tomhaberstroh ATTENTION Andre Drummond is on pace to have the most productive NBA season ever by a teenager. http://t.co/WjYG4Sed [$]
2013-01-16 12:49:49
DraftExpress: ATTENTION Andre Drummond is on pace to have the most productive NBA season ever by a teenager. http://t.co/WjYG4Sed [$]
2013-01-16 12:11:46
Team: Pistons
Physicals
Positions
Salary
Misc
H: 7' 0"
W: 279 lbs
Bday: 08/10/1993
(22 Years Old)

Current: C
NBA: C
Possible: C

Agent: Jeff Schwartz
Current Salary:$2,568,360

High School: St. Thomas More
Hometown: Hartford, CT
Drafted: Pick 9 in 2012 by Pistons

Predraft Measurements
| Year | Source | Height w/o Shoes | Height w/shoes | Weight | Wingspan | Standing Reach | Body Fat | No Step Vert | Max Vert |
| --- | --- | --- | --- | --- | --- | --- | --- | --- | --- |
| 2012 | NBA Draft Combine | 6' 9.75" | 6' 11.75" | 279 | 7' 6.25" | 9' 1.5" | 7.5 | 31.5 | 33.5 |



Basic Per Game Statistics

- Comprehensive Stats - Statistical Top 25s
| Year | League | Name | GP | Min | Pts | FG | FGA | FG% | 2Pt | 2PtA | 2P% | 3Pt | 3PtA | 3P% | FTM | FTA | FT% | Off | Def | TOT | Asts | Stls | Blks | TOs | PFs |
| --- | --- | --- | --- | --- | --- | --- | --- | --- | --- | --- | --- | --- | --- | --- | --- | --- | --- | --- | --- | --- | --- | --- | --- | --- | --- |
| 2015/16 | NBA | Andre Drummond | 17 | 35.5 | 18.1 | 7.8 | 14.8 | 52.4 | 7.8 | 14.8 | 52.4 | 0.0 | 0.0 | &nbsp | 2.5 | 6.2 | 41.0 | 6.0 | 11.2 | 17.2 | 0.8 | 1.8 | 1.5 | 2.4 | 3.1 |

Player Page&nbsp&nbsp| Player Stats | Mock Draft History | Related Articles&nbsp&nbsp| Add to My Draft Express&nbsp
&nbsp
2012 NBA Draft Media Day Interviews Part Two
June 28, 2012
[Read Full Article]

---
NBA Combine Interviews: Anthony Davis, Drummond, Jones
June 8, 2012
[Read Full Article]

---
Andre Drummond Video Scouting Report
May 31, 2012
Mike Schmitz takes a look at the strengths and weaknesses of Andre Drummond, with the help of UConn game-film and head coach Jim Calhoun.






---




More DraftExpress Video Breakdowns:


-Perry Jones Video Scouting Report
-Thomas Robinson Video Scouting Report


---


Mike Schmitz is a writer for ValleyoftheSuns, a member of the TrueHoop Network. Follow him on twitter and subscribe to his YouTube page.

[Read Full Article]

---
NBA Draft Prospect of the Week: Andre Drummond
March 21, 2012
When Andre Drummond unexpectedly tweeted his intentions to reclassify back to his original high school class of 2011 in late August, and simultaneously committed to defending national champions UConn and hall of fame coach Jim Calhoun, he was unanimously applauded for making an excellent long term decision for his development.

The NBA lockout was in full swing, and rumors of the one and done rule being changed to force players to be at least two years removed from their high school graduating class and 20 years old before entering the draft had major implications for Drummond.

For UConn, adding the consensus #2 freshman prospect meant a serious boost to their hopes of repeating as national champions.

Expectations can be a funny thing, though, as Drummond quickly found out, as it became obvious very early on that the 18-year old was nowhere near ready to make the immediate impact his recruiting ranking suggested he would.

UConn's season as a whole ended up being a major disappointment, as the entire team struggled to play up to their talent level and ended up bowing out in the first round of the NCAA tournament with an emphatic loss to Iowa State. Team chemistry, ball-movement and offensive execution were significant issues all year long, as the players and coaching staff rarely appeared to be on the same page.

With the NCAA denying UConn's waiver request and essentially banning the team from the 2013 NCAA tournament (barring an appeal), as well as potentially the Big East tournament, the prospect of returning to school became significantly less attractive for Drummond and everyone else on the team's roster.

While this might make Drummond's decision slightly easier, the onus is now on NBA decision makers to decide exactly how to evaluate his pro potential.

On one hand, Drummond's long-term potential is obvious. With his tremendous size, frame, length and mobility, his elite physical tools put him in the same class as NBA centers such as Andrew Bynum, Greg Oden, Dwight Howard and Derrick Favors. Not turning 19 until August, he was the second youngest prospect in college basketball this year after Michael Kidd-Gilchrist.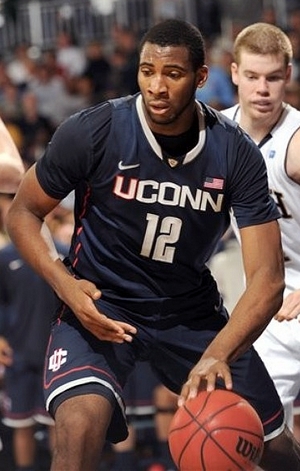 AP



On the other hand, Drummond's actual on-court production this season was nowhere near what you would expect from a future NBA lottery pick, at least on the offensive end. He ranks just 76th in points per-40 minutes pace adjusted among the 85 collegiate players in our top-100 prospects ranking, and 47th in PER.

His solid offensive rebounding rate and shot-blocking production are encouraging signs which give us a pretty good idea of which areas he's most ready to contribute in immediately in the NBA until the rest of his all-around game hopefully rounds out.

While Drummond played over 28 minutes per-game this season, his minimal usage rate indicates just how small of a factor he was in UConn's offense. Part of this is due to the chaotic nature of his team's highly unscripted half-court offense, which relies heavily on the whims of their very trigger-happy guards Shabazz Napier, Ryan Boatright and Jeremy Lamb, and their ability to make contested fade-away jumpers in isolation situations. However, the lion-share of the blame for this falls on Drummond himself, though, as he rarely looked like he actually wants the ball.

Despite possessing a significant size and bulk advantage on pretty much every big man he matched up against this season, Drummond was not very physical looking to assert himself inside the paint. He doesn't do a good enough job using his thick frame to carve out space on the block and make himself a target, and isn't one to put his hands in the air and aggressively call for an entry pass.

Even when wide open and cutting to the rim, it's tough to tell if Drummond actually wants the ball sometimes based on his body language, especially in games where things don't seem to be going his way.

Some of this might have to do with his struggles from the free throw line, where he converts an abysmal 29.5% of his attempts. This actually became a bigger issue as the year moved on, as he made just 18% of his attempts over the last 10 games of the season.

When he did receive the ball with his back to the basket, Drummond was generally ineffective in post-up situations, converting just 22 of his 68 (32%) field goal attempts this season according to Synergy Sports Technology.

Besides not knowing how to establish deep post-position, his footwork, countermoves and off-hand lack significant polish, while his jump-hook is not a consistent weapon at all yet, as he appears to possess just average touch. Drummond has an odd habit of trying to shoot an odd two-handed turn-around jumper instead of a traditional hook, which is easily blockable due to its very low release point.

Whoever drafts him would surely be well-served hiring an experienced big man coach who can work with him on a daily basis and help him learn how to play with more toughness, confidence and aggressiveness. Such attention should help him a great deal, as he clearly has far more potential as a back to the basket threat than he was able to show this season.

As mentioned already, Drummond did a solid job of using his physical tools to his advantage crashing the offensive glass this season, ranking in the top-10 amongst collegiate prospects in that category.

His combination of size, length, agility and quickness getting off his feet allows him to get around and over opposing big men pursuing loose balls on a regular basis, even if he doesn't always have the coordination or polish to translate these plays into points. Considering the tools and instincts he shows here, it's not difficult to see this part of his game translating fairly seamlessly to the NBA.

Besides his work on the offensive glass, Drummond's next most consistent source of production comes from running the floor, which isn't surprising considering how incredibly mobile he is. While not overly graceful with his running style, Drummond gets up and down the court as quickly as any true center we've seen in quite some time, which is obviously all that matters. His excellent hands make him an extremely reliable target for his guards to throw lob passes to, and the tremendous explosiveness he possesses elevating around the rim allows him to finish these plays with ease, sometimes powerfully and in highlight reel fashion.

One part of his game which may have more potential than we've seen thus far is as a pick and roll finisher. The pick and roll is not a major part of UConn's offense, and when their guards do run it, they rarely do so looking to pass. With the superior spacing NBA guards enjoy due to the deeper 3-point line, this is a much bigger part of most teams' offense, and Drummond seemingly possesses ideal tools to benefit from that.

While Drummond's offensive game didn't make any noticeable improvements over the course of his freshman season, his play on the defensive end surely did. With his size and bulk, he's extremely difficult to post up on the block, not allowing opposing big men to back him down too easily, using his terrific length extremely well to contest their shots with both hands, and often being able to send their shots back without even leaving his feet.

Drummond has excellent timing as a shot-blocker, both playing man to man defense on the ball, and rotating from the weak-side. He ranks as the 6th best shot-blocking prospect in college basketball, and is able to do so without fouling very often, committing just 3.2 fouls per-40 minutes.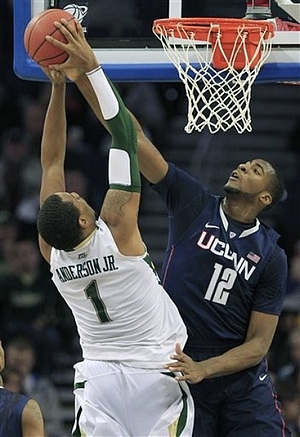 AP



Additionally, he does a very good job of keeping almost all of his blocks in-play and not just swatting them out of bounds, which gives his team a chance to take possession of the ball.

Not just a presence inside the paint, Drummond is also very much capable of stepping outside as well, being very effective on the perimeter for a player his size. He bends his knees and gets in a low stance exceptionally well, showing incredibly nimble feet sliding his feet and moving in all directions.

His mobility on defense should make him an extremely valuable asset to have in pick and roll situations, as he doesn't seem to have any problem hedging screens and recovering quickly or even switching out and staying in front of guards when the situation calls for it.

Where he will need to improve is on the defensive glass, though, as the 6.0 defensive rebounds he grabbed per-40 minutes ranked 32nd among the 50 centers in our NCAA prospects database. He does not do a great job of boxing out here and appears to show just average instincts pursuing loose balls off the glass, sometimes being completely out of position and/or going after rebounds with one hand.

Drummond's draft stock is seemingly at a low point right now as many appear to be disappointed with the way him and his team finished the season. It's tough to see that lasting very long, though, as once he gets into workouts NBA decision makers will be able to see with their own eyes what a rare physical specimen he is and how much room he has for improvement over the next few years, as well as talk to him and see how well-spoken he is off the court. We have him as the #2 prospect in this draft in our top-100 rankings, which is based on our own opinion of players.

The fact that he's such a well-conditioned athlete who can seemingly play significant minutes on a nightly basis is obviously a huge plus in the hectic schedule of an 82-game season.

The biggest question NBA teams will be asking will revolve around how much he can improve on his technique, offensive skill-set and mental approach as he gets older. His feel for the game in general is still a work in progress, as he's the type of player who can make incredibly good and bad plays, sometimes on consecutive possessions. He doesn't appear to be going 100% at times, and there have been some concerns raised about exactly how passionate he is about the game of basketball due to his laid-back demeanor.

Sliding a few spots in the draft may actually not be the end of the world for Drummond, as it would lower the expectations he'll have to deal with early on and allow him to ease his way into the NBA, which will likely take some time. As someone who is extremely affected by the ebbs and flows of games and obviously still in a very early stage of maturation, going to a strong organization with positive figures around him on and off the court would clearly be very beneficial.

Still, it would be very surprising to see Drummond sitting for very long in the Green Room on draft night, as his positives far outweigh the negatives, especially when considering his age, how rare players of his nature are, and how difficult they are to acquire. When it's all said and done, Drummond is obviously a project, but he's one that any team in the NBA would like to work with.

[Read Full Article]

---
adidas Nations Highlights and Interview: Andre Drummond
August 27, 2011
A video profile featuring elite 2012 high school big man Andre Drummond from the adidas Nations Experience in Los Angeles.



[Read Full Article]

---
2010 National Prep Showcase: Elite 2012 Prospects
November 24, 2010
Joseph Treutlein

Likely the player with the highest ceiling of anyone seen this weekend, Andre Drummond (#1 Scout, #1 Rivals, #1 ESPN) has elite NBA tools from a physical standpoint, possessing ideal size, length, bulk, mobility, coordination, and explosiveness for the center position, while also showing occasional flashes of skills to go along with it. This was an up and down two games for Drummond, as he showed moments of brilliance dispersed between long periods of complacency, something that is frustrating to see from a player capable of so much.

From what we saw a year ago, Drummond has made strides in a few areas, the first of which is with his surprisingly deft passing ability, something uncharacteristic for a player his age with his physical profile. Drummond takes full advantage of his size in surveying the floor, showing excellent court vision from the low post, high post, and perimeter, frequently looking to pass to others before looking for his own shot. He had five assists between the two games here and a handful more nice passes, making bounce passes and chest passers to open cutters and shooters alike.

While Drummond's passing ability is very unique and intriguing from a long-term perspective, it heavily plays into a major problem with his game: his lack of assertiveness in using his physical tools. Rarely will Drummond use his body to establish strong post position or call for the ball on the block, being much more content to run out to the perimeter and serve as a passing cog in his team's offense. When he does get the ball, he usually opts for weak finesse moves like turnaround jumpers and hook shots, neither of which he converts consistently.

In the second half of his second game here, a close game his team lost in overtime, Drummond finally woke up and started getting physical, making it obvious how dominant he's capable of being when he puts his lower body into his opponent and calls for the ball, as no one at this level is able to stop him in such instances. Drummond's ridiculous lower and upper body strength combined with his size and explosiveness allow him to seal his man low and dunk over them with ease when he wants to, and the scary thing is he should be able to continue to do similar things against most college and many NBA opponents should he try to. The problem is he seems much more inclined to be a Vlade Divac-style passer/perimeter player than a Shaquille O'Neal-style low post bruiser.

Defensively, one thing that became immediately apparent in watching Drummond play is how his awareness and positioning have improved in the past season, as he brings a good (albeit somewhat fleeting) level of attentiveness on this end of the floor. While he is prone to losing focus when plays draw on too long, he does a good job manning the paint and rotating to the help-side, while also showing flashes of elite level pick-and-roll defense, as his combination of size, mobility, and excellent hands make him a terror hedging and shutting down passing lanes, as he broke up and picked off a few pick-and-roll passes here.

On the down side, he still can be out of control when closing out on the perimeter, while he likewise is prone to biting for pump fakes patrolling the lane. As a shot blocker, he is active contesting shots all over the lane, while showing good discipline in not roaming too far from the basket, often forcing the opposition to take high difficulty runners and floaters over his out-stretched hands.

As a man-to-man post defender is where Drummond shows the most cause for concern on the defensive end, showing poor fundamentals and understanding of leverage, not getting great positioning and not asserting himself the way he's capable of. His physical tools here are obviously superb, and he has the potential to be an elite post defender in the NBA, though he has a very long ways to go.

Rebounding is another area where Drummond isn't playing up to his potential, as he often isn't assertive in tracking down caroms, trying to pull in or tip balls with one hand rather than reaching up with both to secure, something he's very capable of doing consistently with his size, length, and hands.

Looking forward, the sky is the limit for Drummond, and while it's easy to be harsh on him for not taking advantage of the things he's capable of, it's important to remember that he's still just 17 years old and he already is capable of doing many things at a very high level. While his demeanor hasn't improved much in the past year, he has shown a learning curve from a skills perspective, and there's still plenty of time for him to grow. With him already flashing abilities to excel in the passing game and in pick-and-roll defense, Drummond has the potential to be an extremely unique player down the road, as those things are rare from players with his physical profile, especially if he can complement those abilities with the dominating post game so many people are waiting for him to develop.

[Read Full Article]

---
2009 National Prep Showcase: Elite Prospects
November 24, 2009
Jonathan Givony

Already considered by many as the top prospect in his high school class, Andre Drummond (Scout ?, Rivals ?, #1 ESPN) has garnered an incredible amount of attention for a player only 16 years old.

Drummond was actually a member of the 2011 class, but elected to reclassify before he blew up on the national level, as he was seen as a major project on and off the court who could use another year of high school basketball playing close to home before leaving for college. There is apparently some thought to move him back to his original class to allow him to participate in the McDonald's All-American game and give him the benefit of competing against stronger competition in college that crucial year of development, but no final decision has been made at this point.

From a physical standpoint, it's not difficult to tell why Drummond is as highly touted as he is. He stands a legit 6-11, with a massive wingspan (rumored to be somewhere around 7-5) and a huge frame that will have no problem carrying all the weight he needs at any level of competition. His body is well proportioned and he appears to be about as fluid and coordinated as you could expect a 16-year old to be.

Athletically, Drummond is very solid, running the floor like a deer and looking very quick getting off his feet. He's not what you would call a freak athlete, but certainly will not be held back by his mobility from what we could tell, and probably has not reached his full athletic potential at this point in time. We should also keep in mind that Drummond was just coming off recovering from a stress fracture that put him out of commission to start the season, and probably affected his conditioning.

Offensively, Drummond shows excellent potential, but is still a fairly limited player as you can probably imagine considering his age. He sports big, soft hands which allow him to catch pretty much everything thrown his way, and has the type of frame needed to be an outstanding presence inside the paint. His touch looks outstanding, particularly on the series of jump-hooks we saw him score with, and he seems to have some potential as a mid-range shooter as well based off what we saw in warm-ups. Drummond shoots the ball from his chest, something that must be corrected eventually, but the fact that he's already making shots from distance leaves a lot of room for optimism regarding the future.

On the downside, Drummond is still very much a raw prospect who would clearly struggle against high-level competition at this juncture. He has very little idea how to establish position in the paint and use his amazing body to his advantage, lacking a great deal in the ways of footwork and post-moves and struggling with basic concepts like passing out of the post and respecting the spacing of his team's half-court offense. He doesn't appear to be the type of player whom everything comes naturally for, sporting somewhat of an average IQ that is likely further accentuated by his lack of experience and all-around polish.

Defensively, we find much of the same. On one hand, Drummond has incredible potential due to his phenomenal physical attributes, something that already makes him a huge asset even in his current raw state. He can block shots with either hand and is a massive presence in the paint thanks to his terrific length and solid timing, contesting pretty much everything that comes his way and being extremely difficult to post up with his sheer girth.

On the other hand, Drummond's fundamentals are incredibly poor, looking fairly clueless at times while roaming around aimlessly, and being extremely foul prone on top of that. He's not the toughest or most reactive guy or you'll find right now—something to keep an eye on as he gets older—and has all kinds of issue stepping out onto the perimeter and trying to move his feet out and react to quicker players attacking him off the dribble.

Something to keep in mind is that all these issues are highly correctable and are very much to be expected from a player at his stage of development. Drummond must realize that though and continue to work on his all-around game exhaustively if he's to reach his full potential. The good news is that, despite being a little on the immature side, Drummond is supposedly a very high character young man with a strong support system around him. He looks like a good teammate on top of that from what we could tell in the two games we saw him.

Drummond has a long road ahead of him to making the NBA, but he's obviously off to a great start. We'll have to wait and see how things turn out from here, starting in college. The favorites to land his services at this stage are clearly Jim Calhoun and the hometown UConn Huskies, which, if history is any indication, wouldn't be a bad place for a big man to get ready for the NBA.

[Read Full Article]

---