Andre Roberson
Recent Tweets
All Tweets
DraftExpress2: RT @GoodmanESPN Andre Roberson is the shocker of the draft thus far in the first round.
2013-06-27 22:24:22
DraftExpress2: Andre Roberson is the shocker of the draft thus far in the first round.
2013-06-27 22:23:44
DraftExpress: DX Trending Prospects Andre Roberson http://t.co/0vi2FWsavZ - Scouting report on one of the top rebounders in this year's draft class
2013-05-30 14:00:41
DraftExpress: Coming as soon as I find internet here in Vegas Tim Hardaway Jr video analysis+scouting report and Andre Roberson scouting report...
2013-05-30 11:48:51
DraftExpress: Colorado announces Andre Roberson is leaving for the NBA http://t.co/U6r6SrBtM6 "there are no guarantees Roberson will go in the 2nd round"
2013-04-28 18:26:39
Team: Thunder
Physicals
Positions
Salary
Misc
H: 6' 7"
W: 206 lbs
Bday: 12/04/1991
(23 Years Old)

Current: PF
NBA: PF
Possible: PF

Agent: Bill Duffy
Current Salary:$1,160,880

High School: Wagner
Hometown: San Antonio, TX
Drafted: Pick 26 in 2013 by Thunder

Predraft Measurements
| Year | Source | Height w/o Shoes | Height w/shoes | Weight | Wingspan | Standing Reach | Body Fat | No Step Vert | Max Vert |
| --- | --- | --- | --- | --- | --- | --- | --- | --- | --- |
| 2013 | NBA Draft Combine | 6' 6.25" | 6' 7" | 206 | 6' 11" | 8' 8.5" | 7.1 | 30.0 | 36.5 |
| 2012 | Amare Stoudemire Camp | NA | 6' 7" | 195 | 6' 9" | NA | NA | NA | NA |



Basic Per Game Statistics

- Comprehensive Stats - Statistical Top 25s
| Year | League | Name | GP | Min | Pts | FG | FGA | FG% | 2Pt | 2PtA | 2P% | 3Pt | 3PtA | 3P% | FTM | FTA | FT% | Off | Def | TOT | Asts | Stls | Blks | TOs | PFs |
| --- | --- | --- | --- | --- | --- | --- | --- | --- | --- | --- | --- | --- | --- | --- | --- | --- | --- | --- | --- | --- | --- | --- | --- | --- | --- |
| 2015/16 | NBA | Andre Roberson | 16 | 23.1 | 4.9 | 1.9 | 4.3 | 44.9 | 1.4 | 2.3 | 59.5 | 0.6 | 2.0 | 28.1 | 0.4 | 0.8 | 58.3 | 0.8 | 2.6 | 3.3 | 0.8 | 0.7 | 0.5 | 0.6 | 2.0 |

Player Page&nbsp&nbsp| Player Stats | Mock Draft History | Related Articles&nbsp&nbsp| Add to My Draft Express&nbsp
&nbsp
Trending Prospects: Andre Roberson
May 30, 2013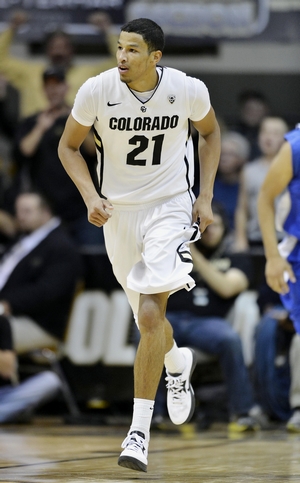 US Presswire



Joe Treutlein

After a sophomore season in which he made some strides with his game as his offensive role expanded, Andre Roberson's game plateaued his junior year, as he didn't make many noticeable developments with his skill set and his statistical output stayed roughly the same.

Offensively, Roberson is still most dangerous when he can get the ball near the basket, an area he can take advantage of his athleticism and not have to rely on his raw base of skills. Roberson shows good ability to finish with both power and finesse at the rim, something he does well on both put-back and slashing attempts. His two-point percentage declined noticeably from 64.0% as a freshman to 52.1% as a junior, but that's primarily a product of having to create more of his offense on his own, something he is much less adept at.

Roberson's face-up offense is still a work in progress, though it's something he shows flashes with regularly on straight-line drives to the basket. He shows a nice first step and has improved his ball control some, but still remains very limited overall, struggling to create high percentage shots and being prone to turnovers when he doesn't have a simple path to the rim. To his credit, he has developed a respectable floater in the paint for situations when he can't get all the way to the basket, but still is not a reliable or efficient threat putting the ball on the floor.

Unfortunately for Roberson, his jump shot has seen even less improvement than his dribble-drive game, as he shot a career-worst 32.8% from the three-point arc as a junior on just 1.9 attempts per game. His mechanics are still somewhat errant with a pushing motion and a fairly low release point. The fact that he shot an abysmal 55.1% from the free-throw line as a junior indicates that he still has a long ways to go before he can be considered even a respectable jump-shooter.

While Roberson's offensive game is a work in progress at best at this stage of his development, the same cannot be said for his defense and rebounding, two areas he continued to excel as a junior. His pace adjusted rebounding per-40 fell slightly from 14.8 to 13.3 this past year, but that's still good for the second best mark among power forwards in our Top 100 prospects. Roberson shows an excellent nose for the ball and does a good job using all his athleticism to secure rebounds on both ends of the floor, something that teams could find valuable at either forward position at the next level.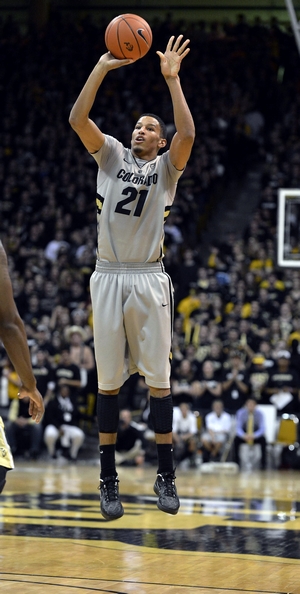 US Presswire



On the defensive end, Roberson does a similarly good job utilizing his length and athleticism to impact the game, frequently being matched up against different positions and playing a huge role in Colorado's 25th ranked defense in the country according to kenpom.com. Roberson's perimeter stance can be somewhat upright at times, but he shows very good lateral quickness for either forward position and does an excellent job utilizing his 6'11 wingspan to contest shots from the side or behind when his man gets the step on him. His post defense is equally effective, where he uses his length to smother opponents and block shots, though to be fair, his still skinny build could pose some problems against the more bruising power forwards in the NBA.

Roberson's biggest problem projecting to the next level is whether he has a natural position, something that stems primarily from his lack of any noteworthy offensive skill aside from his offensive rebounding. He seemed intent on proving himself to be a small forward earlier this month at the combine in Chicago (which is somewhat understandable given he measured in at 6'7 and only 206 pounds), but struggled heavily with his perimeter offensive game. Developing a more efficient spot-up jumper would go a long way in helping him no matter which forward position he projects to, but currently his skill set is suited much more to the 4 position on the offensive end. The biggest edge Roberson holds over past forward tweeners is he possibly has as many as three positions he can capably defend, but will likely need to find a team and coach to take advantage of that versatility to succeed early in his career while he develops his offensive game.

While Roberson is no lock to be drafted after a relatively disappointing junior year and a lackluster start to the pre-draft process, his combination of physical tools, rebounding, and defensive abilities are certainly something teams will give weight to, and there are many successful defensive-minded coaches who could find use for a player with his tools. He also could help himself by affirming his defensive abilities in individual workouts, where he could see himself paired against many top forward prospects.

[Read Full Article]

---
Top NBA Draft Prospects in the Pac-12, Part One
October 5, 2012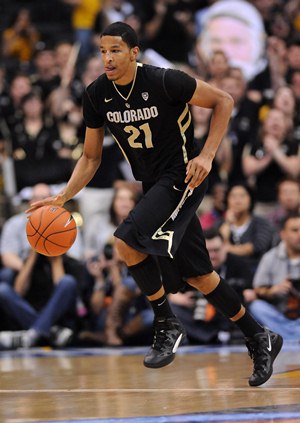 US Presswire



Kyle Nelson

Already known as an outstanding rebounder, scouts expected Andre Roberson to assume a greater role in Colorado's offense as a sophomore. Roberson definitely delivered, averaging 11.6 points and 11.1 rebounds per game while leading the Buffaloes to the NCAA Tournament, their first in nine years, and to their first tournament win in over 15 years. No longer under the radar, Roberson has emerged as the PAC-12's top-prospect and must help Colorado defend its conference title while proving to scouts that he is capable of playing on the wing at a NBA level.

Resolving his positional issues are particularly important given his physical profile. At 6'7 in shoes with a decent 6'9 wingspan and wiry 210-pound frame, Roberson lacks ideal size for the NBA post, but has outstanding size for the small forward position. Similarly, Roberson is an excellent athlete, possessing a combination of explosiveness, fluidity and quickness complemented by his energetic and relentless playing style.

He did not transition into the perimeter scorer on offense that many expected he'd become as a sophomore, however, still often playing out of position as a power forward. His role definitely changed between his first and second years, as he saw nearly twice as many of Colorado's offensive possessions, but he was still a complimentary player, rarely showing the skill or instincts to step up as a primary scoring option. He was more productive as a sophomore, but his 15.5 points per 40 minutes pace adjusted ranked him near the bottom of prospects in our top-100.

As was the case during his freshman year, Roberson is still at his best while crashing the offensive glass. He may have grabbed fewer offensive rebounds as a sophomore, but he nonetheless ranked as one the top prospects in our top-100, showing an uncanny combination of fundamentals, instincts, and energy to collect rebounds within and beyond his immediate vicinity. Roberson is not a particularly skilled scorer down low, but he outhustles most bigger defenders and uses his soft touch and quickness to score inside.

Moving away from the basket, Roberson made a few subtle improvements, but still has a long way to go before fully transitioning to the wing. As was the case during his freshman year, he continued to look excellent in transition, running the floor hard and finishing emphatically. His ability to move without the ball, and to finish off of cuts to the basket remains impressive, as well. His value as a hustle player on offense, inside and outside, is undeniable and he finds most of his points simply by being the hardest working player on the floor.

Roberson shot an improved 38% from beyond the arc, albeit on just 1.8 attempts per 40 minutes pace adjusted, and rarely settled into a groove as the season progressed. On film, his mechanics leave much to be desired. For one, he has a quick, but truncated release, with a low release point and little follow through. Furthermore, while he shot the ball better as a sophomore, he rarely looked comfortable or fluid when setting himself up for a shot. He made just 28.6% of his open attempts, as he was unable to find his shooting rhythm and often passed up easy spot-up opportunities as a result.

While his shot creating abilities remain underdeveloped, he showed more of a face-up game as a sophomore, attacking the basket and occasionally knocking down shots from mid-range. He is limited to straight line drives at the basket, however, due to his extremely shaky handles and overwhelming tendency to drive right. He doesn't have a lot of control with the ball in his hands, either, and most of his turnovers are results of his raw instincts as a shot creator and facilitator at this stage. His mid-range arsenal is very small, primarily composed of a pull-up jump shot, but, though he made an abysmal 28.6% of them on just a few attempts, he showed the potential to develop further in this area.

Moving forward, Roberson must expand his perimeter game by developing better shooting mechanics, greatly improving his ball handling abilities, and becoming a more versatile scorer from mid-range. Roberson showed subtle improvements between his freshman and sophomore seasons, but scouts will be looking for him to take significant steps forward offensively as a junior.

Roberson once again stood out on the defensive end of the floor, showing remarkable versatility and lockdown potential at the collegiate level. His combination of excellent lateral quickness and outstanding timing situates him as a match-up nightmare on the perimeter, where he can stay in front of quicker guards, get his hands in passing lanes, and block shots all over the floor. His 1.7 steals and 2.5 blocks per 40 minutes pace adjusted show just how disruptive he can be, inside and outside. Furthermore, though he still guards power forwards quite often, there is no question at this point that he has the physical tools to transition seamlessly into a lockdown defender on the wing.

Finally, it's worth pointing out that Roberson is the top returning defensive rebounder among all prospects in our database, pulling in a remarkable 10.3 defensive rebounds per 40 minutes pace adjusted. For the second straight year, he finished as one of the nation's top rebounders, which is particularly impressive given the fact that he is undersized and playing out of position.

There is little doubt, then, that Andre Roberson is an excellent NBA prospect. When contemplating an NBA comparison, players as diverse as Shawn Marion, Kawhi Leonard, and Kenneth Faried come to mind, showing just how many different directions his development could take him and just how good he could be. He already possesses ideal size and athleticism for the NBA wing position along with excellent defensive potential and intangibles. Scouts will be watching him closely this year to see whether he can emerge as a comfortable, consistent, and prolific perimeter shooter. His NBA future is bright, regardless of his offensive development, but if he continues to improve as a scorer, then he has the chance to be a very special player at the next level.

[Read Full Article]

---
Top NBA Draft Prospects in the Pac-12, Part One (#1-5)
October 5, 2011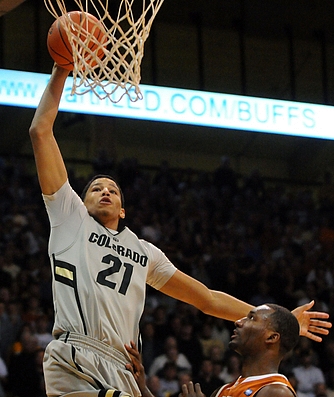 Icon SMI



Walker Beeken

A late signee who was not considered a top-100 prospect by any of the major high school scouting services, Colorado's Andre Roberson played 22.4 minutes per game as a freshman for the Buffaloes and led the team in rebounds, steals, and blocks per game while playing a minimal role offensively. With the departures of leading scorers Alec Burks and Cory Higgins, Roberson should have more opportunity to showcase his offensive talents and seems poised for a breakout season.

The intrigue with Roberson as an NBA prospect begins with his outstanding physical tools. The son of a professional basketball playing father and a mother with a volleyball background, three of Roberson's sisters were Division I NCAA athletes. Standing at 6'7" with a long, lean frame that looks like it should continue to fill out in time, he looks the part of an NBA small forward. On top of that, he's an extremely fluid, explosive athlete who enhances his physical gifts by playing with great energy.

This was clear from his impact on the boards as a freshman. He averaged 13.5 rebounds per forty minutes pace adjusted, an incredible rate for a player his size—identical to Kawhi Leonard last season. Roberson often flew in from the perimeter and grabbed rebounds over the top of players, and was often used out of position at power forward, thanks to his abilities to compete on the glass with most big men.

A big key to Roberson's success this season will be how well he can adapt to more of a featured role offensively. Never considered much of a scorer even in high school, he didn't really have any shot-creating or playmaking responsibilities as a freshman. He'll likely get more a chance to display that part of his game this season, which will play a major factor in determining just how much upside he has to tap into down the road.

Regardless of how he progresses in that area, he already brings quite a bit to the table with his athleticism, length, and energy, which make a terror in transition, cutting to the basket, and creating extra possessions with his offensive rebounds. He's a tremendous finisher at the rim and was very efficient with his touches last season, converting an outstanding 64% on his 2-pointers last season.

Roberson isn't a great shooter at this stage, but he did show some promise, knocking down a respectable 37% of his jumpers last season, including 34% from behind the arc. He didn't look particularly fluid in his limited attempts shooting off the dribble, but looked more comfortable with his feet set. Becoming more of a reliable catch-and-shoot threat from the perimeter would be a big boost for his NBA stock, and he seems capable of improving if he puts in the work, despite the fact that he only converted 55% of his free throws last season.

Robertson's physical tools also manifest themselves on the defensive end, where he's capable of defending almost any player on the floor at the college level. He defended mainly power forwards last season, but he has the look of the prototypical stopper on the wing at the NBA level with his size, length, and ability to cause chaos on the ball and get out into the passing lanes, as well as challenge shots at the rim.

Though it is too early to draw many conclusions on Roberson's NBA prospects after just one college season in a minimal role, it is clear that he possesses quite a bit of upside, and will be a player that scouts will be keeping an eye on. This season should shed more light on how his offensive game is developing and just how much potential he has down the road.

[Read Full Article]

---