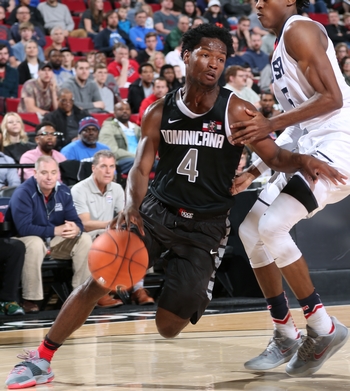 Mike Schmitz
Strengths
-Fairly developed frame for his size
-Quick with the ball
-Has a little floater game
-Pesky on ball defender
-Shot isn't broken
Weaknesses
-Average tools for a PG prospect – 6' 1.25" with a 6' 2.5" wingspan. Doesn't make up for them with freakish athleticism.
-Really struggles as a ball handler vs pressure. Very turnover prone. Too sped up. Telegraphs passes. Overall feel for the game isn't great.
-Not a great shooter at this stage. Footwork is sloppy at times.
-Struggles to finish over length.
-Pesky defender but has limited upside against higher level competition.
Outlook
Feliz struggled throughout the week in practices and in the game as De'Aaron Fox forced him into turnover after turnover. The Hoop Summit should serve as a good learning experience for Feliz, showing him the main areas he needs to improve before heading to South Florida for the 2017-18 season.