Angel Delgado
Recent Tweets
All Tweets
DraftExpress: Angel Delgado was averaging over 20 rebounds per-40 going into this week. Today definitely won't drop that. Great energy and instincts #eybl
2013-07-13 13:16:21
Team: Seton Hall, Sophomore
Physicals
Positions
Rankings
Misc
H: 6' 8"
W: 215 lbs
Bday: 11/20/1994
(21 Years Old)

Current: PF
NBA: PF
Possible: PF

Rank 33 in NCAA Sophomores
RSCI: 45

High School: Redemption Christian
Hometown: Bajos de Haina, NY

Predraft Measurements
| Year | Source | Height w/o Shoes | Height w/shoes | Weight | Wingspan | Standing Reach | Body Fat | No Step Vert | Max Vert |
| --- | --- | --- | --- | --- | --- | --- | --- | --- | --- |
| 2013 | LeBron James Camp | NA | 6' 9" | 216 | 6' 10.5" | NA | NA | NA | NA |
| 2013 | Big Man Skills Acad | NA | 6' 9" | 216 | 6' 10.5" | NA | NA | NA | NA |



Basic Per Game Statistics

- Comprehensive Stats - Statistical Top 25s
| Year | League | Name | GP | Min | Pts | FG | FGA | FG% | 2Pt | 2PtA | 2P% | 3Pt | 3PtA | 3P% | FTM | FTA | FT% | Off | Def | TOT | Asts | Stls | Blks | TOs | PFs |
| --- | --- | --- | --- | --- | --- | --- | --- | --- | --- | --- | --- | --- | --- | --- | --- | --- | --- | --- | --- | --- | --- | --- | --- | --- | --- |
| 2015/16 | NCAA | Angel Delgado | 6 | 28.8 | 7.5 | 3.0 | 5.7 | 52.9 | 3.0 | 5.5 | 54.5 | 0.0 | 0.2 | 0.0 | 1.5 | 3.7 | 40.9 | 2.8 | 6.3 | 9.2 | 1.2 | 0.5 | 1.2 | 2.3 | 2.3 |

Player Page&nbsp&nbsp| Player Stats | Related Articles&nbsp&nbsp| Add to My Draft Express&nbsp
&nbsp
Top NBA Prospects in the Big East, Part Seven: Prospects #16-20
September 16, 2015
Derek Bodner

Talent evaluators are frequently looking for an "NBA skill", something that they can feel confident will translate to the next level and allow the rest of a prospect's game to develop over time. Some prospects do not have such a skill when they arrive on a college campus and require growth, both in terms of their physical profile and skill level, to develop one such skill.

Angel Delgado is not such a prospect.

Delgado, a 6'9" big man with a chiseled frame, was a dominant rebounder from the day he arrived at Seton Hall. Delgado collected 9.8 rebounds per game in just over 28 minutes per night last season for the Pirates, making his presence felt on the glass on a nightly basis.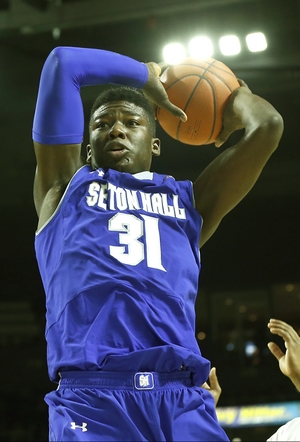 US Presswire



On a per-minute basis, Delgado's averages of 5.0 offensive rebounds (1st) and 8.7 defensive rebounds (3rd) per 40 minutes, pace adjusted, would both rank among the top figures for any player selected in last year's draft. His rate statistics, having collected 14.2% of available offensive rebounds and 25.2% of available defensive rebounds, both measure among the best rebounders in the country.

Delgado can quite simply be described as relentless on the glass, as you'll rarely see him take a possession off on either end of the court, and you'll frequently see him contest a shot on the perimeter, then fight his way back into rebounding position. His combination of quickness, size, strength, motor, anticipation, and positioning all allow him to be a very good rebounder, and that should carry over to the next level.

Delgado also contributes on the defensive end, altering shots at the rim, playing good post defense, and showing the ability to defend the pick and roll. His well-developed frame, which also plays a part in his rebounding, allows Delgado to hold his position down low, and he does a good job of engaging the offensive player early in the shot clock. He also shows enough quickness to hedge and recover on pick and rolls, although a combination of Delgado playing largely at center, and Seton Hall playing a substantial amount of zone, limited the number of times he was put in pick and roll situations defensively.

Delgado does show good timing as a shot blocker, and uses his length well to contest shots and stay out of foul trouble. That being said, he's not overly explosive off his feet, and this limits his potential as a shot blocker. Delgado swatted just 1.8 shots per 40 minutes, pace adjusted, a relatively low number for a center, especially one who doesn't contribute all that much on the offensive end.

On the offensive side of the court, Delgado remains a work in progress. The majority of his half-court offense comes off the ball, with his aforementioned offensive rebounding prowess his biggest contribution. He's also a quick, fluid athlete who does a good job of finding seams in a defense, with solid hands and an upper body that allows him to play through contact around the rim.

In terms of creating his own offense, Delgado will occasionally try posting up, but this can sometimes be an adventure at this stage of his skill development. According to Synergy Sports Technology, just under 16% of Delgado's half-court shot attempts came off of post-ups, but he shot an abysmal 25.8% on these attempts, generating 0.548 points per shots, which ranks in the bottom 10% in terms of efficiency. His strength allows him to establish deep position, with his go-to move being a right handed hook shot, which he does show some touch on. Unfortunately, Delgado lacks any move with his left hand, struggles to read double teams, and lacks any type of a counter move if the defense takes him out of his comfort zone. The combination of these factors can cause Delgado to take wild, out of control attempts more frequently than you would like.

Another area where Delgado will need to work to diversify his game is from the perimeter, as he attempted just 16 jump shots, most of them from short range, and connected on only 31% of these, according to Synergy Sports. These struggles continue to the free throw line where, despite a free throw rate of 51%, which suggests an ability to get to the line, Delgado converted on just 41.4% of his free throw attempts. His form here needs considerable improvement, as there's a lot of extra motion and inconsistency in his mechanics.

Delgado's incredible rebounding on both ends of the court is enough to get him noticed, and something that could conceivably translate well to the next level. Whether or not Delgado can turn himself into a legitimate NBA prospect, however, will be largely dependent on the progress he's able to make on the offensive side of the court.

[Read Full Article]

---
High School Class of 2014 Scouting Reports, Part Two- the Big Men
September 4, 2013
Jonathan Givony

Recruiting Rankings: 247: #46, ESPN: #63, Scout: #61, Rivals: #54
Committed to Seton Hall

Strengths:
-Great body. Chiseled frame. Big hands
-One of the best rebounders in all of high school basketball. Led the EYBL in every rebounding category, averaging a ridiculous 18.2 boards per-40 minutes pace adjusted
-Goes after glass on every possession. Shows terrific instincts and anticipation skills to go along with an excellent motor
-Runs floor. Extremely active. Plays hard
-Good potential defensively. Blocks shots

Weaknesses:
-Has functional athleticism but is not an above the rim high-flying athlete
-More of an undersized center than a real 4/5
-Limited offensive player in the half-court
-Shot a horrid 32% from the free throw line (29/90) in 23 Nike EYBL games
-Very ugly shooting mechanics
-No real post game
-Lacks significant experience
-Basketball IQ is average

Outlook: Strong, active big man who cleans the glass with the best of them. Has one unique skill he can really hang his hat on, but must develop the rest of his game now. How will he fare when he can't simply bully less physically mature players around like he does at the high school level?

[Read Full Article]

---