Anthony Bennett
Recent Tweets
All Tweets
DraftExpress: RT @TrueHoop Anthony Bennett "I'm just as surprised as everybody else."
2013-06-27 20:43:12
DraftExpress: Anthony Bennett "I'm just as surprised as everybody else."
2013-06-27 20:41:39
DraftExpress2: Byron Scott loved Dion Waiters Mike Brown loved Anthony Bennett. Interesting dynamic in Cleveland front office.
2013-06-27 19:45:25
DraftExpress: Anthony Bennett is as talented a scorer as they'll get but questions about his asthma & conditioning seemingly sent his stock in a tailspin
2013-06-27 19:44:54
DraftExpress: Was talking to Anthony Bennett's agents Mike George and Jeff Schwartz thirty minutes ago. They literally had no clue. Faces were grim...
2013-06-27 19:42:22
Team: Raptors
Physicals
Positions
Rankings
Salary
Misc
H: 6' 7"
W: 239 lbs
Bday: 03/14/1993
(22 Years Old)

Current: PF
NBA: PF
Possible: PF

RSCI: 6

Agent: Mike George
Current Salary:$5,563,920

High School: Findlay Prep
Hometown: Toronto, ON
Drafted: Pick 1 in 2013 by Cavaliers

Predraft Measurements
| Year | Source | Height w/o Shoes | Height w/shoes | Weight | Wingspan | Standing Reach | Body Fat | No Step Vert | Max Vert |
| --- | --- | --- | --- | --- | --- | --- | --- | --- | --- |
| 2012 | Hoop Summit | NA | 6' 7" | 239 | 7' 1" | NA | NA | NA | NA |
| 2011 | LeBron James Camp | NA | 6' 7" | 242 | 7' 1" | NA | NA | NA | NA |
| 2011 | Amare Stoudemire Camp | NA | 6' 7" | 242 | 6' 11" | NA | NA | NA | NA |



Basic Per Game Statistics

- Comprehensive Stats - Statistical Top 25s
| Year | League | Name | GP | Min | Pts | FG | FGA | FG% | 2Pt | 2PtA | 2P% | 3Pt | 3PtA | 3P% | FTM | FTA | FT% | Off | Def | TOT | Asts | Stls | Blks | TOs | PFs |
| --- | --- | --- | --- | --- | --- | --- | --- | --- | --- | --- | --- | --- | --- | --- | --- | --- | --- | --- | --- | --- | --- | --- | --- | --- | --- |
| 2015/16 | NBA | Anthony Bennett | 7 | 6.1 | 1.3 | 0.1 | 1.3 | 11.1 | 0.1 | 0.6 | 25.0 | 0.0 | 0.7 | 0.0 | 1.0 | 1.1 | 87.5 | 0.4 | 1.3 | 1.7 | 0.0 | 0.4 | 0.0 | 0.6 | 0.9 |

Player Page&nbsp&nbsp| Player Stats | Mock Draft History | Related Articles&nbsp&nbsp| Add to My Draft Express&nbsp
&nbsp
2013 NBA Draft Media Day Interviews, Part Three
June 27, 2013
[Read Full Article]

---
Situational Statistics: the 2013 Power Forward Crop
June 21, 2013
-Anthony Bennett headlines an impressive class of power forwards, the top of which looks terrific on paper across the board.

Looking at the bigger picture, Bennett's 14.4 possessions per-game and 1.07 points per-possession (PPP) both rank well above average and are eerily similar to the marks posted by Cody Zeller and Kelly Olynyk despite the relative differences in their skill sets and physical profiles. Ranking in the top-four in both transition and half court scoring efficiency, Bennett's athleticism and shooting ability shine through in this study.

Not standing out in usage in any one playtype, Bennett did a little bit of everything for UNLV. He scored an average 0.89 points per-possession in the post, but an impressive 1.39 PPP as a finisher at the rim, the second best mark among his peers and the byproduct of his above average efficiency scoring on put backs and cuts.

In addition to the efficiency his athleticism afforded him around the basket, Bennett also proves to be a potent jump shooter on paper. Ranking fifth in this group with 3.5 jump shot attempts per-game and fourth scoring 1.06 points per-jump shot, Bennett has uncommon scoring ability from the perimeter for player with his physical gifts.

Bennett doesn't have too many weaknesses on paper situationally aside from his lack of prolific scoring ability one-on-one and in the post. It will be interesting to see if he can translate his efficiency to the next level and become a more dynamic threat creating for himself in the paint or facing up from the midrange in the coming seasons.

[Read Full Article]

---
Anthony Bennett Scouting Report Video
June 13, 2013




More Video Scouting Reports:



-Dario Saric
-Alex Len
-Shane Larkin
-Dennis Schroeder
-Tim Hardaway Jr
-Rudy Gobert
-Lucas Nogueira
-Otto Porter
-Gorgui Dieng
-Jamaal Franklin
-Kentavious Caldwell-Pope
-Reggie Bullock
-Nate Wolters
-Steven Adams
-Michael Carter-Williams
-Cody Zeller
-Archie Goodwin
-Mason Plumlee
-Glen Rice Jr.
-Trey Burke
-Allen Crabbe
-Jeff Withey
-Shabazz Muhammad
-Mike Muscala
-Jackie Carmichael
-Erick Green
-Giannis Adetokunbo
-Nerlens Noel
-Victor Oladipo
-Kelly Olynyk
-Russ Smith
-C.J. McCollum
-Mam Jaiteh
-Ben McLemore
-Leo Westermann
-Sergey Karasev

Mike Schmitz is the video analyst for DraftExpress. Follow him on twitter and subscribe to his YouTube channel. He will be breaking down the NBA draft in digital format all year long for us.

[Read Full Article]

---
NBA Draft Prospect of the Week: Anthony Bennett
January 2, 2013
Scouting report by Jonathan Givony. Video analysis by Mike Schmitz

A total unknown when we first wrote about him nearly three years ago at the Jordan Brand Classic in New York, Anthony Bennett has since blossomed into a McDonald's All-American and now one of the most productive freshmen in college basketball.

Measuring 6-7 in shoes at the Nike Hoop Summit eight months ago (and at the 2011 LeBron James Skills Academy), Bennett is somewhat undersized for a power forward, but makes up for that with his 7-1 wingspan, strong 239 pound frame, and excellent athleticism. He's a powerful and explosive leaper with very good quickness and body control for a player his size, making him a difficult matchup for opposing big men at the college level.

Video Analysis:



What makes Bennett unique is how advanced he is offensively for a freshman. He's already one of the most versatile scorers you'll find in the NCAA, as he's capable of scoring inside the paint, making 3-pointers, putting the ball down attacking from the perimeter with either hand, handling the ball on the break, and making his presence felt on the offensive glass.

Bennett stepped onto a deep and experienced UNLV team that won 26 games last year and immediately established himself as their go-to guy and most aggressive player, which he's proven he's worthy of as he currently ranks as one of the most productive players in the country.

The first thing that jumps off the page about Bennett is his tenacious finishing ability. His superb combination of length, explosiveness and aggressiveness makes him a threat to tear down the basket at any given moment and allows him to finish plays from impressive distances, sometimes even when elevating from outside the paint. He's converting 74% of his attempts around the basket right now according to Synergy Sports Technology, which ranks amongst the top ten players in college basketball thus far.

Not very advanced with his back to the basket, Bennett nevertheless shows some craftiness inside the paint, utilizing floaters with soft touch and using the glass on reverse moves. His length allows him to finish with ease without even having to jump very high at times, and helps him use some very unique angles to get his shot off effectively. As he gets older, he'd be wise to continue to improve his rudimentary post game, as he has the tools to be very effective down low with combination of his quickness, strength and touch.

Knocking down nearly one 3-pointer per game, Bennett has legitimate range on his jump-shot, even if he's been somewhat streaky overall over the course of the season, converting just 32% of his attempts from beyond the arc. With his soft touch and solid shooting mechanics, this likely has more to do with shot-selection than anything, as he tends to fall in love with this part of his game at times. Nevertheless, he has clear-cut potential as a floor-spacer and pick and pop threat, which is very intriguing in today's NBA.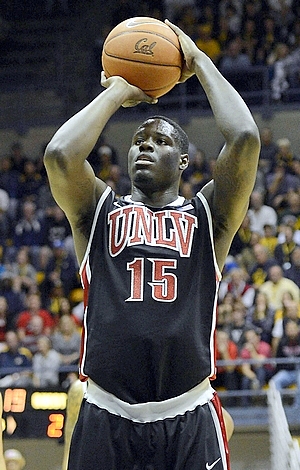 US Presswire



Also very capable of putting the ball on the floor, Bennett is an excellent ball-handler for his position. He can attack his matchup from the perimeter driving in either direction, sometimes after a shot-fake or a strong crossover. This allows him to draw fouls and get to the free throw line at a superb rate, sixth best among DX Top-100 prospects thus far. Bennett not only draws a lot of fouls, but he also converts very effectively from the free throw line, hitting 75% of his attempts so far.

Bennett has a lot of freedom in UNLV's offense, as you'll often see him grab a rebound and bring the ball up the court himself, sometimes taking it coast to coast. What's interesting is that he doesn't turn the ball over very often, as he's coughed it up just 19 times in 368 minutes thus far, or just about twice for every 40 minutes of action he sees. With that said, he also doesn't generate many assists (17 on the season), as he looks pretty focused on his own offense once the ball in his hands.

The place where Bennett has the most room to improve at the moment seems to be on the defensive end. He often looks like he's only going half speed here, jogging the floor lackadaisically, relaxing in his stance whenever he can, and losing his focus easily. He regularly gives up deep post position to opposing big men without putting up much of a fight, and loses track of his matchup relatively frequently off the ball. Like many young players, Bennett's fundamentals are fairly poor on this end of the floor, and his intensity leaves a lot to be desired at times. Maximizing his conditioning-level could help here.

With that said, Bennett's talent does shine through on this end of the floor as well on occasion, as he's capable of making some very impressive plays with his terrific combination of length, strength, explosiveness and quickness. He can move his feet well, is very difficult to shoot over when he's dialed in, and has solid anticipation skills blocking shots and getting his hands on loose balls.

With his soft hands, long arms and excellent athleticism, Bennett has proven to be a capable rebounder at times as well, even if he hasn't really done so consistently thus far, ranking just 16th of the 25 power forwards in our Top-100 rankings in this category this season. There's little doubt that he could be even more effective here if he put his mind to it consistently.

Turning 20 this March, Bennett is a little older than most of players in his freshman class, but still has plenty of room to continue to improve. He made a fairly seamless transition from high school to college, likely due to the fact that he left his home in suburban Toronto at a very young age (to attend Mount State Academy in West Virginia and Findlay Prep in Las Vegas) and gained considerable experience representing Canada at the U16 FIBA Americas Championship in 2009 and the U17 FIBA World Championship in 2010.

NBA teams may be wary of the fact that he's an inch or two smaller than the prototypical power forward, but his long arms, explosive athleticism, and improving skill-level on the perimeter should ease many of their concerns. Power forwards in Bennett's mold are very much en vogue in today's NBA, and as long as he continues to produce for UNLV, he can likely expect to hear his name called fairly early whenever he decides to enter the draft.

[Read Full Article]

---
Nike Hoop Summit Scouting Reports: Forwards/Big Men
April 12, 2012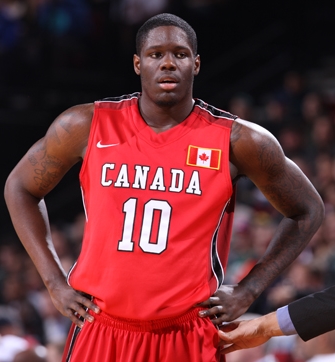 Sam Forencich/USA Basketball



Matt Kamalsky

One of the most highly touted players in the 2012 high school class, Anthony Bennett had a strong showing at the McDonald's All-American Game in Chicago which he followed up with a very timely late basket at the Nike Hoop Summit. After they battled back from a huge deficit, Bennett sunk the USA Junior Select Team, hitting an off-balance rainbow 28-footer to put the World Select Team up 81-75 with just 25 seconds to play.

Standing 6'7 with a 7'1 wingspan, Bennett may not have ideal size for a power forward, but his length, mature frame, and leaping ability certainly help him compensate. Over the course of the week in Portland, we weren't able to see Bennett at his best, as he was struggling with allergies and was seemingly exhausted from the multiple cross-country treks he'd made to compete at the McDonald's game in Chicago and with Findlay Prep who won the National High School Invitational in Maryland. Seldom playing above the rim even in drills, he simply didn't look like the same player. Fortunately we saw plenty of Bennett during our time in Chicago.

At this point in his career, Bennett has a handful of highly intriguing offensive skills. Perhaps his most unique trait is his very smooth and reliable perimeter shooting mechanics. Able to make shots from beyond the arc both off the dribble and off the catch, Bennett has surprising consistency for a player with his size and athletic tools.

Closer to the basket, Bennett doesn't show much in the way of a traditional back to the basket game at this point, but he has the ability to attack slower defenders off the dribble when facing the basket. Still an improving ball-handler, Bennett may not make many advance moves, but he has the tools to be a handful in one-on-one situations thanks to the threat of his jump shot and the physical straight-line dribble drives he aggressively takes to the rim.

Once at the rim, Bennett looks to finish emphatically, sometimes even looking to dunk the ball in traffic. He shows nice touch when he isn't exploding to flush the ball, proving fairly efficient when he makes his way inside thanks to his long arms and strong frame.

On the defensive end, Bennett's strength and leaping ability are assets, especially when he looks to clean the glass. He still has plenty of room to improve his fundamentals both at and away from the basket, but the tools are there for him to be success at the college level, even if he's a bit undersized.

One of the top uncommitted prospects still on the board, Bennett doesn't seem intent on announcing his college intentions in the immediate future. Whatever program does land the talented Canadian forward is getting one of the more intriguing talents in this class. Though he is a bit undersized for a power forward, and not terribly consistent yet from game to game, Bennett's combination of shooting ability, length, frame and athleticism make him a terrific prospect.

[Read Full Article]

---
2012 Nike Hoop Summit: International Measurements
April 2, 2012
Anthony Bennett
Weight: 239 lbs.
Height (w/shoes): 6'7"
Wingspan: 7'1"

[Read Full Article]

---
Boost Mobile Elite 24: Interviews (Part One)
September 25, 2011
[Read Full Article]

---
FIBA U-17 World Championships: Top International Prospects
August 7, 2010
One of the most productive players in Hamburg (and probably one of the most talented as well), Anthony Bennett bounced back from a concussion suffered midway through the tournament to lead his Canadian team to the semifinals with a magnificent performance. He backed up everything we thought about him following the Jordan Classic and then some (even if there is still plenty of room to improve).

Bennett is undersized at 6-7, but he has a body that looks more like a 21 year old's than a teenager's. He is extremely long and athletic and has a pretty unique skill set for his age. He makes shots from the perimeter at a terrific rate, spotting up confidently from beyond the 3-point line and making jumpers in impressive fashion. Bennett isn't much of a ball handler and needs to improve his footwork, post moves and work ethic in order to take full advantage of his terrific talent level. He isn't in a huge rush to show off how athletic he is, which can be misleading when watching him on first glance. Defensively, Bennett has a ways to go, but he is quite a presence on the glass.

[Read Full Article]

---
Jordan Brand Classic International Game: Top Prospects
April 22, 2010
A last-minute invite, but possibly the most intriguing long-term prospect to emerge from the international roster, there is little doubt we'll be hearing plenty more about Canadian big man Anthony Bennett in the future. He plays at Mountain State Academy in West Virginia (which may soon close apparently) at the moment, but could very well transfer to Las Vegas-based Findlay Prep, following in the footsteps of fellow Canadians Tristan Thompson and Cory Joseph.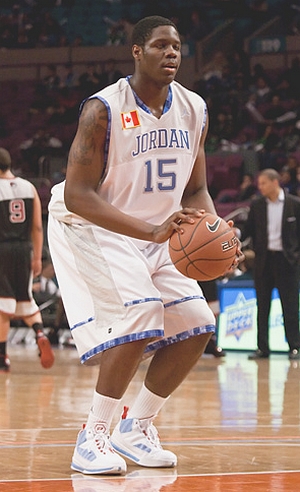 Matt Donders / DraftExpress



Standing around 6-8, with an outstanding frame, extremely long arms and terrific athletic ability, Bennett passes the eye test on first glance and then some. His leaping ability is especially impressive. He dunks absolutely everything in the paint in a ferocious manner, sometimes with his head right at the rim.

More than just an athlete, Bennett is very skilled for a 17-year-old big man, flashes of an intriguing perimeter game that could become quite a weapon down the road if he continues to add polish to it. We saw him knock down a number of 3-pointers in the three days we were able to evaluate him. He seems to possess a very nice touch on his jump shot and has fundamentally sound shooting mechanics. He even showed some ability to put the ball down from the perimeter, although he still has a long way to go in that area.

With his back to the basket, Bennett is fairly raw, but he does possess a semblance of a hook shot and a drop-step move. Considering the physical tools he brings to the table, he would be wise to continue to develop this part of his game. He seemed to drift a little too often to the perimeter, but he surely isn't what you would call a soft guy. He was a major factor on the offensive glass for example, which is not a surprise all things considered.

Bennett is a huge presence defensively at this level due to the sheer length, strength and explosiveness he brings to the table, but his fundamentals are nothing to write home about and he has little to no experience, as you might imagine. He did make an effort to compete and was fairly vocal in the one scrimmage we got to see, although that hasn't always been his reputation from what we understand. He appears to be an extremely coachable player, though, which is always a good sign.

Bennett is clearly a late bloomer, particularly from a physical standpoint. He only recently seems to have filled out his frame. Those who have seen him play in the past rave about his character and attitude, but are concerned about the lack of focus he displays at times. He doesn't always seem to have the disposition to dominate and is known to drift from time to time over the course of games. It will be interesting to see how this plays out in the future because, from a potential standpoint, Bennett's ceiling is as high as you'll find in his age group.

To his credit, Bennett seems to be aware of this issue, stating that he "wants to change that," and "want(s) to dominate every game [he] play(s)."

Only a high school sophomore at this point (despite turning 17 last month), Bennett is obviously far from a finished product. He told us he already has scholarship offers from the likes of UConn, West Virginia, Cincinnati, Virginia, Iowa State, Rhode Island, UNLV and more. We'll surely be hearing plenty more about him over the next few years.

[Read Full Article]

---