Anthony Davis
Recent Tweets
All Tweets
DraftExpress: Drummond and Anthony Davis are the perfect centers to play the style of basketball the US likes. Block shots rebound finish on pick & roll
2014-07-26 11:13:52
DraftExpress: New Orleans doesn't seem like a great fit for Noel now either after picking Anthony Davis last year....
2013-06-27 20:08:05
DraftExpress: Lucky Sacramento. They just got the perfect fit in Thomas Robinson at #5. Easiest pick in the draft after Anthony Davis.
2012-06-28 07:57:41
DraftExpress: RT @KNelsonDX: The Hornets just picked Anthony Davis first, which is why Coach Cal isn't paying attention to his recruits right now/in c ...
2012-06-28 06:40:10
DraftExpress: Anthony Davis goes #1. Who saw that one coming?
2012-06-28 06:37:20
Team: Austin Peay
Physicals
Positions
Misc
H: 6' 2"
W: 205 lbs
Bday: 06/14/1983
(32 Years Old)

Current: F
NBA:
Possible:

High School: Inglewood HS
Hometown: Inglewood, CA




Basic Per Game Statistics

- Comprehensive Stats - Statistical Top 25s
| Year | League | Name | GP | Min | Pts | FG | FGA | FG% | 2Pt | 2PtA | 2P% | 3Pt | 3PtA | 3P% | FTM | FTA | FT% | Off | Def | TOT | Asts | Stls | Blks | TOs | PFs |
| --- | --- | --- | --- | --- | --- | --- | --- | --- | --- | --- | --- | --- | --- | --- | --- | --- | --- | --- | --- | --- | --- | --- | --- | --- | --- |
| 2004/05 | NCAA | Anthony Davis | 29 | 35.6 | 15.2 | 5.7 | 13.9 | 40.7 | 4.6 | 10.1 | 45.2 | 1.1 | 3.8 | 28.4 | 2.9 | 3.8 | 75.5 | 1.5 | 3.7 | 5.2 | 2.8 | 1.7 | 0.6 | 2.2 | 2.3 |

Player Page&nbsp&nbsp| Player Stats | Related Articles&nbsp&nbsp| Add to My Draft Express&nbsp
&nbsp
The Evolution of Anthony Davis: from Kentucky to the NBA
February 14, 2015
Studying the evolution of Anthony Davis, from Kentucky to the NBA. What kind of player was he coming out of college, and what areas of his game did he improve the most in to help him develop into arguably the most productive player in the league right now?



[Read Full Article]

---
2012 NBA Draft Media Day Interviews Part One
June 27, 2012
[Read Full Article]

---
Anthony Davis Video Scouting Report
June 27, 2012
Mike Schmitz takes a look at the strengths and weaknesses of Anthony Davis with the help of Kentucky game film, head coach John Calipari, ESPN analyst Jay Bilas, and Davis himself.






---



More DraftExpress Video Breakdowns:


-Perry Jones Video Scouting Report
-Thomas Robinson Video Scouting Report
-Andre Drummond Video Scouting Report
-Quincy Miller Video Scouting Report
-Tony Wroten Video Scouting Report
-Terrence Ross Video Scouting Report
-Tyshawn Taylor Video Scouting Report
-Damian Lillard Video Scouting Report
-Jeremy Lamb Video Scouting Report
-Bradley Beal Video Scouting Report
-Dion Waiters Video Scouting Report
-Kendall Marshall Video Scouting Report
-Moe Harkless Video Scouting Report
-Meyers Leonard Video Scouting Report
-Michael Kidd-Gilchrist Video Scouting Report
-Harrison Barnes Video Scouting Report
-Austin Rivers Video Scouting Report
-Tyler Zeller Video Scouting Report
-Arnett Moultrie Video Scouting Report
-John Henson Video Scouting Report
-Terrence Jones Video Scouting Report
-Jared Sullinger Video Scouting Report
-Marquis Teague Video Scouting Report
-Draymond Green Video Scouting Report
-Jeff Taylor Video Scouting Report
-Fab Melo Video Scouting Report

---


Mike Schmitz is a writer for ValleyoftheSuns, a member of the TrueHoop Network. Follow him on twitter and subscribe to his YouTube page.

[Read Full Article]

---
Situational Statistics: the 2012 Big Men Crop
June 23, 2012
Anthony Davis is the top prospect in this group, and the #1 prospect in the 2012 draft overall. Nothing we found in studying his situational stats would lead us to believe otherwise.

He ranks as the most efficient scorer among big men prospects behind Ricardo Ratliffe, averaging nearly 1.2 points per possession used overall, with a significant gap between him and the next most efficient elite big man prospect, Tyler Zeller. Davis ranked just around average in overall possessions used (11.6 per game), so the fact that he turns the ball over at the second lowest rate (8.6% of possessions), while drawing fouls fourth most frequently among this group made him an exceptionally efficient offensive option at the college level.

Davis was the second most prolific transition scorer among big men after John Henson, which makes sense considering the speed with which he runs the floor. He ranked #1 among big men at finishing off cuts, converting an outstanding 83% of his field goal attempts in these situations. He also ranked as the best overall finisher (in any situation) around the basket, hitting 78% of his attempts, or nearly 1.6 points per shot. Getting the ball to Davis underneath the basket in a position to score appears to be sound advice for his next coach in the NBA.

He was also the second most efficient scoring big man out of isolation situations (.903), even if the sample size leaves a lot to be desired here, at 31 total possessions over 42 games.

This analysis also provides us with solid insight into the things Davis needs to work on in the future. Just 13.5% of his possessions came on post-ups, the second lowest of this group after Furkan Aldemir and well under the average of 34% when taking all 26 big men prospects into account. His success rate—0.85 PPP—is below the average of 0.89, indicating that Kentucky's offense clearly wasn't losing much by electing not to throw the ball into the paint more than 1.6 times per game. It's safe to assume that Davis' usage rate as a pick and roll finisher (just 1.5 possessions per game) will rise once he reaches the NBA, but it will be interesting to see how his back to the basket game evolves as he continues to add weight to his 222 pound frame.

Jump shots attempts made up a decent amount of Davis' possessions—22%--but his 0.731 PPP also ranks well below average for this group (0.87), as he made just 23 of 67 (34%) attempts. Clearly this is something he'll need to continue to work on in time as well.

[Read Full Article]

---
NBA Combine Interviews: Anthony Davis, Drummond, Jones
June 8, 2012
[Read Full Article]

---
NBA Draft Prospect of the Week: Anthony Davis
February 16, 2012
Jonathan Givony

Anthony Davis has been everything that was expected of him and then some, leading Kentucky to a dominant 25-1 record (11-0 in the SEC) and a near unanimous #1 ranking in both national polls.

In the midst of the most productive freshman season in college basketball since Kevin Love and Michael Beasley in 2008, Davis has established himself as a legitimate player of the year candidate, as well as the clear-cut top prospect in the 2012 NBA draft.


Icon SMI



Standing 6-10 in shoes, with a 7-4 wingspan, and arguably the most impressive blend of athletic tools we've seen in a big man prospect in our nine years evaluating the NBA draft, Davis is one of the most physically gifted players on this planet at the moment.

He runs the floor incredibly well, is outrageously quick and explosive off his feet, moves extremely smooth and fluidly, and perhaps best of all, is more than willing to use his gifts to his advantage on seemingly every possession.

Offensively, Davis is not an incredibly prolific scorer at this stage, only ranking 52nd in points per-40 minutes pace adjusted out of the 84 NCAA players currently in our top 100 prospects.

He's only fifth in usage rate on his own Kentucky team in fact, being mostly relegated to living off the scraps created for him by others. Davis gets the overwhelming majority of his touches playing off the ball—be it cutting to the rim, crashing the offensive glass, running the floor in transition, or as a pick and roll finisher. According to Synergy Sports Technology, only 20% of his offense comes off post-up, spot-up or isolation plays, which makes sense considering those are the areas he struggles in the most.

While Davis plays a simple role for Kentucky, he's arguably the most efficient offensive player in college basketball, converting an amazing 67% of his 2-point attempts (which ranks in the top 15 in our database in the past decade) and turning the ball over on just 9% of his possessions. He's one of the best finishers we've seen in recent years, making nearly 80% of his non-post-up attempts around the basket.

His tremendous length, outstanding hands, explosive leaping ability and terrific timing make him a ideal target for lobs. When Kentucky needs a high percentage shot, all they need to do is simply put Davis in position to jump over the defense and get him the ball in the general vicinity of the rim. He'll take care of the rest.

Davis doesn't usually even need to gather himself, as he can jump off two feet from a standstill and still get his hands above the square. What's scary about plays like this is how nonchalantly and effortlessly he executes them. While he's an extremely quick jumper, he gets up so high that he can seemingly hang in the air for a moment, reel in a poorly thrown pass, and still find a way to throw the ball in with two hands. All things considered, it's easy to see why he ranks #1 in the NCAA in dunks. As the season has moved on, his teammates have done a better and better job of looking for him.

Davis also shows good potential on the offensive glass, even if he's far from being the most productive prospect in this category at "just" 3.9 caroms per-40. Thanks again to his length, motor, timing, quickness and explosiveness, he's capable of going well out of his area for loose balls, often snatching away rebounds he seemingly has no business getting to.

What separates him from other prolific offensive rebounders is the rate in which he's able to convert these into scoring opportunities. The 87 points he's generated through the offensive glass in 26 games thus far is more than any other player in college basketball in fact after Kevin Jones (who, at 114 points, leads this category by a huge margin).

The reason for that lies beyond Davis' ability to simply catch the ball and explode immediately for a dunk before the defense recovers—which is impressive in its own right. He also has excellent timing and touch on his tip-ins and put-backs. If he can just get a couple of fingertips on the ball coming off the rim, he can usually find a way to guide it into the basket.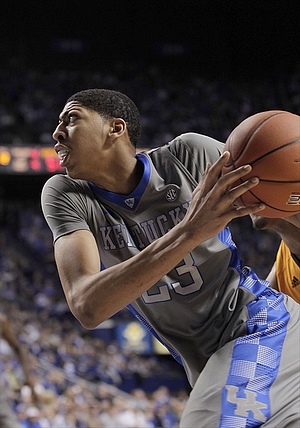 Icon SMI



With that said, Davis is still a fairly raw prospect in many facets offensively, giving him a considerable amount of room for growth as he continues to develop. If an opposing defense can force him to take a jump-shot, put the ball on the floor, or attempt to score in a post up situation, they have a more than three times better chance of stopping him than if he simply catches the ball in the paint in position to finish.

That doesn't jive very well with the "he grew 8 inches in one year and used to be a point guard!" part of his narrative you often hear on national TV broadcasts, but the truth is he rarely dribbles or takes a shot outside five feet, and isn't overly successful at the moment when he does.

Davis attempts just over one jump shot per game on average, but has only made 27% of his attempts. His shooting mechanics are not bad, and the fact that he converts 71% of his free throws leaves room for optimism, but this is a part of his game he'll need to continue working on in time.

Due to his skinny frame, Davis also isn't a very effective post-up threat at this stage. He uses about one possession per game working with his back to the basket, but only scores or gets fouled around 25% of the time in these situations. As he continues to fill out physically and adds bulk to his upper and lower body, Davis will likely have more success establishing position in the paint. While he isn't lacking toughness, he simply doesn't have the strength to avoid being pushed around by older players. Considering how many other scoring options exist on this incredibly talented Kentucky team, it makes sense that they don't force the issue here.

To Davis' credit, he doesn't look content simply being a finisher around the rim, and has shown some small, but intriguing sparks in different facets offensively. He will try to use some crafty footwork in the post on occasion, spinning and making jump-hooks with either hand. At times he'll face up from the perimeter and put the ball on the floor with a quick first step, even pulling up for a little off the dribble jumper right inside the paint. While he's had some very bad misses this season, the handful of jump-shots Davis has hit looked intriguing enough to lead you to believe he may have some potential in this area as he continues to work on his game.

What we must remember is that Davis is still only 18 years old at this stage (19 in March) and was a complete unknown up until less than two years ago, when he was "discovered" in the summer of 2010. Growing eight inches in eighteen months is pretty much unprecedented, so it makes sense that Davis is still figuring things out offensively and learning how to be more physical. It also makes his upside that much higher, because even in his current "limited" state, he leads the NCAA in PER.

One place where Davis is anything but raw is on the defensive end. He's arguably the biggest game changer in college basketball, leading the nation in blocked shots, and ranking in the top-15 in the past decade in the same category.

Beyond the numbers, Davis possesses an ideal combination of physical tools, instincts and intensity, which completely changes the way opposing offenses are able to operate when he's on the floor. He can cover ground incredibly well, making him a threat to rotate from the weak-side instantaneously and offer help defense with terrific timing. Despite the aggressiveness he plays with, he rarely fouls, only doing so 2.6 times per-40 minutes.

Thanks to his length and quickness, Davis also has the ability to step away from the basket and contest shots. His excellent footwork gives him the ability to stay with opposing guards on the perimeter if forced to switch on the pick and roll, and he does a good job using his wingspan to make it difficult to shoot over him. Even if he gets beat or bites on a pump-fake, he's usually athletic enough to recover and make a play from behind, often in highlight reel fashion. When a driving opponent seemingly has him pinned on their opposite shoulder, Davis is often able to use his wingspan to reach all the way around and still contest the shot.

One area where Davis will need to improve in the NBA is in one on one situations in the post. He lacks the lower body strength to contain stronger big men from establishing deep post position on him, at times allowing them to catch the ball deep in the paint and back him down.

There aren't all that many physically developed players with an advanced back to the basket game in the NCAA, so this hasn't been a major issue in any of the games Kentucky played this year, with the exception of North Carolina and to a lesser extent Alabama and Vanderbilt, but it's something to keep an eye on as the competition stiffens. To Davis' credit, even when he's being backed down underneath the rim he can often still contest the shot thanks to his springiness off of two feet.

With all his many strengths, possibly the most encouraging thing about Davis' profile for a team holding the #1 overall pick is the way he approaches the game. Poised, mature and extremely even-keeled, he shows a terrific demeanor on the floor. He doesn't let his emotions get the best of him even in pressure-packed situations, which is amazing considering his background and how little experience he has in these settings. He also has a very good understanding of the game for such a "raw" big man, making smart passes, executing well on both ends of the floor, and usually playing within himself.

All this, combined with his reportedly excellent work ethic and character, should give teams a lot of confidence about his ability to improve on his weaknesses over time. He appears to be the type of player others enjoy playing with or coaching and looks to be the type of competitor that's willing to do whatever it takes to win games.

As unique a story as you'll find in a #1 overall caliber prospect, Davis has taken the guess work out of the top of the 2012 NBA draft. While he surely has plenty of things to work on, it's highly unlikely that he'll be anything less than a huge success in the NBA.

[Read Full Article]

---
McDonald's All-American Video Profile: Anthony Davis
April 24, 2011
[Read Full Article]

---
Final Scouting Reports: High School Class of 2011
April 22, 2011
Jonathan Givony

Anthony Davis (#1 Scout, #6 Rivals, #1 ESPN)was the clear-cut breakout star of the all-star game circuit. There's little doubt after closely evaluating him that Davis is the best long-term prospect in high school basketball.

He looked substantially different in these settings compared to our first impression, where he was playing on a very weak high school team. Here his role was reduced and he was able to do what he does best: make plays around the basket.

His 7-4 wingspan (measured in Portland) and terrific athleticism allow him to make a huge impact on the defensive end in particular, the place where his presence will be felt the most at Kentucky. He plays extremely hard and is incredibly mobile on top of that. He has the ability to step out on the perimeter and contest shots effectively while also being able to rotate and establish himself as a shot-blocker thanks to his excellent timing.

Davis lacks the strength and girth to hold his spot on the block against heavier back-to-the-basket big men (something that might be an issue in the short-term), but his wide shoulders and solid base lead us to believe he will be able to fill out his frame in time.

Offensively, Davis is still a work in progress. He lacks a back-to-the-basket game, struggles to finish through contact, turns the ball over and generally does not have a great deal of polish.

With that said, he dropped enough glimpses of potential in the dozen or so opportunities we were able to evaluate him in practice, drills, scrimmages and games to lead us to believe he will develop in time—especially with his jump shot.

Davis has good fundamentals in the post and on the perimeter as well as a strong feel for the game. It's only a matter of time until everything comes together for him. Even with his distinct lack of polish, he made a huge impact in every game we saw, mainly thanks to his desire to get out in transition, crash the offensive glass and finish emphatically around the rim.

Getting stronger and gaining confidence will be the keys for Davis moving forward, but we must remember his learning curve is steeper than other players in his class due to the unique growth spurt he experienced late in his high school career.

Combine his physical tools with strong fundamentals, competitive nature and a terrific attitude and it's easy to see why everyone is so excited about Davis' future.

[Read Full Article]

---
2011 Nike Hoop Summit: USA Team Measurements
April 12, 2011
Anthony Davis
Height (with shoes): 6-9 ½
Weight: 208.7
Wingspan: 7-4

[Read Full Article]

---
2011 McDonald's All American Game: Louisville-Kentucky Smackdown
March 30, 2011
[Read Full Article]

---
HoopHall Classic Scouting Reports: Elite Prospects (Part One)
January 19, 2011
Jonathan Givony

It's almost completely unheard of in this day and age for a player to go from total obscurity to being considered by some to be the #1 prospect in high school basketball. That's exactly what Anthony Davis (#1 Scout, #6 Rivals, #2 ESPN) has done over the past six months. Growing seven inches in just one year, Davis went from being a skinny, anonymous combo guard from Chicago to one of the most versatile big men in America.

Because of his late emergence in the basketball world, he's one of the few top prospects who we haven't had a chance to evaluate until his senior year.

The first thing that stands out about Davis is his frame, which is very narrow at the moment but should be able to fill out nicely in time. Although extremely fluid, it's tough to say just how athletic he is at this stage, since he's clearly still figuring out his new dimensions and might not reach his full potential in this area for another few years. Right now he seems to be more smooth than explosive.

The next thing you notice is the role he plays on his (admittedly mediocre) high school team—often operating as their primary ball-handler and distributor. Davis is clearly a very unique player, as he really does have the skill-set of a guard, with his excellent ball-handling skills and very nice shooting touch, both from the perimeter and inside the paint. He can create his own shot with ease, changing directions with the ball and making some impressive shots off the dribble, and looks like a very good passer, especially in drive and dish situations. He shows good instincts as both a shot-blocker and rebounder, and is not afraid to dive on the floor for a loose ball.

Davis is still very much a work in progress at the same time, much more-so than your average top recruit. He turns the ball over frequently, will air-ball the occasional jumper, doesn't appear to have much of a post-game, shows average decision making skills, and lacks quite a bit in the ways of strength and fundamentals defensively.

Many names come to mind when watching him play: John Henson, Anthony Randolph, Jonathan Bender, Brandan Wright, Tim Thomas, Perry Jones—the list goes on and on.

Like many of the players mentioned, figuring out what his role will be at the college (and eventually the pro) level on both ends of the floor is not a cut and dry proposition, and the fact that he's playing on such a bad team doesn't help very much. Oversized guards sound great in theory, but their success rate can be somewhat hit or miss at times.

Davis is someone that scouts will want to watch closely in the practices and scrimmages leading up to the McDonald's All-American, Jordan Brand Classic and Nike Hoop Summit games. How he's able to perform alongside and against top-level competition should teach us quite a bit more about the type of prospect he is. At this stage, it feels very early to be drawing too many long-term conclusions. We'll just have to be patient and see how things play out.

[Read Full Article]

---