Arron Afflalo
Recent Tweets
All Tweets
DraftExpress: Derrick Favors Iman Shumpert Jeff Teague Jerry Bayless Arron Afflalo about to work out against the #adidasNations college counselors.
2013-08-04 22:06:00
DraftExpress: Derrick Favors Iman Shumpert Jeff Teague Jerry Bayless Arron Afflalo about to work out against the #adidas Nations college counselors.
2013-08-04 22:05:12
DraftExpress: Arron Afflalo continuing to show the college guys how much more physical the NBA game is. Using his super strong frame non-stop on both ends
2012-08-06 12:17:15
DraftExpress: Arron Afflalo is playing this pick-up game like its Game 7 of the playoffs against the Lakers all over again. Going all out. #adidasnations
2012-08-05 11:49:06
DraftExpress: Switched to the NCAA counselors where Arron Afflalo & Steven Adams are getting up close & personal getting to know each other #adidasnations
2012-08-05 11:45:38
Top 25s - Full List
Team: Knicks
Physicals
Positions
Rankings
Salary
Misc
H: 6' 5"
W: 206 lbs
Bday: 09/17/1985
(30 Years Old)

Current: SG/SF
NBA: SG/SF
Possible: SG/SF

RSCI: 27

Agent: Sam Goldfeder
Current Salary:$7,562,500

High School: Compton Centennial
Hometown: Compton, CA
Drafted: Pick 27 in 2007 by Pistons
Best Case: Raja Bell
Worst Case: Keith Bogans




Basic Per Game Statistics

- Comprehensive Stats - Statistical Top 25s
| Year | League | Name | GP | Min | Pts | FG | FGA | FG% | 2Pt | 2PtA | 2P% | 3Pt | 3PtA | 3P% | FTM | FTA | FT% | Off | Def | TOT | Asts | Stls | Blks | TOs | PFs |
| --- | --- | --- | --- | --- | --- | --- | --- | --- | --- | --- | --- | --- | --- | --- | --- | --- | --- | --- | --- | --- | --- | --- | --- | --- | --- |
| 2015/16 | NBA | Arron Afflalo | 10 | 30.9 | 13.2 | 5.6 | 12.4 | 45.2 | 4.2 | 8.8 | 47.7 | 1.4 | 3.6 | 38.9 | 0.6 | 0.9 | 66.7 | 0.5 | 3.2 | 3.7 | 2.1 | 0.1 | 0.1 | 0.9 | 2.1 |

Player Page&nbsp&nbsp| Player Stats | Mock Draft History | Related Articles&nbsp&nbsp| Add to My Draft Express&nbsp
&nbsp
Las Vegas Summer League Day Five
July 16, 2008
The second year shooting guard was the only player that did anything worthwhile for Detroit. With Rodney Stuckey in street clothes, Afflalo ably carried the load for the Pistons despite the fact that the game was never really close. Despite playing off the ball, Afflalo showed some playmaking ability today, getting into the paint and then dropping passes to his bigmen when the defense stepped up to meet him. When he was looking to score, Afflalo was pretty dominant. He got most of his points right at the rim, with the rest coming almost exclusively in the paint with the exception of a catch and shoot three pointer. Afflalo's physical strength makes him a load to keep out of the lane in this setting, and while he won't be able to bully his man as easily in the regular season, it is a good sign that he's been one of the most effective players in every game Detroit has played.

[Read Full Article]

---
Las Vegas Summer League Day Three
July 14, 2008
Afflalo had a great game today, utilizing his midrange shooting ability to take advantage of the absence of LA's best wing defender Eric Gordon. Afflalo has very consistent form, and while his range isn't great, he's a marksman from seventeen feet. He did a great job getting to the rim by running the floor hard in transition and using his dribble to attack recovering defenders. Though Afflalo isn't the most athletic wing, he's polished and played to his strengths, helping he stand out as easily the most productive player on the floor today.

[Read Full Article]

---
NCAA Tournament: NBA Draft Stock Watch (Final Four)-Stock Down/Neutral
April 1, 2007
The final stats may not look entirely terrible, but this wasn't a good game for UCLA's accomplished go-to scorer. Afflalo was mediocre at best in UCLA's Final Four run a season ago, and appeared to be heading down that same path until a scintillating Elite Eight performance against Kansas got him back on the right track. But it wouldn't be for long, as the same Corey Brewer that locked Afflalo up in the 2006 National Championship essentially reduced him to offensive decoy in the 22 foul-plagued minutes he played in the rematch.

Afflalo did sit most of the first half after picking up two fouls almost immediately after the opening tap, but really struggled to make anything happen even when he was on the court. He rushed contested outside shots and couldn't make anything happen off the dribble against the quicker, longer Brewer. Afflalo would be held scoreless the first 34 minutes of the game, only getting on track once Florida essentially had the game under control.

While a second consecutive Florida disaster doesn't erase the impressive season Arron Afflalo has put in, players on the first round bubble usually shouldn't slip so hard when the lights are this bright. Afflalo now has a tough decision to make - should he gamble on making the first round, or head back to UCLA where his return would likely make the Bruins the national favorites headed into 2007-2008.

[Read Full Article]

---
NCAA Tournament: NBA Draft Stock Watch (Elite Eight, Saturday games)
March 24, 2007
After shooting 13/37 from the field in his first three NCAA tournament games thus far, Arron Afflalo finally had his breakout performance at the most opportune time possible as far as UCLA is concerned. He carried his team offensively in the 2nd half, and did so even while forced to use the traditionally weaker points of his game.

The way this game started, it looked as if we were heading for more of the same like we saw in the previous tournament games. Afflalo settled for too many 3-pointers with the long arms of Brandon Rush right in his face, going 1/5 from behind the arc in the first half. He went to the other parts of his game to get himself going, though, running the floor in transition and finishing with layups, moving off the ball brilliantly and scoring in the post, pulling up off the dribble for open mid-range jumpers, and even creating his own shot from the perimeter on one occasion and finishing with a layup high off the glass. At this point he was really feeling it, which led to an incredible NBA range 3-pointer fading left sharply after pulling up off the dribble with the shot-clock about to expire, a shot that was a real turning point in the game for UCLA.

Defensively, he wasn't as good as we're normally accustomed to seeing, having a tough time following Brandon Rush around screens and letting him get by him on a number of opportunities. Luckily for him, though, Rush was unable to capitalize on many of these drives to the basket.

At the end of the day, regardless of whether you catch him on a good or bad night, Afflalo is still the same prospect he's always been. His lack of size, athleticism and ball-handling skills will always limit his upside, but his perimeter shooting, smarts and defensive ability should allow him to carve out a nice niche for himself in the league.

[Read Full Article]

---
NCAA Tournament: Stock Watch (Sweet 16, Thursday games)--Down/Neutral
March 23, 2007
In a closely fought game, both Pittsburgh and UCLA showed their tough defense and excellent half court play, the two factors that brought them to the Sweet 16. Though the Bruins allowed Pitt to stay within striking distance throughout the game, their team effort was solid enough to pull out a victory in the end. Arron Afflalo's game strongly reflected this, in how it certainly wasn't a standout performance for the junior guard, but it did reaffirm where he stands as a prospect.

Afflalo struggled from the field in the same way he did in his last game against Indiana. The way he moved off the ball and used screens to free himself up led to some good looks, but his shot only hit the bottom of the net a few times throughout the night. The factor that kept this game from hurting him and his team too much was free throw shooting, where he has been automatic during the NCAA Tournament thus far. Afflalo managed to knock down all 10 of his free throw attempts, including 4 with the game on the line.

The two main concerns surrounding Afflalo were on full display against the Panthers. He lacks an explosive first step, which totally limits his game as a slasher, and he wasn't able to create any scoring attempts by driving to the hoop. To compound the problem, Afflalo's sub-par athleticism limits his game even more when he's presented with an opportunity to finish at the hoop. Most of his free throw attempts were created by touch fouls that generated bonus opportunities, rather than Afflalo going out of his way to initiate contact.

Defensively, Afflalo possesses great fundamentals despite his limitations athletically. He understands the proper positioning to limit his matchup off the dribble, and is generally in the right spot to close out on an open shooter. The biggest limitation for Afflalo in this area comes when he is screened off by the offensive player, as he struggles to fight through the contact.

Arron Afflalo certainly has performed better in the NCAA Tournament this season compared to last year, but he hasn't been as good as we've seen him at times over the course of the Pac-10. A standout performance against an athletic Kansas team that is full of NBA prospects would go a long way for the junior guard in the eyes of the decision makers who will judge his fate at the next level.

[Read Full Article]

---
NCAA Tournament: Stock Watch (round of 32, Saturday)--Down/Neutral
March 18, 2007
In a sloppy game against Indiana, Afflalo provided UCLA enough of a boost eventually to advance to the Sweet 16, but it sure wasn't pretty. With the way he struggled with his shot today, it was hard not to have flashbacks to UCLA's postseason run last year, where Afflalo was absent for the majority of the tournament.

Early on, he was able to score on a transition layup, but struggled with his shot early. He was trying to free himself up by moving off screens, but was unable to hit these looks. Afflalo also had his fare share of open jumpers that rimmed out, looks that he normally would knock down with ease. Towards the end of the game, he did step up, making two key drives to the hoop off of isolations. In both of these situations, Afflalo was able to get to the free throw line, where he went 4/4 in crunch time. Despite his struggles offensively, he still managed to play tough defense throughout the game on Roderick Wilmont, a player who lit it up from the outside in Indiana's opening round game.

One bad game won't hurt Afflalo's draft stock in the grand scheme of things, but it gives room for pause when you consider how he's played collectively in the most important games he's been a part of in a UCLA uniform. From here on out, UCLA will count on Aaron Afflalo to be their go-to scorer, and it will help both his team and his draft stock if he can step up and carry them into the Final Four.

[Read Full Article]

---
NCAA Tournament: Stock Watch (round of 64, Thursday)--Down/Neutral
March 15, 2007
Afflalo managed to pick up a UCLA team that started slow, and led them to an easy victory over an overmatched opponent with 22 efficient points. Though he didn't play against the best competition in the tournament, he managed to keep his focus throughout.

Afflalo started the game by making a fade-away jump shot off the dribble from about 17 feet, but then struggled to find the basket with his next few looks, all of which came from the outside. He scored some baskets in transition, and immediately became more comfortable with the flow of the game. In the half court, he started moving off the ball, and was able to hit the majority of his shots when he planted his feet. In transition, Afflalo made some nice finishes, including an alley-oop coming in from the left wing. He didn't do much in terms of getting the ball on the perimeter and creating a shot, but did a great job feeding off of the good ball movement.

When it comes down to it, this first round game isn't going to move Aaron Afflalo's draft stock in either direction. He displayed the ability to move off the ball and hit shots, but didn't create a whole lot of his own offense. In the coming rounds of the NCAA Tournament, he will likely face a team that can put a more athletic perimeter defender, and really test what Afflalo can do. If he continues to hit shots from the perimeter at a consistent rate, it will greatly help UCLA's chances of reaching the final four.

[Read Full Article]

---
DX Indvividual Awards: Pac-10
March 7, 2007


Player of the Year:

Arron Afflalo, 6'5 , SG, UCLA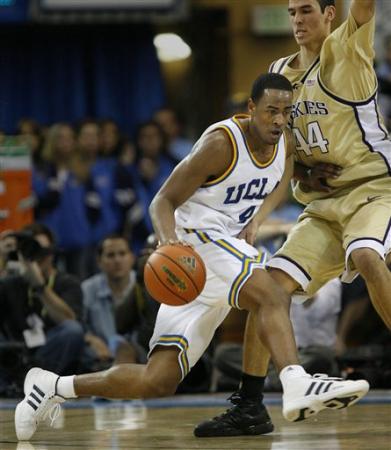 AP



No conference had as many worthy POY candidates as the Pac-10, with every First Team All Pac-10 member capable of making a legitimate argument for why they deserve the honors. In the end, nobody stood out from the crowd a substantial amount, so the award goes to the best player on the best team. Despite fading a bit down the stretch, this was the season that Arron Afflalo developed into a true star. He made no drastic improvement in a single area, but shot the ball more consistently, scored more efficiently, defended at an elite level and hit clutch shots all year long. Now Afflalo has the chance to become a true college legend and lock up a spot in the first round of the upcoming draft by leading UCLA to its first national championship since the O'Bannon era.

[Read Full Article]

---
NCAA Weekly Performers-- 1/2/2007, Part One
January 3, 2007

Arron Afflalo didn't find the warm NBA reception he was hoping to last summer, but if the early results are worth anything, the second time could go quite a bit better for the shooting guard. Where early entrants essentially abandon the idea of heading back to school long before they ever sign with an agent, Afflalo kept his head in the right place and came a way with an accurate understanding of where he stood in regards to the NBA. It is clear that he worked hard on his game over the summer, coming back to school a touch more impressive athletically and with a much improved jump-shot.

All of this was on display in UCLA's blowout win over Washington on Sunday. Afflalo turned in one of the most notable performances of the year, scoring 20 points in the first half and draining effortless-looking jump-shots from every possible angle. His stat line speaks for itself: 27 points, 11-15 shooting, 5-8 from three, 5 rebounds, 8 assists, 0 turnovers and 2 steals. Keep in mind, UCLA had a double-digit lead nearly the entire way and Afflalo only played 33 minutes. If the outcome had been in doubt in the second half, this was a night when the junior could have gone for 40.

Suddenly, Afflalo is looking more like a player that is worthy of a first round selection in 07 or 08. He might not have the upside of some of the underclassmen out there, but is about as sure a thing as a team could ask for in the late first round. Afflalo is an All-American-level defender and if he can continue to show that his jumper has been permanently upgraded from the "inconsistent" level we saw over his first two seasons, he could be an immediate contributor in the NBA as soon as next season.

[Read Full Article]

---
NCAA Tournament: NBA Draft Stock Watch (National Championship)
April 4, 2006
As he has been for much of the NCAA tournament, Afflalo was a complete non-factor for UCLA in the national championship game. He was held scoreless almost until the mid-way point of the second half, and by the time he hit a couple threes it was already way too late for them to impact the game. Afflalo seemed to settle for the outside shot throughout the tournament, and didn't attack the basket even when he was of no use with his perimeter shot. On defense, he hustled and played fairly well, but missed some rotations on defense which led to open three point looks for Florida. Aaron Afflalo did nothing but damage his stock throughout the NCAA Tournament, and will need to come back next year and play more consistently to attract the attention of NBA scouts.

[Read Full Article]

---
NCAA Tournament: Oakland Bracket NBA Draft Prospects
March 16, 2006
After a solid freshman season, Afflalo has returned and broken out as a sophomore, becoming UCLA's top scorer. He's a decent athlete and an excellent defender, and gets a lot of his points off of a well developed mid-range game. Though he has a nice shooting stroke from the outside, Afflalo has relied too much on the three point shot this season, which sometimes limits his effectiveness. Arron lacks the height that an ideal NBA 2 guard possesses, but he does have a good build with some bulk on his frame.

In the NCAA tournament, Arron Afflalo must be the primary scorer from UCLA, and play to his strong mid-range game and use his outside shot just as a compliment to the rest of his game. Also, he could work on drawing more fouls and getting to the free throw line more often, where he shoots over 80%. Arron has the reputation for disappearing at times when things get tough in half-court sets, and if he plays like he did against West Virginia or Washington, we could see an early exit from the Bruins. If he uses his efficient scoring ability and plays aggressively at all times, Afflalo could open a lot of eyes in the NCAA Tournament.

[Read Full Article]

---