Arsalan Kazemi
Recent Tweets
All Tweets
DraftExpress: Five guys we didn't project getting drafted that did Carrick Felix Alex Oriakhi Jannis Timma Arsalan Kazemi James Ennis.
2013-06-28 00:15:08
DraftExpress: Talking to Arsalan Kazemi about his pre-draft prep and what it would be like to be the first Iranian ever drafted http://t.co/dsD3cFKOGT
2013-06-05 09:30:15
DraftExpress: 6-6.6 w\/out shoes 7-0 wingspan 8-7.5 standing reach 228 pounds. Posting all shortly. RT @DSMok1 Any measurements on Arsalan Kazemi?
2013-05-23 12:34:42
DraftExpress: Fun team assembled w\/Peyton Siva and Khaliff Wyatt in the backcourt and Jared Berggren Laurence Bowers and Arsalan Kazemi in the frontcourt
2013-05-23 10:46:33
DraftExpress: Arsalan Kazemi making a huge impact on both ends of the floor in the third session of the Nets Combine. Rebounding passing defending.
2013-05-23 10:41:48
Top 25s - Full List
Team: Chongqing
Physicals
Positions
Rankings
Salary
Misc
H: 6' 8"
W: 225 lbs
Bday: 04/22/1990
(25 Years Old)

Current: PF
NBA: PF
Possible: PF

RSCI: 154

Agent: Greg Lawrence

High School: The Patterson School
Hometown: Esfahan, Iran
Drafted: Pick 54 in 2013 by 76ers

Predraft Measurements
| Year | Source | Height w/o Shoes | Height w/shoes | Weight | Wingspan | Standing Reach | Body Fat | No Step Vert | Max Vert |
| --- | --- | --- | --- | --- | --- | --- | --- | --- | --- |
| 2013 | Nets Workout | 6' 6.5" | 6' 7.5" | 228 | 7' 0" | 8' 7.5" | 9.0 | 30.0 | 33.5 |



Basic Per Game Statistics

- Comprehensive Stats - Statistical Top 25s

Player Page&nbsp&nbsp| Player Stats | Mock Draft History | Related Articles&nbsp&nbsp| Add to My Draft Express&nbsp
&nbsp
2013 Nets Combine Recap
May 24, 2013
Kazemi is another prospect who elected not to attend Portsmouth but found himself left out of Chicago, which added to the urgency of his situation in this 60-minute workout. Kazemi did a terrific job of reminding scouts of what he brings to the table, as he was dominant at times as a rebounder on both ends of the floor, and also showed solid potential in other areas as well, which will certainly help his cause. Kazemi spent a decent amount of time defending the perimeter in New Jersey as his team had more big men than guards, which ended up working out in his favor. He did a solid job in both straight-up man to man situations and as a pick and roll defender, moving his feet well, coming up with a number of deflections and steals, and looking very much under control despite the reckless abandon he plays with. Offensively, he made good decisions, passing the ball effectively and finishing the looks created for him around the basket. Even if Kazemi doesn't hear his name called on draft night, he will certainly have plenty of teams calling to get him on their summer league roster. It wouldn't be surprising at all to see him make a NBA team's roster and stick around thanks to his rebounding prowess and overall toughness.

[Read Full Article]

---
Trending Prospects: Arsalan Kazemi
February 1, 2013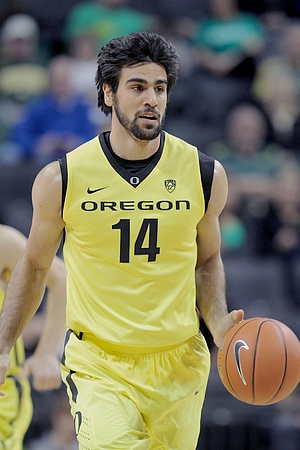 US Presswire



Kyle Nelson

After a successful three year career at Rice University, Arsalan Kazemi transferred to Oregon for his senior season and was approved to play immediately by the NCAA amid allegations of racial discrimination on the part of Rice's athletic department.

While the Iranian dominated low and mid-major caliber talent at Rice, NBA scouts have now had the opportunity to evaluate his play nightly against high major competition. The results so far have been somewhat mixed. Kazemi remains one of the best rebounders in the NCAA, but he has struggled through a pair of minor injuries and has not been much of a factor in Oregon's offense. Though scouts have been reassured that he can hold his own consistently as a rebounder against any type of competition, it still remains to be seen whether he can contribute enough in other areas to make him a legitimate NBA player.

The most pressing issue in this regard, as has been the case throughout his entire career, focuses around his physical profile and projected position. Now a senior, Kazemi has developed very little in terms of perimeter skills, as he's still primarily an interior oriented big men at the collegiate level. Whether he'll be able to play power forward in the NBA is uncertain, as he stands somewhere between 6'7 and 6'8. His solid length and improved 226-pound frame help his case somewhat, as does his above average athleticism, lateral quickness, and an excellent motor.

Playing power forward in the PAC-12 has also given scouts the opportunity to evaluate his skill set against better defenders, and Kazemi has proven to be a fairly limited offensive player, relegated mostly to scoring off cuts, offensive rebounds and running the floor in transition. He is averaging just 8.7 points per game, 12.3 points per 40 minutes pace adjusted while attempting just 5.3 field goal attempts per game thus far.

Kazemi still moves incredibly well without the ball, showing excellent hands and solid leaping ability reigning in passes and finishing around the basket. At times, he also shows the ability to attack his man off the dribble in a straight line, though his ball-handling skills are fairly raw and he's not the type of player who can be consistently asked to create offense for himself. His active and aggressive style of play allows him to get to the free throw line at a pretty solid rate, though.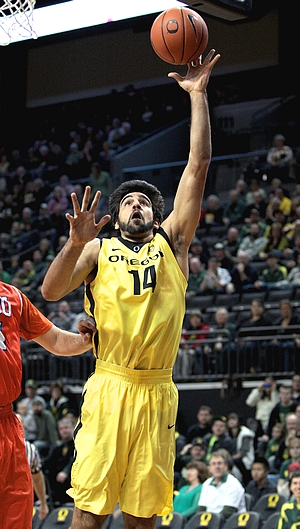 US Presswire



Kazemi has not developed any semblance of a jump-shot through his time in college, as 94% of his shots come around the basket according to Synergy Sports Technology, while the 69% he's shooting from the free throw line is a career high.

On defense, Kazemi still shows active hands, and solid awareness, which allow him to defend power forwards adequately at this level. He does a good job of getting into passing lanes, as evidenced by his career high 3.0 steals per 40 minutes pace adjusted, which ranks him #1 amongst all power forwards in our database and is an accurate reflection of the excellent energy-level and anticipation skills he brings to the table. With that said, he still struggles to guard bigger and stronger post players due to his lack of size, but he nonetheless does a solid job of holding his own in the paint considering his physical limitations. Guarding NBA small forwards may be challenging for him as he does not appear to possess great lateral quickness when defending the perimeter, even if he does a solid job of staying in plays even after he is beat.

Kazemi is grabbing 9.8 defensive rebounds per 40 minutes pace adjusted, ranking third among all power forward prospects in our database, and 13.4 total rebounds per 40 minutes pace adjusted, which ranks fifth. Simply put, he's a rebounding machine at the high major level, which is by far his biggest selling point as a pro prospect.

Early on in his career there was some school of thought that Kazemi may eventually have to transition to playing on the perimeter, something that looks unlikely given his development thus far. Considering the way the NBA game is evolving, though, that might not be necessary. Players like Kenneth Faried (measured 6-6 without shoes), Thaddeus Young (6-5 ¾ without shoes), Chuck Hayes (6-5 1/2), DeJuan Blair (6-5 ¼), Jeff Adrien (6-5 ¼) and Jason Maxiell (6-5) see significant minutes in today's NBA and are more than holding their own on the interior.

Kazemi's NBA prospects likely hinge on him finding the right opportunity to play for a coaching staff that is willing to accept his limitations as a player while being committed to taking advantage of his many strengths. While he is an excellent rebounder, an above average passer, and a smart player whose hustle compensates for his many of his limitations, he also will likely struggle to contribute much offensively and will be limited on certain nights defensively depending on the matchup. Even if the NBA is not in the cards for him, there will surely be a market for his skill-set in Europe or possibly in China, where players with Asian passports are very coveted commodities.

[Read Full Article]

---
Top NBA Draft Prospects in the Non-BCS Conferences, Part Two (#6-10)
November 3, 2011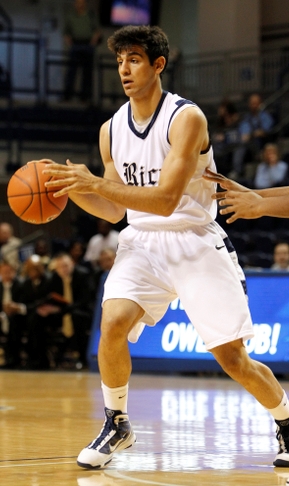 Icon SMI



Walker Beeken

After a solid freshman season in 2009-2010, Rice's Arsalan Kazemi had an outstanding year as a sophomore, averaging 15.2 points and 11 rebounds in 29.8 minutes per game. He now enters his junior season as one of the preseason favorites for Conference USA Player of the Year, and is a player that NBA scouts will likely be paying attention to, as they'll need to assess how his somewhat unorthodox game might translate to the NBA level.

As we mentioned before, Kazemi has an intriguing physical profile for an NBA prospect, standing at 6'8" with solid length and athleticism, and he enhances those physical tools with an excellent motor, seeming to have an extra gear than most anybody else on the court. His incredible effort level and aggressiveness enabled him to be one of the most productive players in all of college basketball last season (his 31.1 PER ranked 6th of all players in our database), despite his skill level and feel for the game still being a work in a progress.

Kazemi again played as a power forward as a sophomore and saw an increase in his role offensively, which he made the most of, increasing his scoring output while still shooting a solid 53% from the floor. About 32% of his touches came in the post, where he was very efficient and showed quite a bit more polish with his footwork and skill level than he did as a freshman. He fights hard for position, has a nice touch, and the ability to finish with both hands. His lack of size hinders his ability to finish at times, however, and will make it difficult to translate this part of his game to the NBA level.

He also showed the ability to catch the ball at the elbow and put the ball on the floor for a few dribbles to get to the rim, where he's able to utilize his quickness advantage against most college big men. He is relentless attacking the basket, as evidenced by him leading all players in our database in free throw attempts per possession last season.

His ball-handling, though improved, is still not refined enough for him to be an effective weapon on the wing, and although his energy and aggressiveness are usually his greatest assets, he has trouble harnessing them at times and can be a bit out of control and turnover-prone going to the basket, occasionally having tunnel vision and not seeing the floor.

We mentioned last season that Kazemi has the body and mobility that could allow him to make the transition to more of a full time small forward, but that remains somewhat of a stretch at this stage given his skill set. He hardly attempted a jumper all of his sophomore season, and although he improved his free throw percentage from 61% to 72%, he'll need to start showing the ability to knock down some perimeter jump shots.

Defensively, Kazemi primarily defends big men at Rice, and as we mentioned before, his lack of size can be a liability against the stronger, bulkier players he faces in the post in the post. He does look to have the lateral quickness to make the switch to defending more on the perimeter, but it might take some time to adjust.

Overall, Kazemi is an interesting prospect that scouts could have a wide range of opinions on, in terms of how well his game might translate to the next level. It's extremely hard to find anybody who plays as hard as he does, and his production at the college level can't be ignored. He still seems to be a bit stuck between positions, but if he can start to display more of a perimeter game this season, he could emerge as an intriguing combo forward prospect.

[Read Full Article]

---
Top NBA Draft Prospects in Non-BCS Conferences, Part Two (#11-15)
November 2, 2010
Kyle Nelson

Arsalan Kazemi, the first Iranian to play NCAA Division I basketball, was a highly regarded high school player who received offers from Louisville, Maryland, and Missouri before deciding to attend academic powerhouse and Conference USA bottom-dweller Rice University. After a standout freshman campaign as a member of Conference USA All-Freshman team, he excelled over the summer as a member of the Iranian national team at the FIBA World Championships, including a 14-point, five-rebound, and five-steal performance against the United States.

Kazemi played power forward as a freshman, but has the physical profile of a combo-forward at 6'8 with a long and wiry frame. He is also a good athlete, showing excellent quickness in the open floor and solid explosiveness around the basket. He plays with intensity and aggressiveness, as well, which allows him to maximize his athletic ability.

Kazemi averaged 14.8 points per 40 minutes pace adjusted, but he ultimately proved to be fairly limited, scoring mostly as a result of his energy and athleticism. He lacks skill in the post even though he played a majority of his minutes at the power forward position. His shaky ball handling ability and footwork rendered him largely ineffective against bigger defensive and, though his quickness helps somewhat, he will likely continue to struggle at the next level. He also failed to show much ability to run the pick-and-roll.

Improving his ball handling should also open up his perimeter game, where he showed potential with his solid first step and explosiveness, but little comfort or consistency. He rarely took a jump shot, but as evidenced by his mediocre 61.0% FT, he could certainly stand to improve in this area, as well. He does excel, however, at moving without the ball in half court sets, where he can cut to the basket and finish. He is also an excellent finisher in transition.

He is at his best, however, scoring off of offensive rebounds. He averages 4.7 offensive rebounds per 40 minutes pace adjusted, largely due to his excellent hands and instincts. After grabbing a rebound, he does a solid job of finishing immediately or kicking the ball out to open teammates on the perimeter.

Kazemi projects as a solid perimeter defender at the next level, but he struggled guarded power forwards. He was unable to hold his ground in the post against bigger and stronger players even if plays with energy and looks to be fundamentally sound. On the perimeter, he shows solid lateral quickness and active hands, which allow him to stay in front of his man or to affect shots even after he is beaten off of the dribble. He also uses his quickness and athleticism to his advantage on the defensive boards, where the tune of 8.3 defensive rebounds per 40 minutes pace adjusted.

Though Kazemi is very raw offensively and is stuck between the perimeter and the post, he looks as though he could develop into a solid NBA prospect in the future. His versatility, athleticism, and energy are After a successful summer, he should look to build on his solid freshman campaign while showing scouts that he can translate his energy into wins for the hapless Rice Owls.

[Read Full Article]

---
National Prep Showcase--Best of The Rest
November 26, 2008
One of the most enjoyable players to watch here in Rhode Island was high-energy Patterson power forward Arsalan Kazemi (#83 Scout, Unranked Rivals, ESPN), a native of Iran and a recent commit to Ben Braun and Rice.

Kazemi has a terrific physical profile, standing 6-8 with long arms and an excellent frame, and possessing outstanding athletic ability, particularly in terms of his ability to get off the floor and finish. Primarily a hustle player at the moment, Kazemi contributes significantly to his team with his ability to run the floor, crash the glass, get in the passing lanes, and play fantastic defense both on the perimeter and inside the post.

He takes charges, is terrific as a weak-side shot-blocker, and is incredibly active as a team defender as well, being extremely aware and always moving within his team's zone. Showing the ability to defend either forward position, he brings a tremendous amount of versatility with his ability to switch on screens and get his team extra possessions. At times a little overenthusiastic (although its very hard to fault him for this) Kazemi will learn in time how to maximize his potential on this end of the floor as his feel for the game and knowledge of how to play improve.

Offensively, Kazemi is fairly limited in the half-court, showing very little in the ways of advanced ball-handling skills, and possessing a very streaky jumper that lacks significant range. His first step and terrific knack for being in the right place at the right time allows him to get to the rim at times and show off his outstanding leaping ability (he wants to dunk everything), but for the most part he's limited to garbage baskets in transition and through the offensive glass. He's a very unselfish player, not afraid to give up the ball and generally looking like an outstanding teammate, which is really a big plus.

Needless to say, Kazemi is an unbelievable steal for a team like Rice in Conference USA. He will need to play at least a few seasons of college basketball, but could very well develop into an NBA prospect in time.

[Read Full Article]

---