Aubrey Coleman
Recent Tweets
All Tweets
Aubrey Coleman too RT @Eil82: Turkish league collecting lots of talent: Chism, Downey, Christopher, Ogilvy, Gilstrap...Samhan to Zalgiris.
2010-07-27 09:23:24
Top undrafted free agents (part two): Artsiom Parakhouski, Miroslav Raduljica, Aubrey Coleman, Matt Bouldin, Ben Uzoh, A.J. Ogilvy
2010-06-24 23:00:00
The Houston Rockets conducted the first known pre-draft workout today. 12 players present, including Aubrey Coleman, Wayne Chism and others.
2010-04-24 20:58:05
Fallers: Xavier Henry, Stanley Robinson, Solomon Alabi, Willie Warren, Quincy Pondexter, Jerome Dyson, Da'Sean Butler, Aubrey Coleman
2010-04-14 20:10:08
Six players coming off the mock in last update: Jerome Dyson, Manny Harris, Yancy Gates, Da'Sean Butler, Aubrey Coleman, Ludovic Vaty
2010-04-14 19:45:00
Top 25s - Full List
Team: NON-NBA College Team: Estudiantes Concordia
Physicals
Positions
Salary
Misc
H: 6' 4"
W: 198 lbs
Bday: 10/09/1987
(28 Years Old)

Current: SG
NBA: SG
Possible: SG

Agent: Mario Scotti

High School: Gulf Shores Academy
Hometown: Houston, TX

Predraft Measurements
| Year | Source | Height w/o Shoes | Height w/shoes | Weight | Wingspan | Standing Reach | Body Fat | No Step Vert | Max Vert |
| --- | --- | --- | --- | --- | --- | --- | --- | --- | --- |
| 2010 | Portsmouth | 6' 1.5" | NA | 198 | 6' 5" | 8' 0.25" | NA | NA | NA |



Basic Per Game Statistics

- Comprehensive Stats - Statistical Top 25s

Player Page&nbsp&nbsp| Player Stats | Mock Draft History | Related Articles&nbsp&nbsp| Add to My Draft Express&nbsp
&nbsp
Official Portsmouth Measurements Released
April 18, 2010
Aubrey Coleman wasn't quite the 6-4 that Houston listed him at, measuring out at 6-1 ˝ without shoes, but with a nice 6-5 wingspan to compensate. While he doesn't possess ideal size, there are quite a few shooting guards who were drafted at the same height, including Ben Gordon, Eric Gordon, Delonte West, Luther Head and others.

[Read Full Article]

---
Portsmouth Invitational Tournament Recap, All-Third Team
April 16, 2010
Joseph Treutlein

Aubrey Coleman didn't have the greatest week here at Portsmouth, struggling heavily fitting into a team-oriented offense, finishing with poor efficiency numbers in all three games (22-for-63 on field goals). His shot selection leaves much to be desired, even if he is capable of hitting some very impressive shots off the dribble frequently. He also struggles finishing around the basket, though it seems to be more due to not working for high-percentage shots than a lack of ability, as he's a good athlete.

Coleman's saving grace is the contributions he makes on the boards and on the defensive end, where he plays with high intensity consistently, putting his physical tools to use to disrupt the opposition. He approaches the game with a high motor in general, and his offensive problems appear to be more about not having much familiarity with team basketball than him being selfish. Coleman lacks a significant amount of high-level experience, as he did not play much basketball in high school, went to a junior college, and then played in an extremely loose system under Tom Penders at Houston.

Coleman is not a lock to get picked after the way he looked in Portsmouth, but it's clear he's still a very talented player who can contribute in multiple areas. That may make some team willing to take a chance on him, believing they can smooth out his rough edges offensively. Even if he doesn't get drafted, he will have plenty of opportunities to make a roster down the road, be it by attending a team's training camp or by working his way up through the D-League.

[Read Full Article]

---
The Unlikely Story of Aubrey Coleman
April 10, 2010
Aubrey Coleman doesn't subscribe to most basketball standards.

Whether it be his relatively short playing career to date, or the manner in which he led an under-appreciated and overlooked Houston team to its first NCAA Tournament berth since 1992, the nation's leading scorer has taken beating the odds to an art form. Of course, if all you did was check a box score, you'd never know it.

"People don't see the work I've put in," Coleman said. "All that they really see is that I can score."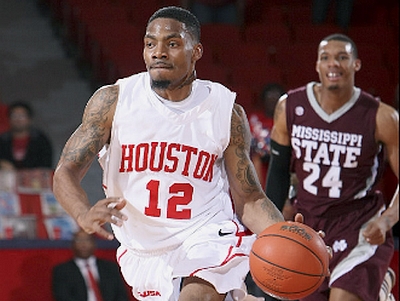 Houston Athletics



It's hard to fault most casual observers for not looking past the 25-point per game scoring average that Coleman tortured opposing Conference-USA teams with this season – after all, he fits the bill of so many scoring machines who have come before him. The senior scored nearly one-third of his team's points on more than thirty percent of the Cougars field goal attempts, all while operating outside of the national spotlight.

But to really know the 6-foot-3 Houston native is to know an individual who is anything but the stereotypical scoring machine - he's simply a person who knows what it takes to get himself noticed.

Growing up, Coleman wasn't taken with the idea of playing organized basketball like so many of his peers. He didn't play a 30-game high school schedule, didn't lace up for an elite level AAU team in the spring and certainly didn't bounce around the country attending prestigious summer showcase events.

The blossoming talent was content to stay within the confines of the local streetball scene where he earned a reputation for being able to score at will against would be defenders. Upon receiving encouragement from friends to try his hand at playing within an organized system though, Coleman opted to tryout for his high school team as a senior.

Some things just don't fit.

Despite a wealth of talent, Coleman didn't understand the nuances of playing organized basketball. He wasn't tuned to the idea of running an offense and was charge prone due to the lack of such calls on the streets. The senior's coach often kept the guard on a shot leash, meaning plenty of his time was spent on the bench where colleges didn't get the opportunity to see him play.

So it was that Coleman did something that has become a habitual practice in his career – he took matters into his own hands. With no interest coming from four-year schools, he began attending open tryouts hoping to garner the attention of a junior college and earn a scholarship.

Enter Southwest Mississippi Community College.

"I was working out for some school and killing one of their guards and I got the offer from Southwest, I was going out of state because nobody thought I was any good," he said. "I told the coaches there, I don't know anything about basketball, but I'll work."

Long summers in the gym helped to forge Coleman into more than just a slasher and prolific, but a player capable of hurting teams in a variety of ways. He parlayed that into a scholarship to Houston after two years at Southwest Mississippi, preferring to be as close to home as possible to be near his ailing mother.

The move proved to be a perfect fit. As a junior, Coleman averaged more than 19 points, teaming with Rob McKiver to form a deadly scoring duo, but as a senior and suddenly the top option on offense, adjustments were going to be necessary.

"My first year people were sagging off me because they knew I was a driver," he said. "So [Houston head coach Tom Penders] told me, there's going to come a point and time where you need to develop that three-pointer jumper in order to keep them honest, so that's what I spent the whole summer working on. I worked at pulling up off the dribble, shooting from the outside and just getting comfortable with that."

"That needed the most work, because I knew I could get to the basket, but this made it harder to guard me. Defenders had to play up on me and that makes it that much easier to get them off the dribble."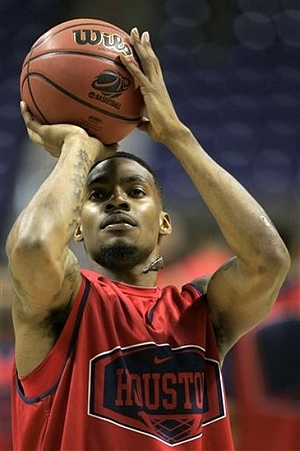 AP



The result was an eleven percent increase in Coleman's perimeter shooting percentage, and while at just under 32-percent he isn't a consistent threat to hurt teams with his range, it did allow him to raise his scoring average by six points on an additional four shots per game. While the prodigious scoring numbers were enough to earn him attention, the senior knew that without team success his numbers would be endlessly scrutinized.

"I remember reading some site that said I was leading the nation in scoring but if my team didn't get to the NCAA Tournament, it wasn't going to help me," he said. "I didn't want to be labeled as a guy who just shoots the ball, but doesn't win. Once we qualified for the NCAA Tournament, people started showing me more respect."

And with good reason. While the Cougars weren't able to overcome the Maryland Terrapins in the first round, Coleman made his mark by netting a game-high 26 points and hauling in a team-best eight rebounds in the loss. It was simply another case of the scorer rising to the occasion and making his mark when it was needed most.

He found himself under a microscope once again this week, competing in the Portsmouth Invitational Tournament in front of NBA scouts and GM's, hoping to make a good enough impression to earn an invitation to the NBA Combine and individual workouts.

Working in the NBA hopeful's corner is a man familiar players like Coleman, his agent Michael Whitaker. In each of the last two seasons Whitaker has taken a mid-major level talent and helped land him a pick on draft night. In 2008 it was current San Antonio Spur George Hill, and last season it was another C-USA scoring machine in Jermaine Taylor, now with the Houston Rockets.

"That's the reason I signed with Mike," he said. "When I look at Jermaine, he's a little taller, but he's from a mid-major conference, but didn't go to the tournament, that's what really opened my eyes about Mike. Jermaine and George Hill didn't go to the tournament, so I knew I had to go with a guy who could get me drafted without making the tournament, but then we surprised the world by getting there anyway. I think that really helped. He let me know that he was going to work hard for me, just like he did for Jermaine. I played against him last season and I was thinking, if I can give him 30 and he's doing well, it lets me know I can play against guys in the League."

Now, Coleman is on the cusp of getting the chance to do that on a nightly basis. Regardless of where he lands though, the player who didn't know a thing about basketball except how to play hard, isn't going to suddenly change the approach that has taken him this far.

"When I first started out I made my mark because I was a hustle guy who never stopped running and that caught the coach's eye," he said. "It shows that if you put your mind to it you can do it. I'm not where I want to be yet, I want to rise higher and higher and show people that I'm one of the best players in the nation, not just because of my scoring either."

[Read Full Article]

---
Portsmouth Invitational Tournament, Day Two
April 9, 2010
Aubrey Coleman clearly tried to make some adjustments in his second game here at Portsmouth, coming out more under control in the first half of his game, looking to get teammates involved, not pounding the ball as much, and not forcing as many difficult shots. However, as the game went on, his instincts seemed to kick back in, and by game's end he wound up taking more questionable shots today than he did yesterday. Coleman finished the game with 15 points, albeit on 16 shot attempts, 7 free throw attempts, and with 2 turnovers.

He looks uncomfortable playing off the ball, on one possession passing up a spot-up three to make a pass, only to get the ball back and instantly go into a pull-up three off a crossover with a hand in his face. It's clear it will be a long process for Coleman to adjust to a more team-oriented game, and his efforts to adjust in this game are encouraging, but he may be turning some people off with his continued poor shot selection.

On the bright side, like yesterday, Coleman did a pretty good job contributing in other areas, making plays on defense and hustling off the ball.

[Read Full Article]

---
Portsmouth Invitational Tournament, Day One
April 8, 2010
-Aubrey Coleman had a bit of an up-and-down first game here at Portsmouth, on one hand showing off his outstanding scoring instincts and ability to put the ball in the basket from all areas of the floor, but on the other having an awfully tough time adapting to playing team basketball, constantly over-dribbling for long stretches, showing massive tunnel vision, and just really not playing within a team concept offensively at all. He finished the game with 19 points on just 9-for-23 shooting, with three turnovers to boot. His team also lost handily 114-82, and wasn't in it from the very early going.

While Coleman pulled off some very impressive moves, hitting a variety of tough shots off the dribble with a hand in his face, his reluctance to adjust his game to this setting is something he must continue to work on. That said, it appears this is just the only way Coleman knows how to play basketball, as opposed to being selfish, and he also did a good job of helping his team in other ways, attacking the glass, hustling for loose balls, and making plays defensively.

The parallels between him and Jermaine Taylor, one of the best players here last year, are certainly evident, and even if Coleman doesn't show any progress playing within a team offense, a team could certainly take a flyer on him early in the second round to try and mold him into a scoring weapon off the bench.

[Read Full Article]

---
NCAA Weekly Performers, 3/24/10
March 24, 2010
Joseph Treutlein

After leading his team to an unlikely C-USA Tournament championship and an NCAA tournament bid despite just a 7-9 record in conference play during the regular season, Aubrey Coleman is worth taking another look at, even though we just profiled him in December.

Coleman has kept pace all season with his torrid scoring, leading Division I in points per game, which was as much a product of his natural scoring instincts as the incredibly large role he played for the Cougars.

Coleman's offensive game starts with his outstanding handle and creativity attacking off the dribble, showing a complete repertoire of moves and the instincts to meld them all together. Coleman's first step is not overwhelming, but he frequently manages to create separation at the second level either by changing speeds, changing directions, using an advanced move to get his man off balance, or some combination of all three.

At the basket, Coleman is extremely aggressive in seeking out contact, and elevates pretty well around the rim, where he is a very good finisher at this level. His size poses some problems projecting to the NBA, though, where he could have a harder time finishing against weakside defenders, while opponents may also be less likely to foul him. Coleman could definitely help himself by working on his floater in this regard, as it would make him a more dynamic threat finishing in the lane if it were a more reliable weapon.

As a jump shooter, Coleman has a great natural touch and is capable of hitting all kinds of high difficulty shots, though he's not especially efficient with his jumper due to his shot selection and a shooting form that is a bit inconsistent. Coleman doesn't always hold his follow through and has a tendency to pull up for off the dribble jumpers with a hand in his face very early in the shot clock, which can partly be attributed to the reckless style of offense his team ran, but is also likely due to poor decision-making.

Looking at the numbers, Coleman used an incredible amount of possessions for his team, with the vast majority of them calling for him to create his own offense. According to the 16 games logged by Synergy, a ridiculous 167 of Coleman's 349 half-court possessions were isolations. Further, of the 182 jump shots Coleman took this season, only 19 were of the catch and shoot variety.

In terms of efficiency, Coleman is less than stellar, as his 52% TS% is well below average (third worst of anyone in our 2010 mock draft), but when you consider the role he played, creating virtually all of his offense off the dribble, it's not all that bad. Things look even better when you consider that Coleman only turns the ball over on 10% of his possessions, an incredibly low number given his usage.

On the defensive end, Coleman picked up his aggressiveness and commitment later in the season when the games mattered more, doing a pretty good job getting up into his man on the perimeter and showing a good stance to start most possessions. Things break down for him a bit once his man gets in motion, however, as he lets out of his stance pretty quickly and is prone to being beat laterally. At the next level, his lack of great strength, size, or quickness on the defensive end for the shooting guard position could be a problem if he doesn't really polish up his fundamentals.

On the intangible side, while Coleman had an incident with Chase Budinger last season and shows questionable decision-making with his shot selection at times, all indications suggest he's a very hard worker and coachable player, while he also puts in plenty of effort doing the little things in games, as evidenced by his impressive steals and rebounding numbers. He's made a lot of developments skill-wise over the past two years, and clearly appears committed to improving his game, which should alleviate some concerns about how his game will translate to the pros, where he'll need to take on a lesser role.

Looking forward, Coleman appears to be firmly in second round discussions, and should have chances to move up draft boards either in private workouts or if he chooses to attend the Portsmouth Invitational Tournament. The success of other undersized scoring guards such as Tyreke Evans and Marcus Thornton this season will certainly help his case among scouts trying to project him to the next level, and given the uncertainty of the second round, taking a flyer on a player with his natural talent and scoring ability could certainly be viewed as a chance worth taking.

[Read Full Article]

---
NCAA Weekly Performers, 12/30/09
December 30, 2009
Jonathan Givony

It's becoming increasingly difficult to ignore the voracious scoring numbers Aubrey Coleman has been producing at the University of Houston this season, and with the increasingly perimeter oriented direction the NBA is heading in these days, he's likely long overdue for an extended look.

A junior college transfer from Southwest Mississippi Community College, Coleman was probably best known until now as "the guy that stepped on Chase Budinger's face" last season when his team played Arizona.

Despite the poor first impression, he's making a name for himself in other ways now, currently holding the distinction of being the #1 scorer in college basketball.

From an NBA standpoint, Coleman has average size for the shooting guard position at 6-3 or 6-4, but makes up for that somewhat with an absolute chiseled frame. He's not going to blow anyone away with his pure athleticism, but is a very skilled offensive player who fills up the stat sheet in many different ways.

No player carries a heavier offensive load in the NCAA than Coleman, as he ranks first in both possessions per game and field goal attempts. The fact that his team plays at the third fastest pace in college basketball obviously helps, but its undeniable how intensely they rely on his scoring production. Very few of his field goal attempts are created by teammates, which makes his solid efficiency numbers (48% 2P, 39% 3P) even more impressive.

Coleman gets the largest portion of his offense in isolation situations, facing up from the perimeter and taking his man off the dribble. Not a prolific 3-point shooter (only 21% of his field goal attempts come from beyond the arc), he loves to operate in the mid-range area, where he does a terrific job creating separation from his defender and is capable of making some exceptionally difficult shots.

He takes and makes a large number of long, contested 2-pointers pulling up off the dribble with a hand in his face each and every game, showing his virtues as a high-level shot-maker and pick and roll player.

This lends itself to his 3-point shooting as well, where he makes 39% of his attempts, despite his flat-footed and somewhat slow-developing release. The fact that he can make shots effectively both catching and shooting as well as pulling up off the dribble is a big plus.

Despite displaying what appears to be just an average first step, Coleman still finds ways to get to the basket fairly regularly, averaging an excellent 9.5 free throw attempts per game—3rd best amongst all shooting guard prospects per-40 minutes pace adjusted.

An instinctive, aggressive scorer, Coleman is a very confident ball-handler who can create going either direction and shows nice hesitation moves and exceptional strength making his way to the basket. He turns the ball over at a minuscule rate (0.09%) on a per-possession basis, which definitely bodes well for his future. Unfortunately his court vision appears to be below-average, which would likely nullify most chances of him being able to make the conversion to playing the point down the road.

Coleman contributes to his team in a couple of different areas, namely with his excellent rebounding production (7.5 rebounds per-40 minutes pace adjusted) and his ability to get in the passing lanes (3.6 steals per-40p), reminding somewhat of Lester Hudson in that regard.

Undersized on the defensive end, and not always showing the best effort or fundamentals, Coleman has terrific instincts and anticipation skills. He'll need to apply them much better if he wants to improve his chances of making an NBA roster, though, as his potential role will likely be much smaller offensively and he'll have to earn his minutes in other ways.

That's typically the biggest concern with smaller-school scoring machines like Coleman—whether he'll be able to be productive as without the ball in his hands and an entire offense built around him.

There is a lot to like about Aubrey Coleman regardless when considering his NBA potential, although he's obviously no lock at this point. Continuing to win and produce efficiently in the underrated Conference USA will go a long way in helping his cause, as will a strong showing at the Portsmouth Invitational Tournament in April.

[Read Full Article]

---