Avery Bradley
Recent Tweets
All Tweets
DraftExpress2: With Avery Bradley and Jerryd Bayless hitting free agency James Young makes sense for Boston. Only 18 good long-term investment.
2014-06-26 21:28:05
DraftExpress: I'm a fan of Russ Smith. Have compared him to Avery Bradley all year. Only problem is they are pretty much the same exact age right now 22
2013-04-06 18:31:52
Most popular DX Profiles yesterday: Ed Davis, Babbitt, Udoh, Avery Bradley, Paul George, Seraphin, Patterson, Monroe, Ebanks, G. Hayward
2010-06-25 18:28:00
Toronto workout today: Cole Aldrich (2nd time), Devin Ebanks, Hobson, Lin, Deon Thompson, Sosa. Plus Avery Bradley (2nd time) interviewing.
2010-06-22 08:49:03
Supposedly three more Green Room invites still going out. Have to imagine they go to Patrick Patterson/Xavier Henry & probably Avery Bradley
2010-06-21 18:21:01
Top 25s - Full List
Team: Celtics
Physicals
Positions
Rankings
Salary
Misc
H: 6' 3"
W: 180 lbs
Bday: 11/26/1990
(25 Years Old)

Current: SG
NBA: PG/SG
Possible: PG/SG

RSCI: 5

Agent: Mitchell Butler
Current Salary:$7,191,011

High School: Bellarmine Prep
Hometown: Tacoma, WA
Drafted: Pick 19 in 2010 by Celtics

Predraft Measurements
| Year | Source | Height w/o Shoes | Height w/shoes | Weight | Wingspan | Standing Reach | Body Fat | No Step Vert | Max Vert |
| --- | --- | --- | --- | --- | --- | --- | --- | --- | --- |
| 2010 | NBA Draft Combine | 6' 2" | 6' 3.25" | 180 | 6' 7.25" | 8' 2.5" | 4.0 | 31.5 | 37.5 |
| 2009 | Deron Williams Camp | NA | 6' 2.5" | 178 | 6' 6" | NA | NA | NA | NA |



Basic Per Game Statistics

- Comprehensive Stats - Statistical Top 25s
| Year | League | Name | GP | Min | Pts | FG | FGA | FG% | 2Pt | 2PtA | 2P% | 3Pt | 3PtA | 3P% | FTM | FTA | FT% | Off | Def | TOT | Asts | Stls | Blks | TOs | PFs |
| --- | --- | --- | --- | --- | --- | --- | --- | --- | --- | --- | --- | --- | --- | --- | --- | --- | --- | --- | --- | --- | --- | --- | --- | --- | --- |
| 2015/16 | NBA | Avery Bradley | 15 | 29.6 | 15.5 | 6.1 | 13.2 | 46.0 | 3.7 | 7.5 | 49.6 | 2.3 | 5.7 | 41.2 | 1.1 | 1.5 | 69.6 | 0.5 | 2.0 | 2.5 | 2.1 | 1.6 | 0.3 | 1.5 | 2.2 |

Player Page&nbsp&nbsp| Player Stats | Mock Draft History | Related Articles&nbsp&nbsp| Add to My Draft Express&nbsp
&nbsp
Situational Statistics: This Year's Shooting Guard Crop
June 10, 2010
Avery Bradley is considered one of the best defenders in this group, and his situational strengths characterize him as a potential high-level role-player.

One of the lower usage players in this group at just 12.6 possessions per-game, Bradley scored on a slightly below average 40.8% of his touches. With 24% of his possessions coming in transition, the freshman shot 53.3% on the fast break, and scored on a below average 38.2% of his half court possessions.

While he's certainly not the most dynamic offensive threat at this point, Bradley was very solid in spot up situations. With a sizeable 30.5% of his touches coming from such opportunities, he shot a second ranked adjusted field goal percentage of 60.9%. The least prolific player running the pick and roll (.57 PPP) and a mediocre isolation player, Bradley was heavily reliant on his jump shot to score points.

Nearly 75.7% of his half court shots were jumpers, and he led all players with a 43.1% shooting percentage on such attempts. Despite being a prolific shooter, Bradley is the worst finisher in this group, averaging 0.754 points per-shot. One of the top unguarded and guarded catch and shoot players in this group (1.347 PPP and 1.149 PPP), he proved capable from the perimeter during his time at Texas, but struggled at the rim. His frail frame certainly won't help in that area on the next level either, but his ability to defend and ability to hit shots from the perimeter tailor him to a smaller role than he played last season.

Everything about Bradley's profile from the numbers we have at our disposal indicates that he's best suited playing off the ball at the moment. Considering he was only a freshman, he could obviously still develop his playmaking and shot-creating ability in the future.

[Read Full Article]

---
Analyzing the NBA Combine Measurements
May 22, 2010
At 6-2 without shoes, with a 6-7 ¼ wingspan, Avery Bradley might just be able to get by at the shooting guard position, which appears to be a more natural fit for him. Numerous NBA executives pointed out how impressed they were with him this weekend. His stock appears to be rising considerably at the moment. Adding strength to his 180-pound frame looks like a big priority for the freshman at the moment.

[Read Full Article]

---
West Coast Workout Swing Part 3: Joe Abunassar's Impact Basketball
May 19, 2010
Joseph Treutlein

Quite possibly the most impressive player in attendance here, Avery Bradley put on an outstanding shooting display in both drills and scrimmages, showing off his picture perfect form while many times making those in attendance wonder if he can miss a shot. In drills, Bradley looked very smooth pulling up off a confident dribble, knocking down a variety of shots, while also showing off his excellent athleticism in transition, putting his 37.5 inch vertical leap to good use.

Where Bradley really impressed though was the scrimmages, where his team rarely lost and he made great use of the floor's spacing, getting to open spots of the floor with ease, showing no troubles getting separation from his man. With his excellent body control, balance, and elevation, Bradley just needs a glimmer of space to get his shot off, and he showed that especially playing the pick-and-roll game. Bradley hit a variety of pull-up jumpers from the mid-range and from behind the arc, many with a hand in his face, which didn't seem to do much. He incorporated in some hesitation dribbles and fakes to get separation when his first move didn't work, but mostly didn't need it, just being so proficient out of simple pick-and-rolls.

Bradley was able to dominate constantly looking for his shot out of pick-and-rolls, but he didn't really excel finding his teammates, something that wasn't problematic here but did lead to some troubles at Texas this past season, as he's prone to showing tunnel vision looking for his own shot. While it's tough to take much concrete from these scrimmages, nothing we saw here suggested Bradley is yet ready to be a full-time point guard in the NBA, in line with what we saw from him all season.

Bradley also didn't show much in terms of finishing at the rim, though to be fair the way he was playing, he didn't need to try. He is a bouncy athlete in space for sure, but he did have some troubles finishing at the rim in college this season, and it'd be nice to see him continue to work on his floater.

Defensively, Bradley likewise shined, using his full 6'7 wingspan to great use, never giving up on a play, and constantly trying to affect plays from behind when beat. He did a good job battling through pick-and-rolls and played physical, intense defense pretty much every possession, having some great battles with the other small guards here. Bradley also appeared to be a very good teammate, encouraging others and being pretty vocal in general.

Seeing Bradley run so many pick-and-rolls and play in an environment with much more spacing than he saw at Texas, it's not hard to see many reasons why he has the potential to be a better NBA player than he was in college, especially if he can go to a system that emphasizes those two concepts. Bradley's 6'7 wingspan also bodes well for his chances of defending shooting guards at the next level, at least reserves, many of which are 6'5 and under. While there are questions about his position, Bradley certainly brings quite a few NBA skills to the table, and could be capable of contributing immediately in the right situation, though situation should be critical to his early chances at success.

[Read Full Article]

---
NCAA Weekly Performers, 3/25/10
March 25, 2010
Joseph Treutlein

Avery Bradley has had an inconsistent freshman season, not unlike many of his teammates and the Texas Longhorns as a whole. Bradley's shots and production fluctuated wildly from game to game, and he didn't do much to improve on his weaknesses over the course of the season, though the one thing that remained consistent throughout was his intense, smothering defense. We covered Bradley extensively less than two months ago here, but with many indications suggesting he'll be entering his name in the draft, it's worth taking a more detailed look at this unconventional player whose stock is likely to be all over scout's boards.

Bradley is a somewhat unique prospect in that there really isn't anyone in the NBA with his skill set, and there are questions about how easily he'll be able to find a niche. The majority of undersized pure 2's in the NBA are versatile scorers that can consistently create their own shot, while Bradley on the other hand is a more selective shooter who isn't adept at getting to the rim, though is also an outstanding defender.

Bradley's lack of anything resembling playmaking skills or a point guard mentality may be his most concerning attribute projecting to the pros, as it'll be very tough to play him at the 1-spot without great shot-creators around him. While Bradley is capable of making flow-of-the-offense passes to open shooters at times, when he puts the ball on the floor he goes into clear scorer mode, looking exclusively for his own shot, even out of pick-and-roll scenarios. Developing into a more versatile pick-and-roll threat could vastly open up his own offense, while also giving teams another reason to give him playing time. This might be the most important thing to follow as the freshman's career progresses.

Bradley's strongest offensive attribute is undoubtedly his jump shot, which he is very reliable with in catch-and-shoot situations and pulling up off one or two quick, compact dribbles. While lacking much in the line of advanced moves, Bradley still does an excellent job getting separation for his jumper by using shot fakes, jab steps, and rip moves in combination with good footwork and a good first step. The interesting thing about Bradley's shot is that in spite of having very good form, boasting great elevation and a high and quick release, he's still prone to many shots that completely miss the mark, and he's shooting a surprisingly poor 55% from the free-throw line (albeit on a limited 66 attempts).

Speaking of free throws, another major problem area in Bradley's game is his inability to get to the line, something that most combo guards in today's NBA are expected to do. He ranks dead last in free throws attempted per-40 minutes pace adjusted amongst all players in our 2010 or 2011 mock drafts in fact, drawing just 66 attempts in 1000 minutes this season, or one for every 15 minutes he's on the floor.

Another issues revolves around his inability to get high efficiency possessions around the basket in general. He's scoring an incredibly poor 0.75 points per shot on shots around the basket according to Synergy, and in watching his game, it's easy to see why. Bradley is often out of control on his drives to the basket and very rarely puts in much effort to create high percentage looks, rather trying to get close to the rim and then just throwing the ball in the general direction of it. On the bright side, Bradley does show an effective floater when he's intently looking for it, and many of his problems attacking the basket are related to a careless mentality as opposed to lack of ability, though he will certainly have some limitations projecting to the pros given his lack of size and strength.

Defensively is where Bradley projects best to the pro level, but the problem here is he will need to find a proper niche to best put his strengths to use, as his physical makeup is much better suited to defending point guards and combo-guards than it is taller shooting guards. Bigger players will be able to simply shoot over him and overpower him on drives to the basket, things that happened when faced with those situations this year—for example against James Anderson.

To Bradley's credit, one thing he does incredibly well is play outstanding prevent defense off the ball, sticking to his man like glue all over the floor and blocking off passing lanes to keep the ball away. On the ball, his lateral quickness is superb, as is his fundamental stance, and he puts in excellent effort all the time, getting right up into his man no matter where he is on the floor, using his length and hands very well, and always getting a hand up to contest a shot. For all of Bradley's strengths on defense, however, he has struggled defending the pick-and-roll this season, due in part to his physical nature, as he's prone to run full force into a well-set pick, getting stuck and not being able to recover, as he doesn't have the strength to fight through them.

Looking forward, Bradley is an extremely interesting prospect, but where and who he gets drafted by will have a huge impact on his immediate success in the league. Playing alongside a big shot creator (such as Tyreke Evans or Dwayne Wade) who can defend 2's, or coming off the bench to play off the ball and defend opposing point guards or combo guards are situations he could find himself excelling in.

He should also benefit from playing alongside more steady playmakers in the pros than the revolving door of shaky point guard play he saw at Texas. Continuing to work on his three-point range, being more focused on his shot attempts in the lane, and really working to develop his pick-and-roll game should be among his priorities, and all of those things could help him find more potential niches in the pros, something that could be challenging if he is drafted into a tough situation.

[Read Full Article]

---
NCAA Weekly Performers, 2/3/10
February 3, 2010
Jonathan Givony

Considered by some to be the top freshman in the 2009 high school class, it's been an up and down season for the extremely talented Avery Bradley thus far. Looking a bit tentative early on, but being far more assertive as the year has moved on, Bradley has shown enough of both the strengths and weaknesses of his game to get a decent read on how he stacks up as an NBA draft prospect.

Bradley's physical tools will never be considered ideal, as he's undersized for an NBA shooting guard, and does not have a great frame to compensate. His wingspan is solid and he is an above average athlete, though, being extremely quick and fluid in the open floor.

Offensively, Bradley is mostly a role-player for this deep and experienced Texas squad, something he appears to have no issues with. He gets most of his production spotting up on the wings, operating in transition, and creating his own shot from time to time, looking far more efficient and disciplined than your typical freshman guard.

Bradley's biggest strengths on this end of the floor revolve around his terrific stroke, whether it's pulling up off the dribble or knocking down jumpers in catch and shoot situations. He gets good elevation and sports very nice mechanics, being able to create separation effectively from his defender, which helps compensate somewhat for his lack of size. Bradley is making 39% of his shots from beyond the arc at the moment (albeit on a fairly limited sample size), but shows even better potential with his mid-range jumper, a part of his game which should translate nicely to the NBA level.

Playing mostly off the ball, Bradley looks much more like a pure shooting guard than he does an actual point guard or even combo at the moment, playing the pick and roll looking strictly for his own shot, while not showing great court vision at this stage. He does a very good job executing his team's offense and minimizing mistakes, though, having no problem giving up the ball and turning it over at a pretty low rate thanks to the conservative approach he usually takes.

Bradley is not a great shot-creator at this point, either for himself or others, as he struggles to get to the rim in half-court situations and has an even more difficult time finishing at the basket due to his average physical tools. According to Synergy Sports Technology, Bradley converts just 37% of his field goal attempts around the rim in half-court situations, as opposed to the 47% he converts on jump-shots.

He avoids goes left at all costs, and doesn't get to the free throw line much at all—drawing just over 2 attempts per game—and only making 48% of them once there. Barring some dramatic changes that occur over the next few years, Bradley will likely live and die off his (pretty solid) jump-shot in the NBA half-court.

Defensively, Bradley is a bull dog, absolutely smothering his opponents with intense pressure and terrific lateral quickness. He really takes pride in his work on this end of the floor, although his lack of size and strength is a bit of a concern when projecting him at the shooting guard position. He'll likely have to be placed in the same backcourt with a bigger ball-handler, an O.J. Mayo/Dwayne Wade type, who can more easily create scoring opportunities for the team.

He'll need to do a much better job on the glass, though, as his 3.5 rebounds per-40p ranks as the worst at his position amongst shooting guards in our 2010 or 2011 mock drafts.

Bradley will need to decide if he wants to stay in school for another season, where he's again unlikely to see any time at the point guard position, or elect to test the NBA draft waters. Only recently having turned 19 a few months ago (in November), time is clearly on his side. His stock is still very much an unknown until the NCAA tournament, where his team is expected to make a deep run and his play will obviously have a huge effect on how he's perceived by high-level decision makers. If he can show better shot-creating ability, rebound the ball a little better and continue to make big plays on both ends of the floor, he will help himself.

[Read Full Article]

---
Nike Hoop Summit, High School Prospects
April 16, 2009
Known as a great defender, Avery Bradley entered the game coming off of a solid senior season at Findlay Prep in Las Vegas. The Texas-bound guard helped his stock with his play in the game, shouldering a good bulk of the scoring load for Team USA, while at the same time showing the impressive tools on the other end of the floor.

As a scorer, Bradley displays a number of impressive tools, but really stood out from the mid-range. He shoots a nice pull-up jumper from anywhere on the floor, and has excellent elevation on his shot. Throughout the week, the guard also showed nice range on his jumper, though he knocked down just one of his three attempts in the game. On the drive, Bradley displays great body control near the basket, and shows the ability to draw contact and still get the ball through the hoop.

Physically, Bradley possesses a strong body with a good wingspan, and good all-around quickness and explosion. His physical tools come in handy especially on the defensive end of the floor, where he will be one of the best at his position from day one in the Big 12. In addition to his physical tools, he also cuts off penetration very effectively, and understands pick and roll coverages quite well.

To really establish himself as a one and done type player, Avery Bradley must show the ability to play some minutes at the point. Throughout the week, he focused on being a scorer (which he is quite good at), but it would be very interesting to see where he stands as a lead guard. Considering that Dougas Balbay returns to Texas, Bradley will have to battle to win the starting point guard slot, and therefore it's difficult to see him getting a great deal of playing time at the one next season. All things considered, he ranks as a very nice prospect on both ends of the floor, and he should be an impact player from the moment he arrives in Austin.

[Read Full Article]

---
ESPN RISE National High School Invitational
April 12, 2009
After a weekend in which he dominated some of the top teams in the country, Avery Bradley (#10 Scout, #8 Rivals, #1 ESPN) has recently risen to the number one spot on ESPN's rankings of the class of 2009. Having already been scouted extensively by DraftExpress at several other events this year, this write up will be short.

The future Texas Longhorn had all of his weapons on display this past weekend in Maryland. He scored a tournament high 27 points in his second game of the tournament, doing the bulk of his damage with his stellar mid-range game. Bradley is extremely difficult to cover due to his excellent quickness, but also because of his ability to stop on a dime and elevate with a smooth shooting stroke. The McDonald's All-American dunk champion was able to get out in transition and wow the crowd a couple of times during the course of his three games with several impressive throw-downs.

Where Bradley really impressed was with his defense. Based on what we saw this weekend, it is a safe bet that the two-guard will be a force from day one in the Big 12. His lateral quickness was absolutely unparalleled and his quick hands allowed him to come away with nearly a dozen swipes over the course of the tournament. He also used his outstanding leaping ability to pin a handful of shots off the glass, on the rare occasion when he was beaten off the dribble.

The Findlay Prep star is going to be an instant impact player at the collegiate level. It may be too soon to determine how he'll project in the NBA, but if his development so far is any indication, we'll be seeing Bradley at the pro level sometime in the not too distant future.

[Read Full Article]

---
Player Evaluations, McDonald's All-American Game (West Team)
April 3, 2009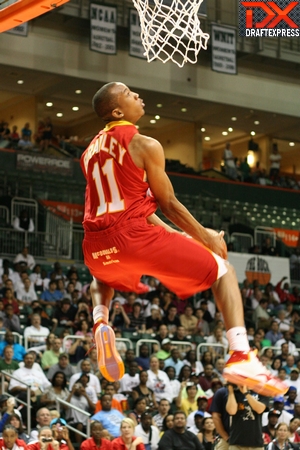 Jim Hlavac, DraftExpress



Bradley was definitely one of the week's standouts, both in the practices and in the five on five games we were able to take in. There isn't a whole of new information to add to our very comprehensive file on him, so see our report posted on Tuesday for our latest thoughts. At the very least, he looks like he's going to make a strong run for Big 12 freshman of the year honors.





[Read Full Article]

---
McDonald's All-American Practices, Day Two
March 31, 2009
Avery Bradley really came to play today, doing an outstanding job showing his skill-set on both ends of the floor. His outstanding athleticism was constantly on display with the way he crashed the offensive glass, coming up with a number of excellent put-backs, and also hammering home some impressive dunks in transition—not a surprise considering that he won the dunk contest last night. While not yet a great 3-point shooter, and likely an improvable ball-handler, Bradley showed a terrific first-step and a prolific mid-range game, which should allow him to make an impact offensively for Texas right away. Defensively, he was outstanding as he always is, showing a real competitive spirit that was sorely lacking at these practices the past two days. Even though he's clearly not a point guard, and his current limitations are fairly evident, Bradley has the makings of an intriguing long-term prospect that we'll definitely have to keep an eye on right away in the Big 12.

[Read Full Article]

---
Flyin To The Hoop: Elite Prospects
January 21, 2009
Avery Bradley (#8 Rivals, #10 Scout, #7 ESPN) was chronicled in depth in November with his play at the National Prep Showcase, and proved to easily be the best all around player that the event had to offer. His stellar play on both ends of the floor was unmatched by his counterparts, and proved crucial as to why Findlay narrowly escaped with a 3-0 record.

Simply able to do whatever he wanted on the offensive end, it was a dominant offensive performance for Bradley. He got to the rim, finished in the paint, and knocked down gorgeous mid-range jumpers. Most impressive about the Washington native's play on the offensive end was the court vision he showed. Making gorgeous passes and continuously finding the open man against the zone defenses that his team faced, the potential for Bradley as a combo guard is becoming more and more apparent each time we see him.

The main area of concern with Bradley from this past weekend was his inability to shoot the ball from beyond the three point arc. Unable to connect on a single three point shot over a three game stretch, this is something that he must continue to improve on if he truly hopes to keep defenders honest next season in the Big 12. Avery shot the ball much better when we saw him in Rhode Island, but was unable to make any of the 11 three pointers he attempted this weekend.

Bradley's defense was stellar as usual, given that he was able to put the clamps on whoever he guarded. The quickness that he possesses laterally is unparalleled by any of the elite prospects that he have focused on, and it just doesn't stop there. Not just relying on his natural gifts, Bradley actually understands HOW to defend without gambling. The stat sheet reflects that, as he collected 14 steals on the weekend with not even half as many fouls.

Truly one of the elite players in the country, Avery Bradley should come in and make a considerable impact at Texas. It's a bit premature to speak about his draft prospects before he even begins his freshman campaign, but Bradley is certainly a player who NBA scouts will be following very closely from the second he steps foot on campus in Austin.

[Read Full Article]

---
National Prep Showcase--Elite Prospects
November 24, 2008
Avery Bradley (#10 Scout, #8 Rivals, #15 ESPN) was hands down the top performer here at the National Prep Showcase, willing his team to a 2-0 record while putting up gaudy numbers in the meantime. While he might not the best long term prospect in the class, a case could be made that Bradley is the top pure basketball player at the moment in the class of 2009.

Physically there is little not to like about Bradley. Although undersized for a shooting guard prospect at around 6'3, he possesses nice length and very good athleticism. Listed at 185 pounds, he has a frame that will surely fill out in time. Add in an excellent combination of leaping ability, lateral quickness, and first step, and you see why you have the makings of a terrific prospect physically.

The Washington native is an absolute nightmare to guard offensively. The bread and butter of his game centers around his pull-up mid-range jumper, which he can create and get off at will. Capable of stopping on the drop of a dime, he gets outstanding elevation with a high release point on his pull-up. When combined with his great first step, he is able to get defenders back on their feet with his strong initial drive, and then rise up before they are able to even contest his jumper.

Far from a one dimensional player, Bradley is also capable of attacking the rim and finishing in traffic. He is an explosive leaper from a static position, allowing him to rise up amongst the trees without having to run to gain momentum. This enables him to score against much bigger foes and make an impact on the offensive glass, despite his lack of height. Bradley's scoring instincts allow him to slither his way through defenders when slashing to the rim, rarely getting out of control in the least bit. Though clearly strictly a shooting guard, he displays very solid ball handling skills, keeping the ball low and tight when creating his own shot. Bradley has no shortage of scoring moves, whether it be nifty spins, inside-out dribble moves, or multiple crossovers.

One area of Bradley's game that he has shown considerable improvement in is his ability to shoot the ball from beyond the arc. Though he only attempted a single three point shot in his first game at the National Prep Showcase, the Texas signee appeared very confident in his shot during his second outing, drilling three 3-pointers in Findlay's win over St. Mark's. From beyond the arc, his shot showed the same solid fundamentals that his pull-up did, and if he continues to expand his range, it will make him a nearly complete player on the offensive end.

Although he plays the shooting guard position exclusively, Bradley displays very nice court vision when distributing the basketball. His high basketball IQ, terrific unselfishness and good court awareness are evident when he's on the floor, as seen by the limited amount of turnovers throughout the tournament. Though not one to initiate the offense, there definitely appears to be potential for Bradley as a combo guard down the road.

Widely regarded as the best on-ball defender in the country, Bradley did very little to disprove that notion. With his outstanding lateral quickness and long arms, he applies immense ball pressure on opposing defenders, without reaching or putting himself in vulnerable situations. Likewise, he is a force in the passing lanes with the number of steals that he obtains without over-pursuit of the ball. Though not a very vocal leader, the effort that he applies on this end of the hardwood appear to rub off on his teammates. Bradley's size and strength allow him to get in there and rebound amongst the trees, making him quite the complete defender at this stage of the game.

Pairing with friend and fellow top-10 recruit Jordan Hamilton, Texas will have one of the strongest perimeter attacks in the country for 09-10. Given Bradley's lack of size, it's hard to call him a one and done prospect at this point. However, if he is able to maintain the same impact at the collegiate ranks that he has had the prep level, it is certainly not out of the question.

[Read Full Article]

---