Jonathan Givony
A key part of a team that exceeded expectations by making the NCAA Tournament in Andy Enfield's third season at USC, starting nearly every game as a freshman, Bennie Boatwright will likely play an even bigger role with a full season of experience underneath his belt.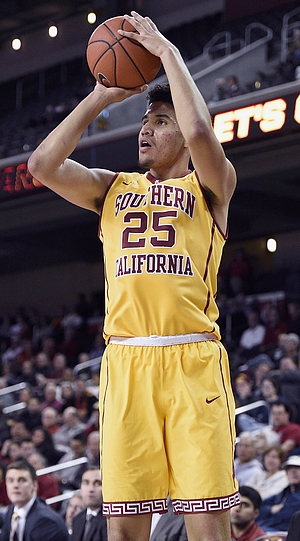 Standing 6'9 ½ in shoes, Boatwright has good size for the power forward position he plays exclusively at the NCAA level, and a solid frame, but has less than ideal length, with a wingspan that is slightly shorter than his height. Athletically, he can be described as just average at best, lacking much in the way of quickness or explosiveness, but does compensate for that with a good feel for the game and a polished skill-level.
Showing excellent scoring instincts, Boatwright put the ball in the basket at a solid rate as a freshman, pumping in 18 points per-40, but did so on less than ideal efficiency, with a 54% true shooting percentage. He converted just 44% of his 2-point attempts, which is poor for a player his size, but helped himself by taking more 3s than 2s, and hit them at a solid rate, at 36%.
The framework of Boatwright's game, and his most interesting characteristic as a NBA prospect, is his jump-shot. He is extremely reliable shooting the ball with his feet set, converting 40% of his attempts in these situations according to Synergy Sports Technology, giving him great potential as the type of stretch power forward NBA teams are actively seeking for these days. He has compact and consistent form, with deep range and an aggressive trigger, and even if his release is somewhat on the low side, he needs to be accounted for at all times while on the court.
Boatwright shows the ability to do more than just make shots with his feet set, even if he was inconsistent as a freshman trying to prove that at times last year. He led USC in usage rate last season in his minutes on the court, as he's an aggressive and hungry scorer who wants to make things happen virtually whenever the ball is swung his way, and shows some potential with his ability to attack defenders off closeouts or even in isolation situations in a straight line thanks to his strong footwork and solid ball-handling skills. He can knock down shots off the dribble as well, due to his touch and instincts, even if these aren't always the highest percentage looks.
While he demonstrated more polish as a scorer last season than your average 6'9 freshman, Boatwright's lack of athleticism showed in a major way with his inability to convert plays efficiently inside the arc, as he struggled badly scoring inside the paint both in the half-court and in transition. He was one of the least effective college scorers in the open floor last season according to Synergy Sports Technology, converting on just 18 of his 49 field goal attempts (37%, .82 PPP) and didn't fare much better trying to score inside the paint in the half-court either, at 30/71 (42%, .90 PPP).
Boatwright's inability to create separation from defenders, due to his lackluster quickness, causes him to rely heavily on spin-moves, floaters and other crafty-type plays. His inability to finish over or around defenders in traffic due to his poor wingspan and explosiveness makes it difficult to do this at a high rate, though, and he tends to just throw the ball up on the glass and hope for the best.
While he has solid court vision and is more than capable of finding the open man, he tends to play somewhat selfishly at times looking to hunt shots regardless of what the defense throws at him. Improving his ability to create for others (7.5% assist percentage) will help him play the stretch-4 role he's destined for in the NBA, as these type of power forwards can be asked to do some playmaking at times as well.
Defensively, Boatwright has never been known as a stalwart, which makes sense considering his poor length, average quickness and at times indifference. Still, he showed some progress in this area as the season moved on, displaying more of a willingness to get in a stance and move his feet, and demonstrating a good feel for how and where to position himself.
Maintaining a consistently high intensity level to match his solid awareness will be a major key for Boatwright's ability to carve out a niche at the NBA level, as he wasn't immune from having lapses both on and off the ball, getting beat off the bounce, and struggling to contest looks on the perimeter due to his short wingspan. He's smart and fundamentally sound enough to at least be decent in this area if he puts his mind to it, though, and that would make it infinitely easier for him to stay on the floor in the NBA considering the coveted things he brings offensively.
Boatwright is in an ideal situation to set himself up nicely going into next spring's early-entry deadline at USC, being the returning offensive leader of a roster projected by some as a top-25 team early on. He'll have to continue to make strides on both ends of the floor to maintain the early intrigue he garnered from NBA scouts, but is in a perfect place to do so, being surrounded by a talented roster that seems to complement him very well.