Boris Bojanovsky
Recent Tweets
All Tweets
DraftExpress: Top NBA Prospects in the ACC #15-19 Mike Tobey Ryan Anderson Devin Thomas Daniel Miller and Boris Bojanovsky http://t.co/SKXjlkZcqm
2013-09-12 12:19:05
Team: Florida State, Junior
Physicals
Positions
Rankings
Misc
H: 7' 2"
W: 230 lbs
Bday: 04/15/1993
(21 Years Old)

Current: C
NBA: C
Possible: C

Rank 44 in NCAA Juniors

High School: Canarias Basketball Academy
Hometown: Bratislava, Slovakia




Basic Per Game Statistics

- Comprehensive Stats - Statistical Top 25s
| Year | League | Name | GP | Min | Pts | FG | FGA | FG% | 2Pt | 2PtA | 2P% | 3Pt | 3PtA | 3P% | FTM | FTA | FT% | Off | Def | TOT | Asts | Stls | Blks | TOs | PFs |
| --- | --- | --- | --- | --- | --- | --- | --- | --- | --- | --- | --- | --- | --- | --- | --- | --- | --- | --- | --- | --- | --- | --- | --- | --- | --- |
| 2013/14 | NCAA | Boris Bojanovsky | 36 | 20.6 | 5.9 | 2.1 | 3.6 | 58.8 | 2.1 | 3.6 | 58.8 | 0.0 | 0.0 | &nbsp | 1.6 | 2.3 | 67.9 | 1.6 | 2.4 | 4.0 | 0.5 | 0.4 | 1.9 | 1.1 | 2.5 |

Player Page&nbsp&nbsp| Player Stats | Related Articles&nbsp&nbsp| Add to My Draft Express&nbsp
&nbsp
Top NBA Draft Prospects in the ACC, Part Seven (#15-19)
September 12, 2013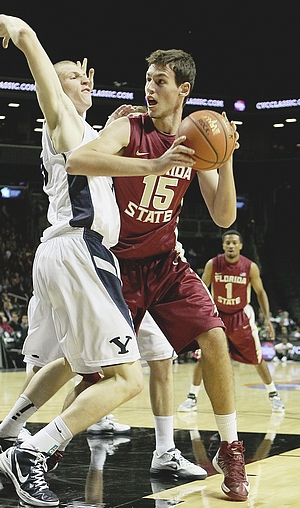 AP



Kyle Nelson

After emerging as an intriguing international recruit at Canarias Basketball Academy and following a dominant performance for Slovakia at the in the B division of the 2011 U18 European Championships, 7'3 center Boris Bojanovsky committed to play for Florida State, shunning offers from a host of other ACC programs.

He showed flashes of potential as a freshman in limited minutes, particularly on the defensive end, but rarely was consistent or productive enough to carve out a niche for himself in Florida State's deep frontcourt. Now, as a sophomore, scouts will watch to see if he's able to take the next step forward in his development, from exhibiting occasional glimpses of intrigue to posting consistent and productive minutes as part of a deep Florida State frontcourt rotation.

Even before he steps on to the court, Bojanovsky clearly passes the eye test, standing 7'3 with long arms and a 235-pound frame. He will have to continue to add significant bulk to his upper body, but his lower body strength appears farther along than one would expect. He is a fluid athlete for his size, as well, not particularly explosive around the basket or quick in the open floor, but mobile with good lateral quickness and agility.

Bojanovsky is still in a very early stage of his development and looks far from reaching his full potential at this stage. He was not particularly productive in the 11.1 minutes he played last season, scoring just 10.3 points per 40 minutes pace adjusted. He struggled with the physicality of ACC big men and was not able to finish many of the looks that were created for him around the basket, being somewhat turnover prone in the limited touches he saw.

Behind the numbers, however, Bojanovsky is an intriguing prospect due to his versatile skill set. Despite the fact that he is still raw on the offensive end of the floor, he displays solid footwork and the ability to score with his back to the basket. Though he does not do a good job of holding his position on the block due to his lack of strength, he has soft hands and shows the ability to execute some rudimentary post moves, particularly a step through that hints at what he may offer this coming season

The downside is that he lacks the strength to fight through traffic and the explosiveness to finish over defenders. At this stage, Bojanovsky looks far more comfortable finessing the ball to the basket, preferring tips and layups to dunks, which results in him playing, more or less, below the rim. It's also worth pointing out that he also passes out of the post on nearly 20% of his possessions, a testament to his court vision, but also to his passivity and timidity at this point in his career.

Bojanovsky also shows potential facing the basket, and can on occasion put the ball on the floor and get to the rim in a couple of dribbles. Additionally the sample size is very small, Bojanovsky can take and make shots from mid-range, showcasing a smooth stroke with range out to 20 feet. He also shot 75.8% from the foul line, perhaps an indicator that he can continue to develop this aspect of his game moving forward. After all, he took only nine jump shots as a freshman, four of which came from mid-range, and hardly enough data to proclaim him a jump shooter.

While Bojanovsky shows a lot of flashes on the offensive end of the floor, his instincts operating out of the pick-and-roll, where he saw nearly 23% of his possessions. He sets good screens, and has the ability roll quickly to the basket, oftentimes catching his man by surprise in the process. That said, he oftentimes fails to roll hard enough to receive the ball close to the basket and when he pops out on the perimeter, he rarely capitalizes on his open jumper, Simply put, while he shows quite a bit of potential in this area, has a long way to go before he fulfills this role for Florida State, let alone the NBA.

On the defensive end, Bojanovsky displays his share of potential and question marks. His excellent size and length allow him to disrupt shots around the basket and on the perimeter. He is a particularly adept shot-blocker, swatting 2.7 shots per 40 minutes pace adjusted, which ranks him among the best in our database. Furthermore, his ability to hedge quickly and aggressively on screens, as well as his ability to stay in front of, or at least trailing closely behind, slashing big men resulted in some impressive defensive stops.

That being said, his individual post defense could use some work, as he gets pushed around due to his lack of bulk and toughness and commits fouls to compensate; he must work on reducing his 4.0 fouls per 40 minutes pace adjusted as a sophomore. While he displays good lateral quickness for a player his size, he sometimes struggles to close out on shooters and displays lax fundamentals, particularly in terms of positioning.

Additionally and most problematic is his effort on the boards, where he grabs just 6.8 rebounds per 40 minutes pace adjusted. His fundamentals and intensity both seemed lacking at times, as he neither boxes out nor scraps for loose balls.

Bojanovsky, is as mentioned, a long ways away from being considered a legitimate prospect at this stage, but his combination of size, mobility, and budding skill leave room for optimism regarding the future. Getting stronger and maximizing his athleticism will certainly help him to better hold his own in the ACC, but so too will playing more assertively and capitalizing on what should be an expanded role as a sophomore. Scouts will be monitoring his development to see how his frame is filling out and whether he can become a little more productive for Florida State as a sophomore.

[Read Full Article]

---