Bradley Beal
Recent Tweets
All Tweets
DraftExpress2: RT @Joshua_Riddell There are 53 players older than 3 year NBA vets Bradley Beal+Andre Drummond in @DraftExpress top 100 including 21 in t\u2026
2015-06-23 19:47:47
DraftExpress2: There are 53 players older than 3 year NBA vets Bradley Beal+Andre Drummond in @DraftExpress top 100 including 21 in the current mock draft
2015-06-23 19:23:18
DraftExpress: RT @MrMichaelLee Ernie discusses unusual #NBAdraft #wizards' goals & offers updates on Bradley Beal & Tomas Satoransky http://t.co/XaNQpu2026
2013-06-26 09:52:31
DraftExpress: Ernie discusses unusual #NBAdraft #wizards' goals & offers updates on Bradley Beal & Tomas Satoransky http://t.co/XaNQpSflrv
2013-06-26 09:48:55
DraftExpress: As many have pointed out (duh) McLemore's AAU teammate Bradley Beal definitely fits the bill. McLemore will be 16 months older on draft day
2013-02-04 11:46:51
Team: Wizards
Physicals
Positions
Rankings
Salary
Misc
H: 6' 5"
W: 202 lbs
Bday: 06/28/1993
(22 Years Old)

Current: SG
NBA: SG
Possible: SG

RSCI: 4

Agent: Mark Bartelstein
Current Salary:$4,505,280

High School: Chaminade Prep
Hometown: St. Louis, MO
Drafted: Pick 3 in 2012 by Wizards
Best Case: Eric Gordon
Worst Case: Gary Neal

Predraft Measurements
| Year | Source | Height w/o Shoes | Height w/shoes | Weight | Wingspan | Standing Reach | Body Fat | No Step Vert | Max Vert |
| --- | --- | --- | --- | --- | --- | --- | --- | --- | --- |
| 2012 | NBA Draft Combine | 6' 3.25" | 6' 4.75" | 202 | 6' 8" | 8' 4" | 6.0 | 33.0 | 39.0 |
| 2011 | Deron Williams Camp | NA | 6' 3.5" | 196 | 6' 7" | NA | NA | NA | NA |



Basic Per Game Statistics

- Comprehensive Stats - Statistical Top 25s
| Year | League | Name | GP | Min | Pts | FG | FGA | FG% | 2Pt | 2PtA | 2P% | 3Pt | 3PtA | 3P% | FTM | FTA | FT% | Off | Def | TOT | Asts | Stls | Blks | TOs | PFs |
| --- | --- | --- | --- | --- | --- | --- | --- | --- | --- | --- | --- | --- | --- | --- | --- | --- | --- | --- | --- | --- | --- | --- | --- | --- | --- |
| 2015/16 | NBA | Bradley Beal | 11 | 34.8 | 19.6 | 7.5 | 16.0 | 46.6 | 5.3 | 10.9 | 48.3 | 2.2 | 5.1 | 42.9 | 2.5 | 3.2 | 80.0 | 1.0 | 3.3 | 4.3 | 2.5 | 1.2 | 0.4 | 2.9 | 2.4 |

Player Page&nbsp&nbsp| Player Stats | Mock Draft History | Related Articles&nbsp&nbsp| Add to My Draft Express&nbsp
&nbsp
2012 NBA Draft Media Day Interviews Part Two
June 28, 2012
[Read Full Article]

---
Situational Statistics: the 2012 Guard Crop
June 27, 2012
Bradley Beal is the top prospect in this group, and seemingly bound for a top-4 selection on draft day. Despite his lofty projection, Beal did not have an astounding year on paper relative to the other prospects in this group.

Looking at Beal's numbers, the first thing the stands out is his usage relative to the other top prospects. Using 14.6 possessions per-game, Beal ranks 15th of the 21 players in this group. Surrounded by upperclassmen like Kenny Boynton and Erving Walker, Beal was not always a focal point for the Gators offensively.

Often touted as an excellent jump shooter, Beal ranked 5th worst among the 21 players in this group in shooting efficiency pulling up off the dribble (0.615 Points Per-Possession) and below average off the catch (1.074 PPP vs. 1.12 PPP). Struggling to find his range for stretches, Beal's excellent shooting mechanics and footwork began to pay dividends for him down the stretch, as his catch and shoot efficiency over the last 12 games of the season would have placed him third in this group at 1.372 PPP. Beal's numbers for the whole year do not give much credence to comparisons to Ray Allen, but his play late in the year gave teams an eyeful of his prolific spot-up scoring ability.

This study reveals a number of areas where Beal has room for improvement as well. Scoring an above average 0.93 PPP in isolation situations, Beal showed the ability to create his own shot, but struggled to show the same acumen on the pick and roll. Ranking 5th last in scoring efficient in the two man game at 0.697 PPP because he turned the ball over on 21.2% of his possessions, Beal will need to improve his decision-making in the increasingly pick-and-roll heavy offenses deployed by NBA teams.

[Read Full Article]

---
NBA Combine Interviews: Beal, Johnson, Machado
June 13, 2012
[Read Full Article]

---
Bradley Beal Video Scouting Report
June 8, 2012
Mike Schmitz takes a look at the strengths and weaknesses of Bradley Beal with the help of game film, head coach Billy Donovan, and commentary from Beal himself.






---




More DraftExpress Video Breakdowns:


-Perry Jones Video Scouting Report
-Thomas Robinson Video Scouting Report
-Andre Drummond Video Scouting Report
-Quincy Miller Video Scouting Report
-Tony Wroten Video Scouting Report
-Terrence Ross Video Scouting Report
-Tyshawn Taylor Video Scouting Report
-Damian Lillard Video Scouting Report
-Jeremy Lamb Video Scouting Report
-Bradley Beal Video Scouting Report
-Dion Waiters Video Scouting Report
-Kendall Marshall Video Scouting Report
-Moe Harkless Video Scouting Report
-Meyers Leonard Video Scouting Reports
-Michael Kidd-Gilchrist Video Scouting Reports
-Harrison Barnes Video Scouting Report
-Austin Rivers Video Scouting Report
-Tyler Zeller Video Scouting Report
-Arnett Moultrie Video Scouting Report
-John Henson Video Scouting Report
-Terrence Jones Video Scouting Report
-Jared Sullinger Video Scouting Report


---


Mike Schmitz is a writer for ValleyoftheSuns, a member of the TrueHoop Network. Follow him on twitter and subscribe to his YouTube page.


[Read Full Article]

---
Trending Prospects (3/14/2012)
March 14, 2012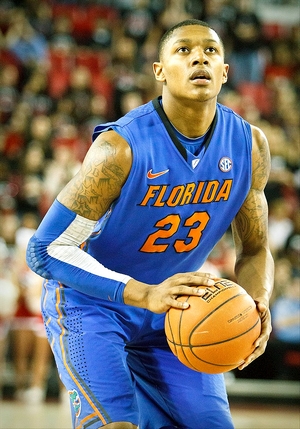 Icon SMI



Jonathan Givony

On paper, this has not been a terribly impressive season for Bradley Beal, widely considered one of the top freshmen prospects in college basketball.

He hasn't been a very prolific (17 points per-40) or efficient (50% EFG%) scorer, mainly due to his struggles shooting the ball from beyond the arc.

Nevertheless, Beal's draft stock has remained steady all season, as he occasionally shows flashes of being able to make plays that only elite level talents can, but just not consistently yet.

Standing somewhere between 6-4 and 6-5, Beal has decent size for a NBA shooting guard, to go along with a solid frame and average length. While not possessing rim-rocking explosiveness, he's an extremely smooth and fluid athlete with excellent mobility.

Despite being considered one of the best shooters in his high school class, Beal has struggled to hit jumpers consistently all season. Nearly half of his field goal attempts have come from 3-point range, but he's able to connect on just 33% of them thus far. Looking at his mechanics, there's very little not to like about his shooting form, as he gets great elevation, possesses a consistent release point, shows excellent follow-through, and has range that extends well beyond the college 3-point line.

Despite the inconsistent results, it's difficult not to see Beal developing into a very good NBA 3-point shooter in time, especially considering his reportedly stellar work ethic and the fact that this has always been the strongest part of his game. He will need to confirm that in private NBA workouts, but his 33% accuracy rate is likely the lowest percentage he'll shoot his entire career from the 3-point line.

While his perimeter shooting has been a disappointment, Beal's ball-handling and playmaking skills appear to have improved significantly over the past year or so. Extremely effective in transition, Beal can create for himself and others in smooth and effortless fashion off the dribble with his ability to change speeds and put the ball on the floor with either hand.

While able to get all the way to the rim fairly consistently, Beal still needs to improve on finishing more effectively around the basket, as he lacks a degree of strength and explosiveness in traffic at this stage. He does get to the free throw line at a solid rate to compensate, and makes 78% of his attempts once there.

Beal is generally a good decision maker, showing excellent maturity making the extra pass to an open shooter on the perimeter or feeding his big men inside the post, never looking rushed or flustered, which is impressive considering his age and lack of experience. He's obviously earned the trust of his coaching staff, as he leads the team in minutes played, despite being surrounded by a host of guards who are significantly older than him.

Defensively, Beal can be inconsistent at times like his entire Florida squad -- they rank 3rd in the NCAA in offensive efficiency but just 119th on defense—and he doesn't have great size or length for his position. With that said, with his terrific timing, fundamentals, smarts, and all-around approach to the game, there's no reason he can't become a solid piece on this end as he gets stronger and gains experience. He already does an excellent job on the defensive glass, in the passing lanes, and even blocking shots on occasion, showing very nice anticipation skills.

Looking forward, Beal obviously has a very bright future ahead of him, as he already shows excellent fundamentals, a versatile skill-set, a high basketball IQ, and great maturity, despite the fact that he doesn't turn 19 till the day of the 2012 draft. While not oozing with upside, he gets rave reviews from every coach he's worked with, and should continue to improve on his all-around polish in time, making him a relatively low-risk high-reward type prospect to pick in the mid to late part of the lottery.

[Read Full Article]

---
Final Scouting Reports: High School Class of 2011
April 22, 2011
Jonathan Givony

Bradley Beal (#8 Scout, #7 Rivals, #4 ESPN)now stands 6-4 ˝ in shoes, having grown an inch since the last time we saw him. He did little to diminish his status as arguably the top shooting guard in the 2011 high school class.

Beal shows a highly developed skill-level for a player his age as well as great maturity and an excellent basketball IQ. He is first and foremost an outstanding shooter, showing the ability to come off screens and make shots with deep range as well as pulling up smoothly off the dribble.

Beal creates shots intelligently and patiently with an array of change of speed and hesitation moves. He seems to prefer doing his damage in the mid-range area rather than taking the ball to the rim. Nevertheless, he will surprise you at times with an emphatic finish, showing an extra gear that you may not have expected on first glance. While clearly more of a shooting guard than a combo guard, Beal has solid court vision and can create for others within the flow of the offense. He rarely forces the issue and plays with an elegance and maturity that belies his age.

Defensively, Beal is highly competitive and fundamentally sound. He has a well-developed frame, which should ease his transition considerably to the college level. He's not the longest player in the world (6-7 ˝ wingspan), but his size and strength allow him to guard either wing position, giving him the ability to play alongside Erving Walker and Kenny Boynton from Day One in Gainesville.

[Read Full Article]

---
McDonald's All American Game Interviews/Practice Highlights, Part Two
April 15, 2011
]
[Read Full Article]

---
2011 Nike Hoop Summit: USA Team Measurements
April 12, 2011
Bradley Beal
Height (with shoes): 6-4 ˝
Weight: 195
Wingspan: 6-7.5

[Read Full Article]

---
FIBA U-17 World Championships: Top American Prospects
August 16, 2010
Clearly the best guard at this tournament, Bradley Beal did nothing to diminish his status as one of the top prospects in high school basketball and a clear cut NBA player down the road.

Undersized for the shooting guard position at 6-3, Beal has a strong frame, very good athleticism, a superb skill level and an amazing basketball IQ for a player his age. He made nearly 50% of his 3-pointers on almost eight shots per game, showing terrific shooting mechanics, impeccable shot selection and range that extends well past the international line. Beal continuously took what the defense gave him throughout the tournament. He played smart, steady, unselfish, team-oriented basketball, which really set the tone for this USA Basketball squad.

A good but not great ball handler at this stage, Beal can get to the rim fairly well, but he can still probably improve as a shot creator and slasher. Defensively, Beal was outstanding. He showed great awareness and fundamentals, competing on each and every possession. He looked capable of guarding either backcourt position equally well thanks to his length, strength and smarts.

The only thing holding Beal back from being considered the top prospect in his class is his height. He lacks a few inches for a shooting guard, but even that might not be that big of an issue. Expect him to be one of the top players in the SEC right off the bat playing for Billy Donovan at Florida.

[Read Full Article]

---