Brandan Wright
Recent Tweets
All Tweets
DraftExpress: Remembering how bad Brandan Wright looked at these all-star games. Then it turned out it didn't mean anything. And then it turned out it did
2011-04-16 09:43:07
Top 25s - Full List
Team: Grizzlies
Physicals
Positions
Rankings
Salary
Misc
H: 6' 10"
W: 200 lbs
Bday: 10/07/1987
(28 Years Old)

Current: PF
NBA: PF
Possible: PF/C

RSCI: 3

Agent: Jim Tanner
Current Salary:$5,000,000

High School: Brentwood Academy
Hometown: Brentwood, TN
Drafted: Pick 8 in 2007 by Bobcats

Predraft Measurements
| Year | Source | Height w/o Shoes | Height w/shoes | Weight | Wingspan | Standing Reach | Body Fat | No Step Vert | Max Vert |
| --- | --- | --- | --- | --- | --- | --- | --- | --- | --- |
| 2007 | NBA Pre-Draft Camp | 6' 8.75" | 6' 10" | 200 | 7' 3.75" | 9' 0.5" | 5.8 | 30.5 | 35.5 |
| 2006 | Hoop Summit | 6' 9" | NA | NA | 7' 4.5" | 9' 0.05" | NA | NA | NA |



Basic Per Game Statistics

- Comprehensive Stats - Statistical Top 25s
| Year | League | Name | GP | Min | Pts | FG | FGA | FG% | 2Pt | 2PtA | 2P% | 3Pt | 3PtA | 3P% | FTM | FTA | FT% | Off | Def | TOT | Asts | Stls | Blks | TOs | PFs |
| --- | --- | --- | --- | --- | --- | --- | --- | --- | --- | --- | --- | --- | --- | --- | --- | --- | --- | --- | --- | --- | --- | --- | --- | --- | --- |
| 2015/16 | NBA | Brandan Wright | 7 | 17.1 | 6.6 | 2.6 | 4.3 | 60.0 | 2.6 | 4.3 | 60.0 | 0.0 | 0.0 | &nbsp | 1.4 | 2.6 | 55.6 | 0.9 | 2.6 | 3.4 | 0.6 | 0.1 | 1.4 | 0.6 | 1.3 |

Player Page&nbsp&nbsp| Player Stats | Mock Draft History | Related Articles&nbsp&nbsp| Add to My Draft Express&nbsp
&nbsp
NCAA Tournament: NBA Draft Stock Watch (Elite Eight, Sunday games)
March 27, 2007
In what is usually the case for Roy Williamsí supremely talented youngster, Brandan Wright once again showed flashes of downright amazing ability against Georgetown this afternoon. In addition to the usual assortment of athletic dunks, rebounds and fast break exploits, Wright showed off immense offensive skill in specific moments. But at the same time, there were also rough patches. He struggled to finish several times in the second half, and couldnít contain Jeff Green to save his life.

As far as the offense goes, of course we are talking about the pair of jump hook-half floater moves that were nothing short of NBA-caliber. With Wrightís wingspan, body control and athleticism, such as shot is virtually impossible to block, no matter which league Wright is playing in. Even more impressive was the touch with which he finished the scores, something that he has struggled with for most of the season. It was certainly Wrightís night in the shooting department, as the sub-par free throw shooter managed to convert all 6 of his attempts at the charity stripe. Simply put, if Wright can become more consistent with these types of moves, it wonít be long before he is proving right all those that have compared him to Chris Bosh.

But as the game wore on, Wright seemed to lose his edge. His length and athleticism stopped appearing on the offensive glass and in the open court, while he struggled to finish against physical Georgetown defenders. But the real problem came on the defensive end, where Green abused him in pretty much every imaginable manner. Whether it was poor awareness that led to backdoor cuts and easy points, a lack of foot speed on the perimeter, and absolutely no physical intensity or toughness, Wright basically let Green do what he wanted for most of the game. This is particularly disappointing to see from a player with such immense raw potential on the defensive end.

While Wright certainly has his rough edges and must put on a significant amount of weight before he is ready to be an NBA big timer, it was a productive season for the Tennessee product. His ability to finish at the rim was a big part of why the Tar Heels were able to come back against USC, but this afternoon he faded away down the stretch. Needless to say, Brandan Wright has a very tough decision ahead of him. Could he turn an almost certain spot in the top 5 and return to Chapel Hill to further polish up a few of his weaknesses?

[Read Full Article]

---
NCAA Tournament: Stock Watch (Sweet 16, Friday games)--Stock Up
March 24, 2007
With Tyler Hansbrough in foul trouble and clearly not himself tonight, North Carolina was forced to look to their extremely talented freshman Brandan Wright to help take out a very tough USC team.

Wright started off this game quite slow, like most of the Tar Heels, only hitting his first field goal with about 10 minutes to go in the first half. Wright has lacked some focus in the NCAA tournament so far, and it was slightly worrying to see him running up and down the court looking pretty dazed in the first quarter of the game.

Eventually, he started picking it up first and foremost on the offensive glass, and that got his entire game going as North Carolina made an outstanding run to close out the game in the second half. Wright pulled down 5 offensive rebounds on the night, and managed to score off every single one of them. Once with a terrific put-back jam, another time with a tip in off the glass, and in others just collecting the board over USCís undersized frontcourt and slamming it home with the greatest of ease.

In terms of evaluating his face-up game, tonight was a step back for North Carolinaís talented freshman. He struggled putting the ball on the floor effectively and hitting any of his attempts from outside of the paint, missing a mid-range jumper from around the free throw line and on another occasion not even hitting the rim on another attempt. He contributed in other ways, though, running the floor extremely well as always and getting the job done with his beautiful jump-hook. Late in the game he showed a glimpse of why so many people have him pegged as a sure-fire top 5 pick in this yearís draft, scoring on an extremely tough one-handed attempt by just elevating off the floor and throwing the ball in the basket at the apex of his jump from a tough angle with incredible touch and feel. With so many other of the top prospects having strong performances in one game or another so far in this tournament, it was nice to see Brandan Wright get into the mix as well, although he could have done a lot more despite scoring 21 points. Still, you canít ignore the upside he shows, and thatís why heís so highly regarded himself.

[Read Full Article]

---
NBA Draft Stock Watch: Conference Tournament Week (Part Three)
March 14, 2007
Clearly the second most impressive performance in the ACC tournament (after Brandon Costner) belonged to Brandan Wright of North Carolina. Not looking like he broke a sweat the entire weekend, Wright needed to step for the Tar Heels since Tyler Hansbrough wasnít himself playing with a broken nose.

Wright glided up and down the court effortlessly in every moment he was on the floor, not forcing a thing and looking extremely comfortable in his role as a finisher in and around the paint. At times you feel like things are just too easy for Wright at this level, as heís never asked to go outside of what he does best and is therefore a little more difficult to evaluate than the Odens and Durants of the world, who need to shoulder much bigger roles for their teams. This is exactly why he managed to shoot nearly 70% from the field from the tournament, and is converting 66% of his field goals on the year.

Regardless, he seems to be showing a little more every game he steps out on the floor, for example in knocking down a 14-foot jumper from the baseline or creating a little bit off the dribble for himself. He gets his points primarily though moving off the ball intelligently within Carolinaís loaded lineup and presenting himself for easy catches and finishes within 8 feet of the hoop, usually with his gorgeous left-handed jump-hook.

What did stand out more than anything was the phenomenal athleticism, length, touch and instincts he has at his disposal. Heís a fluid athlete with excellent quickness and body control, able to explode off the floor effortlessly to finish bounce passes with a two handed dunk, catch alleyoops thanks to his terrific hands, block shots on occasion, or put-back any offensive rebounds that are lurking around the rim. One play that showed how his tools can be brought together all at once occurred deep in the second half of UNCís blowout victory over Florida State. Wright ran the floor smoothly in transition with his guards and was thrown an errant alley-oop lob well out of his range, but somehow managed to still elevate and get a finger tip on the pass as it was sailing out of bounds to convert the basket with his left hand. These are the kind of instances where it clearly doesnít hurt to have a 7-5 wingspan. On another simple play against Boston College, Wright went over the top of a couple of Golden Eagle defenders and stuck his hand in out of nowhere to tip out a defensive rebound to a streaking Bobby Frasor running down court for an easy layup in transition. You might not have thought much of it at the time, but there are only a select number of players in the NCAA who can make a play like that, let alone do it so easily.

Although he seems to be playing slightly harder than he did earlier in the year, phrases like ďeffortlessĒ and ďtoo easyĒ donít get to attached to him for nothing. For example, thereís no excuse why a player with his tools should only pull down 11 rebounds over a three game stretch playing 30 minutes per game. This is the main beef scouts we spoke with in Tampa had with him, wondering just what kind of drive he has to be the best possible player he can be. Thatís also where the comparisons to Channing Frye and LaMarcus Aldridge are coming from, although heís clearly an even more naturally gifted player than those two. If he played with even half the intensity of his teammate Tyler Hansbrough, we might even be having a discussion about him competing with Oden and Durant for the #1 pick. Itís not that heís lazy, he just has a very calm and relaxed demeanor to him. Thatís all nice and dandy playing alongside a roster that is chock full of NBA talent, but at the next level that just wonít fly if heís to reach his full potential.

Itís hard not to wonder how much better (or worse?) Wright might be if he was playing on a team with slightly less talent that allows him to just coast at times and score so easily off his terrific playmakers and the attention Tyler Hansbrough draws. Unfortunately, we might have to wait until heís in the NBA to find that out.

[Read Full Article]

---
NCAA Weekly Performers, 2/8/07-- Part Two
February 8, 2007
In what might have been the biggest road test of his young college career so far, Brandan Wright helped carry his extremely talented North Carolina squad to an important victory over arch-rival Duke at Cameron Indoor. In only 24 minutes of action, Wright led the Tar Heels in scoring with 19 points and 9 rebounds, coming up with quite a few important baskets in key moments. Heís been steadily improving all season long despite not having nearly as many plays called for him as his frontcourt mate Tyler Hansbrough, but has regardless responded by producing consistently and efficiently and shooting over 64% from the field. Against Duke, Wright again showed his ever-expanding arsenal of moves in the post, scoring effortlessly from the field and doing an excellent job keeping his team in the game.

When considering what makes Wright such an intriguing NBA draft prospect, you have to start with his physical attributes. A solid 6-10 with a gigantic 7-4 Ĺ inch wingspan, he is an incredibly smooth guy for someone his size. He runs the court fluidly and effortlessly, and has a tremendous burst of initial quickness that most college big men just have no idea how to deal with.

More than just an athletic marvel, though, Wright also has excellent instincts despite his obvious lack of experience, being capable of executing a handful of moves that automatically separate him from nearly every other big man prospect in the country. His feet are incredibly quick, enabling him to hedge screens on the perimeter or display superb response time reacting defensively in the post. This allows him to cover an unnatural amount of ground in very short spans. That, combined with his tremendous length makes him a potential terror down the road on the defensive end, and even despite his quite obvious rawness on this end of the floor, he still blocks nearly 2 shots per game just purely off his physical gifts and instincts.

Offensively, Wright has become an absolute rock for UNC in the mid to low post this season. His outstanding hands allow him to catch nearly anything that is thrown his way, making him an incredibly reliable threat to convert easy baskets while running the floor in transition (stride for stride with UNCís speedsters) or cutting to the basket off a pick and roll play. This is how he scores most of his points at the moment, but as Coach Roy Williams begins to trust his superbly talented freshman more and more, heís getting more plays called for him and is being allowed to show off the finesse part of his game.

Wright lacks the upper body strength to back defenders down in the post with his back to the basket, but his incredible quickness gives him the opportunity to surprise his man with a quick spin towards the basket to get off a beautiful jump-hook shot. A natural lefty, he releases this lethal jump-hook shot with either hand and from an extremely high point of release, making it nearly unblockable considering how quickly he sets up and gets it off. Wright has been nearly automatic for Carolina all season long close to the basket, showing phenomenal touch off the glass and great awareness of where he is on the floor. Lately, heís been mixing in a very effective one dribble pull-up shot from 8-12 feet that he looks very confident in and gives him just another weapon to go to when facing the basket.

Beyond 12 feet is where Wrightís range appears to abruptly end, though, shooting just 56% from the free throw line due to his extremely ugly looking shooting mechanics-- elbow flailing out to the side and everything. Considering his slender frame, which can surely take more weight, but might always remain on the lanky side, it will be important for him to develop a real skill-set facing the basket from the perimeter. His long arms make it difficult for him to handle the ball in tight, half-court situations, and his terrible shooting mechanics need serious work before heíll be considered any type of threat to stretch the defense.

The biggest beef we have with Wright, though, has more to do with his lackadaisical approach to the game. He seems like a pretty laid back kid by nature, not showing too much fire or emotion, but that also shows up in his inconsistent focus and intensity level at times as well. He certainly doesnít go after every rebound with the kind of passion the great glass-cleaners in the NBA do, and he can be quite tentative at times making rotations within the team defense. Some scouts we talked to have already begun to question his heartbeat to a certain extent, but itís hard to tell how much of that has to do with his youth and secondary role on North Carolina and how much is a real reason for concern. Wright could help dispel those notions immediately by hitting the glass with more enthusiasm and being more of a ďbeastĒ on both ends of the floor. Regardless, heís having a phenomenal freshman season and will likely continue to improve and see his role expand as we move into the NCAA tournament.

[Read Full Article]

---
Stock Watch-- Tournament Week (Part One, Stock Up)
November 27, 2006
In the Preseason NIT, the UNC freshman made it clear that he is the top complimentary big man the college game has to offer, as he put up outstanding numbers while playing second fiddle to Tyler Hansbrough. He showed fans and scouts alike why he was so highly touted coming out of high school, averaging 20 points, 10.5 rebounds, and 1.5 blocks per contest in his two games at Madison Square Garden, all while shooting a scorching 65% from the field.

Wright displayed incredible hands, catching virtually every pass that he was able to get his mits on. He finished everything inside, despite his slender frame and the fact that he was matched up against much bulkier players in the paint. The Tennessee native did a great job of keeping the ball high once he received it so guards couldnít attempt to strip him, allowing him to get the ball up on the glass as quick as possible. He could have easily averaged close to 25 points per game over the two game stretch, had he not shot an awful 52% from the foul line.

If Brandan is able to keep his play up to this par for the remainder of the season, we are surely looking at a player that should be ďone and doneĒ. The NBAís new trend of long, athletic complimentary big men who can step in and play next to another power forward makes Wright awfully appealing to teams drafting in the late lottery. Draft aficionados must keep an eye on the super freshman for the remainder of the season, as itís well established that he would have jumped to the NBA directly out of high school, so we already know that the NBA is on his mind.

[Read Full Article]

---
What If? 2006 High School Class Boasts Several One and Done Candidates
June 21, 2006
Brandan Wright has an impressive feel for the game and NBA length, and is a mean streak away from joining the top group

[Read Full Article]

---
High School Allstar Games Recap: Player Interviews
April 25, 2006
ď[New York] is a fast city, man. Quite a change from Nashville. All the skyscrapers, the people walking around. Iím really enjoying myself so far.Ē

ďItís hard for the big guys to get touches in these type of games. Theyíre really guard-oriented because they handle the ball more, but I just got to go out there and play hard, make plays.Ē

ďA combination of things Ö everything. Strength, ball handling, shooting from around 12 or 15 feet and finishing at the hole. All the things you need to get ready for the next level.Ē

Question: Whoís the best player youíve faced thus far in your career?

ďGreg [Oden] is the best player Iíve faced so far. Heís just a big, strong guy. He can make a lot of plays.Ē

ďTyler [Hansbrough] is going to demand a lot of double-teams, so I have to be there to pick up the slack. Itís kind of a change, since heís a big bruiser on the inside, and Iím more of an athletic, slasher type of post player. Itíll be a nice change-up.Ē




Brandan Wright



DraftExpress: How do you think youíll fit in with Hansbrough at North Carolina?

Brandan Wright: I think Iíll fit in great. I think Iíll be a great compliment to him. Heís a big body guy, a powerful low post guy, I think Iím just the opposite, a more agile, athletic guy who can hit the 12 footer when heís getting doubled. Iím just trying to open it up for him, because heís going to be the man next year, and heís going to be our leader, so Iím really looking forward to it.

DraftExpress: Do you know what your wingspan is?

Brandan Wright: I think itís 7í4.Ē Maybe 7í6.Ē I think itís 7í6Ē actually.

DraftExpress: What position do you envision yourself playing down the road?

Brandan Wright: I see myself playing more at the 4, but also being able to step out and play a little 3, just trying to create mismatches for the defense. If they try and put a smaller man on me Iíll take him inside, if they try and put a bigger guy on me Iíll face him up, just a guy who can take advantage of every situation.

DraftExpress: Who do you pattern your game after?

Brandan Wright: Mostly K.G. Heís a long, athletic guy who can shoot the J, handle the ball, post moves, he just does it all, and he plays hard too. I like the intensity he has.

DraftExpress: What weaknesses do you think you need to improve during your first year of college?

Brandan Wright: Well, obviously Iíve got to work on my strength, and Iím just going to work on everything. Everythingís going to need improvement, going to the ACC. Ball handling, shooting, just the whole 9.

DraftExpress: How do you think your style will fit in with the international style at the Hoop Summit?

Brandan Wright: I donít know, Iíve never played against international players, but I know they like to spread it out and shoot the ball. They want to spread it out, so Iíll try and get my hand in their face, block a few shots, just try and get out there and outrun them. Use our athleticism to make plays on them.

DraftExpress: What do you think your best skill is right now?

Brandan Wright: Running the floor, blocking shots, rebounding, hitting my jumper, facing up in the post, I think those are some of my strengths.

DraftExpress: What do you think of the NBA age limit?

Brandan Wright: Itís not bad at all. Players like me and a few other of these guys out here may have made the jump, but this is going to help us out, having to go to college, seeing where you stand, getting strong and stuff like that, and improve your play.

DraftExpress: Is it nice being at this game with some other North Carolina recruits?

Brandan Wright: Ah yeah. Weíre representing North Carolina well, having three guys playing on the U.S.A Team. The other three guys in our class are very good also, so weíre just going out there and trying to represent.

DraftExpress: Thanks a lot for your time.

Brandan Wright: No problem.


[Read Full Article]

---
At the Jordan Classic: Main Event and Regional Game Recaps
April 24, 2006
Brandan Wright didnít have a great performance, but it was still an improvement on his two point, three rebound performance at the Hoop Summit, and he showed some nice aggressiveness around the rim. Wright scored four of his points on open dunks in transition, one of which was on the receiving end of an alley-oop. He also had a very nice sequence in transition where he took the ball to the basket, took a lot of body contract, and still maintained his composure despite his weak frame to lay the ball in for an and-1. He mixed it up in the halfcourt, too, where he worked for his points well. He showed a nice hook shot in the lane, which missed, but he pulled down his own offensive rebound, before getting it poked away by a defender for a turnover. Wright also showed off some face-up game, taking his man off the dribble twice, once for a routine lay-in and another time using a spin move that led to a missed jam. Wright also was attacking the offensive boards a bit, pulling down three offensive rebounds, and getting a putback dunk on one of them.

Wright has a lot of things to work on, most notably his strength, which is definitely his biggest weakness right now. He also would do himself well to spend some more time working on his post game and his shot, both of which have room for improvement.

[Read Full Article]

---
At the Jordan Classic: Friday Scrimmage
April 22, 2006
Brandan Wright had yet another disappointing performance in a long string of them this spring, not yet showing whatís expected of a prospect touted as highly as he is. Wright has not been helped by his obvious lack of strength, and heís had trouble creating down low. When trying to post up, Wright had the ball stripped once and traveled on another attempt. He was able to finish at the rim on one play when he got the dish down low from a teammate, and also had one nice putback off the glass, but wasnít able to do much otherwise. On one occasion he got stuffed by the rim when trying to dunk the ball. Wright was able to take advantage of his physical tools on one play, using his length on a drive to make a pass around the back of his defender for the assist.

[Read Full Article]

---
2006 Nike Hoop Summit Game Recap
April 10, 2006
Wright played a quiet game for the most part, though he did use his awesome length to block a couple of shots as well as throw down a nice dunk. He struggled on defense when guarding the much bigger Saer Sene. Wright has some nice tools to work with right now in terms of his size, athleticism, and the way he finishes around the hoop. He will need to add some weight, and work on improving his jump shot. Brandan should be able to get minutes right away, and could become a nice compliment to Hansbrough.

[Read Full Article]

---
2006 McDonald's All-American Game, individual player breakdown
March 30, 2006
Wright didnít stand out tonight like one would expect a player of his caliber to, but wound up with a pretty solid game at the end of the night. The 6í9 PF showed his awkward lefty game, hitting short jumper after short jumper in the lane and finishing well around the rim when strength was not an issue. He used his absolutely freakish wingspan to disrupt offensive players, and was also able to grab a few rebounds in the meantime. Once thought of as a 2007 draft prospect, it is becoming more and more evident that Brandan would be best suited to spend at least two years at UNC. His body desperately needs to develop, and his offensive game could use some refining before he decides to throw his name in the NBA Draft. Fans should definitely look for Wright to contribute next year playing alongside Tyler Hansbrough however, as the two will compliment each other perfectly in the Tar Heel front court.

[Read Full Article]

---
High School Roadtrip: Scouting Brandan Wright and Michael Beasley
December 14, 2005
The North Carolina recruit lived up to his billing as one of the top five seniors in the country, changing the game on both ends of the floor. Offensively, Wright is totally left hand dominant, but is seemingly unstoppable at this level when he touches the ball. Although the form on his shot is very awkward, Wright seems to have no problem knocking down the mid range jumper when left open, although his biggest strength is using his length and leaping ability to merely shoot over opponents near the rim. When watching the Brentwood star play, you can expect to see a good amount of highly athletic dunks, and he did not disappoint this evening as he finished with four. Of those four dunks, he had a pretty simple two handed slam in which both of his elbows were so far above the rim that everyone in the crowd had to ask each other if they had just seen how high up he had gotten. On the flip side however, while Wright attempted to show off his ball-handling skills, they just arenít there at the moment at a consistent enough level. He lost the ball numerous times when pressured bringing the ball up the floor, and made some pretty bad decisions that resulted in Brentwood turnovers. Ball-handling and a lack of a right hand are by far Wright Ďs two biggest weaknesses on the perimeter, but his superior athleticism has allowed him to dominate on the high school level thus far.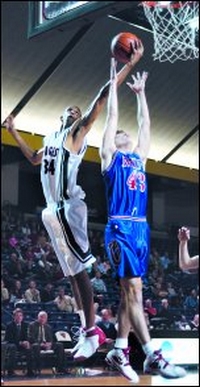 Mike Strasinger/Nashville City Paper



On the defensive end, Wright is an absolute shot blocking machine who completely dominates the paint. By the end of the night, Scott County players were afraid to come in the lane and put anything up on Wright, settling for short jump shots instead of going all the way to the rim. His freakish wingspan is pretty amazing to see in person, as his arms seemingly never end. Wright also does a great job of boxing out, allowing him to rebound the ball extremely well. One glaring weakness that the Tennessee star does have is a lack of lateral quickness, which was shown by the fact that he was easily beaten off of the dribble by the smaller and less athletic Scott County players. As long as Wright does not have to go out on the perimeter and guard small forwards, this should not be a problem due to the fact that he moves adequately enough to guard power forwards.

Draft fans will want to keep an eye out for Wright, considering that had the current NBA age limitation not been implemented, he would have most likely entered the draft out of high school. It will be very interesting to see a potential starting lineup of likely McDonaldís All American Tywon Lawson, Wayne Ellington, Reyshawn Terry, Tyler Hansbrough, and Brandan Wright along with Bobby Frasor, Marcus Ginyard, and Danny Green coming off of the bench in Chapel Hill next year. Needless to say, North Carolina will be a very exciting team to watch in the 2006-2007 season.

[Read Full Article]

---