Brandon Ashley
Recent Tweets
All Tweets
DraftExpress: Players who went undrafted (#5) Guillem Vives Brandon Ashley Tashawn Thompson Ailun Guo Mateusz Ponitka Chasson Randle Darion Atkins
2015-06-26 00:24:46
DraftExpress: Top NBA Prospects in the Pac-12 #11-15 http://t.co/uCHlJVWvF6 Brandon Ashley Tony Parker Jordan Bachynski Damyean Dotson Xavier Johnson
2013-10-06 11:51:02
DraftExpress: Players released from @usabasketball U19 tryouts (cnt'd) Brandon Ashley Robert Carter Shaq Goodwin Devin Thomas
2013-06-16 14:44:15
DraftExpress: One guy who has been somewhat disappointing so far is Brandon Ashley. Just kind of floating around. Not showing much toughness or intensity.
2013-06-15 13:53:56
DraftExpress: DX McDonald's All-American Player Evaluations (Part Two) - Alex Poythress, Brandon Ashley, Isaiah Austin & Marcus Smart http://t.co/yjLpwdBG
2012-04-04 12:48:12
Team: Tex Legends
Physicals
Positions
Rankings
Salary
Misc
H: 6' 9"
W: 228 lbs
Bday: 07/15/1994
(21 Years Old)

Current: PF
NBA: PF
Possible: PF

RSCI: 17

Agent: Bill Duffy

High School: Bishop O'Dowd
Hometown: Oakland, CA

Predraft Measurements
| Year | Source | Height w/o Shoes | Height w/shoes | Weight | Wingspan | Standing Reach | Body Fat | No Step Vert | Max Vert |
| --- | --- | --- | --- | --- | --- | --- | --- | --- | --- |
| 2015 | NBA Draft Combine | 6' 7.25" | 6' 8.5" | 228 | 7' 3.25" | 8' 9" | 8.8 | 31.5 | 35.5 |
| 2013 | USA Basketball | 6' 6" | 6' 8" | 223 | 7' 2.5" | 9' 1" | NA | NA | NA |
| 2013 | Big Man Skills Acad | NA | 6' 8.5" | 217 | 7' 2.5" | NA | NA | NA | NA |
| 2011 | LeBron James Camp | NA | 6' 7" | 191 | 6' 8" | NA | NA | NA | NA |
| 2011 | Amare Stoudemire Camp | NA | 6' 7" | 191 | 6' 8" | NA | NA | NA | NA |
| 2010 | LeBron James Camp | NA | 6' 8" | 200 | 7' 1" | NA | NA | NA | NA |



Basic Per Game Statistics

- Comprehensive Stats - Statistical Top 25s
| Year | League | Name | GP | Min | Pts | FG | FGA | FG% | 2Pt | 2PtA | 2P% | 3Pt | 3PtA | 3P% | FTM | FTA | FT% | Off | Def | TOT | Asts | Stls | Blks | TOs | PFs |
| --- | --- | --- | --- | --- | --- | --- | --- | --- | --- | --- | --- | --- | --- | --- | --- | --- | --- | --- | --- | --- | --- | --- | --- | --- | --- |
| 2015/16 | DLEAGUE | Brandon Ashley | 5 | 36.8 | 11.2 | 4.2 | 10.4 | 40.4 | 3.2 | 6.8 | 47.1 | 1.0 | 3.6 | 27.8 | 1.8 | 2.8 | 64.3 | 1.0 | 6.8 | 7.8 | 3.0 | 1.2 | 2.2 | 3.0 | 4.0 |

Player Page&nbsp&nbsp| Player Stats | Mock Draft History | Related Articles&nbsp&nbsp| Add to My Draft Express&nbsp
&nbsp
Brandon Ashley Interview
May 22, 2015
Former Arizona Wildcat, Brandon Ashley, discusses his preparation for the upcoming 2015 NBA Draft.


---
More Pre-Draft Interviews/Workout Videos
-Brandon Ashley Interview
-Robert Upshaw Workout Video
-Rakeem Christmasn Workout Video
-Myles Turner Workout Video
-Satnam Singh Interview
-Satnam Singh Workout Video
-Alan Williams Interview
-Stanley Johnson Interview
-Kelly Oubre Interview
-Frank Kaminsky Interview
-Chris Walker Interview
-Chris Walker Workout Video
-Cameron Payne Workout Video
-Cameron Payne Interview
[Read Full Article]

---
Top NBA Draft Prospects in the Pac-12, Part 5: Prospects #5-9
September 5, 2014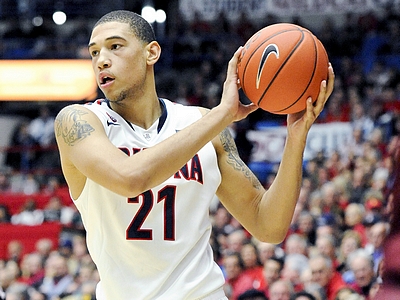 US Presswire



Derek Bodner

Brandon Ashley came into Arizona ranked by recruiting services as the 15th best prospect in his high school, something he hasn't been able to quite live up to.

To this point, Ashley has been a key contributor on two very good, and very deep, Arizona teams that have gone a combined 60-13. The 6'8" power forward did see a bigger role last season, as his playing time increased to 27.7 minutes per game, up from 20.5 his freshman season. His offensive output increased as well, as he scored 17.1 points per 40 minutes pace adjusted, an increase from the 14.3 he scored the previous season, while maintaining a high level of efficiency, with a 59.4% true shooting percentage.

Still, Ashley's overall contributions might be considered disappointing to some, as he hasn't been quite as productive much as his talent level would indicate. Whether that was because of Arizona's depth, the passive nature that Ashley displayed at times, or the necessity for further refinement in his skill level, it will be interesting to see how Ashley responds to the changing dynamics of an Arizona team that lost major contributors in Nick Johnson and Aaron Gordon to the NBA draft.

As we noted in previous write-ups, a very big part of Ashley's game is based on on his perimeter jump shot, at times too much of his game, perhaps. That is still the case, as jump shots made up an even bigger portion of Ashley's half-court shot distribution, up to 32.1% of his half-court attempts, an increase from 27.9% during his freshman season, according to Synergy Sports Technology. On the positive side, Ashley was far more consistent and effective shooting the ball from the perimeter last year than he had previously been. Ashley made progress extending his range out to the collegiate three point line, seeing his attempts increase from only 3 total during his freshman season to 29 attempts (in 22 games) last season, connecting on an encouraging 37.9% of those. Beyond that, his mid-range game was automatic last year, connecting on an incredible 63.2% of those attempts, generating 1.263 points per possession in those situations, which would be in the top percentile of college basketball.

Sample size, particularly since Ashley was limited to only 22 games after breaking his foot in early February, is obviously worth noting here, as none of these numbers are on a very high amount of attempts. Still, Ashley was a solid shooter during his freshman season, and the fact that he improved his numbers across the board is a good sign, including from the free throw line, where he shot 75.7% on 74 attempts this past season. Over the years he has proven to have a consistent shooting stroke, with a high release point, good follow through, and excellent touch. The jump shot should be a weapon of his going forward, and something that he can hopefully supplement with more production around the basket as well.

Ashley did see more of his offense derive from post-up situations, which now make up 19.3% of his possessions, up from 11.5% during his freshman season, per Synergy Sports. His overall feel and footwork isn't incredibly advanced, but he does have good touch on a jump-hook over either shoulder, and gets enough elevation to get either shot off with consistency. Besides diversifying his post-up game and developing more counter-moves, Ashley could stand to do a better job of establishing deeper post position early in the possession, as he's frequently starting his move further from the hoop than he would optimally be.

In order to spend more time operating on the perimeter, Ashley will need to put in considerable work in his ball handling and ability to create off the dribble. With Ashley being the threat that he is in the pick and pop game, combined with his relative quickness, Ashley has the potential to beat his man off the dribble. He does flash this ability from time to time, as when he is able to attack the basket in a straight drive these attributes of his show their potential.

The problem comes when the second line of defense rotates over, as at this point in his development he does not have the advanced ball handling moves, or the comfort level to make quick decisions, to counteract that. With the perimeter-oriented nature of NBA power forwards, as well as he continued progression as a jump shooter, showing a higher skill level attacking the basket off the dribble would help him diversify his offensive game, and make him less reliant on shooting from the perimeter.

One area where Ashley saw a statistical decline in was on the glass, particularly on the defensive side of the court. He grabbed only 5.8 defensive rebounds per 40 minutes pace adjusted, a pretty big decline from the 7.2 defensive rebounds per 40 minutes pace adjusted he grabbed during his freshman season, and a well below average amount for a power forward. In Ashley's defense, Arizona was one of the best defensive rebounding teams in the nation last year, and the sheer number of contributors on the defensive glass likely impacted his numbers in this regard. Ashley does a fairly good job of timing his jump and getting the ball at the apex, but he could benefit from doing a better job putting his body on a man and establishing position. While Ashley has a frame that looks like it will fill out in time, he could still stand from getting stronger, something that would help him hold position down low and also allow him to come away with balls that he does get his hands on.

At 6'8" in shoes, with a 7'2.5" wingspan and 9'1" standing reach and a frame that looks like it could fill out, Ashley has the size and length to defend either forward position. He moves his feet relatively well on the perimeter, and does a good job moving his feet and keeping his balance on the defensive end. While not incredibly explosive and not likely much of a shot blocking threat at the next level, Ashley has enough physical tools to not be a liability on the defensive end, if he is able to add some strength to his frame to bang in the NBA. The questions at this end of the court mostly stem from toughness, intensity, and focus. He seemed to make progress on this last year over where he was during his freshman season, but it can still be inconsistent at times. NBA scouts will likely want to see him make additional strides in this area as a junior.

The improvement Ashley made from the perimeter last year was a good step in his development, and continuing to extend his range out to the NBA three point line will be key for him going forward. If Ashley could complement this with a more developed dribble-drive game, as well as add the strength he will need to bang at the next level, he has the makings of someone who could potentially contribute at the NBA level. It will be interesting to see how Ashley's role changes with the loss of Gordon and Johnson, as well as how he bounces back from the broken foot that ended his season prematurely last year.


[Read Full Article]

---
USA Basketball U19 World Championship Training Camp Report
June 17, 2013
One of the biggest disappointments at this event relative to his talent level and the accolades that have followed him in his career thus far, Brandon Ashley struggled to establish himself in any way, shape or form throughout the week and was unsurprisingly part of the first round of roster cuts.

6-8, very smooth, and very much looking the part of a major prospect on first glance, Ashley has done little to improve his frame since the first time we saw him a few years back, leaving many question marks regarding how much time he's spent in the weight room. Not quite strong, aggressive or tough enough to bang with the other post players down low, but not skilled enough to spend as much time on the perimeter as he seems fond of, Ashley is very much stuck in between positions at the moment. He can make an occasional jump-shot with his feet set, but is just an average ball-handler, having a difficult time finishing around the basket through contact. Defensively, he lacks intensity in a major way and regularly had rebounds taken away from him in traffic, not being helped by his short wingspan and underdeveloped frame.

Ashely is in the right place at Arizona under Sean MIller to try and overcome his shortcomings and still make the most of his considerable talent-level, but he will have to show a better motor and apply himself more consistently on both ends of the floor if he's to reach his potential. Getting cut may have been a blessing in disguise for him, as he clearly has a lot of work ahead of him.

[Read Full Article]

---
McDonald's All-American Video Profile: Brandon Ashley
April 26, 2012
[Read Full Article]

---
McDonald's All-American Interviews: Brandon Ashley and Grant Jerrett
April 9, 2012
[Read Full Article]

---
McDonald's All-American Week Player Evaluations (Part Two)
April 2, 2012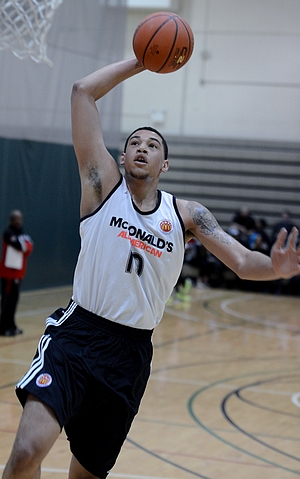 Golin Harris



Jonathan Givony

Brandon Ashley had a bit of a non-descript week here in Chicago, which has become somewhat of the norm in the occasions we've watched him play over the past few years.

From a physical standpoint, it's not difficult to see what the recruiting services like about him as he's a very fluid and mobile power forward who can play above the rim and shows very good quickness for a player his size. His frame is underdeveloped at the moment but should fill out very nicely in time.

Offensively, Ashley has terrific instincts and shows the potential to do a bit of everything. He likes to step out onto the perimeter where he can knock down shots with range or attack his matchup in a straight line and draw plenty of fouls. He can also go into the post and use his quickness, agility and soft touch to score effectively and get to the free throw line.

While Ashley's versatility is intriguing, he isn't always able to impact the game the way you'd expect a player of his caliber to. He tends to fall in love with his jump-shot at times, which isn't consistent enough at this stage, and is a little turnover prone handling the ball on the perimeter. If unable to simply beat his man off the dribble with his first step he doesn't have much of a plan of attack, showing a limited feel for passing to teammates or utilizing countermoves.

Perhaps the worst thing that can be said about Ashley is that he doesn't always show a great sense of urgency in his time on the court. His intensity level fluctuates greatly and he seems to let games come to him, which isn't rare considering his age. The place where that shows up the most right now is in his work on defense and as a rebounder. His fundamentals here aren't great, as he rarely boxes out his opponent or gets into a real defensive stance.

To Ashley's credit, he readily admits that these are issues he must address. This is one of the reasons he decided to commit to Sean Miller at Arizona, whose teams at Xavier were always known for the intensity and toughness.

If Ashley can address his shortcomings and continue to expand his all-around game over time, there's little doubt he'll emerge as a very intriguing NBA prospect, possibly similar to former Arizona power forward Derrick Williams, whose name undoubtedly came up in Miller's recruiting pitch.

[Read Full Article]

---