Brandon Davies
Recent Tweets
All Tweets
DraftExpress: More Undrafted Matthew Dellavedova Phil Pressey B.J. Young Dewayne Dedmon Richard Howell Brandon Davies Michael Snaer Brandon Paul.
2013-06-28 00:17:54
DraftExpress: DX Trending Prospects Brandon Davies http://t.co/TBw3uVQFzY
2013-06-14 09:06:10
DraftExpress: Strong first game from Brandon Davies. Showed a pretty nice skill-level for a big man. Handled and passed ball made some mid-range jumpers.
2013-04-10 20:36:36
DraftExpress: NDs Jack Cooley & BYUs Brandon Davies going at each other inside the paint. Both scoring impressively. Neither playing any defense. 49-44 ND
2012-11-17 21:32:20
DraftExpress: Brandon Davies is a Portsmouth guy at least. Will get some looks with his size. RT @cannonaphilip Does BYU have any potential NBA talent?
2012-11-16 19:44:59
Team: Varese
Physicals
Positions
Salary
Misc
H: 6' 10"
W: 242 lbs
Bday: 07/25/1991
(24 Years Old)

Current: C
NBA: C
Possible: C

Agent: Bill Duffy
Current Salary:$816,482

High School: Provo
Hometown: Provo, UT

Predraft Measurements
| Year | Source | Height w/o Shoes | Height w/shoes | Weight | Wingspan | Standing Reach | Body Fat | No Step Vert | Max Vert |
| --- | --- | --- | --- | --- | --- | --- | --- | --- | --- |
| 2013 | NBA Draft Combine | 6' 8.5" | 6' 10.25" | 242 | 7' 1.5" | 9' 0.5" | 8.6 | 26.0 | 31.5 |
| 2013 | Portsmouth | 6' 8.5" | NA | 234 | 7' 2" | 9' 0.5" | NA | NA | NA |



Basic Per Game Statistics

- Comprehensive Stats - Statistical Top 25s
| Year | League | Name | GP | Min | Pts | FG | FGA | FG% | 2Pt | 2PtA | 2P% | 3Pt | 3PtA | 3P% | FTM | FTA | FT% | Off | Def | TOT | Asts | Stls | Blks | TOs | PFs |
| --- | --- | --- | --- | --- | --- | --- | --- | --- | --- | --- | --- | --- | --- | --- | --- | --- | --- | --- | --- | --- | --- | --- | --- | --- | --- |
| 2015/16 | Italian | Brandon Davies | 9 | 24.7 | 10.8 | 4.1 | 10.1 | 40.7 | 3.7 | 8.2 | 44.6 | 0.4 | 1.9 | 23.5 | 2.1 | 2.6 | 82.6 | 1.6 | 3.0 | 4.6 | 1.3 | 1.2 | 0.7 | 2.4 | 3.2 |

Player Page&nbsp&nbsp| Player Stats | Related Articles&nbsp&nbsp| Add to My Draft Express&nbsp
&nbsp
Trending Prospects: Brandon Davies
June 14, 2013
Brandon Davies]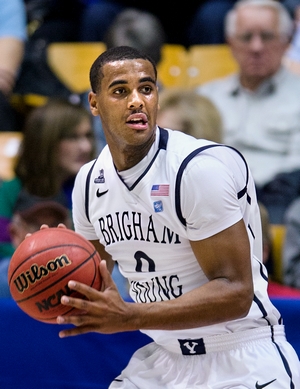 US Presswire



Kyle Nelson

Brandon Davies toiled in relative obscurity alongside collegiate superstar Jimmer Fredette during his first two years at Brigham Young, being better known for committing an honor code violation (reportedly for engaging in pre-marital sex) than for his rapidly improving post game.

He came from his suspension back even better, returning to a breakout junior season as the Cougars' leading rebounder and second leading scorer. He was named to the All-West Coast Conference Team as a senior and led the Cougars to the NIT Semifinals.

Davies followed up his regular season and postseason success by impressing scouts at the Portsmouth Invitational Tournament, where he was named Most Valuable Player, ending his college career with his stock at an all-time high. He now has a solid chance of hearing his name called on draft night.

On first glance, it's easy to see why. Standing 6'10 in shoes with a 7'2 wingspan, Davies possesses the size to play either big man position in the NBA, along with a standing reach similar to taller NBA players such as Anthony Davis and Greg Monroe. That being said, he is just an average athlete, neither particularly explosive nor quick, which, when coupled with his frame, sometimes makes it difficult for him to finish over and through NBA-caliber post players.

While his physical profile is a mixed bag, he made significant strides on the offensive end, situating himself as one of the most prolific scoring big men in the draft. Davies averaged 17.7 points per game and 22.4 points per 40 minutes pace adjusted while seeing a career high 23.2% of BYU's possession, much of it with his back to the basket. According to Synergy, he found over 55.5% of his overall possessions in post-up situations, making 51% of his field goal attempts, which ranks second best in this draft class.

In the post, Davies is particularly adept at executing spin moves and drop steps on the block with solid shooting touch and body control. He also shows the versatility to finish with either his left or right hand, sometimes with an impressive running jump hook shot. His overall footwork has improved considerably since the last time we wrote about him in 2011, but it should be said that he still looks most comfortable executing fairly rudimentary moves in the paint without much in the way of either countermoves or advanced foot work. He also has the ability to defer to his jumper with his back to the basket, showing a turnaround and fade away jump shot.

Not the toughest big man around, Davies struggles to finish through contact against better competition, and his lack of strength contributes to his reputation as a fairly soft player at this point in time. Worth noting, however, is the fact that despite his need to get stronger, he gets to the line at an outstanding rate, drawing fouls on the block, at the rim, and amidst his shooting motion. His 9.0 free throw attempts per 40 minutes pace adjusted ranks an outstanding second among all prospects in our top-100.

An intriguing aspect of Davies' developing skill-set is his face-up game, particularly his jump shot. He started to expand this part of his game this season, even if he made just 34.1% of his jump shot attempts.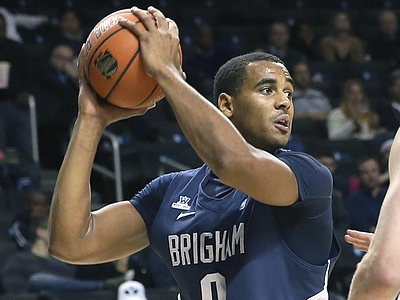 US Presswire



That being said, his mechanics actually look decent when he has the time to set his feet and the space to get his shot off unguarded. More often, though, he tends shoots the ball after the peak of his jump, on the way down, and with a hitch, resulting in a tendency to overshoot the ball. Improving the fluidity of his shooting mechanics, in particular, would greatly elevate his stock among scouts as big men who can stretch the floor are coveted at the next level.

In addition to his potential as a post scorer, Davies also shows solid instincts on the offensive end of the floor, particularly as a passer. His 3.1 assists per 40 minutes pace adjusted rank him as the second best passer among both power forwards and centers in our top-100, and he shows the ability to pass out of the post, both high and low.

Despite his large role to Brigham Young's offense, he is willing to make the extra pass, finding teammates cutting to the basket and open on the perimeter. For as solid of a passer as he has proven to be, he is also quite turnover prone, ranking fourth among big men and to the tune of 3.3 turnovers per 40 minutes pace adjusted.

Arguably the biggest question surrounding Davies's potential at the next level surrounds his defense. On tape, there is certainly cause for concern, as his lateral quickness is below average in the NCAA, let alone the NBA. This hinders his ability to guard the pick-and-roll, as well as perimeter oriented big men, even though he does a solid job of closing out on shooters due to his length.

Inside, he looks more focused than in previous years, but he nevertheless struggles to hold his position in the post due to his lack of strength. When he is not bodied off of the block, he uses his length well to contest shots around the basket, even if his 1.2 blocks per 40 minutes pace adjusted is unimpressive among prospects in our top-100.

Ultimately, however, despite the fact that he is an above average defender at the collegiate level, his physical and athletic limitations may prove to be more telling as to his professional prospects. His defense against the likes of Kelly Olynyk, Jack Cooley, and Isaiah Austin, if anything, showed that he has a long way to go before he is capable of guarding NBA-caliber big men, even if there is no reason why he can't continue to improve in this area down the road.

After being relatively mediocre in this area for the first three years of his career, he did a solid job on the defensive glass this season, grabbing a respectable 7.5 defensive rebounds per 40 minutes pace adjusted. On the offensive glass he was fairly poor, though, with his 2.6 offensive rebounds per-40 ranking last among top-100 prospect centers.

At the end of the day, Davies's performance at Portsmouth elevated his stock from an afterthought to potentially being a second round pick. In addition to possessing the size and an intriguing offensive skill set for an NBA rotation big man, he impressed scouts with his character amidst his sophomore suspension, and with the way that he handled himself throughout his collegiate career.

As the draft nears, Davies will have every opportunity to prove to scouts that he has the ability to play at the next level. In a draft that lacks great depth at the power forward position, he has to be considered attractive since he's still only 21 years old and surely has plenty of room to continue to improve.

[Read Full Article]

---
NBA Combine Interviews: Adams, Dieng, Gobert, Davies
May 21, 2013
[Read Full Article]

---
Top NBA Draft Prospects in the Non-BCS Conferences, Part 6 (#26-30)
November 11, 2011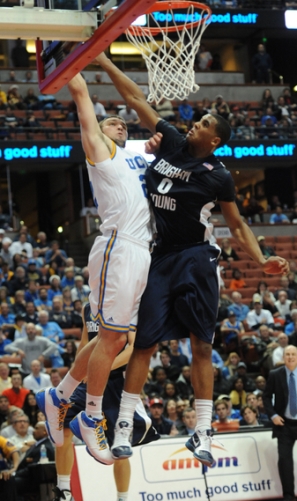 Icon SMI



Jeff Rush

Last year was magical in Provo as the nation caught Jimmer-mania and the Cougars had one of the best years in the proud history of the program. The only real negative during the season was the suspension of Brandon Davies in late February, which left BYU extremely thin in the front court heading into post-season play. Davies reportedly impregnated a woman, a violation of the Mormon school's honor code which says students must remain "chaste and virtuous."

BYU regrouped and advanced to the Sweet 16 despite his absence, but there they ran into the powerful Florida frontcourt and lost in overtime. For 2011-2012, Davies is back and will be counted on to be the Cougars' best player and keep them in among the top mid-major programs in the country.

Physically, Davies has some interesting tools. He is a legit 6'9 with very long arms and can cause a lot of problems for opposing defenses running the floor in transition. He is listed at 235 pounds, but he is not nearly strong enough to be effective banging in the lane as he often gets knocked off balance while making his move in the paint. Another strike against Davies athletically is the fact that he is not explosive when jumping off of two feet, which limits his ability to finish over other post players in the lane. He is capable of making a move off the dribble and dunking on someone, but only if he gets a running start and jumps off of one foot.

In the post, Davies puts the ball on the floor just about every time he makes a move regardless of whether he is going over his left or right shoulder. He is most effective making sweeping moves across the lane going either direction and using his length to finish around his defender. This is something that he is able to get away with because of the shooters that BYU has all over the floor, which allows him to work one-on-one in the post with a lot of open space. He struggles in these situations when the lane is crowded which often leads to him forcing awkward shots in the lane. He is easily bumped off balance and he tends to force shots while falling away when he is bodied by a defender.

On the perimeter Davies' game is almost non-existent. While he did make major strides at the free throw line, improving by 11% in almost double the amount of attempts per-game from his freshman year. Away from the charity stripe, Davies' struggled mightily taking jump shots from the perimeter, shooting only 24%. He was willing to shoot jumpers out to 15-17', but rarely did a defender venture that far from the basket to guard him, preferring to clog up the middle and concede the jump shot.

Davies did do a good job of protecting the ball, sporting a 1/1 a/to ratio although he is not a guy that will be asked to create shots for others. This season he will be the focal point of the Cougar's offense and will be counted on to make plays as the primary post weapon.

On the defensive end of the floor, Davies is a solid but unspectacular defender. He does not do a very good job of fighting for position or denying the entry pass, however he does do a good job of playing big with high hands to cause problems with his length. He seems to be actively avoiding any type of fouls, which could be by design to keep him on the floor because of a severe lack of depth in the post for BYU. Davies was pretty effective while in isolation situations, often brought on by switches in the pick and roll, as he does a good job by using his length to make up for his lack of quickness.

After riding excellent guard play to the Sweet 16 last year, Brigham Young will have to completely change the way their offense runs in their first post-Jimmer season. Davies will be a focal point offensively and it will be imperative for him to have made major strides in his game from his sophomore year. In order to reach his full potential and play at the next level Davies will need to expand his offense and continue to work on his body.

[Read Full Article]

---