No player changed as much physically between the USA Basketball Development Camp in October at the U16 Training Camp in June as
Brandon Johns
(#10 Future150). Although he grew just a half an inch (from 6-5 ½ to 6-6 without shoes), the combo forward added 21 pounds to his frame, bringing him up to a very solid 211 pounds, which seems to have made all the difference in his play. His athleticism has improved by leaps and bounds, and he looked much more comfortable showing off his versatile skill-level, which seems to put him firmly on track for playing the small forward position full time down the road.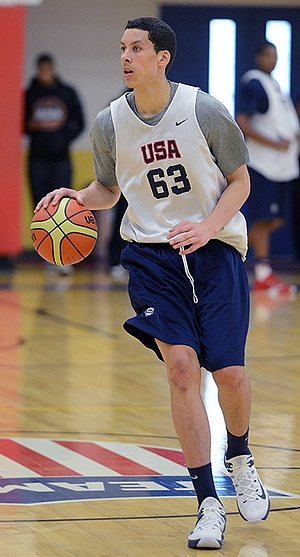 Johns now sports an excellent frame, with smooth athletic ability, even finishing above the rim with some quick bounce and unexpected explosiveness at times. He has good shooting mechanics, allowing him to knock down jumpers from beyond the arc with regularity, certainly with his feet set but also occasionally off the dribble at times. His ball-handling is a work in progress, but he showed the ability to attack closeouts and get to the basket in a straight line, something that could develop into real shot-creation ability down the road.
Johns is still somewhat between positions defensively, even though his athleticism, nice length (6-10 ½ wingspan), solid competitiveness and good feel for the game should allow him to become more than capable here if he puts his mind to it. He was one of the youngest players at this camp, not turning 16 for another six months, and thus unsurprisingly did not make the final roster, but certainly appears to have a nice future ahead of him.
We talked to him about his development as a basketball player and much more in the following interview: