Jonathan Givony
The #54 recruit in his high school class according to the RSCI, Brekkott Champman was a significant get for Utah, as both an in-state recruit, and the most highly touted prospect to commit to Larry Krystkowiak since his arrival in 2011.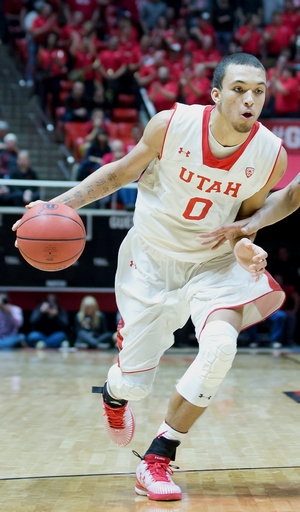 Standing 6-7 without shoes, with a 6-10 wingspan and a frame that looks like it will fill out nicely in time, Chapman has good physical attributes for the small forward position, even if he's seen most of his minutes at the power forward spot throughout his career thus far.
Up and down with his minutes and productivity as most freshmen are, Chapman averaged 15 minutes per game as an 18-year old for the duration of his debut campaign, showing some sparks of potential and also looking raw around the edges at times as well. He was utilized primarily as a floor spacing 4-man, cutting into open spaces from the weak side, trailing from the perimeter in transition, and picking and popping for 3s when the defense collapsed on Delon Wright.
The most interesting thing he did was shoot 45% from beyond the arc as a freshman (and 76% from the free throw line), fairly impressive for a 6-8 freshman, even if the sample size of 40 overall attempts in 34 games still leaves a lot to be desired. Chapman has consistent shooting mechanics, and rarely hesitated to fire away when left open, although his release point is somewhat low and he'll have to continue to work on getting his jumper off more quickly when guarded by perimeter players.
Chapman has good touch around the basket, mostly with his dominant left hand but also at times with his right. He's not a very prolific ball-handler, mostly relegated to straight-line drives (with long and impressive strides) and rarely being asked to do much in terms of shot-creation or passing in the limited role he played as a freshman, as evidenced by the paltry 5% assist rate he posted last year. He did average 2.5 times as many turnovers and assists as a freshman, but used his athleticism and aggressiveness to get to the free throw line at a solid rate relative to his low usage.
Defensively, Chapman has good length, some mobility and decent instincts making plays in the passing lanes (1.4 steals per-40) and even blocking shots (1.1 per-40) on occasion. He struggled in this area from time to time as a freshman as well, not always getting in a stance, missing rotations, losing his focus, and being taken advantage of with his lack of strength and experience. While he can use his long wingspan to contest shots impressively on the perimeter, he was not immune to getting beat off the dribble or being pushed around inside. Adding bulk will help in this area, as will improving his toughness, as indicated by the mediocre 3.5 defensive rebounds he averaged on a per-40 minute basis.
Chapman will likely eventually need to make the transition to playing on the perimeter full time to get serious consideration as a more immediate NBA prospect, but his solid physical tools and budding perimeter shooting prowess is a nice place to start. It will be interesting to see how his role evolves alongside fellow combo forward and incumbent starter Chris Reyes, as well as senior Jordan Loveridge, who sees some minutes at power forward as well.