Top NBA Draft Prospects in the ACC, Part Seven
September 25, 2012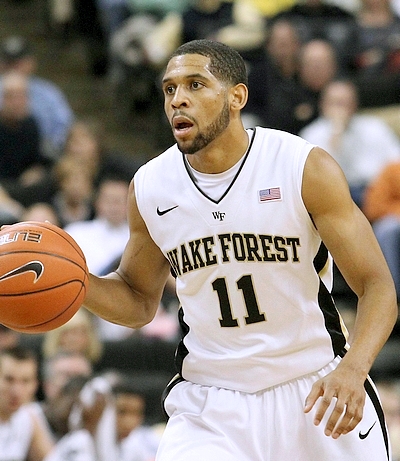 US Presswire
Kyle Nelson
Though Wake Forest basketball continued to struggle with Jeff Bzdelik at the helm,
C.J. Harris
's development between his sophomore and junior season was nothing short of remarkable and remains one of the few reasons for optimism moving forward. Though he was previously shoehorned into the point guard position, Harris finally moved off of the ball as a junior, assuming a large portion of Wake Forest's scoring load while becoming a more efficient and complete player in the process. Now,
as the ACC's top returning scorer
, Harris must take his game to yet another level for the eternally young Demon Deacons to become consistently competitive.
When projecting Harris as a professional, it is impossible to overlook his underwhelming physical profile. He is undersized for a shooting guard at 6'3 and, despite possessing solid length, body control, and an advanced feel for the game, he lacks the elite explosiveness or quickness to compensate. He is certainly not unathletic, but his physical profile is below average considering undersized shooting guards that have cracked NBA rotations.
Despite his average physical profile, Harris evolved into an outstanding scorer during his junior season, posting 19 points per 40 minutes pace adjusted, while actually becoming more efficient. While this may not seem so impressive on paper, Wake Forest's youth and scattershot offense is an unlikely place for a previously inefficient scorer to develop into
the 10th most efficient shooting guard in our database
. Furthermore, Synergy reveals that Harris scored efficiently while wearing a variety of hats, finding over 15% of his offensive possessions in four different areas: as a spot-up shooter, in the pick-and-roll, in transition, and in isolation sets.
Harris's most pronounced improvement has come as a perimeter shooter, where he attempted over two more three point shots per 40 minutes pace adjusted, while making 42.2% of his attempts, a nearly-10% improvement from his sophomore season. He also increased his range to the NBA three point line, while showing the ability to make shots off of the dribble and from a standstill. He still doesn't get a lot of elevation on his jumper, but his mechanics are improved, looking far more consistent and comfortable than in the past. Obviously, his three point shooting is integral to his prospects at the next level and, and he must continue to be as efficient during senior year, while showing scouts that his elevated junior numbers were not just a flash-in-the-pan.
Harris also emerged as a legitimate shot creator, capable of creating space for himself beyond the arc and hitting tough shots from all over the court. He evolved into a far more versatile scoring threat as a junior, able to pull-up from mid-range and get to the basket against some of the ACC's better defensive players. His ability to score out of the pick-and-roll is particularly intriguing, especially given his past struggles transitioning into a point guard, perhaps demonstrating that he actually would not look so out of place in most pro offenses. Furthermore, he moves very well without the ball, doing an excellent job of getting open on the perimeter and cutting towards the basket.
That being said, his limitations are very pronounced even at this level. For one, he is a left-hand dominant player and struggles mightily to drive and finish with his right hand. Similarly, though he has very good body control and instincts, his lack of size, strength, and explosiveness around the basket significantly limit and will continue to limit his ability to finish in the lane. Even though he attempts a respectable 6.6 free throws per 40 minutes pace adjusted, he likely will not get as many calls in the NBA as he does in the ACC. Developing a reliable floater, for instance, could potentially make him more effective in this capacity, but there are quite a few questions about whether he could do anything outside of shoot at the next level.
Another area of concern is his defense. Harris's weaknesses are arguably more pronounced three years into his career than they were
when we last wrote about him
. Though his lateral quickness is still above average, his lack of size and strength continue to stick out, particularly in guarding the pick-and-roll and in his ability to stay in front of bigger and more athletic players. Unlike at Wake, Harris will have to guard point guards in the NBA, and so it's largely unknown whether he'll be able to transition effectively when there are so many questions even at this level of competition.
At the end of the day, it's difficult to project Harris as an NBA player. Given his below average physical and athletic profiles, the wall that he hit in conference play is even more telling as to how well he can fare on a nightly basis against NBA-caliber talent. Yet, it is hard to deny his development from an inefficient point guard into one of the top returning scoring guards in the country. For this reason, Harris must continue to showcase his talents as a shooter and scorer while working extremely hard to prove scouts wrong on the defensive end of the floor.
This is easier said than done, however, as Wake Forest only gets younger this season with seven unproven freshmen likely receiving vital rotation minutes. Therefore, it will be interesting to see how Harris bounces back from last year's frustration and fatigue and whether he can make the most of this opportunity to endear himself to scouts in spite of his obvious flaws as a prospect. That being said, it seems clear at this point that, should the NBA not work out, Harris will have plenty of playing opportunities elsewhere, where he should be able to make a very solid living.
[
Read Full Article
]
Top NBA Draft Prospects in the ACC, Part Five (#21-25)
October 27, 2010
Kyle Nelson

Wake Forest is one of the ACC's least experienced teams and the Demon Deacons will have little success without sophomore combo-guard C.J. Harris. Harris exceeded expectations as a freshman where he was named a member of the ACC All Rookie Team despite coming onto campus as an unheralded local prospect. Continued improvement will not be easy during his sophomore season, however, as he must transition to point guard and assume more offensive responsibilities.

Even before he touches a basketball, Harris's legitimacy as a prospect is questionable from a physical perspective. Though at 6'2, Harris has good size and length for a point guard, he is an undersized shooting guard at this stage and lacks the strength to compensate. He is just an average athlete, however, and, though he has solid speed in the open floor, he is not an explosive player around the basket.

While there is much talk of a pending transition to the point guard position, Harris was a shooting guard as a freshman and was not a particularly high usage player. He accounted for just 12% of his team's offensive possessions and 66% of his touches came in transition or from spotting up around the perimeter. He attempted 4.7 three point per 40 minutes pace adjusted and he made just 32.4%. While his mechanics are good and he has a quick release, he is a very streaky shooter whose effectiveness visibly flagged with fatigue. It is essential that Harris must become more consistent as a sophomore as a more reliant jump shot would open up his game considerably.

Inside of the arc, he shot just 44.8% and was neither effective nor efficient. Even though he is a crafty player with solid body control, his below-average first step and shaky handle limit his effectiveness as a slasher. His lack of explosiveness hinders him, as he struggles to score over defenders around the basket and lacks the touch to compensate. His mediocre ball handling abilities also limit his a mid-range game at this point.

Ultimately, however, the most significant question following Harris into the 2010-2011 season is whether or not he is a point guard. He averaged just 1.2 assists per game versus 1.6 turnovers as a freshman. He struggled with tunnel vision off of the dribble and he rarely had opportunities to run the pick and roll. He also must improve his handles significantly. He did made good decisions in transition however, and, though he was asked to score first last season, he even made some nice passes off of the dribble. Whether or not he can capably running Coach Jeff Bzdelik's offense is unknown, but he seems to possess solid instincts that suggest that he can potentially make the transition.

Harris is a very good defender, however, though his lack of size and strength could limit his potential at the next level. He has good lateral quickness, energy, and focus, which combined with his length, help him stay in front of all but the quickest and most athletic point guards and shooting guards at the collegiate level. He is also solid defending the pick and roll, though he sometimes struggles to run through picks due to his lack of strength.

While Harris is almost certainly a four-year college player, there is still a chance that he develops into a prospect. At this point, however, there are simply too many questions regarding whether he can make the transition to the point guard position. Similarly, while he is a good collegiate defender, will he continue to develop offensively and physically while improving his limited skill set? Harris will have plenty of opportunities and possessions to prove himself as a sophomore and if he can help a depleted Wake Forest team win games, then scouts will notice.
[
Read Full Article
]