C.J. Leslie
Recent Tweets
All Tweets
DraftExpress: We had 55\/60 of the overall players drafted. Missed on Jackie Carmichael Myck Kabongo James Southerland Trevor Mbakwe and C.J. Leslie.
2013-06-28 00:11:33
DraftExpress: Still available DeShaun Thomas Jackie Carmichael Myck Kabongo Trevor Mbakwe Bojan Dubljevic C.J. Leslie James Southerland
2013-06-28 00:05:01
DraftExpress: Injuries Seth Curry (shin surgery) Gorgui Dieng (ankle) Jamaal Franklin (ankle) Ryan Kelly (foot surgery) C.J. Leslie (wrist tendonitis)
2013-05-16 09:36:37
DraftExpress: Last 5 DX NCAA prospect scouting reports Archie Goodwin Pierre Jackson Mason Plumlee C.J. Leslie Jamaal Franklin http://t.co/1pmLVUtIyG
2013-04-26 09:31:50
DraftExpress: RT @derekbodner My latest scouting report for @DraftExpress C.J. Leslie http://t.co/TOFGEtMaQo
2013-04-17 21:01:48
Team: Hapoel Eilat
Physicals
Positions
Rankings
Misc
H: 6' 9"
W: 209 lbs
Bday: 06/25/1991
(24 Years Old)

Current: SF/PF
NBA: SF/PF
Possible: SF

RSCI: 11

High School: Word of God Christian
Hometown: Raleigh, NC

Predraft Measurements
| Year | Source | Height w/o Shoes | Height w/shoes | Weight | Wingspan | Standing Reach | Body Fat | No Step Vert | Max Vert |
| --- | --- | --- | --- | --- | --- | --- | --- | --- | --- |
| 2013 | NBA Draft Combine | 6' 7.5" | 6' 8.75" | 209 | 7' 2.25" | 8' 8.5" | 8.0 | 32.5 | 40.5 |
| 2012 | Amare Stoudemire Camp | NA | 6' 8.5" | 198 | 7' 1.5" | NA | NA | NA | NA |
| 2010 | Kevin Durant Camp | NA | 6' 9" | 207 | 7' 2" | NA | NA | NA | NA |
| 2009 | Vince Carter Camp | NA | 6' 8" | 205 | 7' 0" | NA | NA | NA | NA |
| 2009 | LeBron James Camp | NA | 6' 8" | 205 | 7' 0" | NA | NA | NA | NA |



Basic Per Game Statistics

- Comprehensive Stats - Statistical Top 25s

Player Page&nbsp&nbsp| Player Stats | Mock Draft History | Related Articles&nbsp&nbsp| Add to My Draft Express&nbsp
&nbsp
Situational Statistics: the 2013 Power Forward Crop
June 21, 2013
-C.J. Leslie ranks as the third highest usage player in this group at 16.6 possessions per-game, but ranks third last in scoring efficiency at 0.91 PPP. He got out in transition and operated one-on-one more than any other power forward prospects on 15.9% and 17.4% of his total possessions respectively. Ranking slightly below average in scoring efficiency as a finisher and jump shooter, Leslie is a long, athletic forward who figures to have some potential at the three and four depending on how his skill level develops in the coming years.

[Read Full Article]

---
NBA Combine Interviews: Leslie, Hill, Ledo
May 20, 2013
[Read Full Article]

---
Trending Prospects: C.J. Leslie
April 17, 2013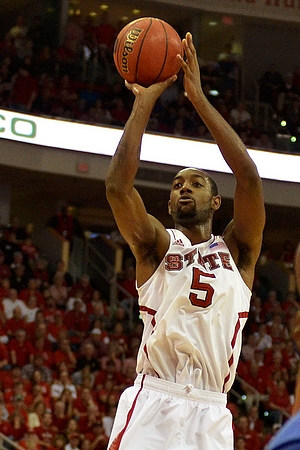 US Presswire



Derek Bodner

Coming into the year with high expectations, both individually and team-wise, C.J. Leslie and the North Carolina Wolfpack ended a disappointing season with a loss to Temple in the first round of the NCAA tournament.

On a personal level, many of the questions that hounded Leslie during his first two seasons remain. The lanky 6'9" combo forward maintains a very intriguing physical package, with good length and incredible athletic gifts. His physical profile remains the basis of his intrigue as a draft prospect, and should he develop his skills, show a strong work ethic and maintain his focus, there's more than ample physical talent to play a long time at the next level. It's utilizing this physical talent that Leslie has struggled with.

From a production standpoint, Leslie failed to make the expected jump during his junior season. His scoring fell from 19.8 points per 40 minutes pace adjusted to 17.8, with similar drops in rebounds (10.1 to 9.1) steals (1.5 to 1.2) and blocks (2.2 to 1.5), with an uptick in turnovers (3.2 to 3.7).

From a skills standpoint, Leslie continues to get more of his offense in the post, although he's still far from refined in this area and doesn't show great natural feel as a post scorer. His primary move is a hook shot over his left shoulder, which he gets off thanks largely to his ability to simply elevate over his defender and get a clean look. He doesn't have much in the way of counter moves or a move over his right shoulder, and his footwork and ability to feel and react to his defender is below average.

His other main move from high post sets is to face up and take his man off the dribble. This is where he becomes a match-up nightmare at the collegiate level, as his first step is simply far too quick for most power forwards at this level to defend. He's quick going either to his left or his right, and once he gets around the rim he has incredible elevation and hang time to finish with authority. He also does a good of drawing contact, with his 7.8 free throw attempts per-40 being a career best for him, ranking third among power forward prospects in our top-100. Despite his overall good ability as a finisher, Leslie could benefit for improving his touch and comfort level finishing with his off hand, as he often times forces attempts with his right hand even if they are not there.

Moving further away from the basket, his first step still remains an asset, but this is mostly hindered by his underdeveloped ball-handling and his inconsistency on his jump shot. According to Synergy Sports Technology, Leslie has increased his points per possession on jump shots to 0.759, which is up a bit from his first two seasons (0.613 and 0.625 during his freshman and sophomore seasons, respectively), but this is still well below average. He's frequently needlessly off balance on his attempts, and his follow through can be inconsistent, at times pulling up short on his release. His inconsistency and lack of overall touch on his jump shot allows defenders to sag off of him considerably, and partially negates his athletic advantage. Should he improve his jump shot considerably, he has significant potential as a face-up threat, but his jump shot needs quite a bit or work before it will become a consistent weapon, and NBA teams will raise questions about why he made such little progress in this area in his three seasons in college considering he turns 22 before draft day.

It's difficult to find many small forwards in today's NBA who do aren't threats to make shots from outside the arc, which is why Leslie is very much stuck in between positions considering he only made two 3-pointers this season, and 13 (of 48 attempts) his entire career.

As a ball-handler, Leslie has enough with either hand to be effective in straight lines, which is mostly all he's been asked to do at the collegiate level. As he goes up against similar athletes of his size at the next level, however, his struggles to change direction and speeds could cause him problems taking people off the dribble. Again, should he improve his ball-handling (and perimeter shooting), he has considerable potential as a face-up and isolation threat, but he is going to need to improve in both of these areas to fully realize this potential, and potentially show teams that he has a high enough skill level to play the small forward position in the NBA long-term.

Leslie continues to get a good amount of offense from transition, off offensive rebounds, and cutting to the basket. He's incredibly quick off the floor and has a very good second jump, allowing him to excel in these areas. These parts of his game that should translate relatively easily to the next level, and are attractive assets at either forward position.

Defensively, Leslie continues to flash some incredible physical tools that he has yet to fully capitalize on. If asked to play the 4 at the next level, he's at a pretty drastic strength disadvantage, something that shows up as a problem even at the collegiate level. He struggles to hold his position defensively, something which he compounds by avoiding contact until the offensive player has established deep post position. He also doesn't show great anticipation as a post defender, and while his length allows him to contest shots in the post, he's often times off balance and not ready for the offensive players' moves.

On the perimeter, Leslie moves his feet well and has very good overall length and athleticism. His athletic ability also shows up in his potential as a help defender, although his recognition limits his ability somewhat. More-so than anything related to his physical profile, his major struggles have been from inconsistent effort, technique, and recognition. Should he put all of his tools together, there's no question he has a unique enough physical profile to make an impact despite his lack of lower body strength, particularly as a rangy small forward.

C.J. Leslie has long been a prospect who has had obvious physical talents, but we have been waiting to fully realize those physical gifts. In that respect, Leslie failed to ease his biggest concerns during his junior season. With that said, outside of the top-20 or so prospects in the draft, few can boast the type of athleticism and upside that Leslie does, which could make him an interesting low-risk high-reward type player for teams to look at to see if they can potentially help him improve on his weaknesses more than his coaching staff at N.C. State was able to in the past three years. Private workouts, and perhaps more importantly, interviews, will be crucial in his ability to ease concerns of decision makers and to convince them whether he has a high probability of reaching his physical potential, as plenty of concerns surround his work ethic, internal motivation and coachability, which teams will need to research seriously.

[Read Full Article]

---
Top NBA Draft Prospects in the ACC, Part Two
September 18, 2012


Mike Schmitz is the video analyst for DraftExpress. Follow him on twitter and subscribe to his YouTube page. He will be breaking down the NBA draft in digital format all year long for us.

[Read Full Article]

---
Trending Prospects 2/27/2012
February 27, 2012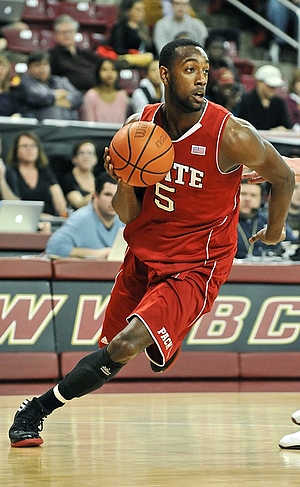 Icon SMI



Matt Kamalsky

Last time we checked in on C.J. Leslie, he was in the middle of an up-and-down freshman campaign under Sidney Lowe that ended with North Carolina State finishing below below-.500 for the third time in 15 years. Opting to stay in school despite Lowe's resignation, Leslie has had a much more efficient season for the Wolfpack for first-year Head Coach Mark Gottfried.

One of the most gifted athletes at the power forward position in the college game, the questions surrounding Leslie's NBA potential remain largely unchanged, despite the fact that he's been significantly more productive in a number of areas as a sophomore.

As we noted in our last report, Leslie's biggest strength as a prospect is his impressive blend of length, quickness, and explosiveness. He gets up the floor as well as any player his size in the country and while he lacks significant strength, he has the quick second jump to be an effective rebounder on both ends of the floor and when dialed in can make a major impact defensively.

Despite his merits as an athlete, his ability to consistently make the most of those assets is inconsistent at best at this juncture and is the most significant limiting factor on his impact in the college game and upside as a pro.

The young forward may still struggle at times with his approach to the game, but he has shown improvement in some areas. Getting most of his looks in simple catch-and-finish situations last season, or in transition, where he truly excels, Leslie has become a more prominent fixture in North Carolina State's offense, seeing significantly more opportunities to create his shot in one-on-one situations than he did as a freshman, both on the perimeter and in the low post.

Lacking significant polish on the block, Leslie relies on his ability to face-up and beat his defender to the basket in close quarters. He has little trouble finding his way to the rim or getting his shot off when he uses a simple drop-step, but doesn't always have the fundamentals, footwork, counter-moves, and aptitude for using fakes to regularly capitalize on the looks he does create for himself.

Often making a move and elevating off-balance as soon as he sees daylight, Leslie still manages to score 43.9% of his shot attempts in the post according to Synergy Sports Technology, a near 11% improvement from last season and a testament to just how valuable his athleticism is at the high-major level.

Leslie's propensity to take tough shots around the basket limits his efficiency to some degree, but his athleticism makes him a more than capable finisher around the rim, especially when he's getting the ball with a running start in transition or pulling down an offensive rebound for a put-back. On the whole, Leslie is most efficient when his teammates are creating shots for him, even if he has shown some budding skills in the post.

Away from the rim, Leslie is still in the early stages of his development out on the perimeter. His ball-handling ability remains unpolished, even if he uses straight line drives effectively when he faces up down low, thanks to his tremendous first step. Mostly guarded by power forwards at the NCAA level, Leslie doesn't need to make too many fancy moves to simply blow by his defender from the high post in isolation situations, which is a significant part of N.C. State's half-court attack.

To make the full conversion to playing on the perimeter, and to be able to begin his moves outside the 3-point line rather than at the elbow, Leslie will need to continue to shore up his ball-handling skills and decision making ability, which could have a huge impact on his effectiveness in the half-court.

As a jump shooter, Leslie hasn't made much progress, but he's been significantly more discerning with his shot selection. While he's still making less than 30% of his jumpers, he's not forcing the issue as frequently as he did last season and has shown marked improvement at the foul line, even if he is still only shooting 62% from the charity stripe. Only having made three 3-pointers on the season through 29 games, Leslie obviously still has a ways to go before he can be asked to play out on the perimeter full time.

Playing more like a power forward that he did last season, Leslie has found a way to be more productive and efficient despite his lack of polish, something he did not manage to do last season. If he's going to be successful at the next level, he'd be well served to show a more consistent motor running the floor, be more aggressive crashing the glass, or look to refine his face up game significantly, as questions remain about where he fits offensively.

Possessing all the physical tools necessary to be successful on that end of the floor, Leslie would benefit from playing a role that would allow him to capitalize on his athleticism in transition while affording him a chance to develop a comfort level as a face-up scorer from the midrange.

Defensively, Leslie is limited to some degree by his lack of bulk, but is mostly inhibited by his inconsistent motor. By no means is he an incapable defender, as he's been terrific for stretches, using his length to block shots at the rim and his quickness to deny dribble penetration, but he has not consistently competed with an intensity that let him get the most out of his abilities.

Taking possessions off, not always looking to rebound his area, and not contesting his match-up's short-range shots at all on occasion, the sophomore does not make the most of his tremendous length and quickness off the floor. If the light bulb does come on, his upside on this end of the floor is significant, but that still hasn't happened up until this point in his career.

Moving forward, it will be Leslie's work ethic and approach to the game that dictates how the early part of his career unfolds. With North Carolina State firmly on the bubble after four straight losses, Leslie's ability to get his team into the tournament and his play in March will be significant, as he's had some strong outings for the Wolfpack in recent weeks even if his team has not been winning games.

A potential early entrant, Leslie's draft stock is bound to his upside, and in the right situation with the right group of teammates and coaches at the next level, he could really make a team happy considering where he's likely to be picked. At just 20 years old, Leslie clearly has some maturation and a long career ahead of him, and considering his strengths and weaknesses, is an intriguing a boom or bust prospect to consider in the 20-40 range.

[Read Full Article]

---
Trending Prospects (2/3/2011)
February 3, 2011
Icon SMI



Walker Beeken

C.J. Leslie entered his freshman season at North Carolina State with big expectations, but so far it's been a rough road. The combo forward possesses all of the physical tools to be a big-time talent, but his poor mental approach and unpolished skill-set has led to an inconsistent season that likely has NBA scouts being much more hesitant about his future prospects.

Leslie's intrigue lies in his lanky 6'8" frame, long wingspan, and excellent athleticism. And while he's not the most skilled player, he is a very fluid athlete who looks to have the potential to expand on his perimeter skills as he continues to develop, and eventually become a full time small forward.

This season, Leslie is playing the power forward spot for the Wolfpack, but he stills seems insistent on trying to display his skills on the perimeter, even though that is clearly not a strength of his game at this stage. Overall, Leslie's offensive production has suffered, as he's scoring an inefficient .72 points per possession so far this season.

Unable to create much off the dribble in the perimeter or in the post at this point, Leslie gets most of his offense by cutting to the basket, running the floor in transition, and crashing the offensive boards. And although he has great elevation and plays above the rim, he struggles as a finisher due to his underdeveloped frame, a lack of touch, craftiness, and not going up strong. He's converting only 44% of his shot attempts in the basket area so far this season, which is a big issue for him, since he is extremely inconsistent from the perimeter as well.

Leslie is shooting an abysmal 27% on jump shots this season as well as a poor 54% from the free throw line. He has a bit of a slow release and low release point, but he does show decent touch, and seems to have the potential to be able to expand his range and be a serviceable shooter with his feet set if he puts in the work and improves his shot-selection.

Overall on the offensive end, Leslie lacks the polish and feel for the game to play up to his potential consistently at this point. He's fluid enough to be the type of combo forward who can eventually face up on the perimeter and knock down shots and utilize his explosiveness to get to the basket, but right now he'd probably be best served by being an energy guy on both ends of the floor who makes plays with his length and athleticism, while he continues to develop his perimeter game. He doesn't seem to have much of a concept of what his strengths and weaknesses are right now, though, and the undesirable situation he's in at N.C. State surely can't be helping matters much, as things only seem to be getting worse as the season moves on.

Defensively, Leslie has all of the physical capabilities to be an outstanding defender, but right now he's stuck in between the 3 and the 4 positions, and he has trouble guarding anybody. He lacks the strength and toughness inside to defend power forwards, and he gets beat badly when attempting to cover players on the perimeter, mainly due to a lack of focus, positioning, and effort.

Leslie simply looks disinterested on most possessions, and he plays with nowhere near the energy level that he should. This a major concern for him, because it minimizes the advantages he has athletically. Players of his mold who are the most successful at the NBA level, such as Gerald Wallace and Shawn Marion, have tremendous motors that enhance their physical tools and make them terrors in transition, on the glass, and making energy plays in the basket area. Leslie shows flashes of these abilities, as evidenced by his impressive per forty minutes pace adjusted averages of 2.5 blocks and 12.3 rebounds, but his mental lapses and lack of consistent effort negate many of the good things that he does.

There have been rumblings that Leslie in unhappy at N.C. State, and that he'll likely enter the draft this summer. While he clearly has the upside that scouts covet with his excellent physical tools, his poor body language, inconsistent effort, and questions about his work ethic will be issues that teams will have to investigate much further. Leslie still has more time left this season to try and turn things around and find some believers in his NBA potential, but may ultimately have too many red flags for teams to be comfortable with using a high draft pick on this summer, unless he shows extremely well in private workouts.

[Read Full Article]

---
Mcdonald's All-American Week Player Evaluations and Interviews
April 5, 2010
Leslie was one of the most impressive players seen in the practice sessions of the McDonald's week, but struggled badly in the actual game. He's an amazing athlete who is an absolute terror in transition, but still has a ways to go in terms of maximizing his full potential. He likes to attack players off the dribble, but still needs to improve his ball-handling skills.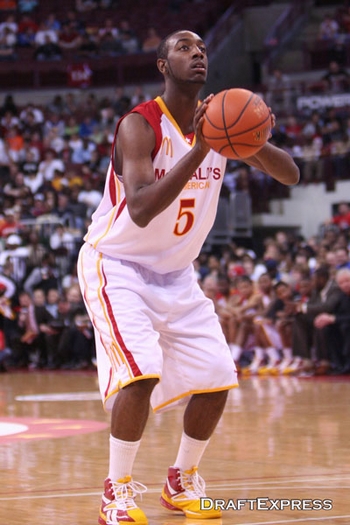 Jim Hlavac / DraftExpress



As a shooter, Leslie shows potential but is extremely inconsistent, which is often in large part due to his shaky shot-selection. He fancies himself a small forward, and will tell you as much himself, but can get into some trouble when he tries to do too much with the ball, which was the case at times in Columbus. While he definitely has the tools to play there down the road, he is probably better off as a face-up four at this stage.

Leslie can make a huge impact on the defensive end when he's dialed in, which unfortunately isn't always the case. Many a recruiting analyst talks about the inconsistency he shows from game to game both on and off the court, and there are clearly some concerns about whether he has what it takes to reach his full potential.

All in all we're talking about one of the biggest boom or bust prospects in this class, which will make it all the more intriguing to follow him at the college level.

[Read Full Article]

---
2010 McDonald's High School All-American Dunk Contest Videos
April 2, 2010
C.J. Leslie finished this round off struggling to get off the dunk he wanted, eventually being forced to throw the ball in somewhat half-heartedly, clearly not looking very pleased with the result afterward. The judges weren't too impressed either, awarding him a 56 for his effort.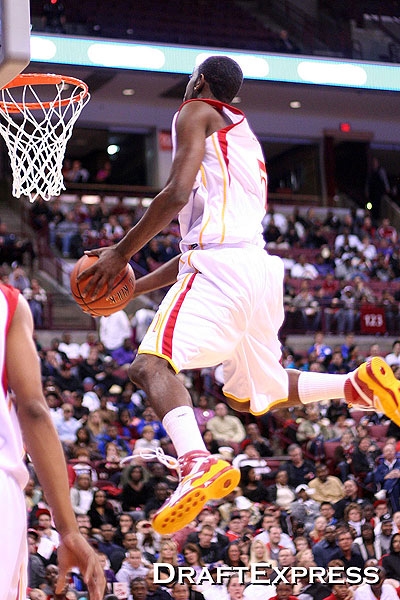 Jim Hlavac, DraftExpress
[Read Full Article]

---
Boost Mobile Elite 24 Player Scouting Reports
August 29, 2009
One of the biggest revelations from our perspective to emerge out of the Boost Mobile Elite 24 scrimmages was the play of C.J. Leslie (#13 Scout, #14 Rivals, #9 ESPN), clearly one of the most naturally talented prospects in the 2010 high school class. He made quite an impression in the scrimmage we saw, doing pretty much everything out on the floor, looking like arguably the player with the most upside of anyone on the court.

Leslie has elite physical tools at his disposal, as he is a freakish athlete with length who is extremely versatile and active. He regularly outquicks opponents to the offensive glass, bouncing up and down off the floor like a pogo stick before anyone else can react, and making his presence felt as a shot-blocker as well for these same reasons. Leslie will grab a rebound and take the ball coast to coast himself, weaving in and out of traffic impressively in the process. Without the ball, he's capable of beating the entire opposing team up the floor in transition, only to finish with an emphatic jam at the rim. His body control and overall fluidity is extremely impressive, and definitely puts him in an elite class as far as physical attributes are concerned.

Leslie showed a propensity to post up his man in the paint, not displaying any incredible footwork, but looking quick and aggressive enough to get the job done. He played extremely hard throughout the scrimmage, something that has reportedly been an issue for him in the past, but looked like anything but in the short time we were able to evaluate him.

Leslie isn't a great shooter, but he does show potential in this area—if he continues to improve on this part of his game, he could be downright scary. Right now he's clearly stuck between the 3 and the 4 spots, but considering the direction the game is headed in, that's really not that much of an issue in this case. More concerning are the red flags that many recruiting analysts warn of, though—he's reportedly not the smartest, serious or most focused guy in the world, but that is supposedly improving. Hopefully that's indeed the case, as his upside is truly off the charts if he can keep things together. It will be very interesting to see how things play out.

[Read Full Article]

---