Kyle Nelson
When we last wrote about Cameron Ridley, just prior to his junior season, many expected a breakthrough year from the former McDonald's All-American and a deep tournament run from the Texas Longhorns. Instead, Ridley was buried in a talented frontcourt rotation and Texas limped to the NCAA Tournament before losing to Butler in the Round of 64. On the eve of his senior season, Cameron Ridley headlines another deep and talented frontcourt for first year coach Shaka Smart, with one last chance to prove that he is an NBA-caliber big man.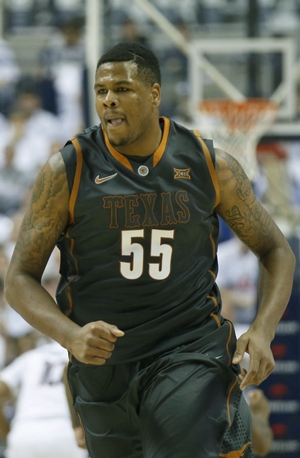 Ridley remains the same prospect from a physical perspective: an undersized, yet physically imposing center, with a 7'4 wingspan, who must continue to slim down and work on his conditioning in order to maximize his below average athleticism.
Ridley looked like the same player on the offensive end of the floor, as well, seeing his usage rate hold steady at 21.1%, while his TS% also stayed the same at 59%. His overall minutes declined somewhat due to the presence of eventual lottery pick Myles Turner, and his 15.2 points per 40 minutes pace adjusted was slightly less than his junior season (16.9).
Once again, Ridley saw almost all of his possessions in the post and he proved to be a relatively effective scorer out of post-up situations (45.2% FG) and in other attempts around the basket (64.1% FG). He did a great job of using his length and strength to carve out position in the post, but still lacks advanced footwork to exploit his physical advantage. As a junior, he added a short turnaround jumper to his repertoire of baby hooks and drop steps, but still has a relatively rudimentary skill set with his back to the basket.
Ridley is still at his best finishing around the rim, either by running in transition, cleaning up his teammates' misses (4.4 offensive rebounds per 40 minutes pace adjusted), or moving without the ball. Ridley also does a good job of cutting to the basket to catch-and-finish around the rim. While he is not a particularly explosive or quick player, his combination of soft hands, long arms and solid timing allow him to nevertheless be an effective finisher.
Ridley still shows very little prowess operating out the pick-and-roll and did not attempt a single jumper as a junior. Three years into his collegiate career, therefore, he has yet to make significant progress on the offensive end of the floor and it remains to be seen how much he can continue to develop as a senior, especially with a glut of big men on Texas' roster and a coach who doesn't seem particularly well suited to Ridley's old-school style of play.
On defense, Ridley's weaknesses remain apparent, particularly the fact that he's not the quickest or most mobile player, as evidenced by the mediocre .5 steals per-40 minutes he averages. This makes it hard to imagine him playing a position other than center, and it looks as though he will struggle to guard perimeter oriented big men, more generally, at the next level. Yet, he looked far more engaged and aggressive at times as a junior, which allowed him to compensate somewhat. He remains an excellent shot blocker, averaging a career high 3.4 blocks per 40 minutes pace adjusted, which shows the significant impact that he often does have with his sheer length.
One area where he clearly regressed was on the defensive boards, however, grabbing a career low 5.8 defensive rebounds per 40 minutes pace adjusted. Part of this likely has to do with sharing a frontcourt with productive rebounders, but scouts will still be watching to see if he can regain his sophomore (7.4 per-40) productivity.
With one year of eligibility left, Cameron Ridley has a lot of prove to NBA scouts and will have to do so with a new coach on the sidelines. Texas's frontcourt remains crowded and Ridley will have to work hard to earn minutes even as a veteran two-way player. After three years at Texas, Ridley seems unlikely to develop into a coveted NBA prospect, but he still brings some intriguing tools to the table, particularly with his length. If he is capable of putting it all together as a senior and follows up a productive season with good workouts, then he might just show scouts that he is worthy of a NBA roster spot.