Cameron Ridley
Recent Tweets
All Tweets
DraftExpress: Top NBA prospects in the Big 12 #s 6-10 Cameron Ridley Georges Niang Perry Ellis Prince Ibeh Tarik Black\n http://t.co/mbXcQrbe1B
2013-09-27 16:36:13
DraftExpress: Regarding realistic expectations, Cameron Ridley is a good candidate for that. Really struggling here in Chicago athletically & skill-wise.
2012-03-27 11:03:03
DraftExpress: DraftExpress: Interviews w/ Kyle Anderson, Robert Carter, Cameron Ridley, & Anthony Bennett from Boost Mobile Elite 24: http://t.co/TZrfNpNg
2011-09-25 11:42:23
DraftExpress: DX 2012 HS scouting reports: Kris Dunn, Cameron Ridley, Gabe York, Shaq Goodwin, Sam Dekker, Amile Jefferson and more: http://t.co/UrRrUxx
2011-09-08 10:11:00
DraftExpress: Taking in some of high school guys now. Andre Drummond, Shabazz Muhammad, Isaiah Austin, Cameron Ridley, Rodney Purvis all on same roster!
2011-08-05 02:45:12
Team: Texas, Senior
Physicals
Positions
Rankings
Misc
H: 6' 10"
W: 262 lbs
Bday: 10/27/1993
(22 Years Old)

Current: C
NBA: C
Possible: C

Rank 34 in NCAA Seniors
RSCI: 14

High School: Bush
Hometown: Fort Bend, TX

Predraft Measurements
| Year | Source | Height w/o Shoes | Height w/shoes | Weight | Wingspan | Standing Reach | Body Fat | No Step Vert | Max Vert |
| --- | --- | --- | --- | --- | --- | --- | --- | --- | --- |
| 2011 | Amare Stoudemire Camp | NA | 6' 10" | 262 | 7' 4" | NA | NA | NA | NA |



Basic Per Game Statistics

- Comprehensive Stats - Statistical Top 25s
| Year | League | Name | GP | Min | Pts | FG | FGA | FG% | 2Pt | 2PtA | 2P% | 3Pt | 3PtA | 3P% | FTM | FTA | FT% | Off | Def | TOT | Asts | Stls | Blks | TOs | PFs |
| --- | --- | --- | --- | --- | --- | --- | --- | --- | --- | --- | --- | --- | --- | --- | --- | --- | --- | --- | --- | --- | --- | --- | --- | --- | --- |
| 2015/16 | NCAA | Cameron Ridley | 5 | 23.8 | 11.8 | 4.6 | 6.2 | 74.2 | 4.6 | 6.2 | 74.2 | 0.0 | 0.0 | &nbsp | 2.6 | 6.0 | 43.3 | 3.6 | 6.0 | 9.6 | 0.4 | 0.8 | 2.0 | 3.4 | 3.4 |

Player Page&nbsp&nbsp| Player Stats | Mock Draft History | Related Articles&nbsp&nbsp| Add to My Draft Express&nbsp
&nbsp
Top NBA Prospects in the Big 12, Part Six: Prospects #10-15
September 22, 2015
Kyle Nelson

When we last wrote about Cameron Ridley, just prior to his junior season, many expected a breakthrough year from the former McDonald's All-American and a deep tournament run from the Texas Longhorns. Instead, Ridley was buried in a talented frontcourt rotation and Texas limped to the NCAA Tournament before losing to Butler in the Round of 64. On the eve of his senior season, Cameron Ridley headlines another deep and talented frontcourt for first year coach Shaka Smart, with one last chance to prove that he is an NBA-caliber big man.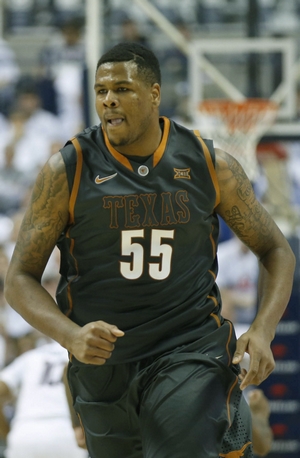 US Presswire



Ridley remains the same prospect from a physical perspective: an undersized, yet physically imposing center, with a 7'4 wingspan, who must continue to slim down and work on his conditioning in order to maximize his below average athleticism.

Ridley looked like the same player on the offensive end of the floor, as well, seeing his usage rate hold steady at 21.1%, while his TS% also stayed the same at 59%. His overall minutes declined somewhat due to the presence of eventual lottery pick Myles Turner, and his 15.2 points per 40 minutes pace adjusted was slightly less than his junior season (16.9).

Once again, Ridley saw almost all of his possessions in the post and he proved to be a relatively effective scorer out of post-up situations (45.2% FG) and in other attempts around the basket (64.1% FG). He did a great job of using his length and strength to carve out position in the post, but still lacks advanced footwork to exploit his physical advantage. As a junior, he added a short turnaround jumper to his repertoire of baby hooks and drop steps, but still has a relatively rudimentary skill set with his back to the basket.

Ridley is still at his best finishing around the rim, either by running in transition, cleaning up his teammates' misses (4.4 offensive rebounds per 40 minutes pace adjusted), or moving without the ball. Ridley also does a good job of cutting to the basket to catch-and-finish around the rim. While he is not a particularly explosive or quick player, his combination of soft hands, long arms and solid timing allow him to nevertheless be an effective finisher.

Ridley still shows very little prowess operating out the pick-and-roll and did not attempt a single jumper as a junior. Three years into his collegiate career, therefore, he has yet to make significant progress on the offensive end of the floor and it remains to be seen how much he can continue to develop as a senior, especially with a glut of big men on Texas' roster and a coach who doesn't seem particularly well suited to Ridley's old-school style of play.

On defense, Ridley's weaknesses remain apparent, particularly the fact that he's not the quickest or most mobile player, as evidenced by the mediocre .5 steals per-40 minutes he averages. This makes it hard to imagine him playing a position other than center, and it looks as though he will struggle to guard perimeter oriented big men, more generally, at the next level. Yet, he looked far more engaged and aggressive at times as a junior, which allowed him to compensate somewhat. He remains an excellent shot blocker, averaging a career high 3.4 blocks per 40 minutes pace adjusted, which shows the significant impact that he often does have with his sheer length.

One area where he clearly regressed was on the defensive boards, however, grabbing a career low 5.8 defensive rebounds per 40 minutes pace adjusted. Part of this likely has to do with sharing a frontcourt with productive rebounders, but scouts will still be watching to see if he can regain his sophomore (7.4 per-40) productivity.

With one year of eligibility left, Cameron Ridley has a lot of prove to NBA scouts and will have to do so with a new coach on the sidelines. Texas's frontcourt remains crowded and Ridley will have to work hard to earn minutes even as a veteran two-way player. After three years at Texas, Ridley seems unlikely to develop into a coveted NBA prospect, but he still brings some intriguing tools to the table, particularly with his length. If he is capable of putting it all together as a senior and follows up a productive season with good workouts, then he might just show scouts that he is worthy of a NBA roster spot.

[Read Full Article]

---
Top NBA Prospects in the Big 12, Part 6: Prospects #9-12
September 14, 2014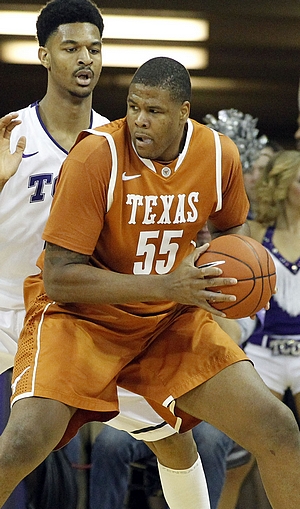 US Presswire



Kyle Nelson During his sophomore season, NBA scouts finally caught a glimpse of what high school recruiting analysts had in mind when they ranked Cameron Ridley as a top-15 prospect. Ridley struggled with his weight and raw skill set as a freshman, but he transformed his body and his game as a sophomore, putting together a solid season that culminated in a thrilling buzzer-beater against Arizona State in the first round of the NCAA Tournament. With increased expectations in Austin, scouts are now wondering if Ridley is ready to take another step forward for a Texas team looking to make a deep run in the NCAA Tournament.

At 6'10, Ridley is undersized for the center position, but he compensates with a massive 7'4 wingspan and a burly 285-pound frame, physically similar in many ways to NBA veteran Kendrick Perkins. Like we wrote last year, Ridley is just not a particularly good athlete, neither looking particularly quick running the floor nor overly mobile in the post. At this stage, he is a below-the-rim player with elite length and developing strength, but without the conditioning to stay on the floor effectively for more than a few minutes at a time.

His production on the offensive end of the floor reflects his physical strengths and weaknesses, as Ridley finds almost all of his shot attempts close to the basket, with his possessions split almost evenly between post-ups and other types of looks around the basket. He is still not a particularly prolific scorer – his 16.2 points per 40 minutes pace adjusted ranks in the bottom half of prospects in our top-100 – but his efficiency metrics rose significantly across the board while seeing nearly double the amount of possessions that he did as a sophomore.

On film, Ridley excels at carving out space in the low post due to his size and can corral most interior passes due to his length and soft hands. He looked far more comfortable putting the ball on the floor as a sophomore, showing some consistent, albeit basic, footwork into a growing repertoire of spin moves, jump hooks, and drop steps. Ridley's post-game remains relatively simple, though, and despite the fact that he made incremental progress as a finisher, upping his post-up conversion efficiency from 28% to 43% as a sophomore, that's still not a particularly strong rate. He was able to get to the free throw line very well, attempting 8.5 free throws per 40 minutes pace adjusted and ranking third among prospects in our top-100, but his offensive game still has a ways to go to be considered a major strength at the NBA level.

Ridley excelled on the offensive boards, showing good instincts and positioning while grabbing 4.9 offensive rebounds per 40 minutes pace adjusted, which ranked second among prospects in our top-100. All in all, Ridley proved to be a very effective finisher when he didn't have to create his own offense, making 64.5% of his non-post up attempts around the basket.

On defense, Ridley proved once again that he is a capable post defender with the unique combination of strength and length that really makes it difficult for his man to get to the basket on the interior. Moving away from the basket presents the same challenges as it did for him as a freshman: he simply lacks the lateral quickness to stay in front of his man outside of the paint. Likewise, his lack of quickness and fundamentals continue to hinder him as a defender in the pick-and-roll, something that he will have to improve on before he sets foot in the NBA.

Despite these limitations, Ridley is a solid shot blocker, ranking fifth among prospects in our top-100, to the tune of 3.3 blocks per 40 minutes pace adjusted. He is a very good overall rebounder as well, and his 12.3 rebounds per 40 minutes pace adjusted, which ranked fourth among prospects in our top-100. In both of these categories, Ridley excels not only due to his length and strength, but also because of his timing and awareness operating in the post.

If his sophomore season proved anything, then it is that Cameron Ridley still has plenty of time to develop into the player that many analysts saw in high school. Regardless of his athletic limitations, his physical profile is rare at any level, which suggests that if he can continue to improve his conditioning and stay on the floor, then he can continue to boost his draft stock. Texas will benefit from a more experienced rotation this season, especially on the perimeter, but if Ridley is able to take the next step in his development as a junior, then expect Texas to be a very formidable team come March.

[Read Full Article]

---
Top NBA Draft Prospects in the Big 12, Part 4 (#6-10)
September 27, 2013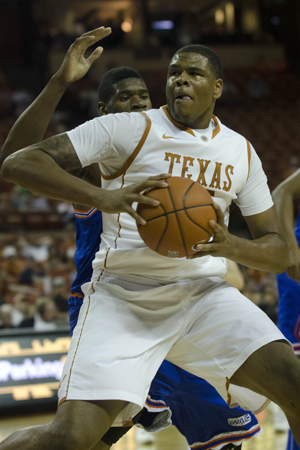 US Presswire



Joe Treutlein

Cameron Ridley had a somewhat underwhelming freshman season at Texas relative to his lofty pre-college recruiting rankings, not being an especially productive or efficient player overall on a team that finished with a 16-18 record and couldn't even qualify for the postseason NIT, let alone the NCAA Tournament. Still, the 6'10 center got some nice experience under his belt, starting 19 of 33 games while being effective with defense and rebounding, leaving the door open for him to take a step forward as a sophomore.

Standing 6'10 with excellent length and a large and strong frame, Ridley certainly looks the part of an NBA big man at first glance. Like when we profiled him in high school, he still is not a very impressive athlete in terms of quickness and explosiveness, not being especially fast running the floor and not being a very good leaper either. While Ridley is not an out-of-shape player by any means, he probably could see some slight gains in the athleticism department by further chiseling out his body and maximizing his strength and conditioning, and that's certainly something he should explore doing to maximize his potential.

On the offensive end, Ridley is a player who strictly operates within five feet of the basket, and with good reason (as evidenced by his 33.8% FT%). Ridley does the vast majority of his scoring on dump-off dunks and lay-ups around the basket or putbacks from offensive rebounds, being pretty effective in both regards by virtue of his excellent size, strength, and soft hands. He shows little problems finishing with power, usually having no issues elevating enough for dunks (he doesn't have to get very high given his standing reach), even when he gets the ball a few feet away.

Ridley's ability to finish with touch is less consistent, as he struggles at times in this area even from just 3-5 feet from the basket. He has respectable jump hooks and mini turnaround jumpers in his arsenal that he can use from time to time, but his accuracy is not great and he just doesn't seem to have a great feel for putting the ball in the basket on finesse moves. His back-to-the-basket game is similarly raw in terms of his footwork and arsenal of moves, and at this stage he is a very inefficient player on anything other than simple lay-ups and dunks directly at the basket.

On the defensive end, Ridley is less raw and more of a complete player, being an effective man-to-man and help defender, along with a very good rebounder. He isn't the fastest player running the floor, but shows good effort in half court sets, showing solid weakside awareness and taking advantage of his size and length to block a very solid 3.2 shots per 40 minutes pace adjusted. His man-to-man post defense may be the strongest area of his game at this stage of his development, as he shows solid fundamentals while making excellent use of his size and length, while even being surprisingly adequate in moving his feet to stay in front of his man.

On the negative side, Ridley looks like a complete fish out of water on the rare occasion he has to defend pick-and-rolls, not showing the best change of direction abilities or awareness hedging and stepping out onto the perimeter, but this isn't very surprising given his age and the type of player he is.

The other area Ridley excels with at this stage is rebounding the ball, where he's pulling in a solid 10.4 boards per 40 minutes pace adjusted, a mark he can certainly improve upon with his physical attributes. Given there are many areas of his game where Ridley will likely always be a liability, getting the most he can on the glass will be key to his long-term prospects, and something he needs to make a priority with his game.

Looking forward, Ridley is someone NBA teams will surely be keeping tabs on given his size, and it doesn't hurt he was ranked a top-15 player coming out of high school and is already starting for one of the most recognizable programs in the country. Maximizing his abilities in the three areas of his game he's already a competent player - inside scoring, defense, and rebounding - should be his highest priorities, but getting the most out of his athletic abilities and developing into a respectable free-throw shooter also would help. Regardless, given how raw he is, Ridley is someone who likely will be in Austin for a few more years, so he still has plenty of time to put things together.

[Read Full Article]

---
Boost Mobile Elite 24: Interviews (Part One)
September 25, 2011
[Read Full Article]

---
adidas Nations: Top 2012 High School Prospects
September 7, 2011
Jonathan Givony

An old school, no-frills type big man that any college coach would love adding to their frontcourt rotation, it's not difficult to see on first glance what the recruiting services like about Cameron Ridley (#6 Scout, #21 Rivals, #8 ESPN). Standing a legit 6-10, with extremely long arms, big hands and an NBA caliber frame, Ridley is a true load inside the paint, and doesn't have any misconceptions about the type of player he is.

Not terribly quick or explosive, Ridley is comfortable making a living inside the paint, where his big frame, soft hands, nice touch, strong fundamentals and solid toughness allow him to make a significant impact at this level.

Ridley isn't the most skilled or technical player at this stage, but he's capable of scoring in a couple of different ways, be it with some basic post moves, a 15-foot mid-range shot, or a turnaround jumper he gets off with a very high release point. He grabs offensive rebounds with terrific timing, positioning and soft hands, not being afraid to put a body on an opponent and move him around with superior strength. Despite his lack of overwhelming athleticism, Ridley is able to get the job done inside the paint due to his basic skill-set, energy level and sheer length, which makes him a pretty rare commodity at the collegiate level.

Defensively, Ridley uses his body well inside the paint and shows nice timing as a shot-blocker, something that may not necessarily translate to higher level competition due to his below the rim style of play. When forced to step outside the paint, he struggles badly, as his lack of lateral quickness makes it very difficult for him to move his feet adequately, which makes it hard to see him playing any other position except center in the long-term.

In the short-term, it's easy to see why Ridley is such a sought after collegiate prospect. However, he's going to have to prove that his average athleticism will not hinder him from making an impact at the NBA level, something we'll reassess after he suits up at Texas.

[Read Full Article]

---