Top NBA Draft Prospects in the Non-BCS Conferences, Part 7 (#31-35)
November 14, 2011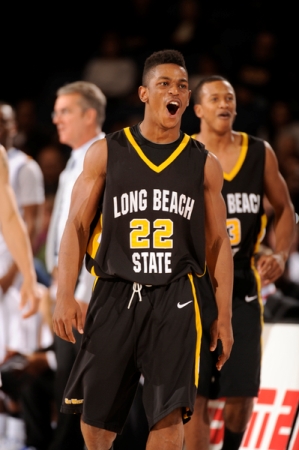 Icon SMI
Kyle Nelson
As a junior,
Casper Ware
earned Big West Conference Player of the Year and Defensive Player of the Year honors, was named to an Honorable Mention All-American by the Associated Press, and led Long Beach State University to a 22-win season and an NIT birth. Then, in the summer, he gained notoriety from his stellar play in Los Angeles's Drew League,
particularly after playing alongside LeBron James
. With a veteran roster, Ware has the chance to lead the 49ers to their first NCAA Tournament berth since 2006.
Despite his excellent collegiate resume, Ware's NBA potential is severely limited due to his lack of size. Listed at 5'10 and 170-pounds without an impressive wingspan or frame, he is extremely undersized for the point guard position. Extremely quick, he gets the ball up the court in a hurry, and is capable of elevating well around the rim to compensate for his lack of size.
Ware emerged as one of the NCAA's most dynamic scoring guards last season, averaging 17.2 points per game on 42.2% FG. On film, Ware's offensive arsenal is impressive, primarily his shooting.
Ware made 38% of his 5.8 3-point attempts per game, proving to be capable of shooting the ball from a standstill or off the dribble. He has excellent mechanics and a quick release, elevates well, and has NBA range, all of which allow him to get his shot off despite his lack of size.
His mid-range game is excellent, as well, and Ware does a good job of creating space inside of the arc due to his quickness and excellent ball handling abilities. There are few shots that Ware
can't
create off of the dribble, a testament to both his scoring prowess and his exceptional feel for the game.
One area where he struggles, however, is around the basket. His subpar 46% 2-point percentages exemplifies his struggles finishing inside, as he lacks the strength to finish over post players and through contact at the WCC level. His seeming discomfort driving left hinders him even further at this level, though his solid body control, advanced ball handling abilities and scoring instincts allow him to compensate somewhat. Though he struggles to finish, he gets to the line at a solid rate, where he makes 81% of his 6.5 free throws per 40 minutes pace adjusted.
By the numbers, Ware hardly looks the part of a pure point guard as he averages 4.8 assists per 40 minutes pace adjusted versus 3.3 turnovers. Though his role is unlikely to change during his senior season and he is clearly a shoot-first point guard, he displays solid vision and control while doing an excellent job of operating out of the pick and roll. Whether as a facilitator or a scorer, his continued success in these sets is of particular interest when projecting his NBA potential.
Ware has gained a reputation as one of the Big West's top defensive players, though he will almost certainly struggle at the next level due to his lack of size. He has excellent lateral quickness, active hands, and plays with solid energy, but there is no way around the fact that point guards at the next level will simply overpower him, be able to see over him, or will be able to back him down in the post. Furthermore, he struggles to fight through screens, an issue that will only get worse. Whether or not he can overcome his physical limitations remains to be seen, but there is no doubt that, size aside, Ware is one of the NCAA's better perimeter defenders when he's focused.
Ultimately,
Casper Ware
is a 5'10 scoring point guard, but undoubtedly possesses the combination of defensive intensity and shot creating ability that is coveted at the next level. Early season contests against Pittsburgh, Louisville, Kansas, North Carolina, and Xavier will offer Ware plenty of opportunities to prove himself to scouts against NBA-caliber competition. With another stellar senior season, a Portsmouth invite is sure to follow, which will provide him another ideal opportunity to show NBA scouts that he can play a role at the next level.
[
Read Full Article
]