Chasson Randle
Recent Tweets
All Tweets
DraftExpress: Players who went undrafted (#5) Guillem Vives Brandon Ashley Tashawn Thompson Ailun Guo Mateusz Ponitka Chasson Randle Darion Atkins
2015-06-26 00:24:46
DraftExpress: Top NBA Prospects in the Pac 12, (#6-10) http://t.co/XzVQEPbF - Eric Moreland, Brock Motum, Chasson Randle, Mark Lyons, Travis Wear
2012-10-08 02:01:32
Bradley Beal and James McAdoo both led the US with 16 points each. Andre Drummond and Chasson Randle had 10. Gilchrist not needed as much.
2010-07-03 07:31:26
Team: Nymburk
Physicals
Positions
Rankings
Salary
Misc
H: 6' 2"
W: 179 lbs
Bday: 02/05/1993
(22 Years Old)

Current: SG
NBA: SG
Possible: SG

RSCI: 66

Agent: Bill Duffy

High School: Rock Island
Hometown: Rock Island, IL

Predraft Measurements
| Year | Source | Height w/o Shoes | Height w/shoes | Weight | Wingspan | Standing Reach | Body Fat | No Step Vert | Max Vert |
| --- | --- | --- | --- | --- | --- | --- | --- | --- | --- |
| 2015 | NBA Draft Combine | 6' 0.75" | 6' 1.5" | 179 | 6' 7" | 8' 0.5" | 4.5 | 33.5 | 39.5 |
| 2014 | Nike Skills Academy | NA | 6' 1.5" | 180 | 6' 6" | NA | NA | NA | NA |
| 2012 | Deron Williams Camp | NA | 6' 1.5" | 172 | 6' 5" | NA | NA | NA | NA |



Basic Per Game Statistics

- Comprehensive Stats - Statistical Top 25s

Player Page&nbsp&nbsp| Player Stats | Related Articles&nbsp&nbsp| Add to My Draft Express&nbsp
&nbsp
Chasson Randle Workout Video
May 16, 2015
Former Stanford Cardinal, Chasson Randle, discusses his preparation for the upcoming 2015 NBA Draft at P3 in Santa Barbara, CA.


---
More Pre-Draft Interviews/Workout Videos
-Justin Anderson Workout Video
-Rakeem Christmas Workout Video
-Robert Upshaw Workout Video
-Rakeem Christmasn Workout Video
-Myles Turner Workout Video
-Satnam Singh Interview
-Satnam Singh Workout Video
-Alan Williams Interview
-Stanley Johnson Interview
-Kelly Oubre Interview
-Frank Kaminsky Interview
-Chris Walker Interview
-Chris Walker Workout Video
-Cameron Payne Workout Video
-Cameron Payne Interview
[Read Full Article]

---
Top NBA Draft Prospects in the Pac-12, Part 7: Prospects #15-20
September 8, 2014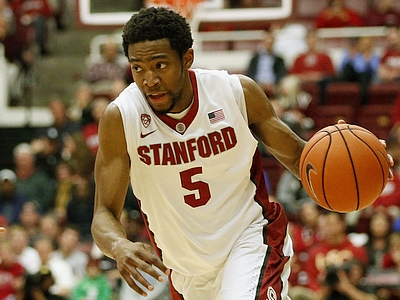 US Presswire



Josh Riddell

After a successful season that saw Stanford build on their 2013 NIT championship by advancing to the Sweet Sixteen of the NCAA tournament before losing to Dayton, Chasson Randle returns for his senior year hoping to build on a junior campaign that saw him finish as the fourth leading scorer in the Pac-12 at 18.8 points per game. He will once again be the team's top offensive threat and will hope to show scouts he has the skills needed to be on the radar of NBA teams, while attempting to lead the Cardinal back to the postseason.

Listed at 6'2", 180 pounds, Randle has an average build for a player of his size and skill set but has a very solid 6'6" wingspan to complement his frame. Randle also has solid quickness with the ball in his hands in the open court, making him a dangerous player in transition opportunities, which makes up 24% of his offensive possessions, according to Synergy Sports Technology. His wingspan and speed give him some interesting attributes to build on, but overall, he does not possess exceptional physical tools.

Randle has a variety of ways to score on offense and will need to highlight the ones that translate best to the next level to solidify his standing as a draft prospect. His most marketable skill is his outside shooting, as he shot 39.8% on all jump shots last season, according to Synergy, which included 38.9% on three point attempts. He is most comfortable in catch and shoot situations, where he shot 41.9% according to Synergy Sports, but he also demonstrated an ability to shoot off the dribble as well, hitting 40% of his 55 attempts. His wingspan allows him to shoot over taller defenders and he has strong fundamentals that show he can continue to be an accurate shooter.

Charged with being the first offensive option for the Cardinal, Randle often had the ball in his hands in the frontcourt. He was an efficient scorer as he posted a 55% effective field goal percentage, but he struggled to create for his teammates at a high rate. He had only 2.4 assists per 40 minutes pace adjusted last season and posted an unimpressive -2.24 pure point ratio, one of the lowest rates among point guard prospects in our database. Randle struggled to find open teammates on drives which caused him to turn the ball over in traffic. When he did try to distribute, he wasn't able to find the proper pace and placement on his passes to allow his teammates the ability to catch and create. He will need to improve his passing skills significantly to complement his scoring skills and become a serious draft prospect.

Randle doesn't provide much value on defense, but his speed and length show some potential to have some impact on that end. However, he's not the hardest worker here, as he often is not in a defensive stance which means he is easily beaten off the dribble as he is not able to move his feet quickly. He then gives up easily when the ball is past him and doesn't always fight hard through screens. He will need to work harder on defense to make up for some of his physical limitations.

Elsewhere on the offensive end, Randle has some marketable skills but needs to show they can translate to the next level. He has improved his scoring around the basket as he shot 54.1% on attempts around the rim, up from 47.9% the previous year, according to Synergy Sports. He is great at drawing contact, attempting 7.0 free throws per 40 minutes pace adjusted last season. Despite his smaller stature, he goes to the rim looking for contact and is often able to finish for an And-1 opportunity, which he had 20 of last season.

Randle can also create his own offense out of the pick and roll, as he can use his quickness to carve through the defense and get to the rim. He was unable to find open teammates when the defense collapsed on him, which limited the effectiveness of the ball screens. In his senior season, he could boost his draft stock by improving his decision making on ball screens by doing a better job of knowing when to look for his own shot and when to find open teammates.

Randle is one of the best returning scorers in the country, but will need to show he can do more than that, including creating more for his teammates when his own shot isn't falling, and playing with better intensity defensively. Stanford lost some key players from their roster, so Randle may have to shoulder an even larger scoring role this season. Randle has an intriguing skill set for a point guard, but he will need to show a more rounded game on offense and a more concerted effort on defense to become a viable draft candidate.

[Read Full Article]

---
Top NBA Draft Prospects in the Pac-12, Part Two
October 8, 2012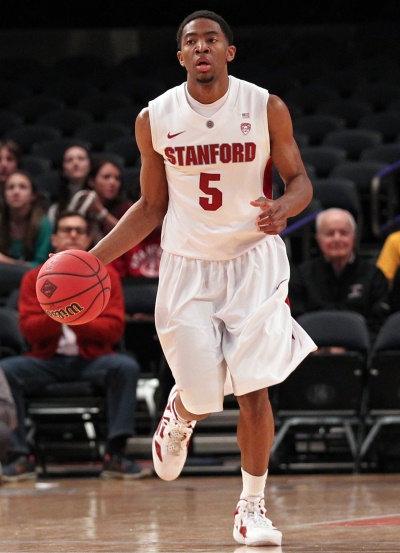 US Presswire



Matt Kamalsky

The second leading freshman scorer in the Pac-12 last season at 13.8 points per-game, Chasson Randle had an immediate impact for the Cardinal. A consensus top-70 recruit, Randle played a key role in Stanford's 26-11 finish which culminated in an NIT Championship. Emerging as his team's top offensive threat, he put together a number of very impressive performances, including a 30-point outburst against Arizona State.

A 6'1 combo guard with a lanky 180-pound frame, and good, but not great, athleticism, Randle would not be a standout physical specimen by NBA standards, though he possesses solid speed and quickness for the college game. Considering he played mostly off the ball as a two-guard last season, the Illinois native would be considered extremely undersized for his position at the next level. Randle was not an unwilling passer, and with three years left to develop, still has plenty of time to progress as a playmaker.

Randle's ability to become a better point guard would be a big boost to his long-term prospects as he's already shown plenty of promise as a perimeter scorer. One of the best 3-point shooters in the freshman class Randle proved to be an extremely dangerous spot-up threat last season, connecting at a 43%-clip from beyond the arc. Shooting the ball with a picturesque, high release point, the young guard showed tremendous range and confidence.

That confidence was evident in other aspects of his game as well at times, as Randle showed the ability to hit deep pull-up jump shots off of one or two dribbles in bunches. Lacking a tremendously explosive first step, Randle isn't going consistently to blow by anyone off the dribble, he does, however, show some amount of promise creating his own shot on the pick and roll and using the threat of his jump shot and solid ball-handling ability to freeze his defender and create separation from the midrange.

A limited finisher, Randle made just 47% of his shots at the rim and just 27% of his floaters according to Synergy Sports Technology. He may never be the type of player who can create high-percentage shots for himself in the paint consistently, as he lacks great explosiveness and leaping ability, but he'd be well served to polish his floater or be more aggressive trying to get to the line.

Defensively, Randle is competitive, makes the appropriate decisions within Stanford's team concepts, and shows solid lateral quickness. His lack of strength, size, and experience hurt him at times, especially when defending stronger, quicker guards, but he has the right mentality to be a very good overall defender at the college level in time.

Chasson Randle may not seem to have the highest ceiling, but he has a very good basketball IQ and the makings of an extremely prolific perimeter scorer at the college level. Only a sophomore, now is not the time to draw any definitive long-term conclusions about the 19 year old guard. Regardless, Randle will be one of the more intriguing players in the Pac-12 this season, and it shouldn't be long until he ranks among the conference's very best scorers.

[Read Full Article]

---