Always Ready to Travel the Globe–The Story of Chris Warren
January 10, 2009
Joey Whelan

At twenty-seven years old, Chris Warren has done more traveling than most people will do in a lifetime. Widely considered one of the top swingmen in European basketball, his ascension up the basketball ladder surely wasn't something you could have predicted from his very modest start. After attending junior college, the Garland, Texas native spent two years playing basketball at the University of South Carolina, a fifteen hour drive from his hometown.

While a commute like that for most college students would ensure visits home only came around the holidays, it was simply a warm up for what has turned into a five year odyssey of traveling around the globe to continue his playing career.

"It's always hard leaving your family," says Warren. "Especially when you have a family as close as I do, it is hard. This is what I want to do though, this is my dream. I'm getting to do what I want to do so it doesn't matter what I have to give up in order to play the game of basketball."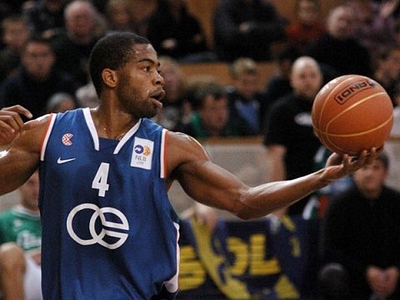 That's the kind of mindset that has taken Warren from Collin County Community College in Texas to a starring role with Air Avellino, one of Italy's top clubs and a Euroleague participant. In between, he has put on no less than eight different uniforms, but has never lost sight of his goal to continue proving himself on the basketball court, something that his agent Craig McKenzie has been able to take pride in.
"Chris is a true testament to the fact that hard work never goes unnoticed," says McKenzie. "Now all eyes are on him to be the best."
Warren entered the pro game after two solid, but unassuming years at South Carolina. The 9 points per game he averaged as a senior probably didn't hint at him developing into one of the top swingman in European basketball. His first year was spent coming off the bench and Warren will be the first to say that he struggled to adjust to the level of play in the SEC. As a senior, his numbers improved, but his play was somewhat limited due to injury. The NBA clearly wasn't a viable option at this point, but he wasn't willing to let the dream of playing basketball die, rather he began searching for alternate leagues that would accept his services.
Ultimately, after looking at options in the CBA and Europe, Warren landed with Panteras de Aguascalientes in Mexico. In traveling south of the border, suddenly he was playing basketball on a much smaller scale than he had as a Gamecock. Despite the drastic differences in venue and crowd size, Warren wasn't really left out of his element.
"It wasn't too much of a culture shock," says Warren. "After playing in junior college, I was used to playing on a smaller level."
The next two years were spent suiting up for teams in Chile, Portugal, Serbia and again for Panteras de Aguascalientes. His game was continuing to develop and improve as he put in hour after hour of practice. In college, Warren had been known as a solid defender who was successful offensively when he could get out and run in transition. Now he was starting to become an increasingly well rounded player in half court sets as well, a point that drew the attention of higher level teams in Europe. Finally, in early 2006, Warren got his big break when he received a phone call from the top team in Croatia: Cibona Zagreb.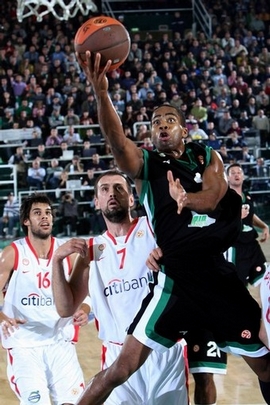 AFP
Two years with Cibona yielded back-to-back Croatian League championships for Warren and his teammates; it also led to him furthering his reputation as a big time player on the European scene. In his first season with the team he averaged 13.7 points per game in the Euroleague, and followed that up by improving to 15.6 points the next season, ninth best in the competition. The early success in Europe led to a growing confidence for Warren and his decision to follow the game overseas.
"It definitely felt like things were starting to click," says Warren. "I remember my first full year I played pretty well and that's when I started to realize that I could do this."
Now in Italy, Warren is leading Air Avellino in scoring in his first season with the club, and he couldn't have joined the team at a better time. Air Avellino is coming off a season in which it won its first ever title (the Italian Cup) and is competing in the Euroleague for the first time in the history of the club. This simply means that there will be even more attention on Warren than there would be normally as a result of him being an American born player.
"I'm definitely viewed differently," says Warren. "You have eyes on you wherever you go. There is added pressure on you to perform being an American player, it isn't necessarily fair, but you have to deal with it. It's just a part of the game over here."
Warren has dealt with the pressure about as well as one could hope, averaging 16.7 points to date (3rd best in the Euroleague), in arguably his finest season of international basketball. McKenzie says that his client's continued improvement on the court has a lot to do with the physical improvements that he has made since leaving South Carolina. Warren is at least a step quicker than he was after graduation, and he has added several pounds of muscle to his frame.
"I tell him all the time that if I had his body I would have never gotten married," says McKenzie. "That combined with the fact that Chris can shoot the long ball makes him an attractive asset for any team in Europe."
What makes Warren's basketball odyssey all the more impressive is how many players like him who never make it as far, or never get the opportunity. McKenzie says there are literally hundreds of extremely talented players who will never land on an elite team in Europe, much like there are talented players in Europe who will never break into the NBA. One of the biggest obstacles facing American born players on the fringe is that there are only 50 major European club teams and many often only offer two roster spots to Americans.
Ask Warren today if he ever had doubts along the way to Italy and he'll be up front with you.
"I've had doubts maybe that I would make it to the NBA level, but I've never doubted that I can play a high level of basketball," he says. "I knew I wanted to play basketball no matter what level or where I have to play."
Spoken like a well seasoned traveler.
[
Read Full Article
]