Christian Watford
Recent Tweets
All Tweets
DraftExpress: More Undrafted Jack Cooley Zeke Marshall Anthony Marshall Christian Watford Amath M'Baye Travis Releford Elias Harris C.J. Aiken
2013-06-28 00:20:47
DraftExpress: DX Trending Prospects Christian Watford http://t.co/LD6lg3g1cj (via @Hoopdata)
2013-04-23 11:11:11
DraftExpress: Appears IU's Christian Watford (DX #29 ranked senior) was replaced on PIT roster by Wichita's Carl Hall. Updated list http://t.co/GmFYLPOHIY
2013-04-08 08:17:52
DraftExpress: Top NBA Prospects in the Big Ten, #6-10: http://t.co/tLQzt5Uq - Trevor Mbakwe, Adreian Payne, Brandon Paul, Keith Appling, Christian Watford
2012-09-11 09:41:07
DraftExpress: RT @GoodmanCBS Indiana just released statement that both Christian Watford and Cody Zeller are coming back.
2012-04-10 09:45:07
Team: Reno
Physicals
Positions
Rankings
Misc
H: 6' 8"
W: 229 lbs
Bday: 04/28/1991
(24 Years Old)

Current: PF
NBA: PF
Possible: PF

RSCI: 38

High School: Shades Valley
Hometown: Birmingham, AL

Predraft Measurements
| Year | Source | Height w/o Shoes | Height w/shoes | Weight | Wingspan | Standing Reach | Body Fat | No Step Vert | Max Vert |
| --- | --- | --- | --- | --- | --- | --- | --- | --- | --- |
| 2013 | Nets Workout | 6' 7.5" | 6' 9" | 224 | 7' 0.75" | 8' 8.5" | 7.2 | 29.5 | 36.0 |
| 2011 | Kevin Durant Camp | NA | 6' 8" | 229 | 7' 0" | NA | NA | NA | NA |



Basic Per Game Statistics

- Comprehensive Stats - Statistical Top 25s
| Year | League | Name | GP | Min | Pts | FG | FGA | FG% | 2Pt | 2PtA | 2P% | 3Pt | 3PtA | 3P% | FTM | FTA | FT% | Off | Def | TOT | Asts | Stls | Blks | TOs | PFs |
| --- | --- | --- | --- | --- | --- | --- | --- | --- | --- | --- | --- | --- | --- | --- | --- | --- | --- | --- | --- | --- | --- | --- | --- | --- | --- |
| 2014/15 | DLEAGUE | Christian Watford | 6 | 17.7 | 4.3 | 1.5 | 4.5 | 33.3 | 0.5 | 1.3 | 37.5 | 1.0 | 3.2 | 31.6 | 0.3 | 0.3 | 100.0 | 0.3 | 3.2 | 3.5 | 1.8 | 1.0 | 0.3 | 0.7 | 0.8 |
| 2014/15 | DLEAGUE | Christian Watford | 27 | 27.7 | 12.0 | 4.0 | 10.3 | 39.4 | 2.8 | 6.1 | 45.2 | 1.3 | 4.1 | 30.6 | 2.7 | 3.5 | 75.8 | 1.7 | 4.4 | 6.1 | 1.5 | 0.6 | 0.5 | 1.9 | 1.7 |

Player Page&nbsp&nbsp| Player Stats | Mock Draft History | Related Articles&nbsp&nbsp| Add to My Draft Express&nbsp
&nbsp
Trending Prospects: Christian Watford
April 23, 2013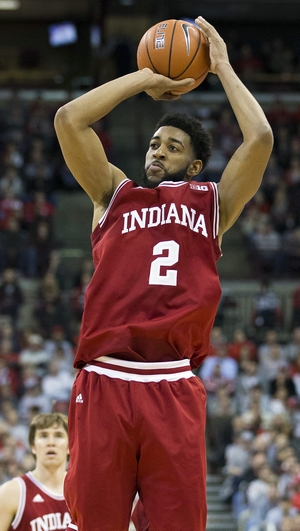 US Presswire



Joe Treutlein

A player we've consistently profiled at length over the past five years, Christian Watford is a pretty well-known quantity as a prospect at this stage of his career, having clearly defined strengths and weaknesses as a player that haven't changed much over time.

The 6'8 power forward with a very good 7'0 wingspan boasts adequate size and athleticism for his position, and he hasn't shown much evidence to believe a transition to the small forward spot is in his imminent future as was believed early on in his career.

From an offensive perspective, Watford's clear-cut best strength is undoubtedly his spot-up shooting ability from three-point range, something he's consistently improved all four years in college, culminating in his shooting a blistering 48.4% on a career-high 3.4 attempts per game as a senior.



Top Catch and Shoot Jump-Shooting Prospects in NCAA (min. 60 poss.)




Compared to the high schooler we first profiled in 2008, Watford has done quite a bit to clean up his exaggerated shooting motion, and while he still has a tendency to bring the ball down before going up into his shot, he's significantly hastened his release speed and shows little problems getting off attempts in tight quarters. Beyond that, Watford shows occasional ability to shoot off simple step-back moves or catching and shooting on the move in transition, being slightly more versatile than just a stationary spot-up threat.

Watford's shooting touch shows up noticeably in other areas of his game as well, notably at the free-throw line, where he's eclipsed 80% shooting all four years in college, while doing so on over 4.1 attempts per game each season. He's also developed a respectable runner in the lane that he utilizes on his dribble-drive attempts, showing good touch and making it a nice bright spot in his otherwise disappointing inside game.

Beyond his shooting ability, however, Watford struggles to bring much in terms of consistently high-quality contributions on the offensive end, showing flashes in a variety of areas but never really putting it together in terms of developing a noteworthy complementary skill. Watford's ability to face-up and take his defender off the dribble on straight-line drives is likely the closest thing to this thus far, and it also would be the area most likely to translate in some capacity to the next level, but his inability to finish at an efficient rate inside is very troubling—he converted just 39% of his 2-point attempts, similar to his entire career-- and he's unlikely to draw fouls at anywhere near the strong 0.54 FTA/FGA rate he posted as a senior in the NBA.

Watford's post-up game poses similar concerns, as despite showing flashes of turnaround jumpers and hook shots, he posted an abysmal 0.689 points per possession on 45 back-to-the-basket attempts this season according to Synergy Sports Technology, and that's unlikely to improve in any way against better competition.

On the positive side for Watford, the 8.7 rebounds per 40 minutes pace adjusted was the highest rate of his career (barely), but it still ranks woefully low for a power forward prospect. He already plays a largely complementary role (he was Indiana's third-leading scorer this season), so it's tough to say he should be able to devote much more energy to this area of his game naturally looking forward. In order to maximize his chances at having a chance of sticking around in the NBA, shoring up this area of his game should certainly be among Watford's highest priorities, something we've been saying in some capacity for the better part of the last five years.

Watford could stand to make similar improvements on the defensive end, though unfortunately his average overall physical tools make that somewhat more difficult, as he lacks great strength for defending the interior and possesses just passable lateral quickness for defending the perimeter. Overall, he should have enough tools to be a solid defender of other small fours in the pros, but will likely need to be on a team that really gets dividends out of his shooting ability on offense to justify what will likely be at best a slight disadvantage on defense.

Watford made a curious decision in electing not to compete at the Portsmouth Invitational Tournament earlier this month, a setting which he could have benefited from had he been able to display a more well-rounded game than he was able to show at Indiana.

Looking forward, Watford's clear-cut outstanding shooting ability for his position is definitely something that should give him some opportunities to find a home in the NBA, and finding a niche early in his career as a small four on an up-tempo, floor-spacing team is not out of the realm of possibility. Still, a more likely career path would involve going to Europe to refine his overall offensive skill set, continue to improve physically and make some drastic improvements with his inside-the-arc efficiency, giving him a much better chance of finding a long-term home a few years down the road.

[Read Full Article]

---
Top NBA Draft Prospects in the Big Ten, Part Three (#6-10)
September 11, 2012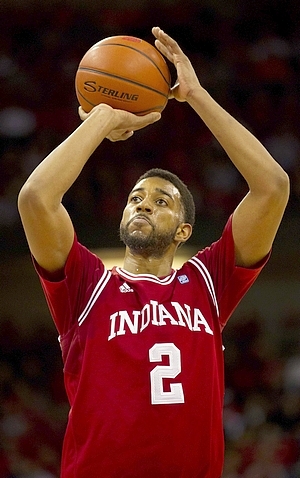 US Presswire



Kyle Nelson

After a breakthrough sophomore season, Christian Watford solidified his standing as a key component of Indiana's offense during the Hoosier's return to prominence, culminating in a 27-point performance in a Sweet 16 rematch with Kentucky. While Watford's role changed significantly between his freshman and sophomore seasons, his junior season and experience testing the NBA Draft waters gave scouts a better idea of what he can offer an NBA team.

Standing 6'8, with a wiry 229-pound frame and a long wingspan, Watford possesses average size and athleticism for the power forward position.

What sets Watford apart as a prospect, then, is his unique skill set for his size. Though his scoring output last season was hardly exceptional, he is an elite perimeter shooter who made 44% of his three-point attempts.

For the second consecutive season, Watford ranks favorably among NCAA big men last season as a perimeter shooter. While his mechanics are not perfect and he has a tendency to fade away from the basket, his size, length, and quick release make it very hard to contest his shot, as does his proficiency at knocking down shots off of the dribble. Furthermore, he is an excellent free throw shooter, which suggests that while his form is not perfect, it clearly works well for him.

For as efficient a scorer as he is from the perimeter, he regressed significantly from inside of the arc, shooting an abysmal 40.5% from 2-point range, which ranks as one of the lowest 2FG% ever logged by a power forward in our database. A brief look at Synergy's Play Type breakdowns reveals that Watford sees just 11.1% of his possessions in post-ups and 10.7% off cuts, with 14.6% possessions coming off of isolations; but this doesn't explain why one of the top shooters in the nation is so inefficient inside of the arc.

Outside of his perimeter shooting, Watford finds most of his inside opportunities by facing up and creating his own shot. While Watford can get from the perimeter to the basket in two of three dribbles and he does show intriguing potential as a shot creator at his size, he's very loose with the ball and his inability to dribble or finish with his left hand make his drives predictable and limits his versatility as a finisher. Furthermore, he does not seem to possess the touch or toughness to finish difficult shots around the basket, of which he attempts plenty.

Watford is not a prolific finisher with his back to the basket, either, as he lacks the sure hands and footwork to finish confidently after receiving the ball in the post. While he is quite mobile for a big man and can often get by his man with his quickness alone, he is very right-hand dominant and struggles even to post up on the left block let alone finish with his left hand. While freshman Cody Zeller's emergence as one of the nation's top centers certainly limited Watford's minutes and post touches, Synergy tells us that his proportion of post-up opportunities to total possessions and his low 2-point percentages are consistent with his sophomore numbers. Therefore, he still has a long way to go before being considered much of a post-scoring threat.

While Watford possesses NBA-ready perimeter shooting ability, his defense is a different story altogether. As was also the case during his sophomore season, Watford's average physical and athletic profile limits him as a defender at the collegiate level. As was particularly visible in his match-ups against Kentucky's NBA caliber frontcourt, Watford has decent lateral quickness, but still struggles at times to stay in front of perimeter oriented power forwards, let alone quicker guards and wings. Similarly, while his length still allows him to contest shots effectively both inside and outside, he still has trouble holding his own in the post. While he is not always focused and aggressive on defense, his lack of bulk and average toughness and will continue to be a significant problem moving forward.

Finally, Watford remains a below average rebounder for his size and position, posting a paltry 8.0 per 40 minutes pace adjusted and again ranking among the least productive power forward prospects in the NCAA in this area.

Going into his senior season, Watford has plenty of room for improvement to establish himself as a legit NBA player. While he is an elite shooter and versatile scorer who adapted well to a decreased role, he is not nearly a good enough defender, rebounder, or inside scorer to guarantee himself a spot in an NBA rotation.

Furthermore, while adding bulk and improving his conditioning is essential to his NBA prospects, he is still recovering from an off-season foot injury and will vie for minutes in an even deeper frontcourt rotation. Therefore, Watford still has quite a bit to prove to scouts while continuing to play an integral role for an emerging championship contender. He is an intriguing prospect regardless, but Christian Watford could move up draft boards if he makes the type of improvement as a senior that his potential suggests is possible.

[Read Full Article]

---
Top NBA Draft Prospects in the Big Ten, Part Two (#6-10)
September 8, 2011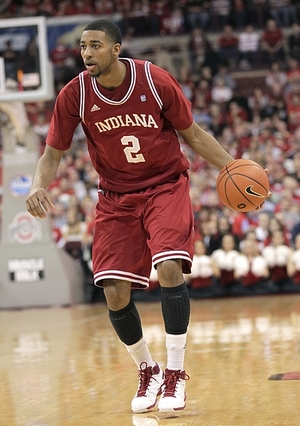 Icon SMI



Matt Kamalsky

Last time we checked in on Christian Watford, we opined that the extensive playing time he saw as a freshman would pay dividends for him as a sophomore. Despite struggling to boost the Hoosiers above the .500-mark, the rising junior definitely reaped the benefits of the minutes he played in 2010, showing substantial improvement in a number of facets of the game.

As a freshman, the Alabama native spent most of his time playing a basic, hustle-based role as a power forward, seeing most of his touches working off the ball in the paint. He struggled with the strength of opposing four men on both ends, but flashed an intriguing, albeit raw skill set.

This past season, Watford was able to play much more like the small forward he showed the potential to be as a recruit, stepping out to the perimeter regularly to spot-up, operate one-on-one, and even run the occasion pick and roll.

This shift to the perimeter let Watford play in his comfort zone. Despite having to get creative to find ways to get open at times, Watford got a chance to face the basket away from the rim at an exponentially higher rate than he did as a freshman, even if he was mostly doing so in a losing cause playing for a team that went a disappointing 3-15 and finished last in the Big Ten.

This new role also let Watford showcase his improved jump shot. After knocking down just 27.9% of his jumpers as a freshman, Watford connected on 35.3% as a sophomore—including 37 3-pointers--looking far more comfortable shooting both off the catch and off the dribble while finding a rhythm in his somewhat lengthy mechanics.

Watford showed some degree of progress as a back-to-the-basket scorer, improving his field goal percentage in post-up situations from 30% to 40% according to Synergy Sports Technology. Though Watford remains on the skinny side, it was clear that the bulk he did add and the experience he gained as a freshman made him more comfortable mixing it up down low.

Though Watford made some big strides last season and is poised to have a break out year for what should be a significantly improved Indiana squad, there are still lingering questions about his NBA potential.

Despite taking a small step forward as a post-scorer, Watford still ranked last in our database among power forwards in 2P% at 43.8% and struggled to finish when quicker defenders cut off his lane to the rim and forced him to attempt a runner. He will need to improve as a passer or shore up his ball-handling ability and decision-making to compensate for the fact that he doesn't have blow-by quickness or outstanding explosiveness at the rim.

In addition to his occasional struggles inside, Watford's skill set still leaves him a bit in between position from a NBA perspective as he doesn't have great size and interior efficiency for a four, but still hasn't quite shown the polish and ball-handling ability that allowed college four-men like Danny Granger to make the transition to the wing full time. Considering what he showed last season, it wouldn't be surprising to see Watford define his future position with a bit more clarity this coming season.

Though Watford has some loose ends to tie up with regards to his position offensively, the more pressing concern for scouts is who Watford defends at the next level, as well as his rebounding. He uses his length well to contest shots in the post and has solid fundamentals, but his lack of explosiveness and strength are a potential limiting factor down low, and his inability to consistently deny dribble penetration against wings is problematic on the perimeter.

On the glass, Watford's lack of production is indicative of his laid-back approach, as well as his lack of strength and explosiveness. Watford recruit boxes out somewhat effectively, and pursues the ball in his area, but doesn't bring the warrior-like mentality that would help him on the board and as a defender.

Watford has had a busy summer, working as a counselor at the Kevin Durant Skills Academy and competing in the Indy Pro-Am alongside a number of current and former Hoosier standouts. If he takes another sizeable step forward as a perimeter player, he will take a substantial amount of pressure off of incoming freshman Cody Zeller and put himself in good position to show NBA scouts that he's a prospect who needs to be taken seriously. Helping his team win more games than they did last season would surely help his cause.

[Read Full Article]

---
Top NBA Draft Prospects in the Big Ten, Part Two (#6-10)
September 3, 2010
Jonathan Givony

Playing huge minutes for a freshman at the Big Ten level last season, the experience Christian Watford garnered last season will surely pay off down the road.

Unfortunately it was mostly in a losing effort, as Indiana struggled to a 4-14 record in the Big Ten and a 10-21 record overall as part of the continued rebuilding efforts in the wake of the Kelvin Sampson scandal.

A top-50 recruit coming out of high school, Watford shows some intriguing characteristics that will surely keep scouts interested in his progress over the next few seasons. He's 6-9, has a nice frame, long arms and is a good (but not great) athlete, which is a nice place to start. On top of that, he shows some budding skills in various facets of his offensive game, clearly being a player with some talent that has yet to be fully harnessed.

Raw, but pretty versatile, Watford shows potential in his jump-shooting ability, ball-handling skills and at times with his post-up game. He's a mismatch threat at the power forward position, as evidenced by the way he was able to get to the free throw line, nearly five times per game. He also has a nice stroke from the perimeter, connecting on 15 3-pointers last season, and 80% of his many free throws, which is pretty interesting at his size. Unfortunately he only converted on 28% of the 100+ jump-shots (from any range) he attempted last season, which shows that he still has quite a bit of work to improve on his consistency and shot-selection.

As a ball-handler, Watford has a nice first step and looks comfortable attacking his man in a straight line off the dribble from time to time. His lack of strength hampers him significantly once he gets to the basket, though, as he often struggles to finish through contact and does not possess the raw explosiveness to just rise up over the top of the defense. His 2-point percentages were horrendous for that reason (along with his affinity for shooting jumpers), converting 38.5% of his attempts inside the arc, which is simply an unacceptable rate.

Watford's post up game suffers for many of the same reasons, as he lacks the strength and possibly some toughness to establish great position in the paint, and tends to fade away from contact if a very physical defender is bodying him up. He does show some potential with his ability to knock down smooth turnaround jumpers or jump-hooks, though, complete with a high release point. He does not have any resemblance of a left hand at this stage, and posted an extremely poor 1/4 assist to turnover ratio, not always realizing his limitations and often struggling to make great decisions in the half-court. He did shoulder an inordinate amount of offensive responsibility on a young and somewhat talent-deprived Indiana roster, though, which helps explain his lack of efficiency offensively.

Defensively, Watford is a mixed bag at this point. He has the length to make his presence felt both on the perimeter and in the post, but lacks the fundamentals and lateral quickness to stay in front of smaller players and the strength and toughness to hold his own against more physical big men. Watford tends to lose his focus at times on the defensive end, being very upright in his stance, but when fully dialed in he can do some nice things on this end of the floor.

Watford is not a good rebounder at all at this stage, posting an underwhelming 8.4 rebounds per-40 minutes pace adjusted last season. His lack of strength is once again an issue here.

Watford's frame seemed to have improved significantly when we saw him a few weeks ago at the adidas Nations experience in Chicago, something that will make his life significantly easier in the Big Ten next season. Evaluating his film from last year, he clearly made strides as his freshman season moved on, and made some extremely intriguing plays from time to time that hinted at good things that might be in store for him.

Watford seems to be fixated on calling himself a small forward from the comments we've seen in the media, something that may be a mistake considering his strengths and weaknesses as a prospect. Long, athletic power forwards with inside/outside games are all the rage in today's NBA, and he's probably not nearly as interesting if his focus is on playing strictly on the perimeter, particularly on the defensive end.

We'll likely know a lot more about how Watford's NBA prospects are shaping up after this following season, but it might take him another season after that to truly establish himself on the national level.

[Read Full Article]

---
adidas Nations Experience: 2009 High School Prospects
August 19, 2008
A player with a wide-range of opinions regarding his prospects according to the various recruiting services, Christian Watford (#47 Scout, #40 Rivals, #11 ESPN) wasn't really able to help his team as much as you would have thought considering how highly thought of he is in some circles.

It's not hard to tell what people like about Watford, as he appears to have outstanding tools to play the game. A 6-8 combo forward (probably more of a 4 than a 3 right now), Watford is extremely long and lanky, with a nice frame, and is a good athlete to boot. He's an active player who is certainly raw offensively, but is able to contribute in a variety of ways. He can put the ball on the floor a little bit, make the occasional perimeter shot, and use his excellent physical tools to make somewhat of an impact as an offensive rebounder and shot-blocker from time to time. He seems to play with good energy and appears to have a solid feel for the game.

On the other hand, Watford's shooting mechanics are not consistent (he brings the ball around the world before shooting and thus has a slow release), his ball-handling skills need plenty of work, and he's too skinny right now to be much of a presence defensively or finishing around the rim. Watford looked eager to show himself at times, even though he's a ways away from putting his tools together and being a productive piece, especially if he's to become a full-time small forward. There is obviously a lot to work with, though, and that's why colleges like Kentucky, Indiana, Memphis and Louisville are after him hard.

[Read Full Article]

---