Cleanthony Early
Recent Tweets
All Tweets
DraftExpress: Cleanthony Early has been very streaky from beyond the arc all season. Some games he can't miss but then he'll go weeks w\/out making a 3.
2013-04-06 18:30:11
DraftExpress: Cleanthony Early (#11) is a great story. Came to Wichita from a D-3 JUCO. Bit of a tweener at 6-8 but a talented scorer and solid athlete.
2013-04-06 18:29:15
Team: Wichita State, Senior
Physicals
Positions
Rankings
Misc
H: 6' 8"
W: 216 lbs
Bday: 04/17/1991
(22 Years Old)

Current: PF
NBA: PF
Possible: PF

Rank 25 in NCAA Seniors
Rank 100 in Top 100 Prospects

High School: Pine Bush
Hometown: Middletown, NY

Predraft Measurements
| Height w/o Shoes | Height w/shoes | Weight | Wingspan | Standing Reach | Body Fat | No Step Vert | Max Vert | Bench Press | Lane Agility | 3/4 Court Sprint | Class Rank |
| --- | --- | --- | --- | --- | --- | --- | --- | --- | --- | --- | --- |
| NA | 6' 7" | 207 | 6' 9" | NA | NA | NA | NA | NA | NA | NA | NA |



Basic Per Game Statistics

- Comprehensive Stats - Statistical Top 25s
| Year | League | Name | GP | Min | Pts | FG | FGA | FG% | 2Pt | 2PtA | 2P% | 3Pt | 3PtA | 3P% | FTM | FTA | FT% | Off | Def | TOT | Asts | Stls | Blks | TOs | PFs |
| --- | --- | --- | --- | --- | --- | --- | --- | --- | --- | --- | --- | --- | --- | --- | --- | --- | --- | --- | --- | --- | --- | --- | --- | --- | --- |
| 2013/14 | NCAA | Cleanthony Early | 30 | 27.7 | 15.6 | 4.8 | 10.3 | 46.3 | 3.1 | 5.6 | 55.1 | 1.7 | 4.7 | 35.9 | 4.4 | 5.2 | 84.6 | 1.2 | 4.8 | 6.0 | 0.7 | 0.8 | 0.7 | 2.1 | 2.3 |

Player Page&nbsp&nbsp| Player Stats | Related Articles&nbsp&nbsp| Add to My Draft Express&nbsp
&nbsp
Top NBA Prospects in the Non-BCS Conferences, Part Two: (#6-10)
October 31, 2013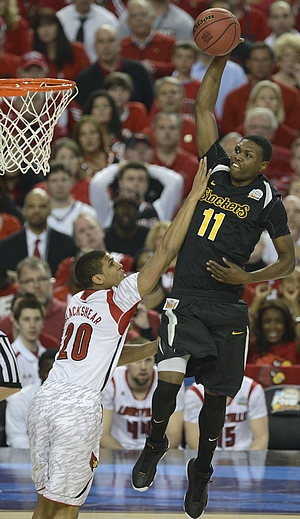 US Presswire



Derek Bodner

After being one of the top rated junior college players while at Division three Sullivan County Community College, forward Cleanthony Early made an immediate impact at Wichita State, culminating in an unexpected run to the final four that Early featured prominently in.

While Early was always likely to go the junior college route out of high school due to academic issues, family tragedy would ultimately influence his early college career, when his older brother died in an accident after Early's senior year of high school. Early would select Sullivan County, a DIII junior college, due to its proximity to his family. He dominated at that level, becoming the two time NJCAA DIII player of the year before transferring to Wichita State last year.

The lanky 6'8" forward worked his way into becoming a potent inside-outside threat for the Shockers, scoring 22.7 points per 40 minutes pace adjusted. He showed ability from both the inside, where his 1.2 points per possession on post-ups would rank as the highest level of efficiency for any player with at least 50 possessions used, and from the outside, shooting 32% from three point range on 3.8 attempts per game.

In the post, Early was incredibly efficient overall, thanks in large part due to the frequency with which he drew fouls from post-ups and how rarely he turned the ball over. That being said, his overall offensive repertoire isn't all that advanced down low, relying largely on a turnaround jump shot and a hook over his left shoulder. He has a quick spin move and gets off of his feet quickly, allowing him to get quality shots at the basket despite not having the most advanced footwork around. He's not all that developed in terms of lower body strength, and struggles to establish deep position or move defenders after receiving the entry pass, something that is sure to become even more pronounced at the next level.

Despite his efficiency on the block, he's a fairly low-usage post scorer at two possessions per game, which, while good that he plays within his limitations, also suggests this is something that is not likely to translate at a high volume once he goes up against stronger, more physical competition.

Early's overall a good athlete, and he uses this in transition, off of cuts to the basket, and offensive rebounds, which all represent a fairly sizable portion of his offense. Early pulls down a solid 3.7 offensive rebounds per 40 minutes pace adjusted, combining his explosive leaping ability with a relentless pursuit of the ball to generate extra possessions for his team.

Showing very little ability to create off the dribble and virtually nothing with his left hand, Early has a ways to go in terms of refining his perimeter skills. He's also an extremely poor passer, dishing out an assist on just 5% of his possessions last season, one of the worst rates among players classified as draft prospects.

His jump shot shows a little bit more progress, as he connected on 32% of his nearly 4 three point attempts per game. Perhaps more encouraging was him making nearly 80% of his free throws, although this by-and-large didn't translate into game action, as he connected on only 31% of his mid-range jump shots according to Synergy Sports Technology. His jump shot was incredibly streaky throughout the season, going through extended hot and cold periods that would seemingly come and go at a moment's notice. For example, Early had made only 2 of his previous 15 three point attempts heading into the NCAA tournament, then went 0-6 in the opening round victory over Pittsburgh. He responded by making 8 of his next 17 attempts from beyond the arc during Wichita State's run to the Final Four.

The overall form on his jump shot appears to be solid, albeit a bit long and deliberate, with a high release point and good follow through, suggesting that it could be something he becomes more consistent with if he is able to get enough repetition and put the necessary work in. Becoming more consistent with his jump shot is undoubtedly one of the keys for Early's development as a prospect, and something NBA scouts will be watching closely this season.

On the defensive end, Early is somewhat of a mixed bag. He's an active defender, with quick hands and ample length and athleticism to get the occasional block or deflection. He moves his feet fairly well on the perimeter and does a passable job defending the pick and roll, but would likely struggle initially if asked to defend the small forward position at the next level.

His lack of lower body strength comes into play quite a bit on this side of the court, as he struggles to hold position in the post and, perhaps most glaringly, on the defensive glass, where his 5.1 defensive rebounds per 40 minutes pace adjusted and 14.6% defensive rebounding rate were both very poor numbers. Besides physical attributes, Early doesn't appear to be all that instinctive of a defensive rebounder, and will not always show the best form or technique when boxing his man out. He'll frequently forget to locate his man when the shot goes up, and also tends to box out with his arms rather than getting good leverage, something even more important considering his slender build.

Cleanthony Early displays many of the problems typically associated with a 'tweener', lacking the lower body strength or technique to defend down low and without the foot speed or advanced perimeter skills to switch out to the perimeter. That being said, his athleticism and ability to score from both inside and out presents some intrigue, particularly if he could show more consistency on his perimeter shot going forward and become a little bit more comfortable creating off the dribble.

[Read Full Article]

---
NCAA Tournament NBA Draft Prospect Viewing Guide, Day Five
March 28, 2013
Cleanthony Early was huge last weekend for Wichita State, scoring 37 points in just 52 minutes, particularly with his long range shooting against Gonzaga, where he made 4 of his 7 3s. Early is a bit undersized for a power forward at 6-8 but is a versatile offensive player, capable of scoring both inside and out. He gets to the free throw line at a great rate, is a strong offensive rebounder, and brings a lot of toughness defensively like all of Gregg Marshall's frontcourt players. Early had hit just 2 of his last 21 3-point attempts before the Gonzaga game, and has been prone to streakiness from beyond the arc all season. Outside of an 11 day stretch where he hit 14/23 3s at the beginning of January, and last Sunday's game, he's shooting 23% on the year from 3-point range. Which Cleanthony Early will show up this weekend?

[Read Full Article]

---