Corey Brewer
Recent Tweets
All Tweets
DraftExpress: Rautins went in the 30s and the Knicks even cut Corey Brewer (and his guaranteed contract) because of that mistake. Smart move by his agent
2013-04-07 13:20:01
DraftExpress: For D-League yes. For NBA no RT @ScottSchroeder: I'd rather have Al Thornton on my team than Corey Brewer, teams trying to sign Corey Brewer
2011-03-01 05:49:11
College counselors going at it here again at the adidas Nations in Chicago. Jrue Holiday and Corey Brewer running with them.
2010-08-07 18:58:04
W/progress Corey Brewer made this year & the obviously huge talent disparity, I'd be very surprised if Minnesota took Johnson over Cousins.
2010-05-18 21:58:01
Top 25s - Full List
Team: Rockets
Physicals
Positions
Rankings
Salary
Misc
H: 6' 8"
W: 185 lbs
Bday: 03/05/1986
(29 Years Old)

Current: SF
NBA: SF
Possible: SG/SF

RSCI: 25

Agent: Happy Walters
Current Salary:$4,702,500

High School: Portland
Hometown: Portland, TN
Drafted: Pick 7 in 2007 by Timberwolves
Best Case: Josh Smith
Worst Case: Trevor Ariza

Predraft Measurements
| Year | Source | Height w/o Shoes | Height w/shoes | Weight | Wingspan | Standing Reach | Body Fat | No Step Vert | Max Vert |
| --- | --- | --- | --- | --- | --- | --- | --- | --- | --- |
| 2007 | NBA Pre-Draft Camp | 6' 6.75" | 6' 7.75" | 185 | 6' 8.25" | 8' 7" | 4.2 | 30.5 | 36.5 |



Basic Per Game Statistics

- Comprehensive Stats - Statistical Top 25s
| Year | League | Name | GP | Min | Pts | FG | FGA | FG% | 2Pt | 2PtA | 2P% | 3Pt | 3PtA | 3P% | FTM | FTA | FT% | Off | Def | TOT | Asts | Stls | Blks | TOs | PFs |
| --- | --- | --- | --- | --- | --- | --- | --- | --- | --- | --- | --- | --- | --- | --- | --- | --- | --- | --- | --- | --- | --- | --- | --- | --- | --- |
| 2015/16 | NBA | Corey Brewer | 17 | 21.4 | 6.3 | 2.1 | 7.0 | 30.3 | 1.5 | 4.4 | 34.7 | 0.6 | 2.6 | 22.7 | 1.5 | 2.0 | 73.5 | 0.5 | 1.9 | 2.4 | 1.2 | 0.9 | 0.2 | 0.9 | 2.4 |

Player Page&nbsp&nbsp| Player Stats | Mock Draft History | Related Articles&nbsp&nbsp| Add to My Draft Express&nbsp
&nbsp
West Coast Workout Swing: Day 2 (Joakim Noah, Corey Brewer, etc)
May 17, 2007
Fresh off a national championship, Brewer has been in Los Angeles for about a week now, and is clearly still working himself back into shape after the extended post-championship holiday him and his teammates took following their triumph in Atlanta. From the workout we saw, it's pretty clear that AIB is trying to get Brewer as comfortable as possible creating shots for himself on the perimeter by adding more versatility to his ball-handling and mid-range game. While at Florida he was most effective as a catch and shoot player or taking advantage of defensive rotations to explode off the dribble going left and finish with a finger roll, Brewer has a lot of work to do on polishing up his half-court game and being a consistent shot-creating threat in the NBA.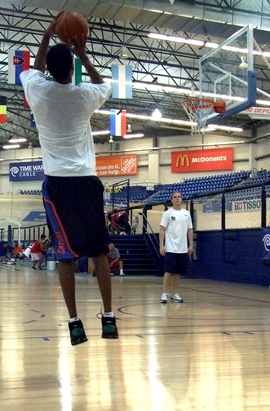 Corey Brewer Elevating Off a Simulated Screen (Jon



Has obviously has some outstanding tools to work with, including great quickness, a superb first step, and the kind of smooth fluidity that you just can't find anywhere else. As we've mentioned many times this year already, it's pretty amazing how effective a player Brewer is considering how much room he still has left to improve on his skill-set. His handle is pretty loose, his jumper is streaky, and only weighing out around 180 pounds, he'll probably be one of the skinniest 6-9 players to play in the NBA in quite some time.

With that said, Brewer's shooting has a ton of potential as we saw in the Final Four this year, where he was named Most Outstanding Player for those who forgot. His shooting mechanics are clean and very fluid, with a crisp, quick release, good balance, and the ability to get his shot off almost whenever he wants thanks to his height and length. He shot around 70% from 16-17 feet out from what we charted, and about 60% from the NBA 3. Those are decent, but definitely improvable numbers, although it's not hard to envision him becoming a very solid NBA shooter considering his mechanics and work ethic. His shot can flatten out at times in terms of the arc he gets on it, something that he's already working on from what we were told. He put up a ton of jump-shots in the time we saw him, and was pretty streaky overall.

Obviously not being a pure "drills" player in terms of his skill-set, it was in the five on five pick-up game where Brewer really shined. He looked a bit bored at times doing some of the drills, but his competitive juices really got flowing once the ball went in the air. He made some fantastic passes all game long whenever the ball was in his hands, including a beautiful alleyoop pass to Martell Webster to start off the game.

Always there was his uncanny sense for sniffing out steals in the passing lanes, and he looked incredibly smooth slithering through the defense with his terrific first step to get his shot off. Despite his skinny frame, he took the bulkier Marcel Jones down into the post on a number of occasions to finish with a turnaround jumper or up and under, and on one occasion exploded over the top of a couple of opponents for an awesome put-back dunk. Even though Brewer later told us that he was instructed not to play too hard and to avoid risking an injury at all costs, it was pretty hard for us to see that on the court. At one point Brewer went careening off the court and crashed into the weight room fencing just to save a loose ball. If that's indicative of Brewer's innate competitiveness in a setting like this, one can imagine how he'll compete when every possession counts. The one negative we could analyze from this setting was probably his pull-up jumper, which was not really falling for him at a high rate.

All in all, Brewer looked and played the part of a top 10 pick, and considering team needs factors and the strength of this draft on the wing, he should not end up sitting too long in the Green Room on draft night.

[Read Full Article]

---
NCAA Tournament: NBA Draft Stock Watch (Nat'l Championship Game)
April 3, 2007
Coming into his junior season, Corey Brewer already had developed his reputation as one of the best defenders in the country. Throughout the season, significant improvements to his offensive game have been noted, though he still has plenty of room to continue to improve. In the national championship game, Brewer held Ron Lewis in check throughout the game, while displaying great flashes of his improved scoring ability.

In the first half, everything was working for Corey Brewer, particularly on the defensive end. Defensively, he drew the assignment of guarding Ron Lewis, an experienced senior guard who came into the game averaged 19.2 points per game during the NCAA Tournament. Lewis was unable to create any offense in the first half, thanks to the long and athletic Florida junior. Brewer used his length to keep Lewis from going to the basket off the dribble, and showed great quickness in recovering to the ball when Lewis was about to get an open look at a jump shot.

Offensively, Brewer was a significant contributor in the first half, particularly with his three point shooting stroke. When it comes to the NBA, it will be important for him to knock down open three pointers, and he knocked down 3 of his 5 attempts on catch and shoot jumpers in the first half. In transition, Brewer also dribbled end to end and dunked the ball after stealing the ball from Lewis, showing that his poor ball-handling skills are slowly getting marginally better.

The second half was more of the same on the defensive end, though the same can't be said for the offensive side of the ball. Early in the half, Florida switched to a 2-3 zone, where Brewer was responsible for the left side of the floor. While playing in the zone, he displayed good anticipation as well as quick recovery speed as a help defender. While out towards the perimeter, Brewer made a great play on one possession by quickly jumping back into the paint in front of Greg Oden for a steal. On another, he came out of nowhere on a defensive rotation and impressively rejected the layup attempt of the 7-footer. He was a constant threat in the passing lanes all game long, and came up with numerous deflections thanks to his length, quickness and incredible activity level.

During the second half, Brewer seemed unable to replicate his performance on the offensive end. His three point jumper wasn't falling at the same clip, and he could not seem to finish any of his slashing moves to the hoop.

In crunch time, Brewer's rebounding was a key factor in keeping Ohio State from putting together a run. Superior position and leaping ability allowed him to rebound the ball over Greg Oden and Othello Hunter on a few possessions.

Overall, Brewer's complete defense will generate a lot of buzz with NBA scouts. He has lock down potential for the next level, and his length and quickness will allow him to guard both 2s and 3s effectively. Offensively, Brewer displayed a lot of progress this season. As a shooter, he can knock down the open three pointer, though he struggles to shoot on the move or off the dribble at this point. While Brewer's handle still could use some improvement, he has better awareness with his dribble this season, and turns the ball over with less frequency going to the hoop. Off the dribble, he has terrific court vision and has made many nice passes throughout the season, while his length and ability to get off the ground helps his finishing ability at the basket.

Should Corey Brewer decide to enter the draft, he will likely be a lock for the lottery. To improve his stock, more bulk on his skinny frame would help out greatly between now and draft night. Few if any wing prospects in this draft can match Brewer defensively, and the improvements he has made throughout his college career could pay off big on draft night. He was named the Most Outstanding Player of the Final Four, which truly reflects the impact he had on the semifinals and finals on both ends of the floor. In the process, he's helped his draft stock tremendously.

[Read Full Article]

---
NCAA Tournament: NBA Draft Stock Watch (Final Four)--Stock Up
April 1, 2007
Sure, Corey Brewer completely locked down top UCLA scoring option Arron Afflalo when Afflalo was on the court. But Afflalo's foul trouble and Florida as a team's unrelenting extra attention to his every move was more responsible for Afflalo's struggles than anything else. Plus, we expect lock down defense from Brewer and his seemingly endless wingspan. Tonight, Brewer was even more important offensively, on fire from the outside and not forcing the issue like he's had a tendency to do in previous 2007 tournament games.

The Gators started out cold like seemingly always have this season, not connecting from the floor until the 12:35 mark of the first half. It was Brewer that would eventually break the ice, slashing to the basket for an acrobatic layup and knocking down three first half 3-pointers to keep Florida in the game while their defense slowly wore UCLA down. Some of these shots came while pulling up off the dribble, an area that Brewer has struggled in for much of his career thus far. Four early free throws made 15 absolutely huge first half points. Without his perimeter accuracy, the Gators would have found themselves down at halftime and this game could have turned out very differently for the defending champs.

It is fairly obvious that whoever drafts Brewer this spring will be getting a ready-to-contribute defender, but performances like tonight remind us that the wiry swingman has the potential to develop into a capable offensive player at the NBA level as well. Corey Brewer appears to be heading toward a late lottery to mid first round selection in the upcoming draft.

[Read Full Article]

---
NCAA Tournament: NBA Draft Stock Watch (Elite Eight, Sunday games)
March 27, 2007
Florida continues to win and Corey Brewer continues to produce pretty good numbers, but yet, we don't feel like he has helped himself in this tournament at all so far. How can that be?

Brewer looks like the odd man out in Florida's offense. While everyone is moving the ball around the floor crisply and making extra the pass—almost to a fault—it always seems like the ball stops on in the hands of the small forward while he decides to take his team, the opponents and the crowd on a little offensive adventure. He's shooting the ball way too much (2-13 from behind the arc over the last 3 games), dribbling the ball far too often (15 turnovers in the tournament), and not really making much of an effort at all to understand the flow of the game or how he might fit into it.

He's still managing to show his incredible upside in a few plays or more every game—this seems to be the obvious intent—but it's not quite clear why he's picked now all of a sudden to try and show he's someone he's not. Still, Florida has needed his athleticism and "creativity" in their half-court offense consistently in the second half over the past few games, and Brewer has been the one to deliver for them, as well as with his free throw shooting in the clutch. His off-ball defense—needless to say—has been terrific as usual, coming up with big stops on both Oregon's point guard Aaron Brooks and their defacto power forward Malik Hairston in the second half. He had a few very nice deflections and steals just off his length and activity level, as well as an incredible block to ice the game late.

Brewer has more enough upside to work his way into the lottery or even the top 10 when it's all said and done through private workouts, but he's not helping himself so far with the selfishness and poor feel for the game he's showing in the NCAA tournament.

[Read Full Article]

---
NCAA Tournament: Stock Watch (Sweet 16, Friday )--Stock Down/Neutral
March 24, 2007
If there was anyone on Florida that did not play well tonight, it was their small forward Corey Brewer. Rather than realizing the type of game that Butler was going to force them into, Brewer decided to play as if there were going to be 80-90 possessions for each squad, rather than the 60 or so there ended up being. The result was him forcing the issue badly time after time in the half-court, committing offensive fouls, over-dribbling, turning the ball over, throwing wild passes, and taking bad shots. It was really going to take a great deal of patience to handle Butler's methodical tempo, and Brewer really didn't look up to the task, lacking plenty of focus and struggling badly with his decision making. Thankfully for the Gators, things did start to come together for him towards the end, and he scored on two consecutive possessions in the clutch with pull-up jumpers from mid-range.

Defensively, Brewer wasn't exactly himself today either, getting beaten on a couple of occasions off the dribble after not showing the patience needed to defend Butler for 35 seconds every possession like they force opposing teams.

Florida ended up advancing to the next round, so everything ended well, but they'll need their swingman at his best and most focused on Sunday if they are to be able to advance to the Final Four.

[Read Full Article]

---
NCAA Tournament: Stock Watch (round of 32, Sunday)--Stock Down/Neutral
March 19, 2007
The defending national champions got caught in a dog fight today with a scrappy Purdue squad, being in danger of an upset particularly due to the poor play they got from their guard and wing players. Brewer was very much a part of that, although he also played a major part in fending off the Boilermakers in the second half and eventually coming out with a win.

Brewer started off the game very much out of control, forcing his dribble and taking some bad shots from the perimeter early in the shot clock. He lacked a bit of focus in causing some careless turnovers and getting beaten off the bounce by David Teague, but was excellent as usual with his off-ball defense, playing the passing lanes and causing numerous deflections and steals.

The 2nd half was better for Brewer, settling in to more of a rhythm and using his passing skills to get his big men involved. He made a couple of huge plays that changed the flow of the game in Florida's favor, including one in particular that involved tipping a loose ball from well out of his area on defense to himself and then getting it up-court to Lee Humphrey. That resulted in an open 3-pointer in transition from Taurean Green that gave Florida a 2-point lead that they would never rescind from that point. With just under four minutes to play, Brewer again helped fend off a run from Purdue by spinning athletically into an awkward pull-up jumper from mid-range with just a few seconds left on the shot clock. He also used his athleticism to pull down 8 big rebounds, many of which came in traffic.

So while this won't go down as Brewer's best game in a Florida uniform, he did, as usual, play a huge part in eventually securing a win for his team.

[Read Full Article]

---
NCAA Weekly Performers -- 1/9/2007, Part One
January 10, 2007
Any doubts as to why the returning national champions dropped two of their first nine game are beginning to get answered with the recent return and superb play of their ultimate glue-guy Corey Brewer. Either out or severely hampered with mononucleosis in defeat, the value of Brewer's infectious energy and indispensible perimeter defense cannot be understated after seeing the way Florida has looked since his return. 18 points, 5 rebounds and 3 assists were just a taster as he began to return to form against Ohio State, but his phenomenal showing against a tough Georgia squad--one that went well beyond even the very impressive boxscore—left a great impression as to the type of prospect that Corey Brewer really is.

What's scary about the effectiveness of Brewer's play is that he is nowhere close at this point to reaching his full potential. Still a marginal ball-handler with no left hand, a beanpole frame and a very shaky perimeter jumper, Brewer gets by almost solely on his liveliness, athleticism, and terrific all-around talent. He's a 6-9 true wing with incredibly long arms, fantastic hands and superb quickness, which, coupled with his outstanding instincts and anticipation skills, relentless motor and tremendous aggressiveness on the defensive end make him one of the most disruptive matchups you'll find anywhere in the college game. Brewer absolutely smoked one of the hottest players in the SEC these days, Mike Mercer of Georgia, who has been using his excellent athleticism and talent to average over 16 points a game up until that game. Smothering him with his length and using his quickness to stay in front of him all game long, Brewer forced Mercer into a miserable 3-14 shooting, 4 turnover outing, and still found time to help out on team defense with 4 steals and one block reminiscent of Tayshaun Prince erasing a potential game-tying Reggie Miller layup in the playoffs a few years back.

Offensively, Brewer was just another cog in Florida's well-oiled machine, making the right pass at the right time continuously and feeding Joakim Noah and others for easy finishes. His 7 assists marked the 20th time in the last 45 games that he's hit 4 assists or more in any given game. Brewer is unselfish and instinctive despite the fact that he has a tendency to play too fast and get out of control at times trying to do too much, but once he gains more experience and learns how to pick his spots better he'll become an even more dangerous team player. He's improved both his field goal percentages (50.5% compared with 46.8% last year) and assist to turnover ratio (1.60/1 compared with 1.19/1 last season), meaning he's making some strides in this area, even if he still has plenty more room for improvement.

Once he develops his marginal ball-handling skills to the point that the ball does not slow him down and he's able to go left on occasion…watch out. As a shooter, Brewer has decent mechanics--including good arc on his shot—but he is not consistent at all, particularly off the dribble. This eliminates any possibility of having a capable pull-up mid-range jumper at the moment, even if he does show some flashes from time to time in this area.

Considering the long list of weaknesses listed above, you might wonder how Brewer manages to produce the way he does, even if the numbers aren't always easy to come by playing alongside three other players who will surely be drafted in Joakim Noah, Al Horford and Taurean Green. The answer to that lies in his outstanding talent and gives you a bit of an idea why NBA teams are so eager to see how good he'll be once his game begins to round out. Unlike his teammates Joakim Noah and Taurean Green for example, he still hasn't reached anywhere near his full potential. Fortunately for Brewer, he has the type of outstanding attitude and work ethic that lead you to believe that he'll put the effort in over the next few years to reach his very high ceiling.

[Read Full Article]

---
NCAA Tournament: NBA Draft Stock Watch (National Championship)
April 4, 2006
Brewer displayed his excellent potential in many different facets of the game against UCLA. He sparked his team early by scoring 5 of Florida's first 9 points, and his relentless defense took Aaron Afflalo out of the game from the beginning. Brewer displayed some versatility on offense, making a nice turnaround from about 10 feet out, and knocking down 2 of his 3 three point attempts. His basketball IQ has really stood out as the NCAA tournament has progressed. Brewer's only questionable shot came late in the game after it was already over. He also showed off some good passing ability throughout the game, setting up his teammates on a couple occasions, and making crisp passes in traffic. On the offensive end, there are two areas Corey needs to work on. One is his handle, which needs to be tightened up. The other area is the mid-range game, which will improve with the handle, because Brewer is already a very crafty player in the lane.

On the defensive side of the ball, Brewer had the player he was guarding on lock down throughout the entire game. Afflalo was held scoreless until the 11:23 mark in the second half, and was unable to get into the flow of the game. In addition to great man to man defense, Brewer understands how to use his length to create steals by disrupting the passing lanes, and has amazingly quick hands which created a couple steals as he snuck up behind unsuspecting UCLA players. The one area Brewer could improve on the defensive side of the ball is pick and roll defense. Though he usually defends it correctly, he sometimes ends up too far on the high side of the ball, which makes it hard for his teammates to recover when the ball is moved around. Despite this, it is rare to find a player at 6-8 who has as much defensive versatility as Brewer, and that alone will earn him minutes at the next level.

Overall, Corey Brewer has really helped himself during the NCAA Tournament by playing a huge role for Florida, hitting clutch shots, and even carrying the team at times. He has helped his draft stock considerably in the past month, especially with his improved perimeter shot. It is tough to say at this point whether Brewer will declare for the draft or return for his junior season. If he is to declare, he has already locked himself into the first round, and has a chance of landing in the top 20 with good workouts. Players who play defense like Corey Brewer are hard to find, and his constant improvement in other areas of the game will help him out when he decides to move on to the next level. Of all of Florida's 2006 draft prospects, Brewer clearly has the toughest decision ahead of him.

[Read Full Article]

---
NCAA Tournament: NBA Draft Stock Watch (Final Four)
April 2, 2006
In stark contrast to what most experts predicted in the many previews leading up to this Final Four matchup, it was actually Florida's perimeter game that shouldered the offensive load and carried the team to victory when the big men could not get much offense going inside the paint, particularly in the first half. It was here that Corey Brewer really made his impact felt on the game, knocking down huge shots to space the floor, taking his man off the dribble to finish strong and playing his typical outstanding man to man defense.

He started off by showing off the part of his game that has shown the most notable improvement over the last two months of the season: his perimeter shot. Brewer is 11-22 from behind the arc in five NCAA tournament games so far, upping his percentages here from the high 20's to a more respectable 34.2% on the season. Many of his 3-pointers in this tournament came off the dribble, and this game was no exception. Considering his mechanics, work ethic and the confidence he shows in his shot, there is no reason to think that Brewer won't at least become a respectable outside shooter as an NBA player down the road.

Brewer then used the threat of his perimeter shot to take his man off the bounce and work his way to the hoop, throwing a beautiful head-fake at one point to get his defender in the air and then blow right past him for an impressive finish off the glass.

His ball-handling, clearly the weakest part of his game right now, again looked shaky for the most part, as his six turnovers would attest. He exposes the ball to his defender by dribbling high and too far in front of himself, and then makes things worse at times by trying to make moves that are clearly out of his element like spin-moves, crossovers and other wild forces of this sort.

What can always be expected from Brewer every single time he steps out on the floor is outstanding perimeter defense on whoever he is asked to guard. He forced George Mason into numerous turnovers, whether it was making a simple in-bounds pass, bringing the ball up the floor after a made basket, or picking his man's pocket in half-court sets. Like all Florida players in this game, Brewer did a fantastic job switching and hedging on screens, trapping players in the corner, rotating beautifully to cover for a teammate, and constantly putting pesky pressure on George Mason's weak ball-handlers. He was in fact the best player on the floor for either team in the first half, keeping Florida in the game with his perimeter shooting and defense.

If Florida's other two frontcourt starters, Joakim Noah and Al Horford, decide to put their name in the draft following this outstanding tournament run, don't be surprised to see Brewer follow them out the door. He's really the only one of Florida's sophomores that doesn't come from a family of former pro athletes with comfortable financial situations, and probably has done enough this year to secure a spot in the 1st round. As a long and super athletic pure 6-8 wing with outstanding defensive instincts and an improving jump-shot, he'll be viewed as a bundle of upside.

[Read Full Article]

---
NCAA Tournament: NBA Draft Stock Watch (Elite Eight, Sunday Games)
March 26, 2006
Florida's super long and athletic swingman Corey Brewer might have liked to be on the floor a little bit more in order to help his team out after struggling with foul trouble for most of the night, but he still made his presence felt extremely well for every second he was in the game.

Whether it was coming off a curl and knocking down a 3-pointer, pulling up off the dribble from the perimeter, playing outstanding defense on the much shorter Randy Foye and Kyle Lowry, getting out in transition or forcing Villanova's guards into costly fouls with his quickness; Brewer was an absolute blur, and his quickness, energy and numerous contributions on the floor were impossible to ignore.

Unfortunately for him he picked up his 2nd foul with 12 minutes and 30 seconds left in the first half, which forced him to ride the pine until the beginning of the second half in spite of his pleas to Coach Billy Donovan to let him back in. Brewer's energy helped his team out tremendously to start the second half as well, keeping his team in the game during a crucial stretch, but this also led to him picking up two more costly fouls and again having to sit out for extended periods. He only ended up playing 18 minutes in this game, but still gave the scouts in attendance a great look at the impact his terrific athleticism, length and tenacity can have on his team.

[Read Full Article]

---
NCAA Tournament: Stock Watch (round of 32, Saturday games)-- Stock UP
March 19, 2006
Lost in the shadow a bit of Joakim Noah's performance, Florida's small forward Corey Brewer had possibly his best performance of the season today in just 23 minutes of action.

He started off the game extremely hot, swishing a picture perfect looking 3-pointer, knocking down a mid-range shot in transition and then knocking down yet another 3-pointer coming off a screen. Two fouls in the first 8 minutes of the game, the second of which came along with a mild concussion after hitting his head on the parquet, forced him to sit out for the rest of the first half. When he came back in the 2nd half he continued right where he left off, swishing 3-pointers and mid-range shots off curls, attacking the basket in transition and continuing to play outstanding defense on whoever he was asked to guard. His primary matchup Joah Tucker ended up going 4-14 from the field when he wasn't on the bench in foul trouble. One defensive play he made mid-way through the 2nd half really emphasized what a special athlete and tenacious player Brewer is. After falling to the ground he managed to get up and close out his man all the way on the opposite end of the floor to block a 3-point attempt.

Brewer didn't end up playing too many minutes in this contest, but made his presence felt throughout the game when he was on the court. At the moment he looks like more of a 2007 draft prospect until he finds a way to put more bulk on his skinny frame and improve his very shaky ball-handling skills, but he's likely a first-round pick whenever he decides to declare.

[Read Full Article]

---
NCAA Tournament: Minneapolis Bracket NBA Draft Prospects
March 14, 2006
One of the best perimeter defenders in this tournament, Brewer will be assigned to guard to best wing player his team matches up with. His explosiveness often makes him Florida's only legit shot-creating threat, but Brewer is still a bit too raw to really capitalize on this consistently.

As a draft prospect, Brewer has the height, frame, length and early strength that is a prerequisite to play on the wing in the best league in the world. Defensively, he is already one of the better off the ball defenders in the SEC, and potentially in the NCAA as he continues to gain experience. Brewer has terrific hands, an outstanding motor and a knack for anticipating that just can't be taught. His attitude helps him out tremendously, as he's relentless and will give his entire team as well as the crowd a huge burst of energy when he is playing up to his full potential. Offensively, Brewer shows sparks but nothing close to being consistent enough. His ball-handling is spotty at best, his outside shooting mechanics need serious work, and he can be very mechanical at times with the moves he makes. Most of his offense comes off his hustle and athleticism, and a lot of effort will need to be put in to make him a consistent threat to create his own shot off the dribble. A bad ankle injury derailed what looked to be a first-team All SEC caliber season at the very least as Brewer barely practiced in the last month or two of the season. Recently he's looked like he's back at full strength, particularly in the SEC tournament finals where he was once again Florida's best player.

[Read Full Article]

---
Top 15 NBA Draft Prospects in the SEC
November 3, 2005
Not much more than just a big bundle of upside right now, Corey Brewer regardless shows all the attributes scouts look for in a developing swingman with NBA potential. Starting with his body, despite being a bit on the skinny side right now, Brewer has the height, frame, length and early strength that is a prerequisite to play on the wing in the best league in the world. Defensively, he is already one of the better off the ball defenders in the SEC, and potentially in the NCAA as he continues to gain experience. Brewer has terrific hands, an outstanding motor and a knack for anticipating that just can't be taught. His attitude helps him out tremendously, as he's relentless and will give his entire team as well as the crowd a huge burst of energy when he is playing up to his full potential. Offensively, Brewer shows sparks but nothing close to being All-American caliber. His ball-handling is spotty at best, his outside shooting mechanics need serious work, and he can be very mechanical at times with the moves he makes. Most of his offense comes off his hustle and athleticism, and a lot of effort will need to be put in to make him a consistent threat to create his own shot off the dribble. All the tools are there, though, he just needs to continue to gain polish through experience and good coaching.

[Read Full Article]

---