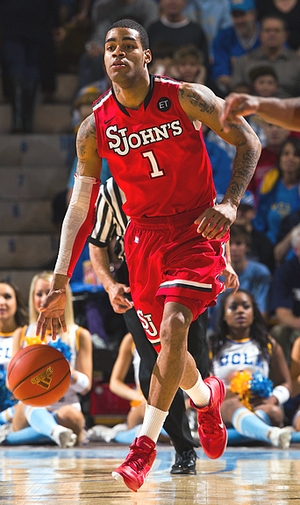 Matt Williams
A player we were watching closely coming into this season,
D.J. Kennedy
has not taken a big step forward in his first year under new Head Coach Steve Lavin. While St. John's is on pace to improve on their 6-12 conference record from last season, Kennedy has not taken his game to the next level despite playing a key part in his team's improvement.
As we noted the last time we wrote about him in December of 2009, Kennedy is a fluid and solid, albeit unspectacular, athlete who offers intriguing versatility and good size on the wing. The Pittsburgh native does a number of things well, but he hasn't made the jump as a scorer that would have propelled him firmly into draft conversations, instead seeing his numbers regress across the board this season.
Some of Kennedy's statistical regression can be attributed to the role he's playing. After spending a significant amount of time running the pick and roll as a junior, Kennedy has seldom had a chance to exploit his size, basketball IQ, and passing ability in the two-man game this season. On top of that, he has looked to put the ball on the floor and get to the rim substantially more often, reeling in his penchant for shooting jump shots from beyond the arc.
Seeing fewer touches as a primary ball-handler, shooting less than half as many three-pointers and 3.2 fewer shots per-game than he did last season, and willingly deferring to his fellow seniors, it isn't surprising to see Kennedy's numbers take a hit. Even at this level he appears most comfortable as a role player, which meshes well with what he'd be expected to do at the next level.
Though Kennedy hasn't been able to handle the ball as regularly as he used to, he still flashes a smooth floor game and the ability to push the ball himself in transition. A fairly heady passer, he has looked to pick and choose his spots in transition and half court sets. Not as aggressive as a shooter, he's done most of his damage on the fast break.
When the game slows down, Kennedy has shot the ball reasonably well this season, but simply doesn't attempted that many jumpers. Having knocked down some 37% of his jump shots according to Synergy Sports Technology, he has shown reliable mechanics with his feet set, but has struggled to knock down shots off the dribble. Lacking the ability to create separation at will attacking the rim and altering his form when defended, the lefty wing was more efficient off the dribble last season when he was hoisting up shots from the perimeter working off of screens.
Defensively, Kennedy is an exceptional stopper at the NCAA level. Whether he's cleaning the glass, contesting shots, or cutting off penetration, his defensive ability is impressive and ranks as one of his best assets as a prospect.
Similar to former Memphis Tiger
Antonio Anderson
on a number of levels, Kennedy has never been one to blow anyone away on first glance, and his role at the next level would unquestionably be as a role player. Despite taking a step back this season, Kennedy remains one of the more versatile wings in the senior class, and is completely capable of showing well at the Portsmouth Invitational Tournament should he elect to attend.