Damian Jones
Recent Tweets
All Tweets
DraftExpress: Updated reports coming up on Jabari Bird, Marcus Lee, Xavier Rathan-Mayes, Tyler Ennis, Nick King, Semi Ojeleye, Matt Jones, Damian Jones.
2012-09-12 09:50:35
DraftExpress: Damian Jones is a 6-9, long-armed pogo stick with phenomenal instincts defensively. Runs and finishes well. Plays with great energy. #eybl
2012-07-21 10:55:33
DraftExpress: Two of the best prospects in HS basketball, Julius Randle & Jahlil Okafor, going head to head. But the guy who is dominating is Damian Jones
2012-07-21 10:53:09
DraftExpress: @reggieprimetime Seen enough of Winslow to know he's an absolute stud. Randle is putting on a show here. Liking Damian Jones' defense too.
2012-07-19 08:06:44
Team: Vanderbilt, Junior
Physicals
Positions
Rankings
Misc
H: 6' 10"
W: 248 lbs
Bday: 06/30/1995
(20 Years Old)

Current: PF/C
NBA: PF/C
Possible: PF/C

Pick: 16 in 2016 Mock Draft
Rank 16 in Top 100 Prospects
Rank 3 in NCAA Juniors
RSCI: 91

High School: Scotlandville Magnet
Hometown: Baton Rouge, LA

Predraft Measurements
| Year | Source | Height w/o Shoes | Height w/shoes | Weight | Wingspan | Standing Reach | Body Fat | No Step Vert | Max Vert |
| --- | --- | --- | --- | --- | --- | --- | --- | --- | --- |
| 2015 | Nike Skills Academy | NA | 7' 0" | 245 | 7' 2" | NA | NA | NA | NA |



Basic Per Game Statistics

- Comprehensive Stats - Statistical Top 25s
| Year | League | Name | GP | Min | Pts | FG | FGA | FG% | 2Pt | 2PtA | 2P% | 3Pt | 3PtA | 3P% | FTM | FTA | FT% | Off | Def | TOT | Asts | Stls | Blks | TOs | PFs |
| --- | --- | --- | --- | --- | --- | --- | --- | --- | --- | --- | --- | --- | --- | --- | --- | --- | --- | --- | --- | --- | --- | --- | --- | --- | --- |
| 2015/16 | NCAA | Damian Jones | 6 | 24.0 | 12.3 | 4.8 | 8.8 | 54.7 | 4.8 | 8.7 | 55.8 | 0.0 | 0.2 | 0.0 | 2.7 | 4.8 | 55.2 | 1.5 | 6.0 | 7.5 | 1.7 | 0.3 | 1.8 | 1.8 | 3.3 |

Player Page&nbsp&nbsp| Player Stats | Mock Draft History | Related Articles&nbsp&nbsp| Add to My Draft Express&nbsp
&nbsp
Top NBA Prospects in the SEC, Part Five: Damian Jones Scouting Video
September 28, 2015
Mike Schmitz continues our coverage of the top NBA prospects in the SEC with a video scouting report of the #5 prospect in the conference, Vanderbilt's Damian Jones.
---
More DX Conference Preseason Previews:
-The Top 20 NBA Draft Prospects in the Pac-12
-The Top 20 NBA Draft Prospects in the Big East
-The Top 15 NBA Draft Prospects in the Big 12
---
Top NBA Draft Prospects in the SEC


(#1) Skal Labissiere (Scouting Video)
(#2) Ben Simmons (Scouting Video)
(#3) Jamal Murray (Scouting Video)
(#4) Malik Newman (Scouting Video)



#5, Damian Jones, Junior, Center, Vanderbilt



Strengths:



Weaknesses:



Mike Schmitz is the video analyst for DraftExpress. Follow him on twitter and check out his archive. He will be breaking down the NBA draft in digital format all year long for us.

[Read Full Article]

---
Nike Academy Scouting Reports: College Power Forward/Center Prospects
July 6, 2015
Mike Schmitz

Jones is far from a finished product as a player, but he showed glimpses of why he could very well develop into the best center to play at the 2015 Nike Academy. First and foremost, Jones helped himself by measuring 7' 0" with a 7' 2" wingspan. Jones has always been somewhat caught between the four and the five, but measuring a legitimate 7' 0" in shoes with a solid wingspan and an outstanding frame will allow him to easily play the five at the NBA level.

The Vandy big man is strong, mobile and very explosive vertically. He's not quite as quick off the floor as you would think, but he's very capable of playing above the rim with ease, as he showed with a handful of vicious dunks.

While he's still very raw offensively both in terms of skill set and overall feel, Jones did do some things offensively that he struggled to do with any consistency during his first two years at Vanderbilt. The Baton Rouge, LA native knocked down a turnaround jumper over his right shoulder, stepped into a mid-range jumper, dropped in a right handed jump hook and converted a tough left handed finish over length.

On the flip side, Jones still looked like an athlete transitioning into a basketball player at times. His natural basketball instincts aren't great, and he had issues creating on the block consistently and making the right play versus pressure. Jones commits more unforced errors than you would like, and still has very rigid footwork on the interior.

Jones' basketball IQ limitations showed on the defensive end as well. While his physical tools allowed him to come up with several impressive steals and blocks over the course of the camp, he also got lost off the ball from time to time and still has to prove himself as a legitimate rim protector. Jones also isn't all that aggressive or tough on the defensive glass, as he has a tendency to stand and watch rather than attack the defensive glass and rebound outside of his own area.

Jones is still a project and he'll most certainly have to improve his feel for the game and basketball instincts on both ends, but his 7-foot status, physical profile and glimpses of scoring ability certainly helped his stock as he enters a very important junior season at Vanderbilt.

[Read Full Article]

---
Bobby Portis vs Damian Jones Head to Head Matchup Video Analysis
January 12, 2015
More Situational Videos from Mike Schmitz
-Jahlil Okafor vs Frank Kaminsky Head to Head Matchup Video Analysis
-Myles Turner vs Kentucky's NBA Frontcourt Video Analysis
-Kristaps Porzingis vs Barcelona Video Analysis
-Ben Simmons vs Ivan Rabb Video Analysis
-Jakob Poeltl vs Cliff Alexander Head to Head Matchup Video Analysis
-Montrezl Harrell vs Kentucky's NBA Frontcourt Video Analysis
-Rashad Vaughn vs Arizona Video Analysis
-Christian Wood vs Arizona Video Analysis
-Jerian Grant vs J.P. Tokoto Video Analysis
---
Take a look at our video section for a compilation of all the videos we've produced this year.
[Read Full Article]

---
Top NBA Prospects in the SEC, Part Ten: Prospects #10-13
September 26, 2014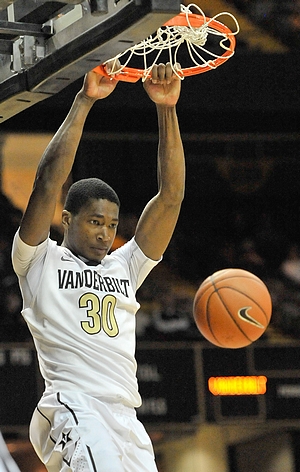 US Presswire



Jonathan Givony

The past two seasons have been difficult for Kevin Stallings' Vanderbilt squad, as the Commodores missed the NCAA Tournament in consecutive years now and struggled to stay competitive in the SEC behind a rash of transfers, suspensions and general upheaval.

One of the few bright spots last year was the play of freshman Damian Jones, a former Top-100 high school recruit who ended up being named to the SEC All-Rookie team. Jones was one of the youngest freshmen to play a major role for a high-major college program, only turning 19 a few months after the season ended. He easily could be going into his freshman year of college right now instead of his sophomore season, as he's younger than five of the players from last year's McDonald's All-American game.

Jones came off the bench for the first three games of the season, but ended up starting every game the rest of the way. He was unable to help Vanderbilt avoid finishing under. .500 in SEC play (and overall as well) for the second year in a row, the first time that's happened to Commodores in over a decade.

Listed at 6-10, 240 pounds, Jones has good size for a big man, to go along with a long wingspan and a solid frame that should fill out nicely in time. He is a good athlete on top of that, quick off feet, and very mobile overall, although not ridiculously explosive.

Jones saw almost half of his offensive possessions with his back to the basket last season, a significant share (certainly for a player his age) that ranked him in the top-30 players in college basketball in terms of sheer volume. He was relatively productive there, hitting 50% of his field goal attempts, as he has a nice skill-level relative to his lack of experience. Jones has solid footwork inside the paint, to go along with soft touch and the ability to finish with either hand. He doesn't have the most diverse post-arsenal at this stage and is limited somewhat by his lack of strength, but he shows flashes of ability knocking down jump-hooks and executing pretty spin moves, even throwing in the occasional turnaround jump-shot.

On the downside, Jones is an extremely poor passer, generating only 7 assists in 784 minutes, last season. His 2.4% assist percentage ranked last among all returning college players in our Top-100 prospects, and he was statistically one of the worst passers in college basketball overall. Jones' feel for the game clearly isn't the best, and he was probably thrust into a larger role than he was ready for as an 18-year old freshman, but it's important to consider what other options he had to pass to on his squad. Vanderbilt really struggled as a team to make outside shots or just score in general, which is likely reflected in Jones' passing metrics and the way opposing defenses game-planned for him.

Jones also saw a good amount of offense playing off the ball, be it as a cutter, roll-man, offensive rebounder, or floor-runner in the open court. He finishes his non-post up attempts at a very solid rate around the basket, converting 61% of his looks in these situations, thanks to his soft hands, nice touch, long arms and solid mobility.

Jones rarely stepped outside the paint offensively, only taking 12 jumpers on the season and very rarely being asked to put the ball on the floor from the perimeter. His skill-level is obviously a work in progress, as the mechanics on his jumper need work (he shoots an awkward one-handed jump-shot) and his ball-handling skills are rudimentary at best. He only converted 57% of his free throws last season, which indicates he has plenty of room to improve still as a shooter.

Defensively, Jones has excellent tools, with his solid size, length and athleticism. He's mobile enough to hedge screens on the perimeter and stay in front of smaller players, and is a major presence rotating from the weakside, blocking 2.4 shots per-40 minutes last season, seventh best in the conference.

With that said, Jones still has a long ways to go before he's ready to step on an NBA floor, as he gets pushed around quite a bit inside the paint and doesn't always offer the type of intensity, toughness or fight you hope to see from a player his size. How much of this was due to his lack of strength and experience as a freshman is something NBA teams will want to learn more about as Jones enters his sophomore year, as he clearly has the tools to be a very solid piece on this end of the floor if he improves his intensity-level and focus.

On a similar note, Jones was just an average rebounder on both ends of the court last season, often looking flat-footed as missed shots came off the rim. He needs to do a better job of boxing out and pursuing loose balls with greater toughness and intensity, even if his awareness here leaves something to be desired, something that's also reflected in his lack of assists and steals.

Jones is somewhat of a tweener, not quite big or strong enough to project as a center—the position he plays at Vanderbilt--in the NBA, but also not really showing some key skills teams like to see from power forwards, such as passing, ball-handling or perimeter shooting ability. Defensively he might actually be better suited at the power forward spot, and he appears to have the mobility to do so, so it will be interesting to see how his skill-level evolves.

Still in an early stage of his development, Jones has a lot of interesting attributes that make him a prospect NBA teams will definitely want to keep track of, even if he's a raw prospect at this stage. Vanderbilt will have a very young squad once again, particularly in the backcourt, so Jones will have to be a major factor on both ends of the floor for them to be competitive in the SEC.

[Read Full Article]

---
High School Class of 2013: Elite Prospect Scouting Reports, Part Two
September 12, 2012
Jonathan Givony

Recruiting Rankings: ESPN: #72, Scout: #99, Rivals: #79, 24/7: #21

Strengths:
-Very long wingspan
-Frame that will fill out in time
-Terrific instincts defensively
-Excellent athlete
-Runs floor extremely well
-Very quick second bounce
-Goes well out of area for offensive rebounds
-Makes plays above the rim thanks to his solid leaping ability
-Capable of stepping out and knocking down a mid-range jumper
-Shot 73% from the free throw line in the EYBL
-Has no strength to establish position, but fights for space inside regardless
-Tremendous shot-blocking instincts

Weaknesses:
-Very limited offensively
-Frame might take 4-5 years to fill out
-Doesn't have the strength or footwork to play with his back to the basket
-Might struggle to defender stronger centers in college. Does not appear to be agile enough laterally to guard power forwards
-Doesn't box out on the defensive glass

Outlook: Springy big man with terrific length. Plays with very good energy and makes his presence felt regularly on the defensive end. Still a long ways away strength-wise and in terms of his offensive polish, but has excellent potential to grow into as he continues to mature physically.

Highlights:


[Read Full Article]

---