Damian Lillard
Recent Tweets
All Tweets
DraftExpress: RT @MattNorlander: I spent the past couple of days with Damian Lillard, the most unlikely coveted pick of the 2012 Draft http://t.co/5r0 ...
2012-06-29 04:25:35
DraftExpress: At #6, Portland takes Damian Lillard
2012-06-28 08:05:16
DraftExpress: Added video of Damian Lillard from the NBA Draft Media Day availability: http://t.co/CgEtahgV to go along with the Dion Waiters interview.
2012-06-27 07:19:32
DraftExpress: NBA Combine Video Interviews: Damian Lillard, Marquis Teague, Jared Cunningham http://t.co/Wi4BEKVq
2012-06-10 10:10:14
DraftExpress: Best Combine interviews in my opinion: Damian Lillard, Kendall Marshall, Austin Rivers, Royce White, Bradley Beal, Tyler Zeller Moe Harkless
2012-06-08 01:32:00
Team: Trailblazers
Physicals
Positions
Salary
Misc
H: 6' 3"
W: 189 lbs
Bday: 07/15/1990
(25 Years Old)

Current: PG
NBA: PG
Possible: PG

Agent: Aaron Goodwin
Current Salary:$3,340,920

High School: Oakland Tech
Hometown: Oakland, CA
Drafted: Pick 6 in 2012 by Trailblazers

Predraft Measurements
| Year | Source | Height w/o Shoes | Height w/shoes | Weight | Wingspan | Standing Reach | Body Fat | No Step Vert | Max Vert |
| --- | --- | --- | --- | --- | --- | --- | --- | --- | --- |
| 2012 | NBA Draft Combine | 6' 1.75" | 6' 2.75" | 189 | 6' 7.75" | 7' 11.5" | 5.9 | 34.5 | 39.5 |



Basic Per Game Statistics

- Comprehensive Stats - Statistical Top 25s
| Year | League | Name | GP | Min | Pts | FG | FGA | FG% | 2Pt | 2PtA | 2P% | 3Pt | 3PtA | 3P% | FTM | FTA | FT% | Off | Def | TOT | Asts | Stls | Blks | TOs | PFs |
| --- | --- | --- | --- | --- | --- | --- | --- | --- | --- | --- | --- | --- | --- | --- | --- | --- | --- | --- | --- | --- | --- | --- | --- | --- | --- |
| 2015/16 | NBA | Damian Lillard | 18 | 36.4 | 24.3 | 8.4 | 20.2 | 41.9 | 5.6 | 12.2 | 45.9 | 2.8 | 7.9 | 35.7 | 4.6 | 5.3 | 86.5 | 0.6 | 3.8 | 4.4 | 6.8 | 1.1 | 0.3 | 3.5 | 2.4 |

Player Page&nbsp&nbsp| Player Stats | Mock Draft History | Related Articles&nbsp&nbsp| Add to My Draft Express&nbsp
&nbsp
Revisiting Damian Lillard (Scouting Video)
February 14, 2014
Damian Lillard was largely an unknown prospect going into his fourth year of college basketball, as he was forced to redshirt his previous season after breaking his foot. Lillard emerged as one of the top players in the country, scoring over 24 points per game on stellar efficiency (62% TS%), even though his team failed to advance to the NCAA Tournament or NIT.

Lillard's draft stock steadily rose as the year moved on, despite question marks about his shaky assist to turnover ratio and the quality of competition he faced in the Big Sky conference, eventually being selected sixth overall by the Portland Trailblazers. It didn't take long to realize that Lillard was a tremendous find for Portland, as he was unanimously named NBA Rookie of the Year after averaging 19 points and 6.5 assists per game in his debut season.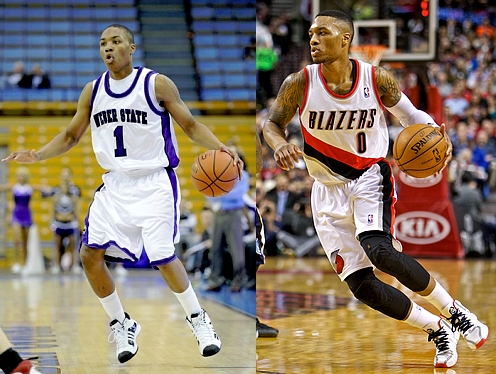 US Presswire



Lillard has continued to progress in his second professional season, helping Portland to a surprising 36-17 record thus far (tied for the fifth best record in the league), while earning a selection to the NBA All-Star game.

What can we learn about Lillard's progression from unknown prolific scoring mid-major combo guard to one of the top young point guards in the NBA? We review our thoughts on him leading up to the 2012 NBA Draft and evaluate his progression as a basketball player from a strengths and weaknesses standpoint.



For comparison's sake, here's the video we produced on Lillard two years ago in the leadup to the 2012 NBA Draft:



And an interview we conducted with him at the 2012 NBA Combine in Chicago:



[Read Full Article]

---
2012 NBA Draft Media Day Interviews Part One
June 27, 2012
[Read Full Article]

---
Situational Statistics: the 2012 Guard Crop
June 27, 2012
Damian Lillard, on the other hand, looks extremely good in this analysis and ranks exceptionally across the board, finishing second in overall efficiency (1.142 PPP) despite using 21.1 possessions per-game (1st). Getting to the line on 18.7% of his possessions (4th) and scoring 1.176 point per-jump shot (1.176), it makes sense that Big Sky product is given the benefit of the doubt as he looks to make the giant leap in competition to the NBA level.

The most efficient guard in pick and roll (1.039 PP), spot-up (1.388), and isolation off screen situations (1.324), Lillard dominates most categories in this study. Perhaps the most impressive aspect of Lillard's showing on paper is the paltry 9.8% turnover rate he posted despite teams game planning to stop him on a nightly basis.

Just an average finisher (1.127 PPP), making plays at the rim in traffic may be Lillard's biggest challenge at the next level, but his ability to score in a variety of ways from the perimeter should be him a valuable asset to whichever team drafts him.

[Read Full Article]

---
NBA Combine Interviews: Lillard, Teague, Cunningham
June 10, 2012
[Read Full Article]

---
Damian Lillard Video Scouting Report
June 6, 2012
Mike Schmitz takes a look at the strengths and weaknesses of Damian Lillard with the help of Weber State game-film and head coach Randy Rahe.






---




More DraftExpress Video Breakdowns:


-Perry Jones Video Scouting Report
-Thomas Robinson Video Scouting Report
-Andre Drummond Video Scouting Report
-Quincy Miller Video Scouting Report
-Tony Wroten Video Scouting Report
-Terrence Ross Video Scouting Report
-Tyshawn Taylor Video Scouting Report


---


Mike Schmitz is a writer for ValleyoftheSuns, a member of the TrueHoop Network. Follow him on twitter and subscribe to his YouTube page.

[Read Full Article]

---
NBA Draft Prospect of the Week: Damian Lillard
January 4, 2012


Walker Beeken

After playing only nine games in 2010-2011 and being granted a medical redshirt, Weber State's Damian Lillard is off to a tremendous start through thirteen games as a junior, leading the nation in per-game scoring and doing so with remarkable efficiency. His hot early season play has caught the attention of scouts, who will likely be watching him closely throughout the remainder of the season to get a better feel for how his game might translate to the NBA level.

As we've mentioned before, Lillard possesses very appealing physical tools for an NBA point guard prospect, standing at 6'2" with an excellent frame and wingspan, to go along with very good athleticism.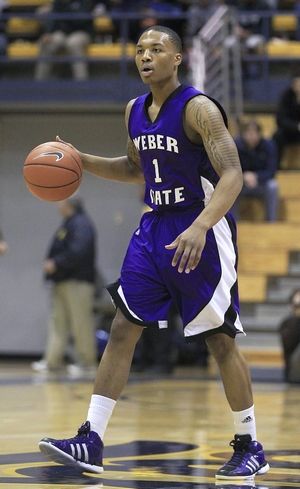 AP



He combines those physical gifts with a confident, attacking mentality and a well-rounded skill set, playing as a scoring point guard, capable of carrying a large load offensively at the college level. While he was already an intriguing prospect going into this season, he's made some clear improvements in his game that he's been able to display thus far as a junior.

Much of Lillard's improved efficiency can be traced to his hot shooting, connecting on an outstanding 45% from 3-point range despite increasing his attempts (he shot under 40% in previous seasons).

As we noted before, he does have a bit of a low release point, but he has no trouble getting his shot off, whether it's off the catch or off the dribble, where he's able to fluidly pull-up from well behind the 3-point line, or utilize a very effective step-back dribble to create space to get his shot off. About two thirds of his shot attempts this season have been jumpers, and his percentages off the catch and off the dribble are almost the same, illustrating his versatility as a shooter.

Lillard has also done a better job of taking care of the basketball thus far, cutting his turnover rate almost in half from previous seasons. This is quite an impressive feat, considering his heavy usage and how much his team depends on him to create offensively. To illustrate that, he actually ranks #1 amongst all NCAA point guard prospects in terms of turnovers per possession, coughing the ball up on just 10% of his possessions.

The large emphasis of the pick-and-roll game in today's NBA bodes well for Lillard, as he's shown to be very effective as the ball-handler in pick-and-roll situations. His ability to smoothly pull up off the dribble from deep range makes it difficult for his defenders to go underneath the screen, while his burst off the dribble allows him to turn the corner quickly and get into the paint.

Lillard does a good job of playing at different speeds and is capable of driving in either direction, which keeps defenders on their heels and helps him get to the free throw line at a very strong rate. Once there, he knocks down an excellent 90% of his attempts.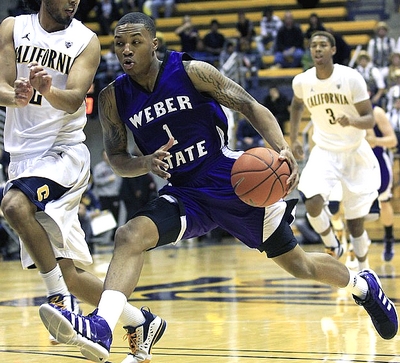 AP



As a finisher in the lane and in transition, Lillard has very good body control, strength, and vertical explosiveness, which all help him to finish at the rim in traffic, even occasionally with a high-flying dunk if he's able to build up a head of steam. He looks comfortable using either hand to finish and shows flashes of an effective floater, which he'll need to continue to work on, as it's a valuable tool for NBA guards to utilize in the paint. Nevertheless, Lillard shows a very complete scoring arsenal for a player his age, which certainly bodes well for his transition to the NBA level.

Lillard still hasn't shown a great deal in terms of pure playmaking ability, but he looks to have nice passing instincts on dribble penetration, and his role at Weber State calls for him to be their primary scorer, so it's tough to get a gauge of just how much of a distributor he might be in a different situation. This might be the biggest question he faces as enters the draft process, as he's clearly not big enough to play any other position besides point guard.

As a defender, Lillard is showing much of what we've already seen from him in the past, moving well laterally and utilizing his length to play intense on-the-ball defense. He'd have a huge adjustment to make to defending NBA point guards full-time, though, as it's apparent he can lose his focus from time to time, after expending so much energy on the offensive end.

He has the physical tools to make the transition, but it will be a drastic change in the level of talent he's facing on a regular basis, after playing at a lower level of competition at Weber State.

Overall, Lillard's outstanding start to the season has generated quite a bit of buzz regarding his NBA potential, but scouts may have some challenges projecting just how much of a difference maker he could be due to the competition level he faces, and the role he plays.

He struggled in a couple of his higher profile games in losses to Cal and BYU--which may have hurt him somewhat--but did score 36 points in a losing effort against Saint Mary's.

Unless he's able to lead his team to the NCAA tournament, he may not have many more big games to prove himself, which could make him slightly more difficult to project when he enters the draft, whether it's this year or after his senior season.

Regardless, Lillard has certainly established himself as a hot name in NBA draft circles, and he'll have plenty of teams lined up to get a closer look at what he brings to the table. Right now we have him projected as a first round pick.

[Read Full Article]

---
Top NBA Draft Prospects in the Non-BCS Conferences, Part Two (#6-10)
November 3, 2011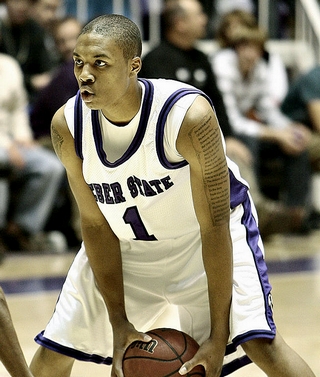 Robert Casey / Weberstatesports.com



Joseph Treutlein

Coming off a breakout sophomore season that led to Big Sky Conference MVP honors, Damian Lillard had high expectations heading into his junior year. Lillard got off to a strong start, slightly improving his efficiencies and pace-adjusted productivity through his first nine games, but unfortunately suffered a season-ending injury when he broke his foot against Tulsa.

With his foot fully healed and a strong showing at the adidas Nations counselor games under his belt, Lillard will look to pick things up right where he left off to start the season. Not much changed from his perspective as a prospect in his shortened third year on campus, but Lillard did make some subtle improvements in a few areas and still has room for growth looking forward.

One interesting aspect of Lillard's game is his increasing confidence attacking the rim, as his pace-adjusted free throw attempts per 40 minutes have significantly increased all three of his years in school. A good athlete with long arms and a strong frame, Lillard has no problem driving right into the teeth of the defense and drawing contact, but it will be interesting to see if his healed foot has any lingering effect on his confidence or quickness this season.

Looking at Lillard's dribble drive game as a whole, there is much to be impressed with, ranging from his well-developed handle with both hands, his ability to change directions with ease in the lane, and his general awareness and tendency to always keep his head up with the ball. On the down side, however, despite a solid first step, Lillard doesn't stand out very much with his second or third gear, not often showing the ability to take it to the next level the way elite guards do. To his credit, his solid height and excellent length allow him to make up for this somewhat in the finishing department, where he does a good job scoring over (or going through) the competition, while also showing flashes of a developing floater that would further take advantage of his size.

Lillard is also extremely capable scoring the ball with his perimeter jump shot, having a natural ability to put the ball in the basket from anywhere on the floor, whether he's pulling up off the dribble or spotting up for a catch and shoot. Lillard shows excellent balance and feel pulling up in space, while having a lightning quick release and clear cut NBA three-point range. Lillard's shooting motion does have a noticeably low release point, however, which doesn't get him into trouble often against Big Sky competition, but certainly could be more of a problem in the NBA. Also, his shot selection, while necessary given the demands placed on him in Weber State's offense, would likely need to be curbed considerably in the NBA, which could be an adjustment.

The biggest question mark offensively for Lillard going forward is how much of a true point guard he's capable of being, something that's difficult to assess given the role he's forced to play in his current situation. While often bringing the ball up the floor, playing atop the key, and initiating his team's offense, Lillard looks to create his own shot more often than he does for teammates, and will likely need to make adjustments in the pros.

The most intriguing aspect of Lillard's point guard game is the prowess he shows in the pick-and-roll game, where he has both the vision to find his teammates along with the ability and feel to create his own shot either going to the basket or pulling up in space. Overall, he doesn't appear to be an especially selfish player and shows solid flashes in most aspects of a floor general's game, but whether he can fully embrace the different mentality necessary for the position at the NBA level is something he'll need to work on.

On the defensive end, Lillard seemed to make some strides in his limited action last season, showing an increased aggressiveness and commitment in man-to-man defense both on and off the ball. His lateral quickness is solid and he's doing a good job developing his fundamental base while also being fearless in playing up on his man even on drives to the basket. His smothering length is also a great asset contesting shots on drives in the lane, though it's worth noting all of these strengths would be notably muted against the bigger, more athletic guard competition he'd face outside his team's fairly weak schedule. Still, he has the tools to be at the least a decent defender in the NBA if he continues applying himself.

Looking forward, Lillard clearly brings a lot of skills to the table from an NBA perspective, but as with many small school scoring guards, the inevitable adjustment to a significant role change will be a question mark. The strides Lillard has made in his three years in college with his increased aggressiveness and expanding skill set are good signs, and it will be interesting to see if he can avoid any setbacks in his return from injury this season. Showing some improvements as a floor general and shot creator for his teammates would greatly help his stock, but is not very likely in his team's situation, so continuing to strive in all other areas and potentially making a run to the NCAA tournament is key.

[Read Full Article]

---
Top NBA Draft Prospects in Non-BCS Conferences, Part Five (#26-30)
November 11, 2010
Kyle Nelson

Point guard Damian Lillard did little to stand out as a freshman at Weber State, but he emerged as one of the nation's top scoring guards as a sophomore. The Big Sky Conference MVP also performed well in front of NBA scouts at the 2010 adidas Nations Camp. His solid performance against elite collegiate players boosted his draft stock and drastically increased expectations for his junior season.

At 6'2 with a decent 180-pound frame, Lillard has average size for the point guard position at the next level. Athletically, however, he is a mixed bag. While he does have a better than average first step and is quick in the open floor, he is not particularly explosive and lacks ideal strength to compensate.

Lillard averaged an impressive 19.9 points per game as a sophomore on just 13.8 attempts. He is a very good shooter at the collegiate level and he able to shoot from a standstill, as well as off of the dribble. Though he makes 39.3% of his perimeter attempts, his unorthodox shooting mechanics suggest that he might struggle to get his shot off at the next level. He has a very low point of release, seemingly pushing the ball from his chest and does not get much elevation on his shot, which make his shot easy to block.

Spot-up opportunities represented less than 20% of his offensive possessions, however, and Lillard proved himself to be a good shot creator as a sophomore. He is a good ball handler and is a capable scorer off of the pick-and-roll, where he can split the defense or pull up for a jump shot. He also does a very good job of moving without the ball, utilizing screens and seeing the floor well. His basketball IQ seems to be very high and he rarely played outside of his strengths, which could help him overcome his athletic deficiencies.

He struggles as a finisher, however, which largely explains why he shoots a mediocre 47% from inside of the arc. He can get to the basket fairly easily due to his handle and first step aid, but his lack of explosiveness and strength limit his potential as a slasher. He does not shy away from contact, however, and he shoots 7.0 free throws per 40 minutes pace adjusted and connects on 85.3% of his attempts.

Lillard's ability as a point guard is somewhat difficult to evaluate, as Weber State's offense requires him to put points on the scoreboard. He did improve his assist-to-turnover ratio as a sophomore to a respectable 1.51 while averaging 4.1 assists against 2.7 turnovers per 40 minutes pace adjusted. While he occasionally over-dribbles, he is good at finding his teammates on the perimeter in drive-and-kick situations. As mentioned earlier, he runs the pick-and-roll fairly well and is a good passer when he is not looking for his own offense. He also is a solid floor manager, dictating the tempo while knowing his teammates strengths and weaknesses.

He is likely going to have to learn how to play a different role to function as an NBA player, however, as he will not have the opportunity to dominate a quarter of his team's offensive possessions. He will likely have to transition into a pure point guard, distributing the basketball and making open shots.

Lillard shows solid lateral quickness on the defensive end and can stay in front of his man. He struggles to close out on perimeter shooters, however, and sometimes gets caught running under screens, which leads to open shots. Lillard is just an average defender at the collegiate level, largely because of his inconsistent focus, which he must improve upon against weaker competition if he wants to stick in the NBA.

Weber State's lackluster 2010-2011 schedule leaves very few opportunities for scouts to watch Lillard against legitimate competition. This unfortunately places abnormally high expectations on an early-season contest against Jimmer Fredette and BYU. As was the case with Eric Maynor in 2009, Lillard will have to prove to scouts that he can dominate in a low-major conference and compete against legitimate competition on both sides of the ball in order to solidify his chances of getting drafted. It is safe to say, however, that he is a legitimate prospect at this point and well worth watching as the season unfolds.

[Read Full Article]

---