Damian Saunders
Recent Tweets
All Tweets
DraftExpress: Michigan's Darius Morris and Duquesne's Damian Saunders have signed with Brian Dyke of Shibumi Sports.
2011-05-13 06:26:24
DraftExpress: Damian Saunders bricking wide open three after wide open three. Such a shame because he's otherwise a really interesting prospect. #PIT
2011-04-08 08:10:11
DraftExpress: Damian Saunders showing off his strengths very effectively. Getting in the passing lanes, rebounding. So long/athletic. All over floor #PIT
2011-04-08 08:03:29
DraftExpress: Guys I want to keep an eye on in this #PIT game: Jimmy Butler, Damian Saunders, Mickey McConell, Vlad Moldoveanu, Rick Jackson, Mike Davis
2011-04-08 07:02:13
DraftExpress: Semifinals of the #PIT about to kick off. Jimmy Butler's team against Damian Saunders' squad.
2011-04-08 07:00:32
Top 25s - Full List
Team: Delaware
Physicals
Positions
Salary
Misc
H: 6' 8"
W: 217 lbs
Bday: 11/01/1988
(27 Years Old)

Current: SF/PF
NBA: SF/PF
Possible: SF/PF

Agent: Jay Baptiste

High School: Crosby
Hometown: Waterbury, CT

Predraft Measurements
| Year | Source | Height w/o Shoes | Height w/shoes | Weight | Wingspan | Standing Reach | Body Fat | No Step Vert | Max Vert |
| --- | --- | --- | --- | --- | --- | --- | --- | --- | --- |
| 2011 | Nets Workout | 6' 6.5" | 6' 8" | 217 | 7' 0" | 8' 8.5" | 7.5 | 26.5 | 36.0 |
| 2011 | Portsmouth | 6' 6.5" | NA | 214 | 6' 11.5" | 8' 8.75" | NA | 26.5 | NA |



Basic Per Game Statistics

- Comprehensive Stats - Statistical Top 25s
| Year | League | Name | GP | Min | Pts | FG | FGA | FG% | 2Pt | 2PtA | 2P% | 3Pt | 3PtA | 3P% | FTM | FTA | FT% | Off | Def | TOT | Asts | Stls | Blks | TOs | PFs |
| --- | --- | --- | --- | --- | --- | --- | --- | --- | --- | --- | --- | --- | --- | --- | --- | --- | --- | --- | --- | --- | --- | --- | --- | --- | --- |
| 2015/16 | DLEAGUE | Damian Saunders | 1 | 16.0 | 2.0 | 1.0 | 4.0 | 25.0 | 1.0 | 2.0 | 50.0 | 0.0 | 2.0 | 0.0 | 0.0 | 2.0 | 0.0 | 2.0 | 3.0 | 5.0 | 0.0 | 1.0 | 0.0 | 1.0 | 1.0 |

Player Page&nbsp&nbsp| Player Stats | Mock Draft History | Related Articles&nbsp&nbsp| Add to My Draft Express&nbsp
&nbsp
Trending Prospects (2/24/2011)
February 24, 2011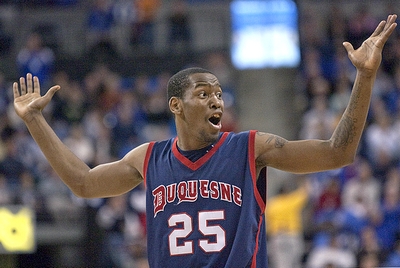 Icon SMI



Derek Bodner

Combining a terrific defensive physical profile with consistent effort, Damian Saunders is one of the more intriguing players in this draft from a pure defensive standpoint. The reigning A-10 Defensive Player of the Year, Saunders needs to show a more consistent jump shot and better decision making on the offensive end to find a position in the NBA.

For Saunders, his senior year has been a mixed bag in that regard. Despite the transfer of Melquan Bolding, Saunders' usage offensively has declined, from 21% of the team's possessions last year to 16.4% this year, taking a back seat to fellow senior Bill Clark. Saunders' averages have fallen accordingly, down to 14.3 points per 40 minutes pace adjusted from 15.2 last year.

That being said, when projecting Saunders' game to the next level key areas have shown incremental improvements, even if he hasn't been more productive as a whole offensively. He's shooting significantly more jump shots this year than last, and at a much more efficient clip, making a respectable 35.2% from the collegiate three point line this year compared to 18.9% last year. On jumpers as a whole, his 1.080 points per shot is a drastic improvement over last year's 0.480 number. We're still not talking about a huge sample size (50 in 25 games), but the improvement is encouraging.

That's not to say his jump shot is picture perfect. There's still a considerable amount of wasted motion, which results in quite a bit of inconsistency. There's still a lot of work to do to improve in that regard, and it's going to be a question -- if not the main question -- about his game going forward.

The majority of the remaining portion of Saunders' half-court offense comes in the form of cuts and offensive rebounds, as he has a constant motor and uses his length well in both of those areas to finish around the hoop. He's not likely to be a major half-court offensive contributor, and has been very inefficient in isolation and post-up situations during the limited sample amount he has attempted.

Heavily favoring his left hand and appearing out of control at times, Saunders will have to improve his ball-handling skills significantly to use this part of his game with any regularity. His long strides and solid first step hints that he may have some untapped potential attacking the basket, but to this point he's hampered by his lack of an off hand and struggling to finish through contact. He has, however, done a much better job of drawing contact and getting to the line this year, mainly through his work in transition.

Defensively is where Saunders has made a name for himself, and why he may be an intriguing prospect for a team to look at in the second round. Saunders is an extremely versatile defender, using his length and great lateral quickness to effectively defend perimeter players. He's also a very good weak-side help defender, as evidenced by his 3.1 blocks per 40 minutes pace-adjusted, particularly impressive when combined with his 2.5 steals and only 2.5 fouls.

Duquesne plays a largely (albeit not entirely) man to man defensive scheme, switching on most screens and playing a lot of full court press. This allows us to take a look at Saunders on the perimeter, and he does a very good job for a player of his size moving his feet on the perimeter and playing smaller, quicker players off switches. According to Synergy Sports Tech, opposing players are averaging only 0.588 points per shot in isolation situations when he's defending, and he's in the top 97th percentile in defending the pick and roll. For a player who projects to be primarily a perimeter player at the next level (but has been playing primarily in the post in college), the versatility he's shown on the defensive side of the ball is a great asset.

When Duquesne does go zone it's usually in a 2-3 with Saunders probing the middle or as a 3-2, with Saunders coming up to use his length to disrupt the passing lanes. Saunders can struggle at times against stronger players in the post, and adding a few more pounds of muscle could do him well. While he will likely be playing primarily at the small forward position, the ability to defend both forward spots would help when trying to get court time and make a roster.

Strength can become an issue at times on the defensive glass as well. While Saunders isn't a bad defensive rebounder for a small forward, his productivity did drop a bit on the defensive glass, falling from 6.9 defensive rebounds per 40 minutes pace adjusted last year to 5.5 this year on a poor defensive rebounding Duquesne team which features no player in the regular rotation over 6'7". He shows good effort and technique on the defensive glass, and improving his lower body strength could again go a long way towards opening up minutes for him to play power forward in a small lineup.

Saunders has the defensive tools to be a very versatile defender in the NBA, and while his overall offensive productivity may have dipped this year, his slight improvement in certain facets of the game could be key in his ability to stick to a roster. There's a lot of work still left to be done, and clearly he can't be described as anything more than an offensive project, but if a team believes his jump shot can become consistent he has the defensive potential to hear his name called on draft night.

[Read Full Article]

---
Top NBA Draft Prospects in Non-BCS Conferences, Part One (#1-10)
October 30, 2010
Matt Kamalsky

Looking through our database in an effort to find a more impressive defensive player from a statistical standpoint than Damian Saunders is fruitless one, as he is the only player since the start of the 2001 season to average more than 2 blocks, 2 steals, and 10 rebounds in a single season. A true stand out on the defensive end, Saunders caught the attention of NBA scouts for his athleticism and potential as a high-level stopper. Returning for his senior season at Duquesne, the pressure is on Saunders to improve his offensive game to compensate for the transfer of Melquan Bolding and show the development that would take his draft stock to the next level.

Much of the intrigue surrounding Saunders as a prospect stems from his tremendous physical profile. Standing 6'7 with a massive wingspan that pays big dividends for his team defensively, Saunders is a very solid athlete who appears to be more smooth than explosive, but shows good lateral quickness and a fine effort level. Though he could still stand to add some muscle to his frame over the long-term, Saunders has the tools necessary to be a defensive specialist at the next level.

His biggest obstacle in achieving that end will be developing some offensive tools to go along with his tremendous defensive profile. As it stands, Saunders is very raw on that side of the floor and doesn't seem to know his limitations. Nearly 35% of his shot attempts last season were jumpers according to Synergy Sports Technology. Knocking down just 17.3% of those attempts, Saunders showed highly inconsistent mechanics with his feet set and tends to settle for high degree of difficulty short-range jumpers in the mid-post a bit too frequently off the dribble.

Though Saunders is able to create space off the bounce on occasion thanks to his rangy strides and solid first step, he relies heavily on his left hand, appears out of control at times, and has a long ways to go to become a complete perimeter threat. He still has trouble dealing with more physical perimeter defenders, and needs to tighten up his ball-handling ability. His ability to make strides in his development as a perimeter scorer will play a key role in his draft projections, as he'd benefit immensely from projecting as a full-time small forward at the next level.

Most of his scoring production comes in the paint, where his length and athleticism allow him to play above the rim in traffic and simply jump over defenders to score. An excellent offensive rebounder, Saunders does a good job positioning himself when he doesn't have the ball to either clean the glass or receive a pass from a driving teammate. His activity level complements his athleticism well, and allows him to shoot a respectable percentage from the floor despite his highly questionable efficiency from the perimeter.

Though Saunders has some questions to answer offensively, he is a highly capable defensive player. Using his lateral quickness to deny penetration effectively out on the perimeter and doing an excellent job using his length to recover and contest shots on the occasions he does get beat to the rim, Saunders has a knack at being in the right place at the right time. A great shot blocker and a very good rebounder for his position; it is obvious why NBA scouts are impressed with his defensive potential.

Moving into his senior season, Saunders is one of the most intriguing small-conference prospects in college basketball. He's proven his mettle defensively, but his ability to develop some perimeter tools offensively will dictate where he's drafted next summer. His usage should increase this season, making him a player worth watching as the season gets moving.

[Read Full Article]

---
Top NBA Draft Prospects in the Non-BCS Conferences, Part Three
November 10, 2009
Joey Whelan

While senior guard Aaron Jackson earned the most acclaim for the Dukes last season as one of the premiere players in the Atlantic-10 Conference, it was power forward Damian Saunders who showed just as promise to emerge as a legitimate pro prospect as he continues to develop. The Connecticut native posted very solid averages across the board – 13.1 points, 7.6 rebounds, 2.4 blocks and 2.1 steals – and proved to be an exceptionally efficient scorer. Early season outbursts like the 22-point, 10-rebound game he hung on Duke were enough to draw the attention of scouts, and now as the top returning scorer on his team, the upperclassman will have the opportunity to prove his name belongs on NBA draft boards.

Physically, there is a good deal to like about what Saunders brings to the table. Though he is listed as a severely undersized power forward at 6-7, he possesses the body and athleticism to eventually make the transition to the perimeter full time as his skill set continues to develop and become more refined. His 210-pound frame allows him to handle himself against more physical forwards, and his length allows him to wreak havoc on the defensive side of the floor – something we will touch on more later.

Offensively, Saunders is a mixed bag. While his stroke itself is soft and fluid, there is a good deal of wasted motion. The junior has a long wingspan so his shot tends to be a long slow process that often times features an inconsistent release point. He shot a modest 34 percent from beyond the arc last season, on a limited number of attempts, but was definitely a streaky shooter, something he will have to improve upon if he's to show that he can play small forward down the road.

Where he really shows the most potential at this point is as a dribble drive threat. Saunders has pretty good quickness for a player his size, capable of beating most defenders off the dribble on a consistent basis. His ball-handling skills are adequate at this level, but could certainly get much tighter in order for him to cut down on his turnovers even further. Once in the lane he demonstrates excellent body control and leaping ability, but because of his thinner frame he will get bumped off his path a lot of the time and forced into a difficult shot. He has the athletic ability to elevate and score in the lane at a high level right now, but his lack of physical strength is definitely a hindrance to this process right now.

Saunders' off the ball presence at the offensive end of the floor makes him a valuable asset. He rebounds at a very high rate on the offensive glass for a perimeter-sized player and does an excellent job of finishing on these attempts thanks to his hustle and touch around the cylinder. He also moves well without the basketball, showing a knack for finding openings in the defense near the basket to set himself up for easy looks inside. It is this knowledge of how to position himself off the ball that allowed Saunders to shoot a stellar 54 percent from the floor, including nearly 65 percent on two-point field goal attempts.

Defensively, Saunders is a machine and a big time difference maker – ranking in the top 15 in our database in blocks and steals per game at 2.4 and 2.1 respectively. His wingspan and lateral quickness allow him to deflect a tremendous number of passes and intercept a good deal of them as well. Inside, his leaping ability and timing make him a real shot altering presence when forced to play closer to the basket. He isn't likely to see much time guarding the post at the next level – but if and when it does occur, Saunders has proven that he has the ability to play bigger than he is and to make his presence felt.

There is a lot of like about this junior's game: he is long, quick, athletic and already shows promise operating on the perimeter despite being playing almost exclusively inside last season. Saunders still has a good deal of work to do in polishing his overall game, most noticeably his shooting range. Being able to consistently knock down perimeter jumpers while also getting a little stronger to handle attacking the basket will make him an intriguing prospect to pro scouts – especially considering his defensive prowess, versatility and athleticism. Now as the focal point of the Dukes attack this year, Saunders will get the chance to prove he deserves to have his name called on draft night in June.

[Read Full Article]

---
Day One: Atlantic-10 Tournament Blog
March 13, 2008
His teammate, 6'7 athletic freshman forward Damian Saunders had an underwhelming end (2 points, 4 rebounds, 1 assist, and 2 blocks in 13 minutes) to his impressive freshman season (6.7 ppg, 5.2 rpg, 1.6 apg/1.1 TOpg, 1.6 spg, 1.3 bpg), but continues to show the potential to turn into a Dominic McGuire type combination forward in the future. He did a good job doing the little things today considering the fact that it did not look like he had a single play run in his general direction. He spent most of his time on the perimeter rather than in the post, but must work on his ball handling ability and shooting stroke if he has any hope of converting into a full-time perimeter player in the future.

[Read Full Article]

---