Top NBA Draft Prospects in the AAC, Part One: Prospects #1-5
October 5, 2015
Jonathan Givony

One of four brothers to play Division I basketball, including a former NBA first round pick (Jordan, currently playing in Russia), Daniel Hamilton had a fairly successful freshman season for UConn, winning AAC Rookie of the Year honors.

Still, on a team level, it was somewhat of a disappointing year, as the defending NCAA champions lost in the first round of the NIT, despite starting the season ranked in everyone's preseason Top-20.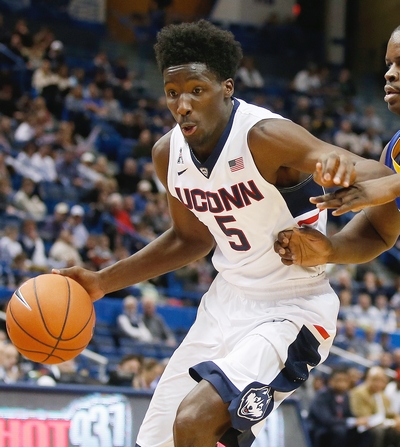 US Presswire
Hamilton started every game for the Huskies and ranked second in usage rate behind now-departed Ryan Boatright. He played a variety of roles in Kevin Ollie's offense, sliding between the wing and the power forward spot, doing a significant amount of ball-handling and playmaking, and gaining significant experience in advance of what is likely to be a telling season for the former #17 ranked high school recruit.
Hamilton has excellent size for the wing at 6-8, but does not possess a very strong frame, has a poor wingspan measured at just 6-8, and is just an average athlete overall. He's added 20 pounds to his frame since the first measurement we have on him from the summer of 2013, weighing in at a still lanky 198 pounds at the Nike Academy this past June.
Hamilton's best attribute as a pro prospect revolves around his ability to handle the basketball and make plays for both himself and others at his size. Including passes, just under 40% of his offense came in pick and roll, isolation or transition situations according to Synergy Sports Technology, which is a significant number for a freshman wing player. He can grab a rebound and take the ball coast to coast, is capable of taking opponents off the dribble in the half-court, and is a terrific passer as evidenced by the 4.9 assist per-40 minutes he averaged last season.
Hamilton has a knack for finding the open man, showing really nice instincts moving the ball ahead in transition, feeding his big men with lobs, driving and dishing, or simply making the extra pass along the perimeter. His ability to facilitate and fuel his team's ball-movement is one of his most intriguing aspects as a draft prospect and something that leaves room for optimism regarding his future development.
Hamilton also showed some potential as a shooter last season, both off the dribble and with his feet set, making 34% of his 3-point attempts. Right now he's more of a shot-maker than anything, as he was wildly inconsistent with his jumper over the course of the season, being absolutely on fire in some games, and ice cold in others.
Poor shot-selection played a major role in Hamilton's inconsistency as a freshman, but he also has room to improve his mechanics, particularly from the waist down, where he can be sloppy at times with his footwork and tends to contort his body sideways unnecessarily. Becoming a more consistent threat from beyond the arc will be very important in Hamilton's development as a pro prospect.
Inside the arc, Hamilton is very much a mixed bag at the moment, as evidenced by his very poor 40% 2-point percentage, and significant struggles getting to the free throw line (3.2 per-40) despite the amount of ball-handling he does. This played a major part in his paltry 47% true shooting percentage, which is the fourth worst mark among collegiate DX Top-100 prospects.
Hamilton's issues here are two-fold. For one, he takes quite a few off the dribble jumpers in the mid-range area, about 2.5 per game, and only hits 34% of them (.709 PPP), which is not a very attractive proposition.
Secondly, he is a very poor finisher when he does venture closer to the basket, hitting just 46% of his "inside the paint" attempts last season. Hamilton is one of only handful of players in college basketball to attempt more floaters than lay-ups in the half-court according to Synergy Sports Technology, which tells you something about his struggles getting all the way to the basket. His combination of an average first step, a significant lack of upper and lower body strength, and poor explosiveness make it very difficult for him to convert plays in traffic at a high rate, and help explain why he gets to the free throw line so infrequently.
Hamilton's struggles also translate to the open court, where his raw decision making skills are reflected in his gigantic 30% turnover rate and overall mediocre 0.7 points per possession in transition, one of the lowest rates in all of college basketball.
Defensively, Hamilton was similarly inconsistent last season. On one hand his combination of size, anticipation skills and instincts give him a very nice framework to build off, which would translate to some very impressive possessions from time to time when he was fully engaged. He already ranked as one of the best defensive rebounders in the country among wing players (8.8 per-40), and got in the passing lanes at a fairly nice rate (1.3 steals per-40) as well.
On the other hand, Hamilton's narrow frame, poor length and inconsistent effort level made him somewhat of a target at times for opposing coaching staffs to pick at, particularly when he was tasked with guarding power forwards in the post. He tends to ball-watch and fall asleep in his stance off the ball, displays lackluster urgency fighting through screens and contesting shots on the perimeter, and gambles wildly for steals too frequently.
Very highly regarded by the recruiting services coming out of high school, and considered a lottery pick even now by the likes of analysts such as Jeff Goodman and others going into this season, Daniel Hamilton undoubtedly has his fans in certain circles. His freshman year was somewhat of a roller coaster ride, but there's no questioning the fact that he shows talent as a 6-8 playmaker and shot-maker, which will make him a very interesting prospect to follow as a sophomore.
[
Read Full Article
]
High School Class of 2014 Scouting Reports, Part Three- the Wings
September 5, 2013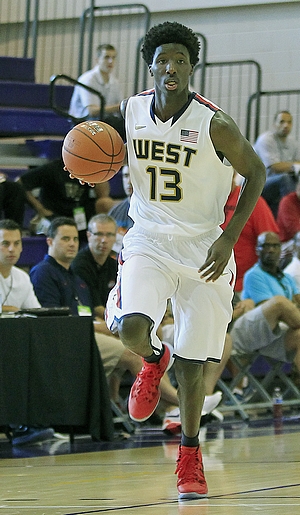 US Presswire
Jonathan Givony
Recruiting Rankings:
247: #11, ESPN: #17, Scout: #15, Rivals: #15
Committed to Connecticut
Strengths:
-Excellent size for a wing at 6-8 ½
-Very good scoring instincts
-Outstanding perimeter shooter
-Can create separation and make tough shots off the dribble. Has a knack for throwing the ball in the basket
-Good footwork. Uses shot-fakes to open up driving angles
-Good in transition
-Can pass the ball when he wants to. Has a solid feel for the game
Weaknesses:
-Narrow frame
-Average wingspan
-First step is underwhelming. Not overly explosive in the half-court
-Struggles to finish around the basket at times
-Plays for himself. Looks very wild/selfish at times. Rarely passes the ball
-Body language is poor
-Doesn't show any interest in playing defense
Outlook:
Extremely talented scorer at the high school level. Has many of the same strengths and weaknesses as his brother Jordan (Denver Nuggets), but doesn't have as good of a frame. Did not appear to be a very team oriented player in any of the settings we observed him in.
[
Read Full Article
]