Darius Miller
Recent Tweets
All Tweets
DraftExpress: With the #46 pick, New Orleans takes Darius Miller. Great pick. Wonder why he slipped so far. I know he had bad workouts, but so what...
2012-06-28 10:16:43
DraftExpress: Tons of interest in 20s. Early 2nd at worst. Danny Green-esqe role-player. RT @rodneylipps: Where do you see Darius Miller going? #dxchat
2012-05-26 09:55:05
DraftExpress: Definitely possible. RT @ChocolateDaddy7: Do you see Darius Miller's stock rise during the final 4 into a early 2nd, late 1st round pick?
2012-03-31 10:19:50
DraftExpress: DX Trending Prospects 2/10: http://t.co/lNindIHf - Updated scouting reports on Terrence Ross, B.J. Young, Darius Miller and Isaiah Canaan.
2012-02-10 03:43:17
DraftExpress: ...JaMychal Green, Doron Lamb, Arnett Moultrie, Tony Mitchell, and Darius Miller http://t.co/VaRgRzpd
2011-10-25 05:51:32
Top 25s - Full List
Team: Bamberg
Physicals
Positions
Rankings
Salary
Misc
H: 6' 7"
W: 233 lbs
Bday: 03/21/1990
(25 Years Old)

Current: SF
NBA: SF
Possible: SF

RSCI: 36

Agent: Doug Neustadt
Current Salary:$400,000

High School: Mason County
Hometown: Maysville, KY
Drafted: Pick 46 in 2012 by Hornets
Best Case: Danny Green
Worst Case: Francisco Garcia

Predraft Measurements
| Year | Source | Height w/o Shoes | Height w/shoes | Weight | Wingspan | Standing Reach | Body Fat | No Step Vert | Max Vert |
| --- | --- | --- | --- | --- | --- | --- | --- | --- | --- |
| 2012 | NBA Draft Combine | 6' 6" | 6' 7.5" | 233 | 6' 9" | 8' 5" | 7.5 | 33.0 | 37.0 |
| 2011 | Kevin Durant Camp | NA | 6' 7" | 238 | 6' 9" | NA | NA | NA | NA |



Basic Per Game Statistics

- Comprehensive Stats - Statistical Top 25s
| Year | League | Name | GP | Min | Pts | FG | FGA | FG% | 2Pt | 2PtA | 2P% | 3Pt | 3PtA | 3P% | FTM | FTA | FT% | Off | Def | TOT | Asts | Stls | Blks | TOs | PFs |
| --- | --- | --- | --- | --- | --- | --- | --- | --- | --- | --- | --- | --- | --- | --- | --- | --- | --- | --- | --- | --- | --- | --- | --- | --- | --- |
| 2015/16 | EURO | Darius Miller | 7 | 23.7 | 7.7 | 2.7 | 6.4 | 42.2 | 1.6 | 3.3 | 47.8 | 1.1 | 3.1 | 36.4 | 1.1 | 1.3 | 88.9 | 0.1 | 1.6 | 1.7 | 1.7 | 0.1 | 0.7 | 1.7 | 3.1 |

Player Page&nbsp&nbsp| Player Stats | Mock Draft History | Related Articles&nbsp&nbsp| Add to My Draft Express&nbsp
&nbsp
NBA Combine Interviews: Barnes, Miller, Hummel
June 16, 2012
[Read Full Article]

---
Trending Prospects (2/10/2012)
February 10, 2012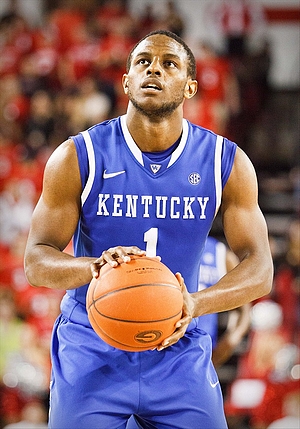 Icon SMI



Matt Kamalsky

An often overlooked but highly-efficient and extremely valuable role-player for one of the nation's best teams, Darius Miller has once again found himself surrounded by another group of potential one-and-doners in Lexington. He did gain some individual recognition this summer, earning the opportunity to play for Team USA at the World University Games and participate in the Kevin Durant Skills Academy, but he is averaging roughly 6 fewer minutes per-game than he did last season and has not seen his role expand in the slightest as a senior.

This is nothing new for Miller, who has consistently put his team's aspirations for a National Championship ahead of his desire to showcase his own talents in front of scouts, and while he remains very much the same player we outlined in our last report, Miller has rebounded from a slow start and shown some new wrinkles in his game in the process this season.

Before delving into the details of Miller's improvement, it is worth noting that little has changed with regards to his role and his most significant assets as a prospect. Possessing prototypical size and strength for a NBA wing at 6-7, 233 pounds, Miller has strong physical tools, but his primary function in Kentucky's offense is to contribute in a limited role with his jump shot and make the most of occasional opportunities to exploit his athleticism in isolation and transition situations. Miller has carried Kentucky for stretches late in games on the offensive end, but for the most part, is deferring to the Wildcat's elite prospects on a nightly basis.

After showing significant improvement as a shooter last season, Miller has continued to shoot the three at a respectable 37.4%-rate this season. After starting the season in a bit of a slump, Miller has been terrific over Kentucky's last 15 games, knocking down 46% of his three-pointers in half court situations according to Synergy Sports Technology. Considering jump shots have accounted for 72.1% of Miller's total shot attempts this season, his ability to replicate, and recently build upon, his performance last season is noteworthy.

Perhaps the most improved part of Miller's game has been his pull-up jumper. Though he still contorts his body a bit when contested, Miller looks much more comfortable stepping up and hitting one-dribble jumpers when defenders close him out too aggressively. Knocking down 34% of the shots he attempted off the dribble last season, he's connecting on an impressive 56% this season, albeit in a small sample (19/34). As we noted in our last report, Miller shows some basic skills with the ball in his hands—and this is just another line on that ledger—but questions remain about his ability to create high percentage looks for himself consistently at the NBA level off the bounce.

On the defensive end, Miller has shown some development, but still gives up too much dribble penetration. Miller has done a nice job contesting jump shots, and has had some very nice possessions, but is still plagued by the lapses in concentration and effort we described in our last report. Considering his physical gifts and potential on this end of the floor, Miller's ability to better use his size and strength more consistently on this end is worth keeping an eye on.

Already showing promising role-player potential with his ability to spread the floor and score in a complementary role, Miller has flashed some offensive tools that he didn't get to showcase as a fourth or fifth option alongside his talented teammates. It will be interesting to see how he fares in events like the Portsmouth Invitational Tournament and the various group and single-team workouts held in the pre-draft process, as he'll have the opportunity to better showcase himself in those settings.

Moving into the final stretch of his senior year, Miller will be a key part of Kentucky's post-season success, and if he can show the ability to lock-down defensively and make big plays, much like DeAndre Liggins did last season, he's going to get a lot of positive reviews heading towards the 2012 Draft.

[Read Full Article]

---
Top NBA Draft Prospects in the SEC, Part One (#1-10)
October 25, 2011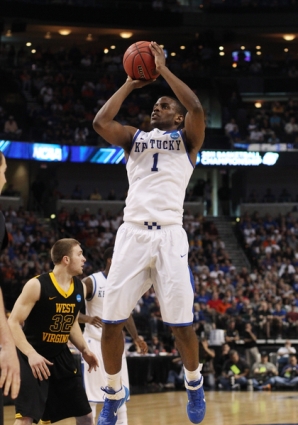 Icon SMI



Joseph Treutlein

After playing a deferential during role his sophomore season on an extremely talented Kentucky team, Darius Miller broke out to some extent as a junior, nearly doubling his scoring production to a still modest 10.9 points per game, but also significantly diversifying the ways in which he was scoring the ball.

Primarily a spot-shooting role player as a sophomore (over 60% of his field goal attempts came from behind the arc that season), Miller exhibited much more versatility as a junior, having many more opportunities to show off his skills with John Wall, Eric Bledsoe, Patrick Patterson, and DeMarcus Cousins moving on to the NBA. While Miller still isn't lighting the world on fire offensively with his 10.9 points per-game, he made significant strides as a junior and shows solid potential in a variety of areas.

Spot shooting still makes up a good chunk of Miller's offensive game, with 3.4 of his 8.2 field-goal attempts per game coming from behind the arc, though his efficiency improved significantly as a junior, up to a strong 44.3% from just 33.6% as a sophomore. Miller still looks a bit stiff in his motions but otherwise has solid fundamentals with a high and quick release along with a good feel for getting open for the quick catch-and-shoot. His experience playing as a role player in college could ease any potential transition to the NBA, but it will be important for him to prove this season his three-point shooting bump wasn't a fluke.

While Miller showed little in terms of ability to attack the basket as a sophomore, he significantly expanded that portion of a game last season, showing the ability to score in a variety of ways with the ball in his hands.

Miller's face-up game is still somewhat limited, as he doesn't possess much in terms of advanced ball-handling and his instincts in the lane are at times questionable, but he's doing a better job taking advantage of his strong first step, rangy strides, and great size and length for his position to create opportunities. He fares very well on spot-up drives and to a lesser extent isolation situations where he doesn't face weak side help, but struggles when having to deal with a crowded lane, often throwing up weak finesse lay-ups in traffic and not doing a good enough job of utilizing his size to finish with power and draw contact.

Miller shows a decent touch with runners, floaters, and running hook shots in the lanes on his drives, but it's not a very efficient aspect of his offensive arsenal and isn't really suited to his strengths. Easing back on that aspect of his offense and better taking advantage of his physical tools would help his stock, but it's worth noting the crowded, often tightly spaced college game doesn't always facilitate those opportunities like the NBA does.

The other area of Miller's game he shows some progress with is his post-up game, where he does a nice job utilizing his size and strength to take advantage of mismatches on the block. Similar to his dribble-drive game, Miller struggles when dealing with multiple defenders and crowds here, but is very formidable when he gets isolation opportunities, having a nice assortment of turnaround jumpers and hook shots to score over his man.

Miller also is formidable finishing on cuts to the basket, but it's not something that was really emphasized with him as a junior. If he were to make it to the NBA, this would likely have to become a larger part of his game at the expense of his face-up opportunities, but it's not a transition he should have much trouble making.

On the defensive end, Miller showed some improvements as a junior, but still retains many of the same fundamental problems from his sophomore season. Despite having excellent tools in terms of size, length, and athleticism, Miller often sags off his man on drives to the basket, too easily giving up a cushion and leading to easy shots. This is contrary to his initially aggressive perimeter stance, where he does a good job using his length to pester and contest shots, only to get out of his stance too easily and give up too much ground going to the basket. He could do a better job keeping low to better move laterally, but really just needs to show more discipline and consistency once his man makes a move to the rim.

Looking forward, Miller has a nice foundation of abilities to build upon with his spot-shooting and athletic and physical tools, but continuing to improve on some combination of his defense, post game, and dribble-drive abilities would help his stock. His experience as a role player could ease a transition to the NBA, but his modest numbers and tendency to disappear at times could give some evaluators pause. Maintaining his strong three-point shooting numbers and continuing to improve his overall abilities will be critical for him as a senior, and doing so could certainly put him in second round conversations.

[Read Full Article]

---
Top NBA Draft Prospects in the SEC, Part Three (#11-15)
October 3, 2010
Matt Kamalsky

Through the first two years of his college career, Darius Miller has yet to achieve the promise that made him a top-50 recruit coming out of high school. Largely a victim of circumstance, Miller played a bit part for Kentucky as a freshman before spending last season as he could spend the rest of his seasons in Lexington, surrounded by a parade of one-and-done stars. A gifted physical specimen, Miller has some of the tools NBA scouts look for in wing prospects, and this could be his best opportunity to showcase his individual talents if Enes Kanter is out of action for any considerable amount of time.

At first glance, Miller passes the look test, and has since his days as a standout at Mason County HS. Standing 6'7, he has the size to play the three position on the NBA level, but it is his strength that makes him standout amongst his peers. Weighing in around 230 pounds, Miller has a mature frame for a college player. He shows a good first step, gets off the floor well, and has a long wingspan, proving to be a fairly complete package athletically.

Miller's offensive arsenal has been severely limited in his first two seasons in Lexington, initially because of his level of development and subsequently because of his role and the players around him. Nearly 50% of his possessions come in spot-up situations according to Synergy Sports Technology, with another significant portion coming in catch and shoot situations in transition.

Miller likes to set his feet on the left side of the floor and wait for his teammates to set him up for a jump shot. Three point attempts accounted for 60% of his total attempts last season,ranking him amongst the top 10 players in our database in three-point attempts per-field goal attempt.

Even when defenders effectively close him out, Miller's primary job in Kentucky's offense last season was to knock down the shots created by John Wall and DeMarcus Cousins and exploit chances to attack the rim when defenders close him out too aggressively, and with Brandon Knight and Marquis Teague headed to Lexington in the coming years; it seems unlikely that Miller will see that change.

A passable perimeter shooter, making 34% of his 3-point attempts, Miller gets excellent elevation on his jumper, which allows him to get off shots from beyond the arc with ease as defenders close him out. Tending to lean forward slightly on many of his attempts and lacking fluidity in his release, he could still stand to smooth out his jumper and take less contested shots.

Though some 80% of his shots were jump shots, Miller showed some promise attacking the rim off the dribble on the handful of occasions that he chose to last season. A bit limited as a ball-handler, Miller's physical strength and solid first step allow him to get into the lane when he wants to, where he is adept at finishing with a floater. Moving forward, he'll need to improve his left hand to become a more complete threat when he puts the ball on the floor by adding some moves to change speed and directions to become shiftier in traffic. Those additions to his game may not have a huge bearing on his success in the NCAA, but they'll be key to his development into an NBA prospect.

Miller's ability to become more aggressive in putting the ball on the floor, less reliant on his jumper, effective at creating his own shot, and a better slasher may become more important to Kentucky's success that it has been in past seasons and is obviously essential to his pro prospects. If Enes Kanter is ruled ineligible or misses any significant amount of time, Miller is a strong candidate to be asked to step up. Whether he is able to do so remains a major question-mark.

He's played well against lesser competition in the preseason, but that doesn't promise him anything this coming year. He could just as easily continue to see limited touches as a complementary player should Kanter become eligible and Terrence Jones tap his excellent potential early on.

Defensively, Miller doesn't show fundamentals or great discipline when faked and is beaten off the dribble too frequently, but has all the tools to be a very solid defensive player. His length allows him to contest shots, and he's quick enough to deny penetration when he's focused and playing hard, but needs to learn when to give a cushion and using his strength advantage more effectively. A capable rebounder, Miller sells out too frequently when closing out on the perimeter, but on the whole, his weaknesses defensively are correctable.

This could be a breakout season for Darius Miller, or a near mirror image of last season. Kentucky's 2011 class is going to garner a lot of touches when Miller becomes a senior, meaning this season may be his last golden opportunity to gain national attention. While he needs to improve his shooting consistency, ball-handling ability, and effort level on both ends, his physical tools could allow him to be a productive player with more touches. An unknown commodity at this point as a high-usage player, Miller could be a player to keep an eye on this coming season.

[Read Full Article]

---
Pitt JamFest: Top 2008 Prospects
May 2, 2007


Miller did not have the best tournament, as William Buford did the blunt of the scoring and playmaking duties for his D-1 Greyhound team. It was clear that he has all of the raw talent and tools to be an outstanding wing down the line, but could really use some polish before he can be considered an NBA prospect. He has a great body, is incredibly long, and uses his quick feet to keep in front of his man at all times on the defensive end. The Kentucky stud has shown the ability to hit the three (although not consistently), but could really use some work on his ball handling skills before he steps foot on campus in 2008. He is definitely a very interesting prospect however, due to his outstanding athleticism and ability to be a shutdown defender on the perimeter.

[Read Full Article]

---