Darius Morris
Recent Tweets
All Tweets
DraftExpress: Highest projected prospects on the board: Davis Bertans, Chandler Parsons, Travis Leslie, Darius Morris, Josh Selby, Jeremy Tyler Macolm Lee
2011-06-23 09:39:46
DraftExpress: DX: Evaluating the strengths and weaknesses of Darius Morris w/the help of Michigan game film: http://bit.ly/l8hPEL
2011-06-14 03:41:59
DraftExpress: Others players who withdrew from the Minnesota group workout include Ben Hansbrough (injured) and Darius Morris. First workout at 2:30 today
2011-05-23 12:00:19
DraftExpress: Video interviews from the NBA Combine in Chicago w/ Josh Selby, Nolan Smith, Iman Shumpert, and Darius Morris
2011-05-23 10:06:36
DraftExpress: Also got a few minutes with Brandon Knight, Jimmer Fredette, Charles Jenkins & Darius Morris. We'll try to get the rest of the PGs tomorrow
2011-05-19 12:31:04
Team: Lakers College Team: Nets
Physicals
Positions
Rankings
Salary
Misc
H: 6' 5"
W: 190 lbs
Bday: 01/03/1991
(24 Years Old)

Current: PG
NBA: PG
Possible: PG

RSCI: 115

Agent: Brian Dyke
Current Salary:$702,756

High School: Windward
Hometown: Los Angeles, CA
Drafted: Pick 41 in 2011 by Warriors
Best Case: Andre Miller
Worst Case: Mustafa Shakur

Predraft Measurements
| Year | Source | Height w/o Shoes | Height w/shoes | Weight | Wingspan | Standing Reach | Body Fat | No Step Vert | Max Vert |
| --- | --- | --- | --- | --- | --- | --- | --- | --- | --- |
| 2011 | NBA Draft Combine | 6' 3.25" | 6' 5.25" | 190 | 6' 7.5" | 8' 6" | 5.3 | 24.5 | 32.0 |



Basic Per Game Statistics

- Comprehensive Stats - Statistical Top 25s
| Year | League | Name | GP | Min | Pts | FG | FGA | FG% | 2Pt | 2PtA | 2P% | 3Pt | 3PtA | 3P% | FTM | FTA | FT% | Off | Def | TOT | Asts | Stls | Blks | TOs | PFs |
| --- | --- | --- | --- | --- | --- | --- | --- | --- | --- | --- | --- | --- | --- | --- | --- | --- | --- | --- | --- | --- | --- | --- | --- | --- | --- |
| 2014/15 | NBA | Darius Morris | 39 | 7.8 | 2.1 | 0.9 | 2.7 | 33.6 | 0.7 | 1.9 | 39.2 | 0.2 | 0.8 | 21.2 | 0.1 | 0.2 | 44.4 | 0.2 | 0.5 | 0.7 | 1.2 | 0.2 | 0.0 | 0.5 | 0.5 |

Player Page&nbsp&nbsp| Player Stats | Mock Draft History | Related Articles&nbsp&nbsp| Add to My Draft Express&nbsp
&nbsp
Darius Morris Video Breakdown
June 14, 2011
We take a look at the strengths and weaknesses of Darius Morris, with the help of Michigan game-film from this past season.



Darius Morris Strengths/Weaknesses Video







Watch in full screen mode by clicking button in upper right hand corner of video




[Read Full Article]

---
NBA Combine Interviews: Josh Selby, Nolan Smith, Shumpert, D. Morris
May 23, 2011
[Read Full Article]

---
Trending Prospects (1/14/2011)
January 14, 2011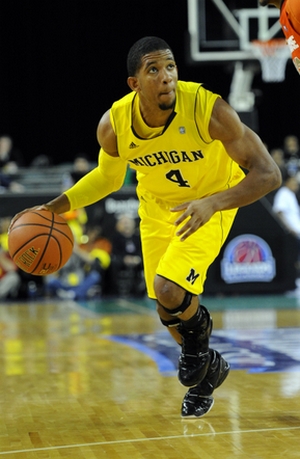 Icon SMI



Walker Beeken

When talking about the most improved players in the country this season, Michigan's Darius Morris has to be in the conversation. The sophomore point guard has increased his numbers across the board and made the leap from an unproductive freshman to one of the top guards in the Big Ten.

From a physical standpoint, Morris has great size and length for the point guard position at 6'4" with a very impressive frame. Always looking to make things happen with the ball in his hands, Morris is capable of overpowering defenders with his solid first step and extremely aggressive mentality, similar to the way Tyreke Evans did at Memphis a few years back. While he may not possess jet-quickness by NBA standards, his size and strength are major assets on both ends of the floor and give him a huge physical advantage at the point guard position.

Running the point for a young Michigan team, Morris has really stood out with his ability to utilize his size, ball-handling ability, and craftiness to get into the paint and make plays. His ability to finish in the lane and in the midrange area is highlighted by the fact that he's shooting an excellent 56% on 2-pointers so far this season, where he's shown that he's capable of finishing in a variety ways. He's also doing a much better job drawing contact at the rim this season, as he's getting to the line at a much rate than he did as a freshman.

The area where Morris has really stood out and made strides this season has been as a distributor. Aided by the fact that he's asked to handle the ball and create shots for himself and his teammates dozens of times per game, he's shown to have a solid feel for making drive and dish plays, even if there's still plenty of room for improvement. He's clearly embraced his role as the Wolverine's primary ball-handler and playmaker, nearly doubling his assist rate from last season.

Morris is dishing out 8.8 assists per 40 minutes pace adjusted this season, which leads all players in our database. For a player who last season looked like he may not even be a point guard, that is a pretty incredible stat. With that said, we must consider the situation he's in right now, as he is asked to handle the ball virtually every second his team is on offense. This results in some very ugly possessions from time to time, where Morris will pound the ball incessantly or force the issue badly, leading to a huge amount of turnovers and low-percentage shots.

While his decision making can be very shaky at times, due to attempting to throw difficult passes or forcing up contested shots, he's adapting pretty well to his role this season, particularly as the year has moved on. Coach John Beilein has had no choice but to show the utmost confidence in Morris and his ability to run the team, altering his half-court philosophy dramatically from a stagnant motion offense to one centered around pick and rolls and isolation plays. This appears to have improved his team's offense—Michigan was just narrowly defeated by two of the top teams in the NCAA in Michigan State and Kansas this past week—and has allowed Morris to emerge as an interesting draft prospect in turn.

Morris can become even a much more dangerous player if he can continue to improve as a perimeter shooter. His 3-point shooting is up slightly to 27.9% this season, from a miserable 18% as a freshman, and his free throw shooting has risen from 63% to 77%. Clearly he put in some work shooting the ball over the summer. With that said, he still has plenty of room for improvement. He isn't particularly effective as a shooter with his feet set, and while he's more comfortable shooting off the dribble, he still takes some bad shots and doesn't have great range. If he can become a reliable shooter from 3-point range, it should really open up his slashing game and make him an even tougher matchup for opposing point guards.

Defensively, Morris has the potential to be a solid defender at the NBA level. He has ideal size and length for a point guard, he moves well laterally, and he plays with good energy. He'll need to improve on defending the ball-handler on pick-and-rolls and work harder at fighting through screens, but he can get better with that in time.

Another plus for him defensively is that he's big enough to be able to cover most shooting guards, which would enable him to be able to play in different backcourt combinations and give his coach flexibility on the defensively depending on matchups.

Overall, it's still a bit premature to jump to too many conclusions regarding Morris's NBA prospects, but through sixteen games of this season, he's certainly managed to turn some heads. His dramatic improvement from his freshman to sophomore season is very encouraging, and he is definitely a player to keep an eye on as he goes through Big Ten play.

While Morris may not be able to operate offensively in the NBA in quite the same manner as he does at Michigan currently, his size and knack for getting into the lane and making plays is definitely intriguing. As he continues to add polish and improve as a perimeter shooter and decision maker, he'll likely be a player we talk much more about in the future.

[Read Full Article]

---