Top NBA Draft Prospects in the Big East, Part Four (#6-10)
October 10, 2013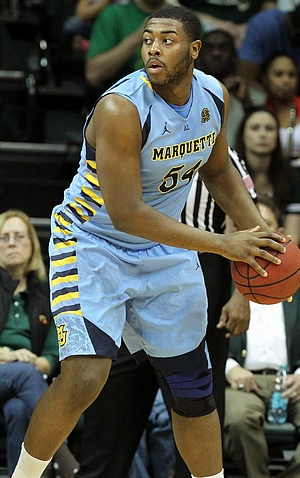 US Presswire
Josh Riddell
Davante Gardner was expected to take on a larger role in the Marquette offense last season after the graduation of Jae Crowder and Darius Johnson-Odom. His production level plateaued from his sophomore to junior season, though, as any substantial improvement in his skills was hindered by an inability to stay on the floor-- as he was only able to average 21.5 minutes per game. Gardner posted 11.5 points per game on 58.5% shooting with 4.8 rebounds per game, but his production per 40 pace adjusted of 21.9 points and 9.2 rebounds shows his potential if only he could find a way to stay on the court for longer stretches.
Gardner's inability to stay on the floor is not related to foul trouble, as he committed only two fouls per game last season. Instead, it has to do with his stamina, which, at 290 pounds, he has struggled with for his entire collegiate career. Gardner likely won't be asked to play more than 20 minutes on any NBA team he lands on, but if he cannot play more than this amount in college, scouts will have doubts that he can contribute while playing at the much faster pace of a NBA game.
Offensively, Gardner rarely looked for his shots outside the paint, as 91.8% of his offense is categorized as coming around the basket or on post-ups by Synergy Sports Technology. Around the basket, he averaged 1.37 points per possession, which ranked in the 92% percentile by Synergy Sports. He's a nimble player in the post, demonstrating nice footwork to get around the defenders, where he averaged 1.156 points per possession, which ranked in the 91% percentile by Synergy Sports. He is very effective in the paint against collegiate players, but his 6'8" size combined with his below the rim style of play suggests that he will likely struggle finding the same success against NBA big men.
One area where Gardner will have to show value to scouts is rebounding, particularly on the offensive end. His 3.9 offensive rebounds per 40 pace adjusted are
merely average
for a player of his size and actually represent a decrease from 5.2 his sophomore campaign. Since he doesn't have the physical attributes to just up go up and get the rebound, he has to rely on reading the ball coming off the rim and positioning to grab the loose ball. However, this means his effectiveness can be mitigated on this end by more athletic players, who can outjump him even if Gardner gets position.
On the defensive glass, he is not much better, as he grabbed only 5.2 defensive rebounds per 40 pace adjusted, one of the lower rates among NCAA center prospects. This will be a key skill for him going forward, so he will need to show a greater willingness and ability to rebound on the defensive end his senior season.
Defensively, there are significant questions about Gardner's potential at the NBA level. He will likely have to guard post players in the NBA and he will be at a major disadvantage due to his size. Although he has a nice wingspan to complement his frame, it might not be enough to bother most NBA centers, and he almost certainly won't be much of a paint protector, as he struggles to get off the ground. Outside of the post, he has surprising agility for a player his size, but will likely still struggle to stay in front of perimeter oriented big men, as he doesn't move well laterally to cover dribble penetration. When he closes out on shooters, he is often a step late on challenging shots. Even if he is able to recover and challenge the shot, bigger players are able to easily shoot over him without being bothered.
Looking forward, Gardner faces an uphill road if he wants to find his way onto an NBA roster next season. His first priority has to be improving his conditioning and demonstrating he is able to play more minutes at the pace of a collegiate game. There are plenty of holes in his game, so he will need to demonstrate value to scouts and show how he can compensate for his smaller size while filling a specific need for a NBA team.
[
Read Full Article
]
Top NBA Prospects in the Big East, Part Five
October 22, 2012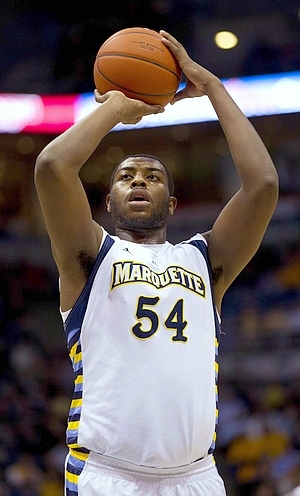 US Presswire
Kyle Nelson
Marquette center Davante Gardner seemed to be in the midst of a breakout sophomore season before going down with a right knee injury and missing eight straight games. While he returned to help Marquette to a second-place finish in the Big East tournament and their second straight Sweet Sixteen run in the NCAA, he failed to regain his early season form. As a junior, Gardner will be expected to take the next step, becoming more than merely a role-player, picking up the slack for a Marquette team that lost its top two scorers and leading rebounder.
Gardner's biggest obstacle seems to be, in part, his most significant advantage at this level. Standing 6'8 with a long wingspan and a 290-pound frame, Gardner is a massive presence at the center position. He would be well served to improve his physique, however, as it seems as though he could play more minutes and maximize his explosiveness and quickness with better conditioning. As it stands, he lacks stamina and plays below the rim, despite his better-than-average mobility and impressive girth. Given the fact that he is a 6'8 center, extremely undersized for the NBA, he must maximize his physical tools if he hopes to someday earn a roster spot at the next level.
Improving his conditioning is particularly important given the fact that he played just 19.1 minutes per game and is one of the
more productive NCAA centers
. Gardner posted a very productive 9.5 points in 19.1 minutes per game and 18.6 points per 40 minutes pace adjusted.
On tape, Gardner shows solid hands, quick feet, and a developing post game featuring a solid arsenal of spin moves, jump hooks, and drop steps. He is very good at carving out space in the paint and aggressively attacking the basket. His ability to find scoring opportunities and aggressive style of play also results in an outstanding
7.7 free throw attempts per 40 minutes pace adjusted
. He makes 56.8% of his attempts from inside of the arc and shows solid shooting touch overall, including 75.5% from the free throw line. Scouts will be watching to see if he can continue to improve while remaining one of
more efficient centers in college basketball
.
It is worth noting, too, that Gardner is one of the best
offensive rebounders in our database
, at 5.2 offensive rebounds per 40 minutes pace adjusted and he finds a lot of points by tipping in his teammates missed shots.
Two areas in which he showed brief flashes of potential, but hardly anything substantial were as a finisher in the pick-and-roll and as a spot-up shooter. With his size and relatively quick feet, Gardner set good screens and rolled hard to the basket on the few opportunities in which he was featured. Similarly, despite only taking a handful of jumpers and missing his only two attempts from beyond the arc, Gardner showed decent mechanics in the mid-range if he chooses to expand this aspect of his game. Improving in these areas, both of which are coveted in today's NBA, could help improve his standing in scouts' eyes.
On defense, his conditioning and propensity for committing fouls (5 per-40 minutes pace adjusted)limit him despite the fact that he is actually a decent defender overall and extremely hard to move off the block. That being said, his lateral quickness is not great and he has trouble closing out on shooters or stepping out to guard perimeter oriented big men or the pick-and-roll. He is not much of a shot blocker either. Becoming a more aggressive and focused defender, therefore, should be a priority moving forward, especially considering he's already severely undersized for a center at 6-8.
Furthermore, and perhaps most concerning is his
mediocre defensive rebounding rate,
as he pulls in just 5.2 defensive rebounds per 40 minutes pace adjusted while not showing the greatest fundamentals or effort.
As Gardner looks toward his junior season, he has quite a few things to work on before solidifying his standing as a NBA prospect. Most immediately, his lack of conditioning has prevented him from maximizing his athletic potential, staying on the floor, and becoming a consistent contributor for a Marquette team that will badly needs his inside presence this season. Scouts will be watching to see whether he can make some substantial improvements over the next two years.
[
Read Full Article
]