David Jelinek
Recent Tweets
All Tweets
DraftExpress: Scouting the Draft-Eligible International Prospects - Nihad Djedovic, Leon Radosevic, David Jelinek http://t.co/AX8Sa1bq
2012-05-02 04:09:01
Team: Anwil
Physicals
Positions
Salary
Misc
H: 6' 5"
W: 189 lbs
Bday: 09/07/1990
(25 Years Old)

Current: SG
NBA: SG
Possible: SG

Agent: Phillip Parun

High School:
Hometown: Brno, Czech Republic

Predraft Measurements
| Year | Source | Height w/o Shoes | Height w/shoes | Weight | Wingspan | Standing Reach | Body Fat | No Step Vert | Max Vert |
| --- | --- | --- | --- | --- | --- | --- | --- | --- | --- |
| 2012 | Eurocamp | 6' 4.25" | 6' 5.25" | 189 | 6' 7" | 8' 4.5" | NA | 26.0 | 32.5 |
| 2011 | Eurocamp | 6' 3.98" | 6' 5.17" | 194 | 6' 5.95" | 8' 2.43" | 7.1 | 24.6 | 33.6 |
| 2010 | Eurocamp | 6' 4.38" | 6' 5.56" | 194 | 6' 5.95" | 8' 4.79" | NA | 24.4 | 34.6 |



Basic Per Game Statistics

- Comprehensive Stats - Statistical Top 25s

Player Page&nbsp&nbsp| Player Stats | Mock Draft History | Related Articles&nbsp&nbsp| Add to My Draft Express&nbsp
&nbsp
Scouting the Draft-Eligible International Prospects (Part One)
May 2, 2012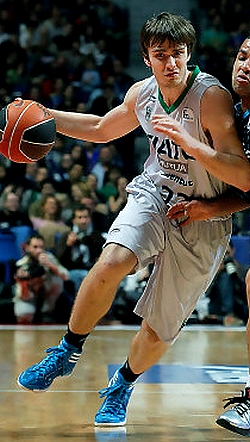 ACB.com



Matt Kamalsky

After a strong campaign in his first season seeing significant playing time in the ACB and a promising performance at the 2011 adidas Eurocamp, David Jelinek appears to have taken a step back in his final season upon becoming automatically eligible for the NBA draft. The perimeter-oriented Jelinek continues to see significant minutes in the ACB, but has struggled to score efficiently all season long.

An average athlete with just decent size and length for a NBA shooting guard, Jelinek's perceived value at the NBA level has always been rooted in his ability to knock down shots from the perimeter. Connecting on some 46% of his three point attempts last season, his ability to stretch the floor and knock down open spot-up shots offered some intrigue. This season, Jelinek is shooting just 32% from beyond the arc, and has gone from shooting 52% in catch and shoot situations to connecting on just 29% according to Synergy Sports Technology. He doesn't seem to be shooting with the same fluidity and reliable follow-through we saw from him last season, lofting the ball at the rim from deep and short arming shots with a hand in his face, often coming up well short as a result.

Considering most of Jelinek's touches come on kick outs to the perimeter or when he's running off of screens—and just how efficient he shot the ball last season—such a dip in reliability is very significant. Lacking great quickness and ball-handling ability, Jelinek is not one to make plays off the dribble consistently, and is shooting only 41% from 2-point range (identical to last season) in the very physical ACB league due to his skinny frame and lack of explosiveness around the rim. The Czech wing been at his best this season when defenders have over-aggressively closed him out or trailed him as he runs off screens, as he's looked much more in rhythm pulling up for a jump shot from the midrange than he has off the catch.

Given his average physical tools, Jelinek doesn't create much offense for his teammates, but he's not selfish either. His struggles from the perimeter are not a result of him forcing the issue, and he willingly swings the ball instead of trying to re-find his stroke.

Defensively, Jelinek has shown some improvement this season. He still lacks the lateral quickness to be able to defend his position at the NBA level, but he's played with improved intensity this season. Often the target of on and off ball screens, Jelinek lacks a degree of strength and toughness fighting through contact, but does a decent job getting a hand in the face of shooters and not ball-watching on the weakside, something he did regularly last season. He'll need to get stronger and learn to deal with physical play if he wants to become a more complete defensive player in the European game down the road, but he is not giving up as much dribble penetration as he did in his first season as a rotation player in the ACB.

After a promising 2011 season, David Jelinek seemed to be turning the corner as a prospect. His play this season has certainly given scouts pause, as his effectiveness from the perimeter has coming crashing back down the earth. Such a dip couldn't have come at a worse time for Jelinek's NBA prospects, as he's automatically eligible for the 2012 draft, but if he can rediscover his touch, he could certainly emerge as a valuable role-player once again in the ACB down the road.

[Read Full Article]

---
2011 adidas Eurocamp: Day Three and Final Recap
June 14, 2011
David Jelinek manned up today and didn't rest on his laurels from day two. Today he was driving at the rim and finishing through contact and had a very nice dunk after running the fast break with fellow Czech teammate Tomas Satoransky. He scored 18 points without attempting a three-pointer in 19 minutes. That's a great sign from a player who shot 46% from beyond the arc in the ACB this season, seeing a solid 15 minutes per game.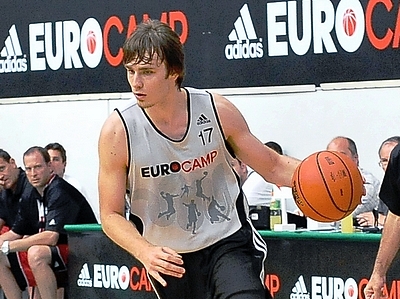 Federica Donadi / adidaseurocamp.com



All in all, Jelinek was one of the breakout performers of this camp, showing very nice versatility on the offensive end. He can make shots both off the dribble and with his feet set, and found ways to score in enough other ways to avoid being labeled a one-dimensional player.

Possessing average athleticism and size for a shooting guard at 6-4 without shoes with a 6-6 wingspan, Jelinek is not what you could call a physical specimen. He did have a very productive season in the ACB, though, and followed that up with a strong EuroCamp campaign. If he can show that he can defend his position effectively at the NBA level, he might have a chance to hear his name called when he becomes automatically eligible for the draft next year.

We got a chance to speak with Jelinek as the camp was coming to a close...



[Read Full Article]

---
European Roundup: Breakout Bogdanovic
November 17, 2010
Fresh off a solid, albeit less than spectacular, showing for the Czech Republic at the European U20 Championships, David Jelinek has figured prominently into DKV Joventut's rotation this season. After averaging double-figures for CB Prat in the LEB Silver, Jelinek has seen consistent minutes in ACB player thus far this season.

A highly confident shooter with solid speed in the open floor, Jelinek is not a great leaper, which limits him considerably around the rim at the ACB level, but he has nice form on his jump shot and is capable of creating some space off the dribble. Able to play above the rim when he has an open lane, Jelinek seems a bit anxious at times with the ball in his hands, and would be well served to add some muscle to his frame or develop his midrange jump shot to take some pressure off of himself at the rim.

Despite showing solid passing ability on the LEB and junior levels, Jelinek has been used primarily as a spot up threat and transition option. Possessing solid size for the shooting guard position and adequate athleticism, Jelinek did not impress at the adidas Eurocamp last season and may not project as a high level NBA draft prospect, but he's been shooting the lights from beyond the arc early this season and with added polish from the midrange, could earn some recognition if he continues knocking down his jump shot at a high rate. With his short arms and narrow frame, Jelinek's defensive potential looks extremely limited when discussing his NBA prospects, which may be the main thing holding him back long-term.

[Read Full Article]

---
L'Hospitalet 2008: It's a Big World
January 16, 2008
We saw a rather different Jelinek than the one that showed up this past summer in the Division B of the U-18 European Championships. More of a team player, working harder, playing defense, sharing the ball and the spotlight, also a bit less confident with his game, but anyway delivering a very serious performance.

Of course he's the same finesse and very fundamentally sound shooting guard, really skilled, elegant, always evolving with poise on the court. He showcased similar strengths as he did then, such as his very good ball-handling skills to attack his opponents, often with crossover dribbles, good touch out to the three-point line, the ability to finish around the basket with both hands creatively, or very nice passing ability that he actually took advantage of this time in drive-and-dish situations. He's a very fluid player, fluid moving on the court, fluid on the dribble, fluid in the release of the ball, a delight for the senses.

Not a great athlete and playing the shooting guard position with his 6-4/6-5 size, he basically looks strictly a prospect for international basketball, but a very interesting one.

[Read Full Article]

---
U-18 EC Division B: Searching for Hidden Gems
August 6, 2007
The poster boy for the Czech struggles is David Jelinek, the most talented guy n the team and one of the most promising players in the entire tournament. He's a 1990-born 6-5 combo guard signed in Spain by DKV Joventut. With the National Team he officiates as shooting guard, probably his most natural position at this moment, but we've seen him playing the point with Joventut's U-20 squad, a good option considering his skills and what he needs to work on.

Anyway, he's a very skilled guy with an excellent feel for the game and nice athleticism, particularly in terms of quickness. He loves to attack his match-ups off the dribble going both ways, almost always using crossover dribbles, which in the end, become a little bit predictable. But he's skilled displaying them and enjoys the quickness and footwork to easily step into the lane, while he's smart using his body to finish near the rim. He can also shoot the ball with nice range and off-the-dribble skills. In the end, he abuses his abilities way too much; trying to make things happen himself while ignoring his teammates, which usually results in forced plays and bad shots. It's a pity, because he seems to enjoy decent court vision, and he certainly has the skills to involve his teammates. But he plays and feels like a star, which is reflected not only in the amount of possessions he absorbs, but also in his very poor defensive effort. Hopefully Joventut coaches will be able to guide him to the right path for the future.

[Read Full Article]

---