Team: LG Sakers
Physicals
Positions
Rankings
Salary
Misc
H: 6' 6"
W: 213 lbs
Bday: 11/03/1986
(29 Years Old)

Current: PF
NBA: PF
Possible: PF

RSCI: 52

Agent: Dan Tobin

High School: The Patterson School
Hometown: Lynwood, CA
Best Case: Gerald Wallace
Worst Case: Jeremiah Massey

Predraft Measurements
| Year | Source | Height w/o Shoes | Height w/shoes | Weight | Wingspan | Standing Reach | Body Fat | No Step Vert | Max Vert |
| --- | --- | --- | --- | --- | --- | --- | --- | --- | --- |
| 2008 | NBA Pre-Draft Camp | 6' 5.25" | 6' 6.5" | 213 | 6' 9.5" | 8' 9" | 12.0 | 27.0 | 32.0 |



Basic Per Game Statistics

- Comprehensive Stats - Statistical Top 25s

Player Page&nbsp&nbsp| Player Stats | Mock Draft History | Related Articles&nbsp&nbsp| Add to My Draft Express&nbsp
&nbsp
What We learned from the NBA Draft Measurements and Combine
June 3, 2008
We discussed during the pre-draft camp just how incredibly out of shape Davon Jefferson looks, and the combine results did nothing to dissuade that notion, as he came out measuring 12% body fat. A guy that clearly looked like one of the best athletes in the NCAA for most of the season seems intent on doing everything humanly possible to tank his draft stock—lifting the 185 bar just twice, running very poorly in the lane agility and ¾ court sprint, and to add insult to injury, measuring out an inch and a half (6-6 ½ in shoes) shorter than he was listed at USC. He showed almost no competitive fire when things mattered at the pre-draft camp. For a player who was never going to impress anyone with his skill level or intangibles, all this combined is probably going to cause him to go undrafted.

[Read Full Article]

---
NBA Pre-Draft Camp, Day Three
May 30, 2008
Davon Jefferson continued not to show the type of effort or fire you would expect to see from a player who is currently fighting for his professional future, after having prematurely hired an agent following an average freshman season. His conditioning looks poor, he's dribbling the ball excessively, and he's yet to make use of the terrific athletic ability that made him a prospect to start with. This is turning into a very disappointing pre-draft camp for him.

[Read Full Article]

---
NBA Pre-Draft Camp, Day Two
May 29, 2008
Who hurt himself the worst? Most likely Davon Jefferson. He came here out of shape, and has barely been hustling at all for the past two days. Although he was able to use his freakish athleticism to make some plays on the glass and in transition, NBA types can't be crazy about what they are seeing here. He needs to realize the urgency of the situation quickly if he wants to avoid destroying what otherwise might be a very promising future. At this point it looks very obvious that the 21-year old freshman is not ready to be in this draft, and definitely made a hasty decision hiring an agent.

[Read Full Article]

---
NCAA Weekly Performers, 1/10/08-- Part Two
January 10, 2008
Two years behind schedule, 21 year-old freshman Davon Jefferson has finally made his NCAA debut. Jefferson was once thought of as a potential early-entry candidate for the 2006 draft, but after failing to get academically eligible, first following the Letter of Intent he signed with UNLV in advance of the 2005-2006 season, and then with USC for 2006-2007, he was forced to wait for 2007-2008 to step out on the court. Even though he obviously has a world of talent at his disposal, he still looks like an extremely raw basketball prospect at this point.

Any discussion of Jefferson has to start off with his unbelievable physical tools. We're talking about a thoroughbred athlete, blessed with incredible leaping ability, outstanding quickness, and awesome speed in the open floor. He has good size at 6-8, with a frame that should eventually fill out, and an excellent wingspan that completes a very interesting physical picture.

Most of Jefferson's offense stems almost exclusively from these physical tools. He likes to face the basket and use his terrific first step to get to the rim attacking unbalanced defenses. He can also do some work in the post, mostly by receiving the ball and then facing up and using his quickness and explosiveness to slither his way around the paint to get close enough to the basket and finish, being a magnet for fouls in the process. Nothing here screams polished (especially not NBA wise), and in many games his best source of offense come just through running the floor in transition and crashing the offensive glass, where his athleticism really shines.

Jefferson's long term position down the road will probably be at the small forward position. At the moment, though, that seems to be pretty far off. His ball-handling skills are extremely poor, particularly with his left hand, and he shows very little ability to change directions and avoid traffic, which can lead to offensive fouls. He's also a poor outside shooter—not having hit even a single 3-pointer on the year, and looking fairly limited from mid-range as well unless he's wide open and able to fully set his feet. He will drop some occasional glimpses of potential with a 17-footer or a pull-up jumper, but these are still few and far between. He plays the power forward position exclusively right now for USC, and considering his skill-set and the makeup of their roster, this probably won't be changing any time soon.

One of Jefferson's biggest problems is that he plays way too fast for his own good, as his athleticism is still way ahead of his skill level. He has a very limited understanding of the game, not having appeared to have received very much real coaching up until this point, and thus severely lacking in the fundamentals department. The place where that seems to show up the most is in his passing game, ranking amongst the worst in the country amongst draft prospects in assists per 40 minutes pace adjusted, and 13th worst in assist to turnover ratio. Looking beyond the stats, you can clearly see how this plays out on the court, as he shows no filter in his shot-selection and looks to jack up absolutely everything that comes his way. Once he gets the ball, he just lowers his shoulder and tries to get to the basket, regardless of what's in front of him. Even when he tries to pass the ball, it often results in a turnover.

Defensively, Jefferson has very nice tools, showing a good wingspan, excellent lateral quickness, and nice explosiveness getting off his feet, but he again relies more on his athleticism than on any real fundamentals. He has pretty poor awareness and doesn't seem to read situations very well, getting backed down in the post because of his lack of bulk (at the power forward position), and not being particularly effective defending the pick and roll. He is a very active player, though, and looks very aggressive for the most part, which helps make up for a lot of his shortcomings on this end.

There are also some question marks about his intangibles. The fact that he could not qualify academically for college for two straight years is somewhat of a red flag, as is the way he bounced around between high schools until he finally landed at USC. He did not play in the first three games of the season in November—either because he was suspended for two of them for team related issues, or because of a "lack of understanding of team concepts," depending on who you ask. There could be more issues that get dug up once we move into the draft process as well.

All in all, Jefferson is a high-risk, high-reward type prospect who looks very far right now from being able to compete at the NBA level, but surely possesses nice upside to continue to improve in the future as his knowledge of the game expands. He'll likely have to stay at least another year or two at USC before he can start garnering legit consideration in the first round. That is, unless an Isiah Thomas type GM falls in love with him, much the way the Knicks did with Wilson Chandler last year.

[Read Full Article]

---
Davon Jefferson: An NBA Age Limit Case Study
September 29, 2005
"The player (A) is or will be at least 19 years of age during the calendar year in which the Draft is held, and (B) with respect to a player who is not an international player (defined below), at least one (1) NBA Season has elapsed since the player's graduation from high school (or, if the player did not graduate from high school, since the graduation of the class with which the player would have graduated had he graduated from high school);".[/b]

This is the NBA's age minimum rule taken directly from the league's collecting bargaining agreement. When this age requirement was put in, Commissioner Stern and many of the other higher ups in the league may have been thinking "well, although we didn't get the 20 year old limit, at least we'll get these kids in school for one year". Were they wrong?

Once the CBA was agreed upon, prep schools such as Mount Zion Academy (NC), South Kent Prep (CT), Laurinburg Prep (NC) were licking their chops. They realized that many of the nation's top players who would have made the leap to the NBA right out of high school might consider using prep schools as a one year temporary home in order to avoid attending college for a year, and possibly having their games exposed against older and more experienced foes. It is looking more and more like the first one to attempt to do this may be Patterson School (NC) 5th year player Davon Jefferson.

Davon Jefferson came into the spring of 2005 as an athletic 6'8 power forward, with great athleticism and a ton of upside. He was tall, blessed with long arms and really nice quickness on the offensive end. Jefferson initially signed with UNLV, so it was obvious that we would be able to see plenty of him next year with the Running Rebels. In March, the author made a three day trek to the EA Sports Roundball Classic in Chicago to see what him and other top high school prospects have to offer. At that time, the prevailing notion was that he was a power forward who had all of the tools to make the transition to small forward, but really needed to improve upon his skill level if he wanted to make the eventual jump to the NBA, which he had supposedly been considering.

Fast forward two months. With the AAU season now starting to get in full swing, a familiar name popped up again: Davon Jefferson. It became clear that Jefferson was not able to become academically eligible to play in 05-06 for UNLV. That aside, the coach who recruited Davon to UNLV (Marvin Menzies), bolted and headed east to Louisville. His decommitment from UNLV due to academic reasons and the coaching changes stated above reopened his recruiting process, eventually landing him at The Patterson School in North Carolina for a 5th year of school. As the only viable American prep prospect at this point outside of the NBA due to the age limit, NBA scouts will be flocking to see him all season long, especially if the early entry chatter that we're hearing from his camp continues to get louder as it consistently has lately.

Jefferson played with the H-Squad this summer, a California based AAU team who later changed their name to Team Danny Williams. He was absolutely dominating the scene, leading his team to multiple tournament victories as well as improving his perimeter game to where he was truly one of the elite players in the country.
Another opportunity to watch him and his supposedly vastly improved outside game arose at the Reebok Bigtime Tournament in Las Vegas over the summer. This was the last big event of the AAU season, and Jefferson did not disappoint.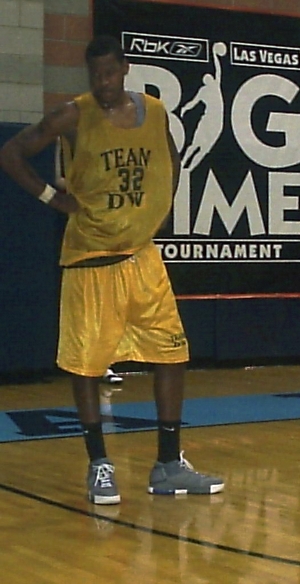 Rodger Bohn/DraftExpress.com



Offensively, Jefferson was virtually unstoppable. If a taller player guards him, he uses his great first step and quickness to take him to the rack. If a smaller player guards him, Davon goes directly to the blocks and posts up. He is comfortable going both right and left, and is equally comfortable finishing with both hands. The promising forward often shows off an extremely quick spin move when a defender recovers to his initial move when out on the perimeter, as well as a nice turnaround jumpshot out of the post. When the double team comes, Davon has no problem finding the open man as his decision making skills are fairly solid. When near the rim in Vegas, you might as well have put two points on the board because the California native used his athleticism to the fullest extent, dunking anything around the rim and using his body well enough to get to the line more then your normal small forward would.

Defensively, Jefferson has all of the tools to be a great defender, but he just hasn't put them all together yet. He has prototypical size for a wing, great athleticism, and most importantly, he's not afraid to mix it up inside and rebound the ball. In terms of hitting the glass, Davon is all you can ask for out of a small forward. He does a great job of boxing out, then really goes and attacks the ball with his impressive leaping ability. Jefferson also uses his combination of size and speed to create havoc in the passing lanes, along with being able to block or alter countless shots throughout the game.

It must be kept in mind however that Davon is still in the process of making the transition from power forward to small forward, and is just now starting to get there. He still does not have an adequate outside jumpshot for a wing, evidenced by the fact that he did not make even a single three pointer in my time watching him in Las Vegas. He doesn't really seem to quite have a feel for the game yet on the perimeter, nor the footwork, as he basically relies on his great explosiveness to beat people off of the dribble. Although Davon has shown the ability to knock down the pull-up midrange jumper off of the dribble, it still remains very inconsistent and really must be improved upon, considering that he's a wing who isn't a three point threat yet. Jefferson's ball handling skills are not quite there yet, but they have improved drastically within the past six months. His body structure is very good, as he has the potential to add weight, but he still remains a bit skinny for a 6'8 player at only around 200 lbs. However, this should not be a problem once he reaches the next level.

Jefferson's most glaring weakness, though, like many prep stars, is his defense. As mentioned before, Davon certainly has all the tools to be a solid defender, but they just haven't come together at this point. In certain games he looks like a very solid defender statistically based on his rebounding, blocked shots, and steal numbers, but the player he is guarding will wind up with at least 20 points. Never was this clearer than when Jefferson went up against Cincinnati North College Hill wing Bill Walker, and could not do a single thing to stop the class of 2007 stud. It seems as if so much of his team's offensive load is placed on his shoulders, that Jefferson might not have the stamina to put forth the same amount of effort on both ends of the floor, a problem that indeed many talented NBA wing players encounter as their team's first option offensively. Being forced to guard the opposing team's best player, whether it may be a small forward or power forward is apparently a whole lot for a teenager to take on when you are relied upon to score at least 25 points a game. To shed a positive light on this, Davon openly acknowledged that his defense is by far the area of his game which needs the most improvement, so hopefully we will have a defensive stopper on our hands by the time the spring all-star games roll around.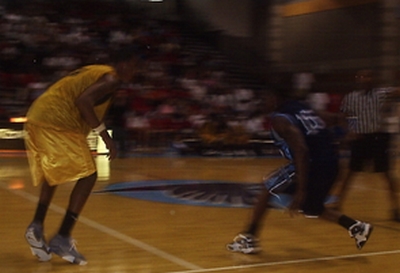 Rodger Bohn/DraftExpress.com



So this is what we know about Davon Jefferson right now. It is looking more and more like he might be the very first case study in the "prep school vs. college" debate. It will be interesting to follow Jefferson this year and see how he fares at the prep school level compared to a player who was in a similar situation but opted for the NCAA instead, Brandon Rush. Like Jefferson, Rush mulled entering the NBA Draft throughout his entire senior year of high school. Unlike Jefferson, Rush actually entered the draft, but decided to pull out once he realized that he was not a guaranteed first round pick. What proceeded that was one of the most publicized recruiting battles in recent history, with Rush being unable to decide whether to attend college or prep school just about until the first day of college classes started, not knowing whether he would be academically eligible either. Rush ended up deciding on Kansas, where he will have an immediate impact. Rush will be playing against much better competition, more mature players, and alongside fellow future NBA'ers at Kansas while Jefferson will be playing against 17 year old kids at the Patterson School. NBA scouts, fans, but especially other young prep stars will be following both of these players on the different roads that they have traveled to try and gauge who made the better decision. Only time will tell which is the more effective route to the NBA and that elusive first paycheck, prep school or the NCAA?



Reebok Big Time Results



Team Danny Williams final record: 6-2, lost in semi-finals

Davon Jefferson averages from 7 games we have statistics for: 26 points per game, 61.1% FG, 0% 3 PT, 75.6% FT, 8 rebounds, 2.5 assists, 3.6 TO, 1 block, .75 steals



Game by game breakdown:



Team Danny Williams 78, Portland Panthers 80

Jefferson- 27 points, 12/17 FG, 3/5 FT, 6 rebounds, 2 assists, 1 block, 1 turnover, 3 steals in 30 minutes.

Team Danny Williams win over Houston Elite

Jefferson- 35 points

In a head to head matchup with Oklahoma recruit Damion James, Jefferson came out ready to play with a flurry of aggressive drives to the basket, midrange jumpers, and powerful dunks. He was absolutely dominant in the first half, winding up with 25 points in only 16 minutes.

Davon did not let down in the second half, as he continued to score at will with his great combination of size and athleticism for a small forward prospect, finishing the game with 35 points. James was no slouch in his own right however, as he wound up scoring 27 points on a combination of athletic drives and gritty inside buckets.

Team Danny Williams 95, Metro Boston/Lena Park 70

Jefferson- 18 points, 4/10 FG, 0/1 3 PT, 10/12 FT, 10 rebounds, 5 assists, 4 turnovers, 1 block in 22 minutes

Team Danny Williams 80, Houston Swoosh 17 Blue 65

Jefferson- 26 points, 11/14 FG, 0/1 3 PT, 4/7 FT, 9 rebounds, 3 assists, 7 turnovers, 1 block in 30 minutes

Team Danny Williams 68, R.B.C. West 58

Jefferson- 26 points, 11/19 FG, 0/2 3 PT, 4/4 FT, 5 rebounds, 1 assist, 3 turnovers, 2 blocks, 3 steals in 32 minutes

Quarterfinals

Team Danny Williams 80, Reach Legends 79

Jefferson- 24 points, 10/19 FG, 4/6 FT, 11 rebounds, 4 assists, 3 TO, 1 steal in 30 minutes

In this final 8 matchup, Jefferson went toe to toe with Michigan recruit Deshawn Sims, and walked away the victor. Davon played his typical game by rebounding the ball, slashing to the basket, and being an absolute matchup nightmare for whoever had the task of guarding him. His outside shot was a bit off, but one thing that really stood out in this game was his ability to find the open man, no matter where he was on the floor. This specific game was the one that made many people believe that Jefferson will be able to make the transition to a full time SF eventually.

Semi-finals

Team Danny Williams 76, D-1 Greyhounds 87

Jefferson- 26 points, 10/16 FG, 0/1 3 PT, 6/7 FT, 7 rebounds, 0 assists, 4 TO, 1 block in 32 minutes

Davon started off the game by showing off his great leaping ability on a D-1 lay-up attempt which he powerfully pinned against the glass. It was very clear yet again that the former UNLV recruit had put in quite a bit of work on his ball handling skills since we last saw him at the Roundball Classic, as he was able to easily break down opposing wings off the dribble with his tight, low handle. Throughout the game, Jefferson showed off quite a few remarkably quick spin moves, which he then converted into power dunks. This 5th year player did show a few glaring weaknesses, especially on the defensive end. He could not do anything at all to stop rising junior Bill Walker, as Walker scored 27 points on only 10/14 FG. On back to back possessions, Walker called Jefferson out well beyond the three point line, crossed him over, and drove through the lane to finish with emphatic dunks from 12 or so feet away from the basket. Davon also did not show much of an outside shot, something else that he will really need to work on if he's planning on making the jump to the NBA in 2006. Overall, this was a solid game for Jefferson, though. A nice performance on the offensive end, but his defensive ability, or lack thereof, was really exposed on the other end of the floor.


---




Interview from Big Time



DraftExpress: What made you decide to go the prep school route instead of college this season?

Davon Jefferson: My assistant coach [at UNLV] Menzies, Marvin Menzies, he went to Louisville. I just wasn't really comfortable coming to Vegas no more. When he left, that was another big decision for me leaving. I just don't wanna go there no more.

DraftExpress: So what schools are you still looking at?

Jefferson: Louisville, UCLA, USC, Kansas, and Oklahoma State.

DraftExpress: So I take it that all of those schools have offered you?

Jefferson: No. I can't really talk to anyone right now because I still haven't been officially released from UNLV.

DraftExpress: A lot of people said that you were thinking of entering the NBA Draft last season, what made you decide against putting your name in?

Jefferson: I felt that I wasn't ready. I think if I play hard this year, gain some weight, work on my jumpshot, work on my dribbling, I think I'll be better off coming out this year.

DraftExpress: What position do you envision yourself being in the NBA?

Jefferson: A 3 for sure.

DraftExpress: So you've mentioned that you need to work on your shot to make the transition to the 3 at the next level, what are some other things that you think you need to work on to make that transition from more of a combo forward like you are now to a full time 3?

Jefferson: My defense. I'm going to have to guard on the wings. I'm going to have to work on that. I'm going to have to work on that a lot.

DraftExpress: Speaking of guarding wings, you had to guard a pretty tough one today in Bill Walker. What's it like having to guard him?

Jefferson: It was a good experience for me. I enjoyed it. It was a good game. He's really good.

DraftExpress: Have you decided on a prep school yet?

Jefferson: I haven't decided on one yet. It's between Mount Zion and Stoneridge Prep in California.

DraftExpress: Well what are some of the factors in your decision on a prep school?

Jefferson: As long as they can get me eligible…because I'm not worried about them working me out because I'm going to get better myself because I have people around me who are going to get me better. I'm just going to work hard. As long as I can get eligible and see what kind of schedule they're playing, who they're playing against, that's going to be the decision I make.

DraftExpress: So are you still keeping the NBA as one of your options for 2006?

Jefferson: Oh yeah. Definitely.

[Read Full Article]

---